As soon as Samin Nosrat called Via Carota's insalata verde "the best green salad in the world," I knew I needed to eat there as soon as possible. In fact, as soon as our bus arrived in New York and our suitcases were stored away, it was the first place the bae and I went.
The restaurant was packed, even on a weekday afternoon. They don't take reservations, so the waitress wrote our names on a chalkboard. We waited about 20 minutes, and decided to sit at the bar. I personally enjoy sitting at the bar. It gives you a chance to get to know your bartender, who is usually very well versed in the restaurant's food. The bae and I hadn't eaten anything all day, and we ordered off of every section on the menu. Was the green salad worth the hype? Read on to find out!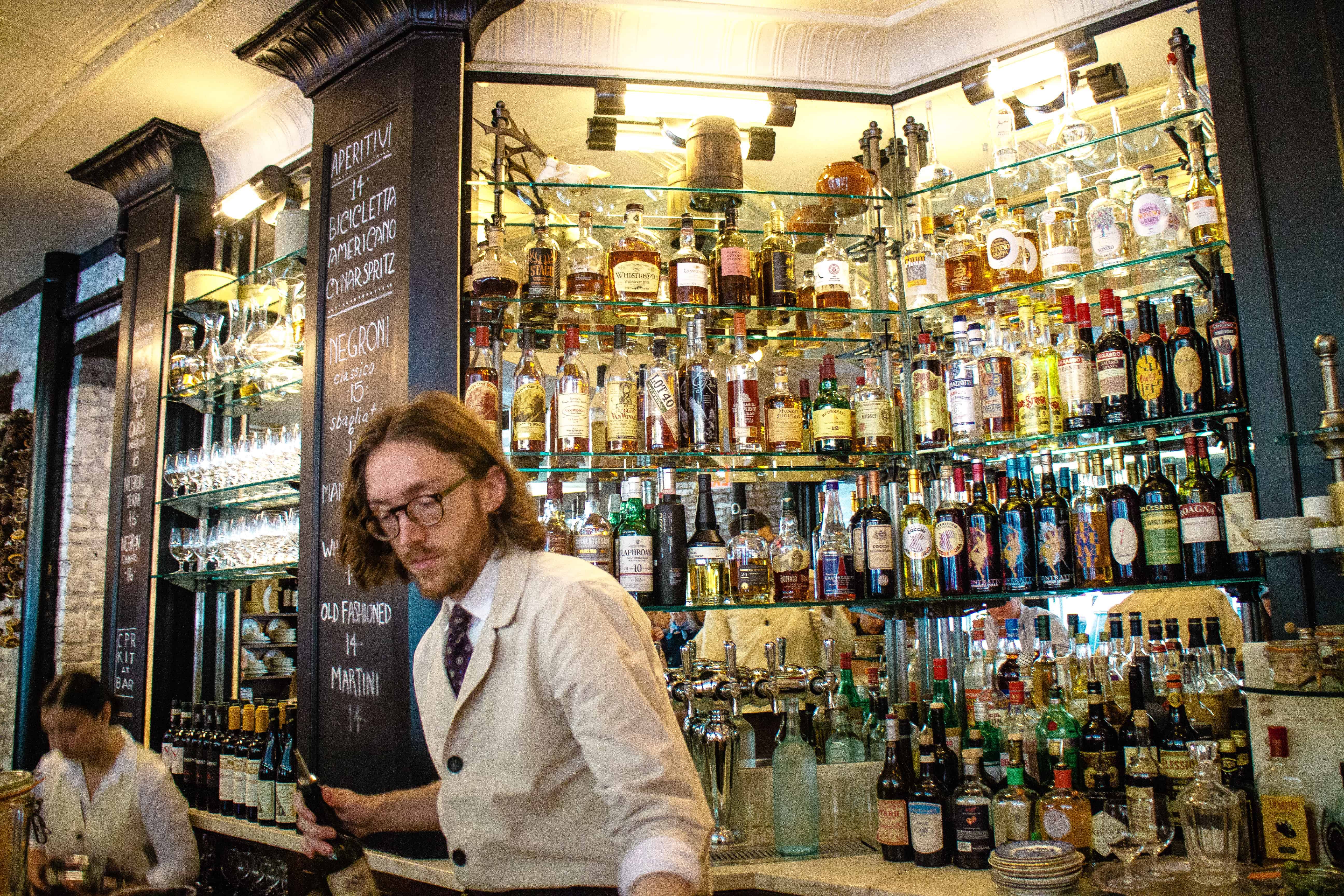 Rita Sodi, Jody Williams and the romance of the West Village
Via Carota is a joint project by Rita Sodi and Jody Williams. Williams met Sodi at her restaurant, I Sodi, in 2008. Two years later, Williams opened her French restaurant, Buvette, right around the corner (Buvette was one of my favorite brunch spots while I was in school). Somewhere along the way, the two moved in together, and in 2014, they opened Via Carota. I LOVE love, and the love story behind this restaurant warmed my heart. I think the West Village is the most romantic area in New York City, and I couldn't think of a better place I could have had my first meal with the bae.
Via Carota feels like sitting in a rustic Italian cottage, and similarly, the food felt like it was coming right out of your Italian grandma's kitchen. Our bartender started us off with some plump marinated olives. It was the first piece of food I had eaten that day, and the bright garlic and herbs were delightful.
Burrata di puglia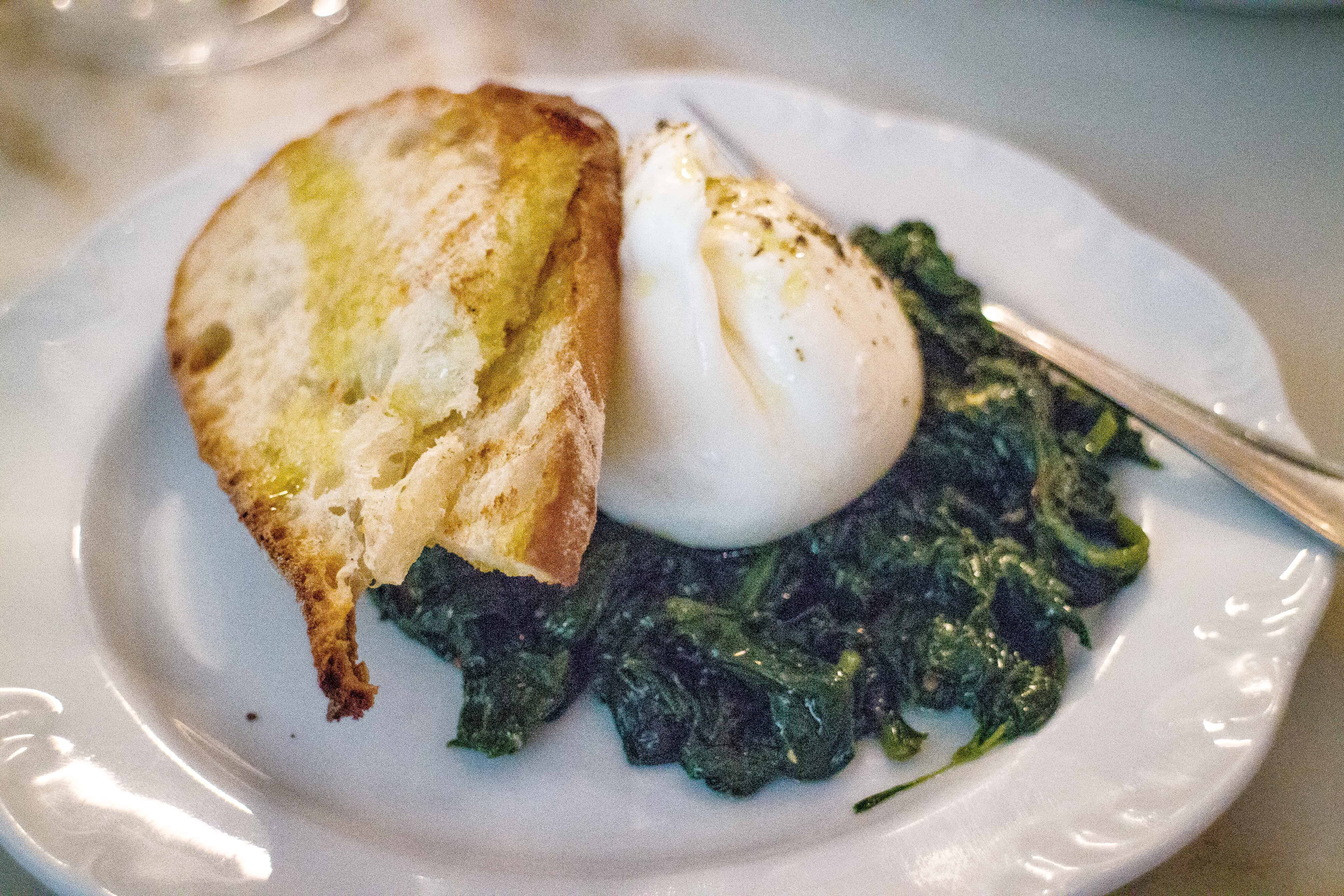 You should know that if you go out to eat with me, I WILL order anything on the menu that has burrata in it. I love the silky, creamy cheese, even though many burrata dishes have disappointed me. I just keep ordering it, hoping for a dish that will do the cheese justice.
This dish certainly did! The burrata was served at room temp instead of cold, which lets the cheese's mild flavor shine. It sat on a bed of spinach gently sauteed with garlic. I order a lot of burrata dishes where the cheese is served with foods with the same texture/mild flavor, so you end up eating a big mouthful of soft, bland food. The spinach at Via Carota brought a fresh, green bite to the cheese without overpowering it.
Insalata verde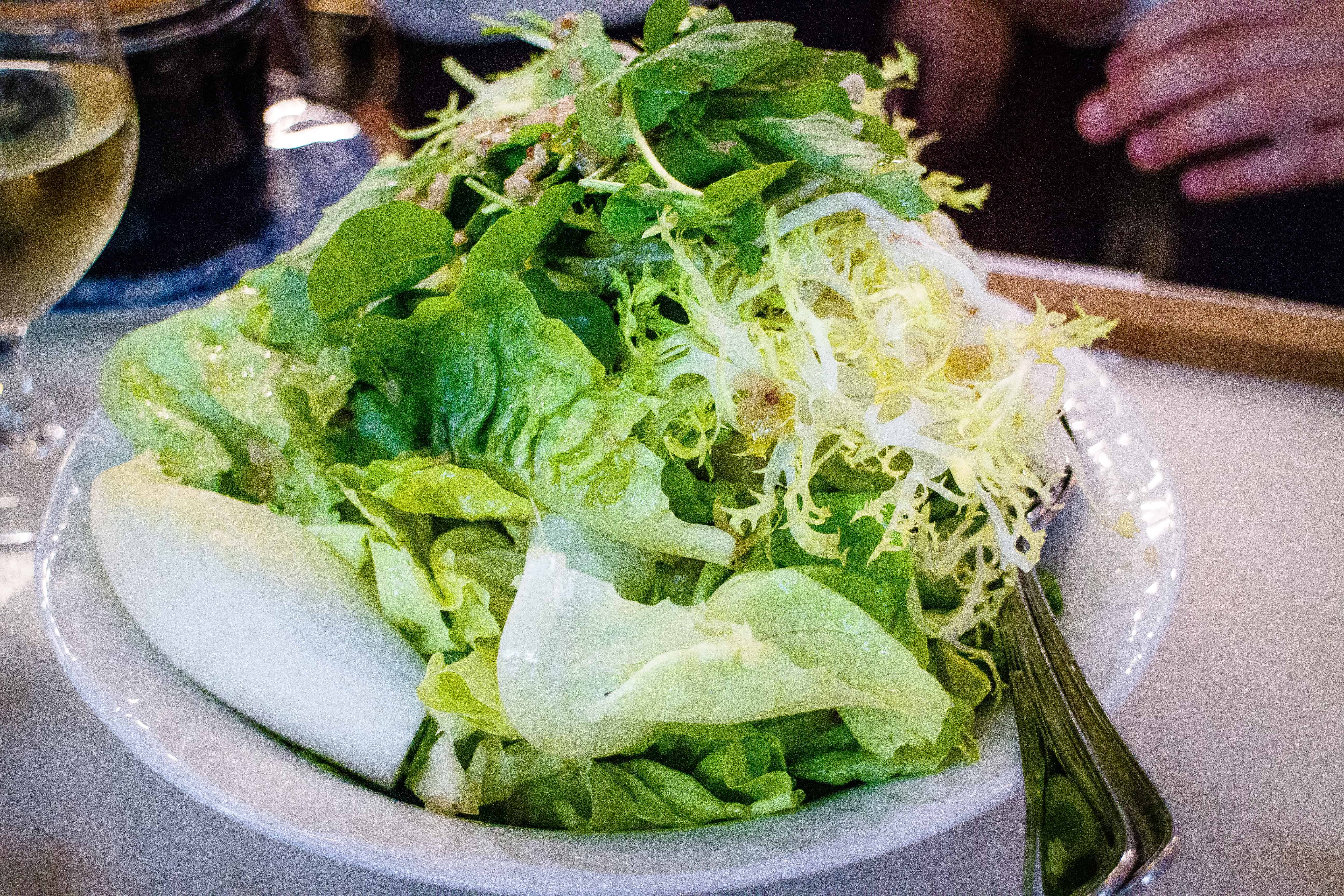 The insalata verde came out piled high with frisee, endive, romaine and butter lettuce. It was a BIG portion, and the sherry vinaigrette was light and savory without being overly acidic. The bae definitely made fun of me the rest of the trip for ordering an $18 salad, but it was definitely worth the hype. I wanted to scoop the shallots and vinegar up and drink it plain.
Samin Nosrat scored the recipe for this salad and it's up on New York Times Cooking, and several things make this salad work. Williams said she washes the greens several times in different temperatures of water, which makes the greens shine. The shallots are rinsed quickly in water in order to take away some of their bite. There's also a tablespoon of warm water in the dressing, which cuts down on the acidity. It's quite a time consuming salad to make, and if I was living in New York, I would just stop by Via Carota whenever I wanted. Nevertheless I'm excited to recreate this perfect summer salad.
Fritto misto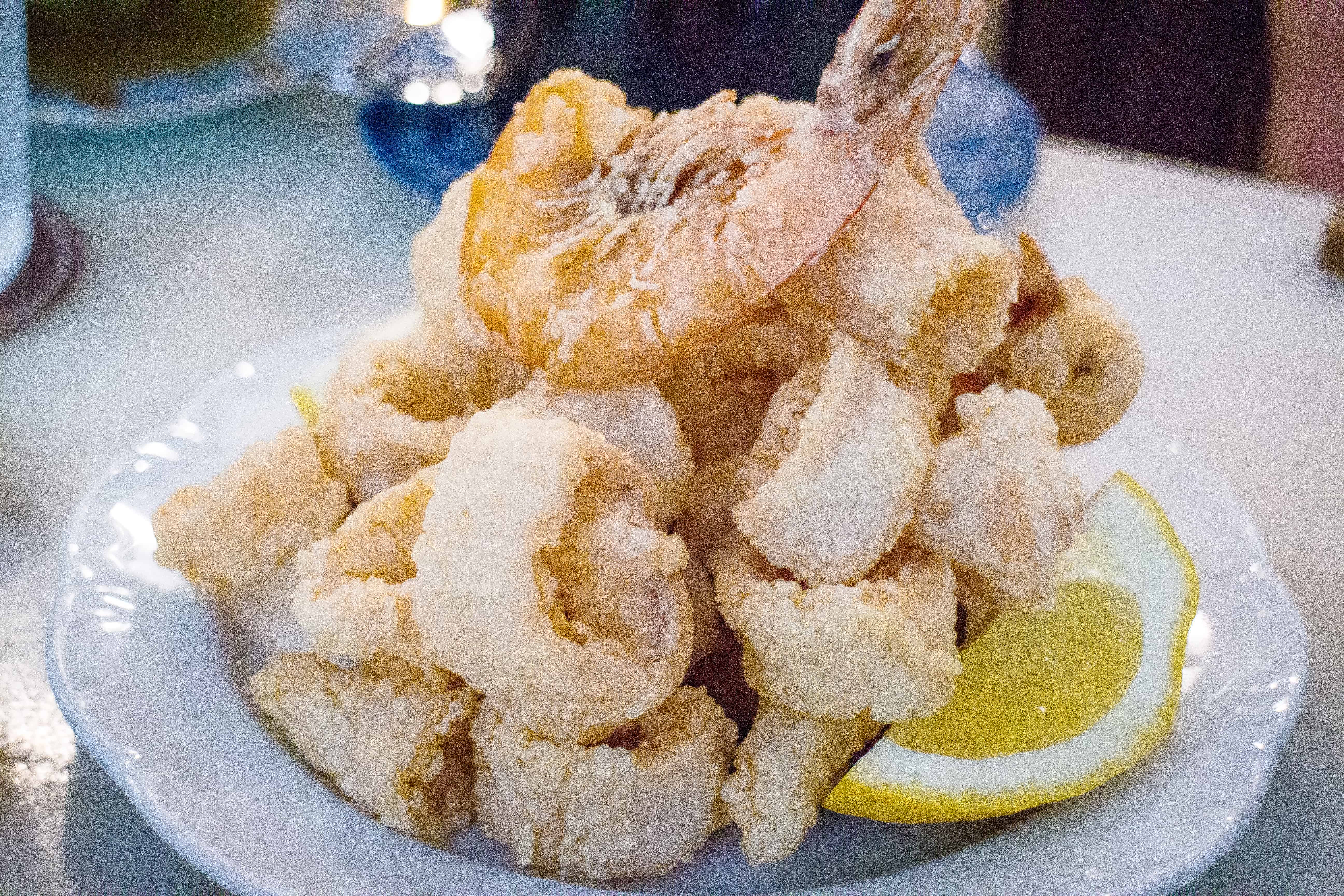 I said that I'll order any dish that has burrata on it. This dish and the next are two dishes the bae will always order when it's available. I think I've eaten more calamari in the year and a half we've been dating than I have my entire life.
The fritto misto was a special on the menu the day we visited. The batter was light and well seasoned. It clung to the seafood well and wasn't greasy. The bae appreciated how easy the shrimp were to peel as well.
Polipo (grilled octopus with olive pesto)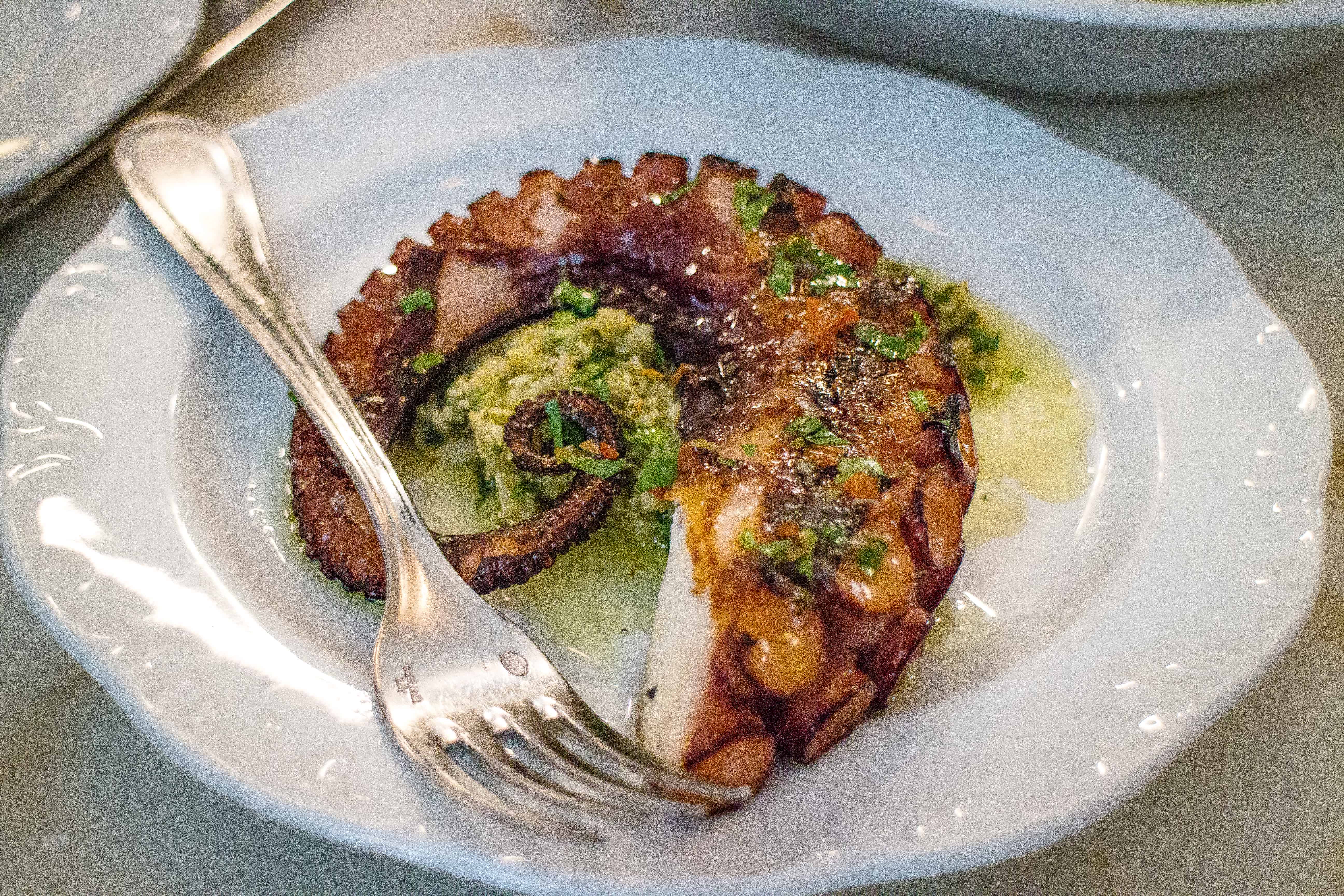 As I've mentioned before, the bae will order anything on the menu that involves an octopus tentacle. I had never even eaten an octopus until I met him, so I have him to thank for introducing me to this dish.
The octopus was very tender and went well with the briney olive pesto. I would say it was one of my favorite octopus dishes so far, but then I ate the octopus sashimi at Zauo a few days later. Via Carota just couldn't top it, and I'm not sure if any restaurant will.
Tagliatelle with peas, prosciutto, and Parmigiano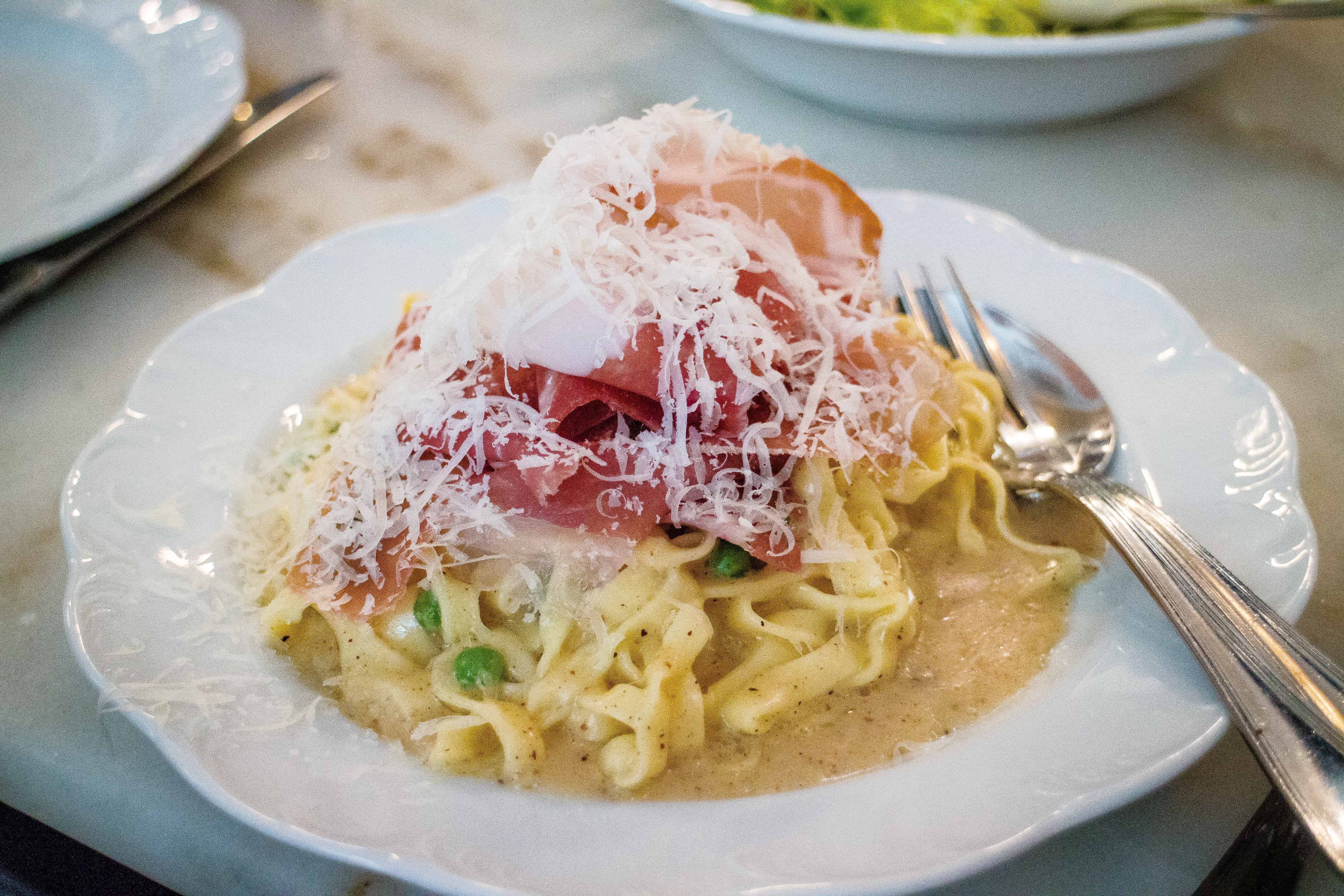 We were getting pretty full by the time our pasta course came out, but it didn't disappoint. My favorite part of this dish was the hint of nutmeg in the pasta sauce. I also love any pasta that has peas in it, but the bae thinks they're a scam (he's wrong). He still ended up eating most of this dish because I was too full, so clearly he liked it.
Zabaione with moscato marinated berries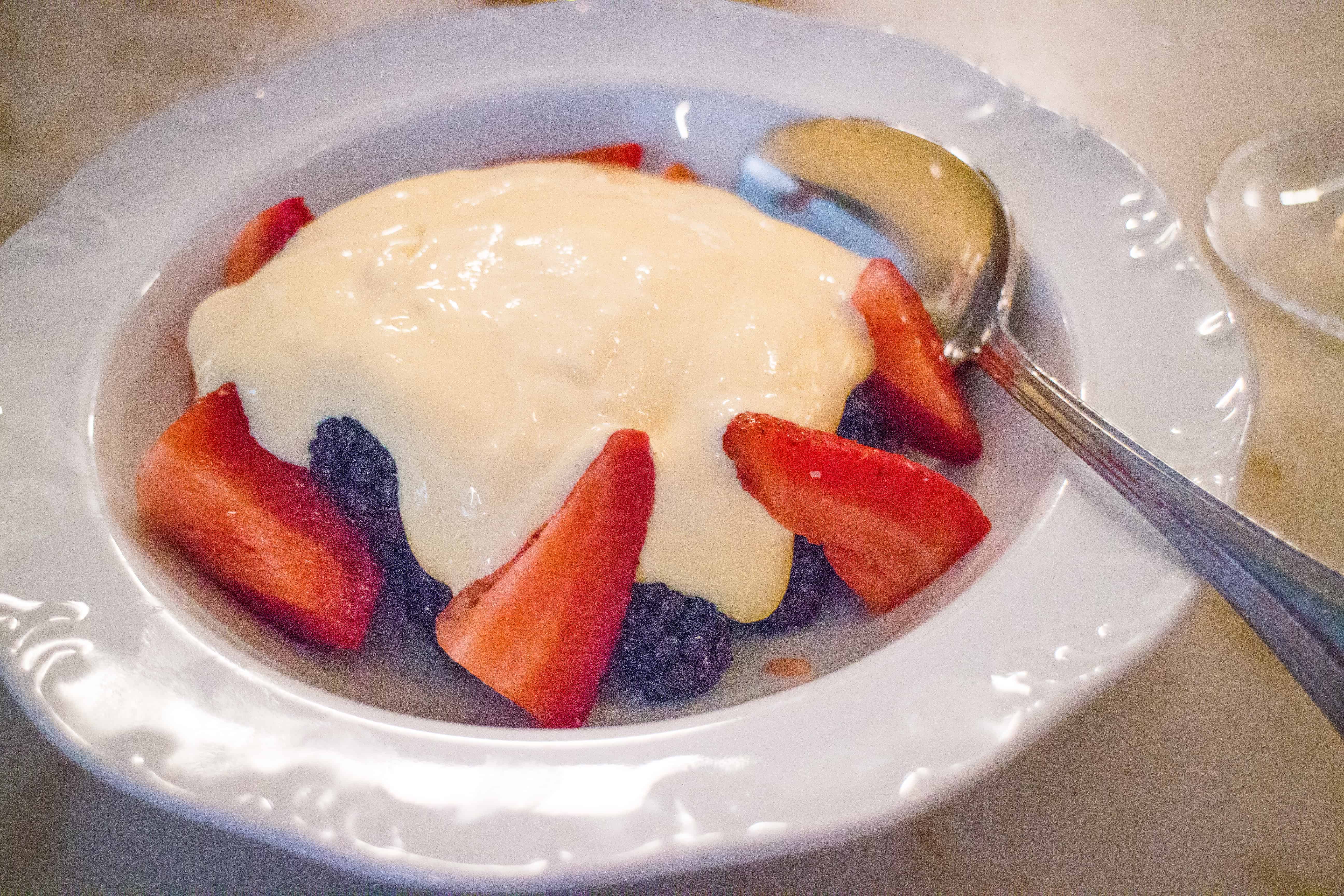 I'd just like to take a moment to congratulate myself for not ordering tiramasu. Everything on the dessert menu sounded delicious, and despite how full I was I still ate most of this dessert. The custard wasn't overly sweet, and the tart berries complimented how rich it was well. I wish I could taste more of the moscato. The berries tasted like they were freshly cut into the custard instead of marinated.
Final review
Via Carota lived up to all of its hype. It was a homey, warm place to spend a Thursday afternoon. Our bartender was absolutely charming, and kept the food coming out at a steady rate in an order that made sense. He found the perfect wine pairing for the food as well.
Price point: $$$ ($31-$60)
Dress code: Dressy casual
Food: ????????????????????/5 Inject the sherry vinaigrette directly into my veins
Service: ❤️❤️❤️❤️❤️/5 I wish I got our bartender's name to give him a shoutout! He took great care of us. We had a very romantic West Village lunch.
Via Carota is located at 51 Grove St, New York, NY 10014 . They do not take reservations.
---
Looking for other restaurant recommendations? Then check out my D.C food map!
---
Want more recipes and reviews in your inbox? Sign up below!