Omakase is the ultimate form of trust. It means you're leaving it to another person to decide what's best. In the context of sushi, it means you're going into the meal trusting the chef to craft a meal you'll love.
The bae and I have always wanted to try omakase, but it's pretty expensive. When I saw that Zauo in New York City was opening a new omakase counter, I knew that it was the perfect choice. If you're going to spend way too much money on a romantic date, you might as well do it in New York City while you're on vacation, right?
Zauo NY
In Japan, Zauo is a popular family-friendly spot where diners can literally fish for their dinner. When you come in on the first floor, you'll see a big fish tank, with diners in parkas holding fishing rods, hoping to catch their next meal. The area is quite loud, with drumming and music playing constantly.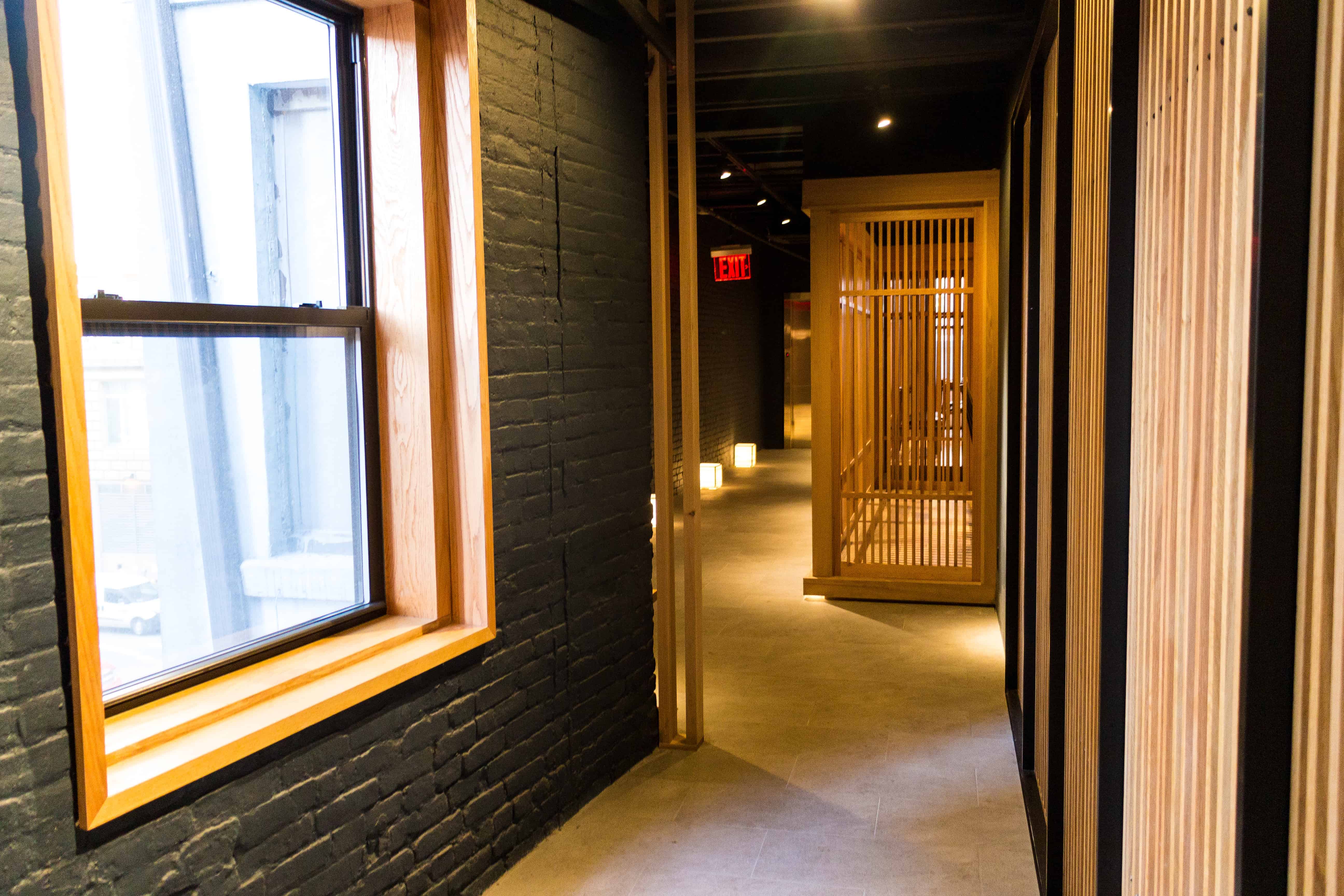 If you're there for omakase, the host will lead you into an elevator upstairs, where it is much quieter. The rooms here only serve six, and Zauo offers two spots each night for omakase: at 6:00PM and 8:00PM. We were there for about two hours, for those trying to plan their dinners around other events.
The omakase at Zauo is $150 per person, including tip. It's a 20 course meal, with 15 pieces of sushi and 5 small plates. I was excited for our meal tonight, but I couldn't help but wonder how good sushi can get. I've had sushi at almost all price points, and I honestly wasn't sure more money could possibly make it any better. I was WRONG.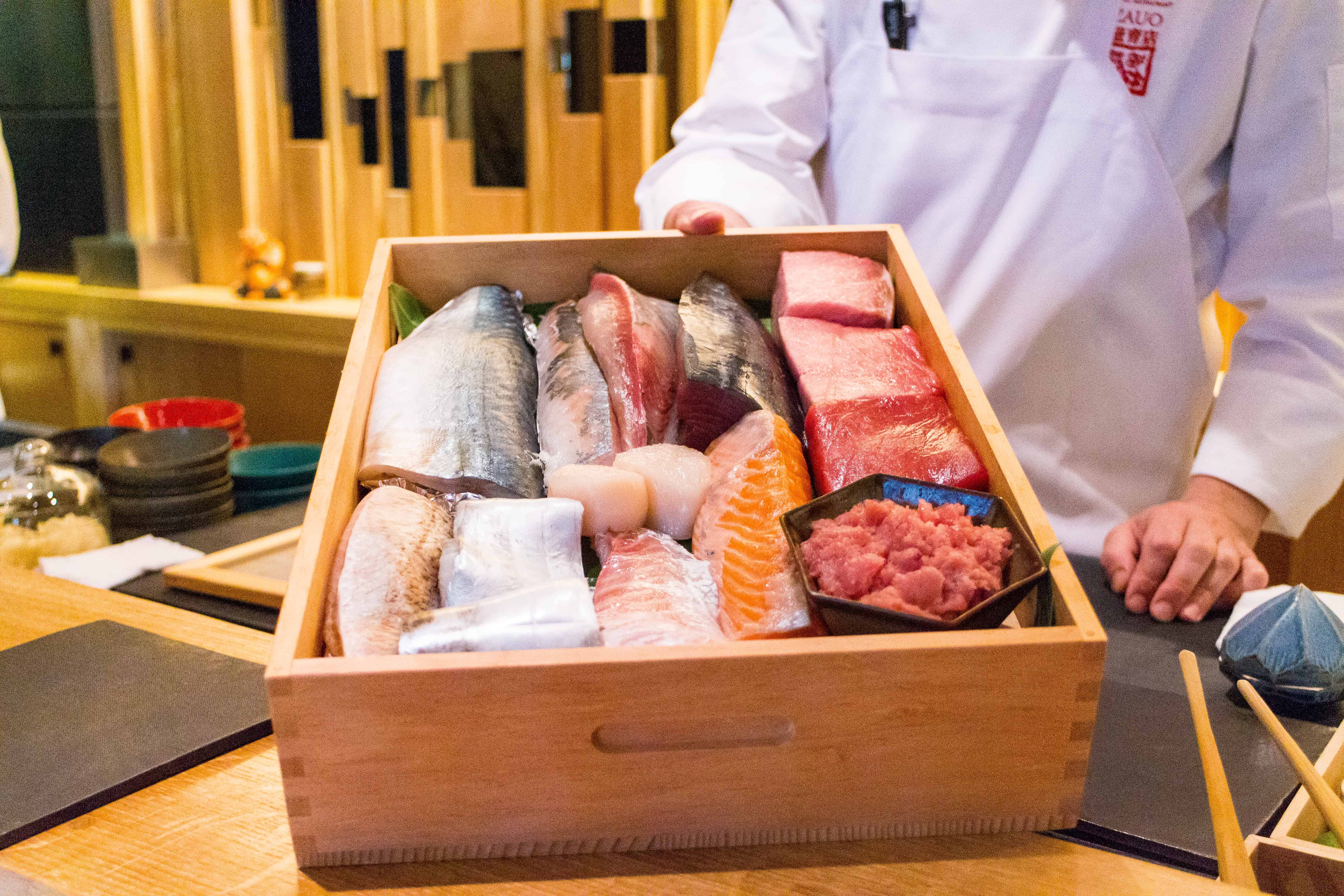 The chefs started by showing us a chilled box with all of the fish they were using for tonight's meal. Our waitress stood by to explain what each dish was. Each dish was truly phenomenal. Aside from the fish being extremely fresh, the chefs paired each fish with different foods that complimented the sushi wonderfully. Here's what I had that night:
Sea Bream with Bonito Soup and Cilantro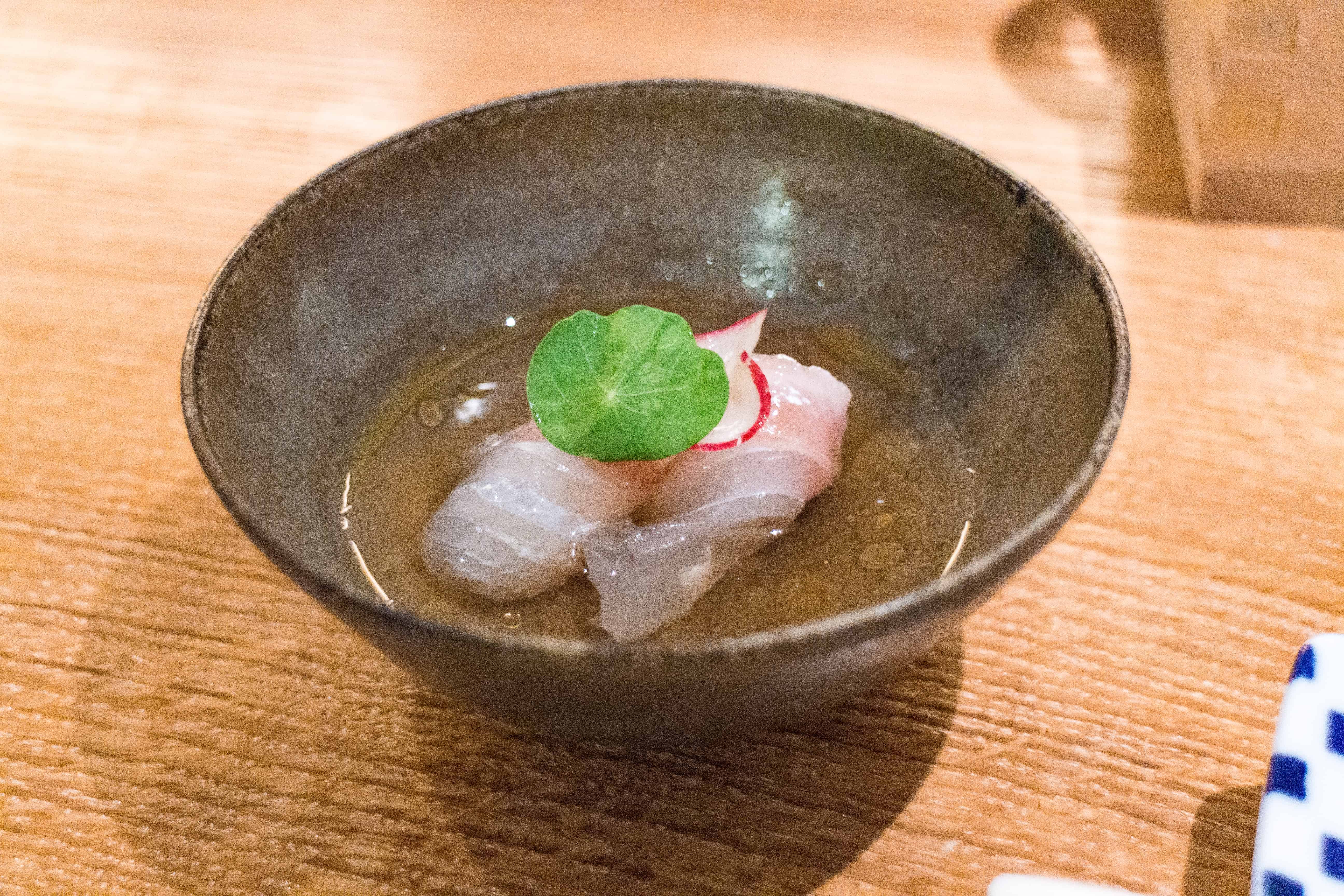 Our first course was sea bream in a bonito soup stock with cilantro and radish. Our waitress said it was meant to prime our palate. The soup tasted like a light dashi broth, which is made with shaved smoked bonito. I'm a huge fan of dashi. It's the base of many Japanese dishes.
Hickory smoked bonito with grated scallion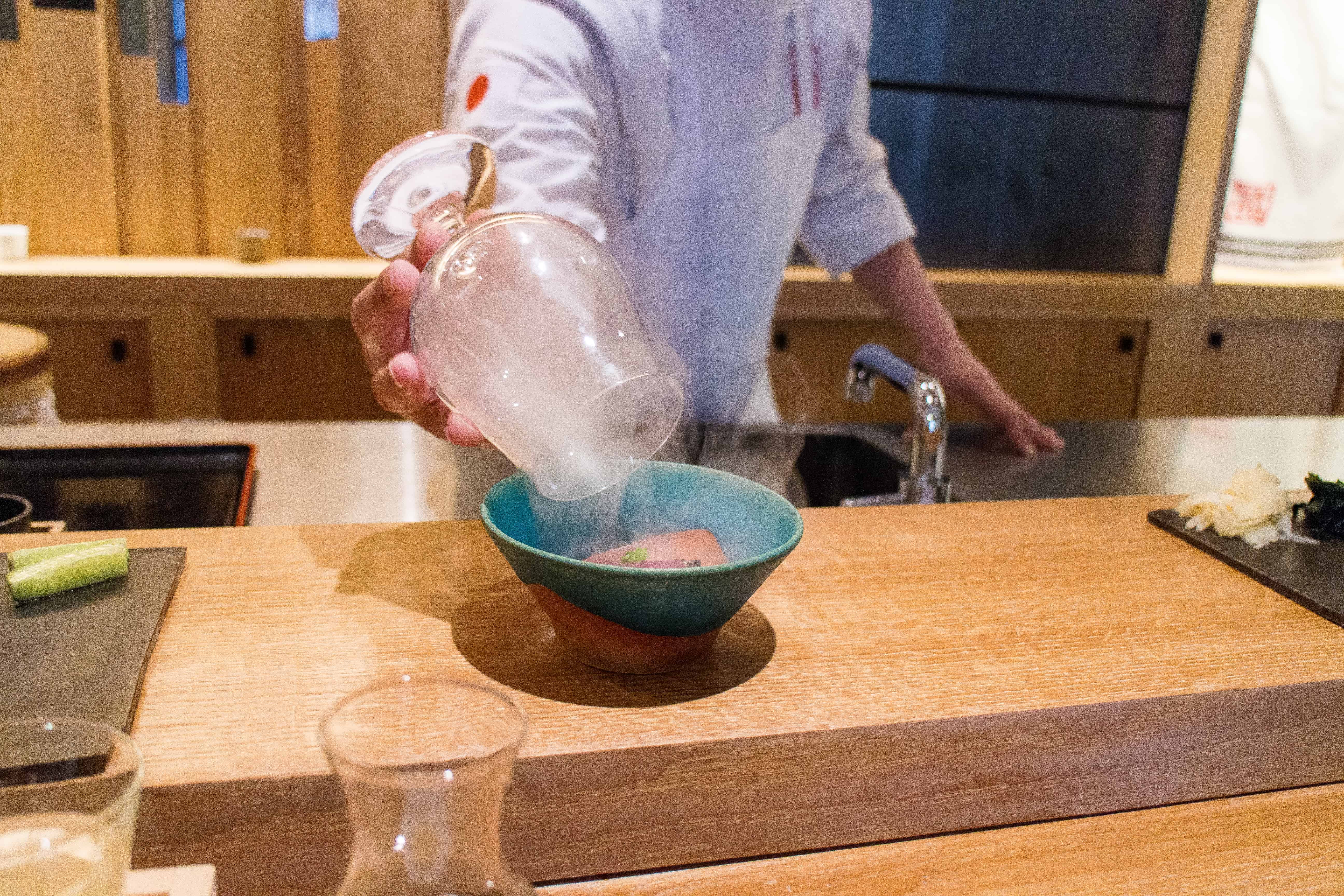 For this dish, the chefs served the bonito raw rather than in a stock. Bonito tastes very similar to tuna. My favorite part of this dish was how fun it was to watch the smoke billow out from the cup! The smokey flavor hits your palate first, followed by an intense ginger/scallion flavor from the garnish. This was one of my favorite courses of the night.
Octopus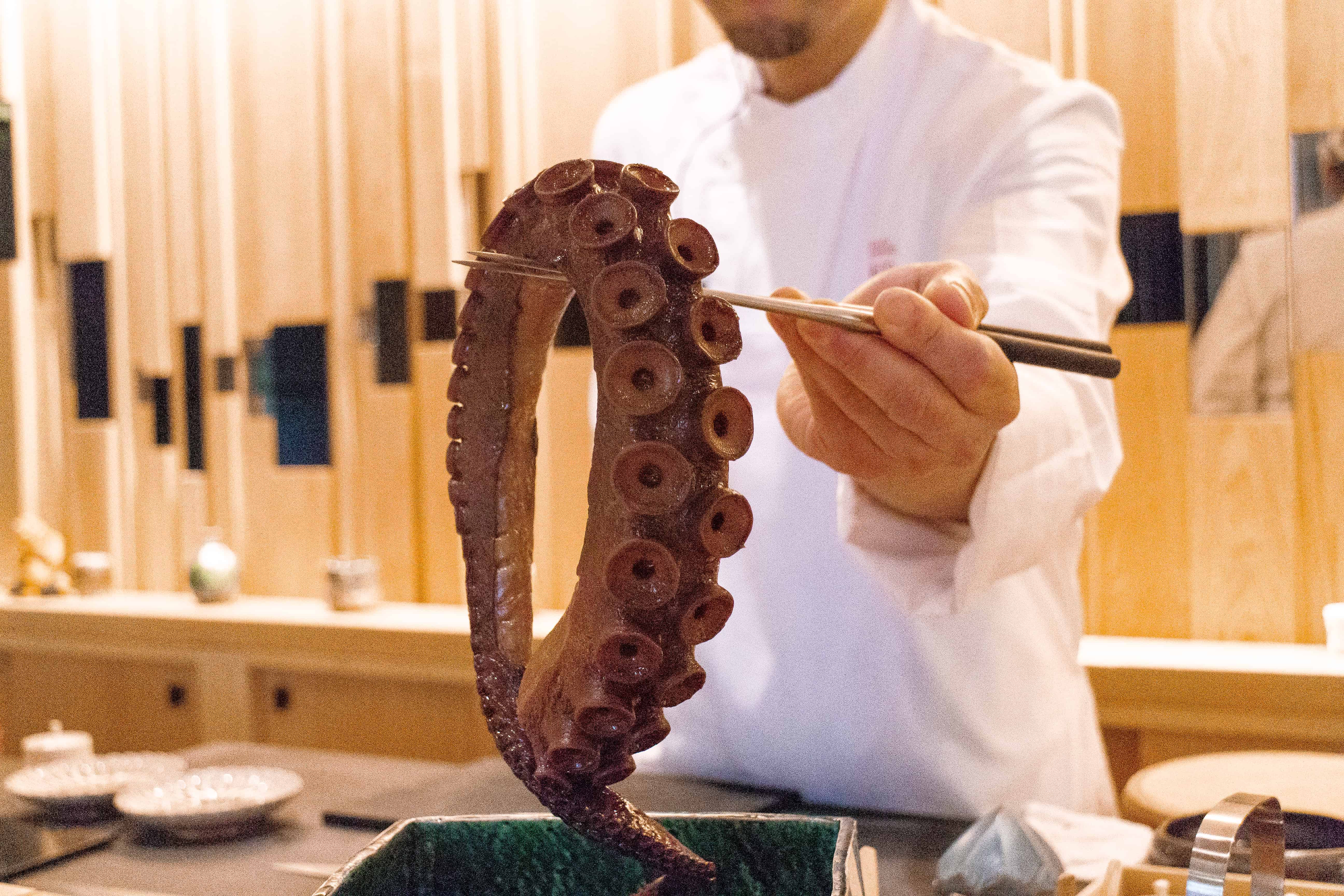 The bae LOVED that our chef picked up this huge tentacle for the photo op. I've never met someone who loves sea creatures more than he does, and octopuses are one of his favorites. If there's octopus on the menu, he's ordering it. Tonight's octopus came all the way from Hokkaido, Japan.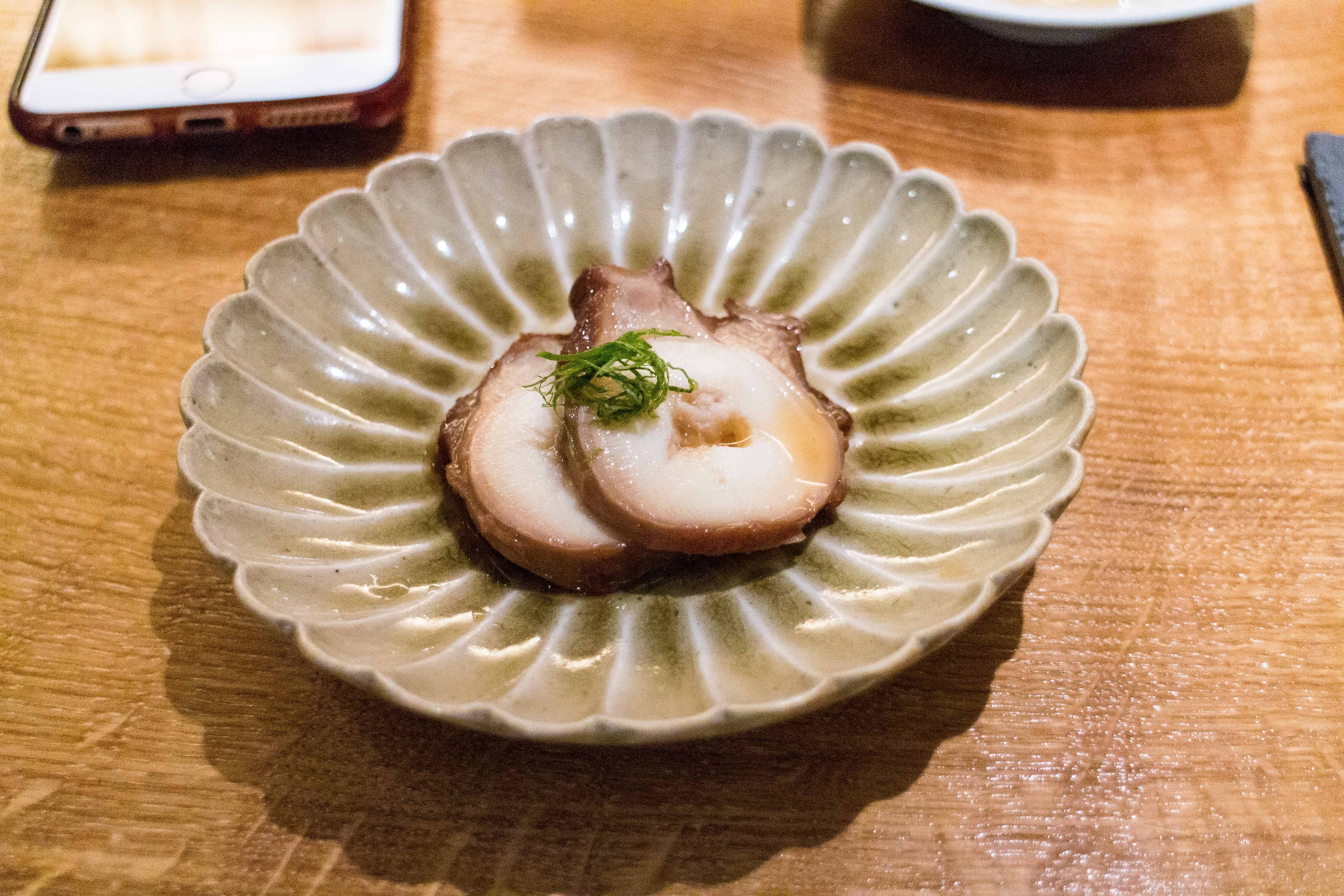 This dish was served with thinly sliced shiso, which our waitress described as similar to mint. In Vietnam, we call this herb perilla, and we use it in lots of salad dishes. I love the flavor of shiso, and it was bright and herbaceous even though there was only the smallest amount.
Steamed black throat sea perch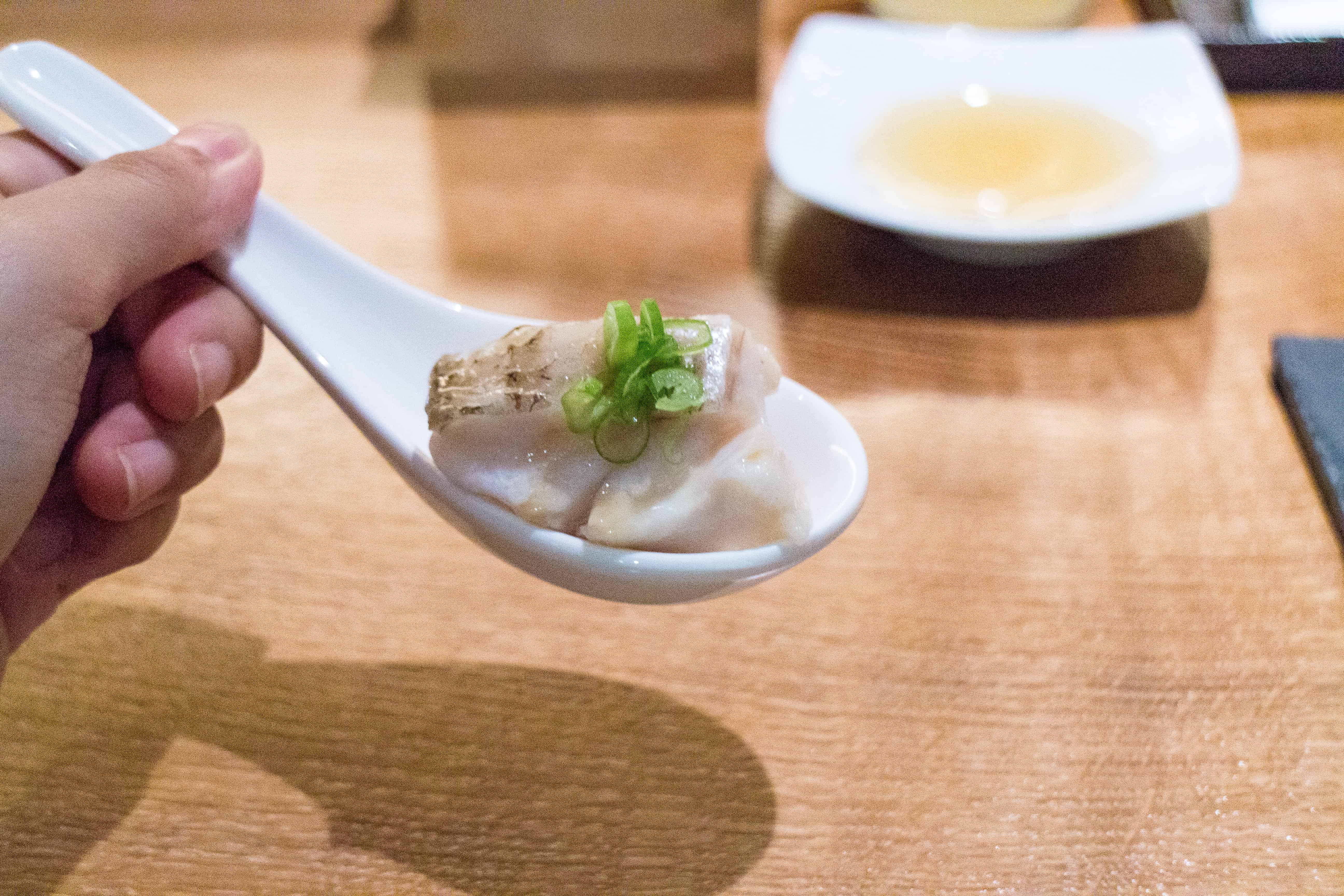 This was the most unique way I've eaten sushi. It tasted more similar to steamed white fish dishes I've eaten at Chinese restaurants than anything I'm used to eating at a Japanese restaurant. It wasn't a bad dish. However, it probably was my least favorite of all the sushi dishes served to me.
Akami - Tuna nigiri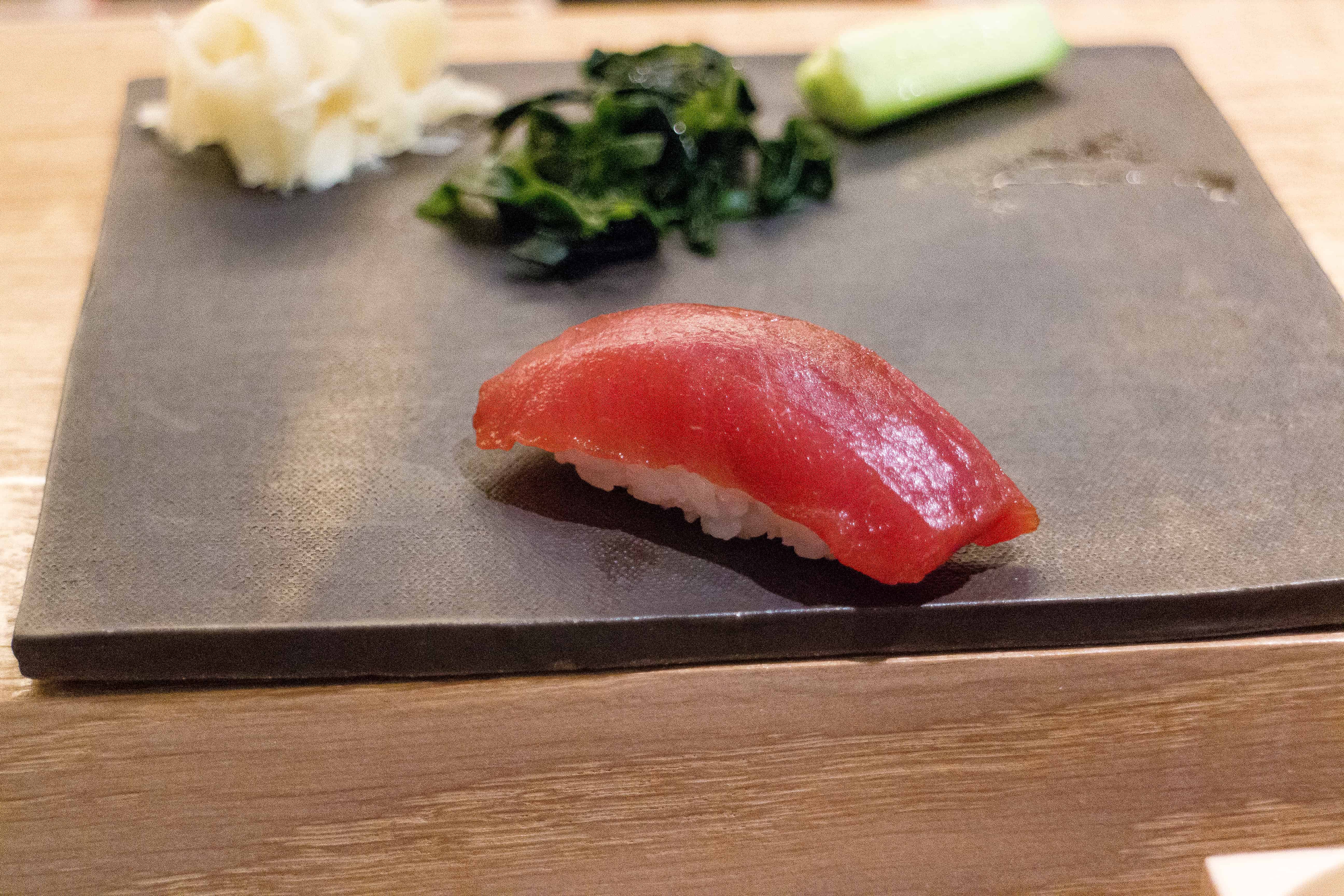 This sushi is probably the most recognizable for those who have never had omakase. It's the least fatty of all of the tuna options. I personally love tuna, and this was a perfect bite with no frills. All of the tuna we ate that night came from Spain.
Chutoro - Medium Fatty Tuna
The chūtoro has a little bit more fat than akami. You can see that it's lighter in color because of the marbling throughout. This bite was much more tender than the previous one.
Otoro - Fatty seared tuna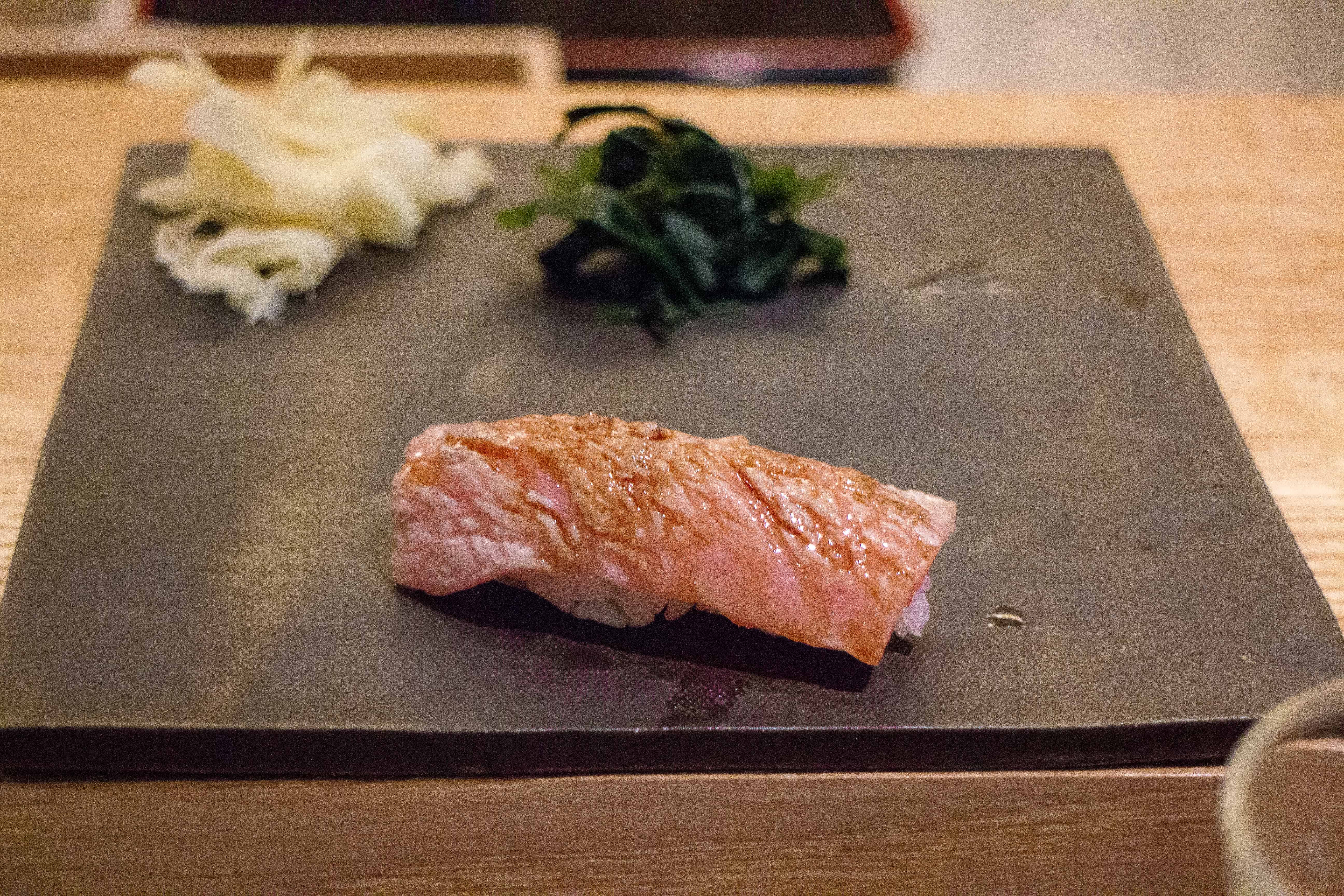 I feel like it's cliche to say that this one was my favorite, but dang it, I love fatty tuna. This piece of sushi melted in my mouth like fish butter. The searing on top gave it a wonderful flavor that wasn't too overwhelmingly fatty or fishy. It was so good.
Sea bream soup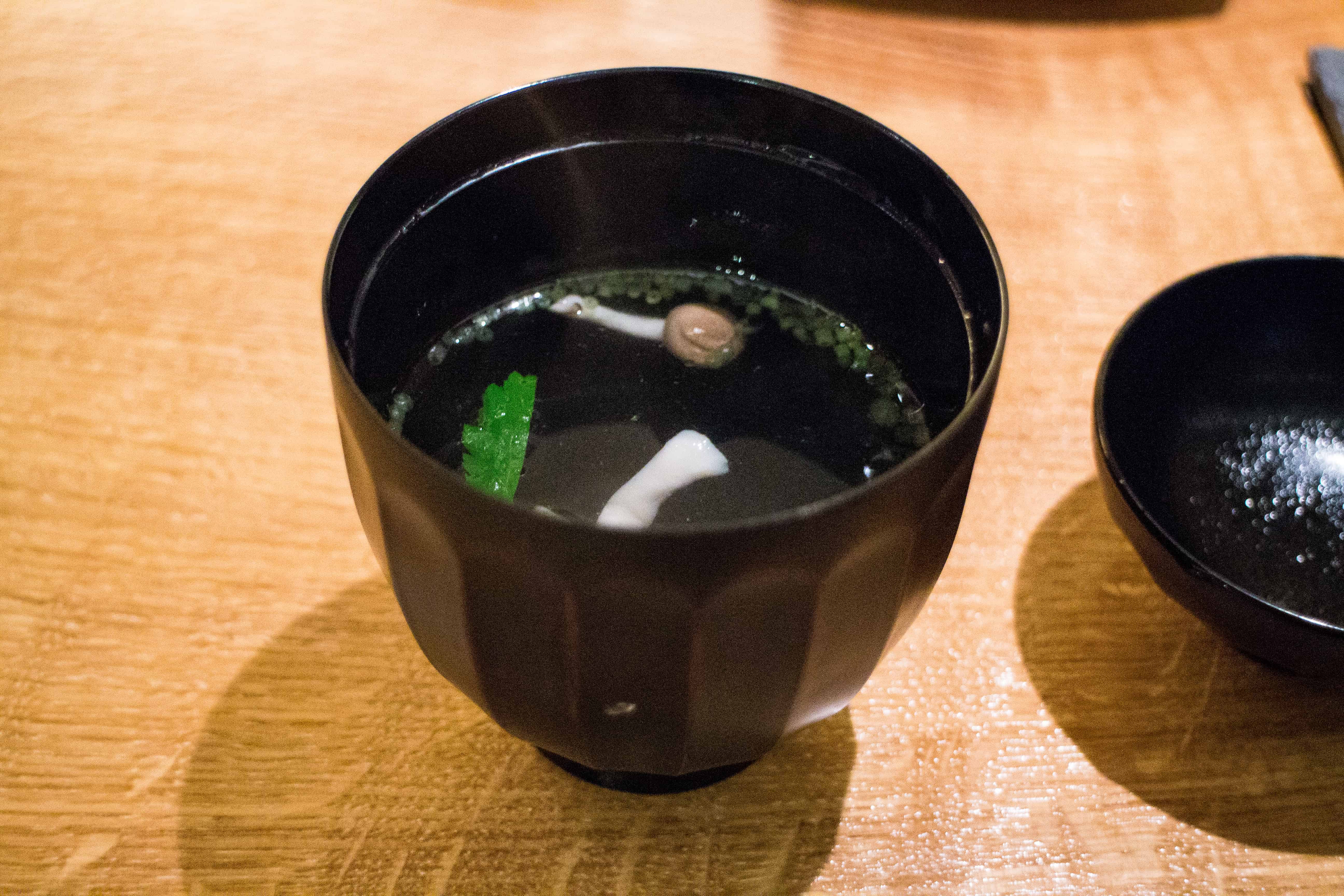 After our tuna sushi trio, our waitress brought out small cups of sea bream soup with scallion and mushroom. The soup was quite plain, but it's supposed to be. The soup cleansed our palates and prepared us for the next course. I personally loved getting something steamy and warm to follow the raw fish!
Grilled belt fish with horseradish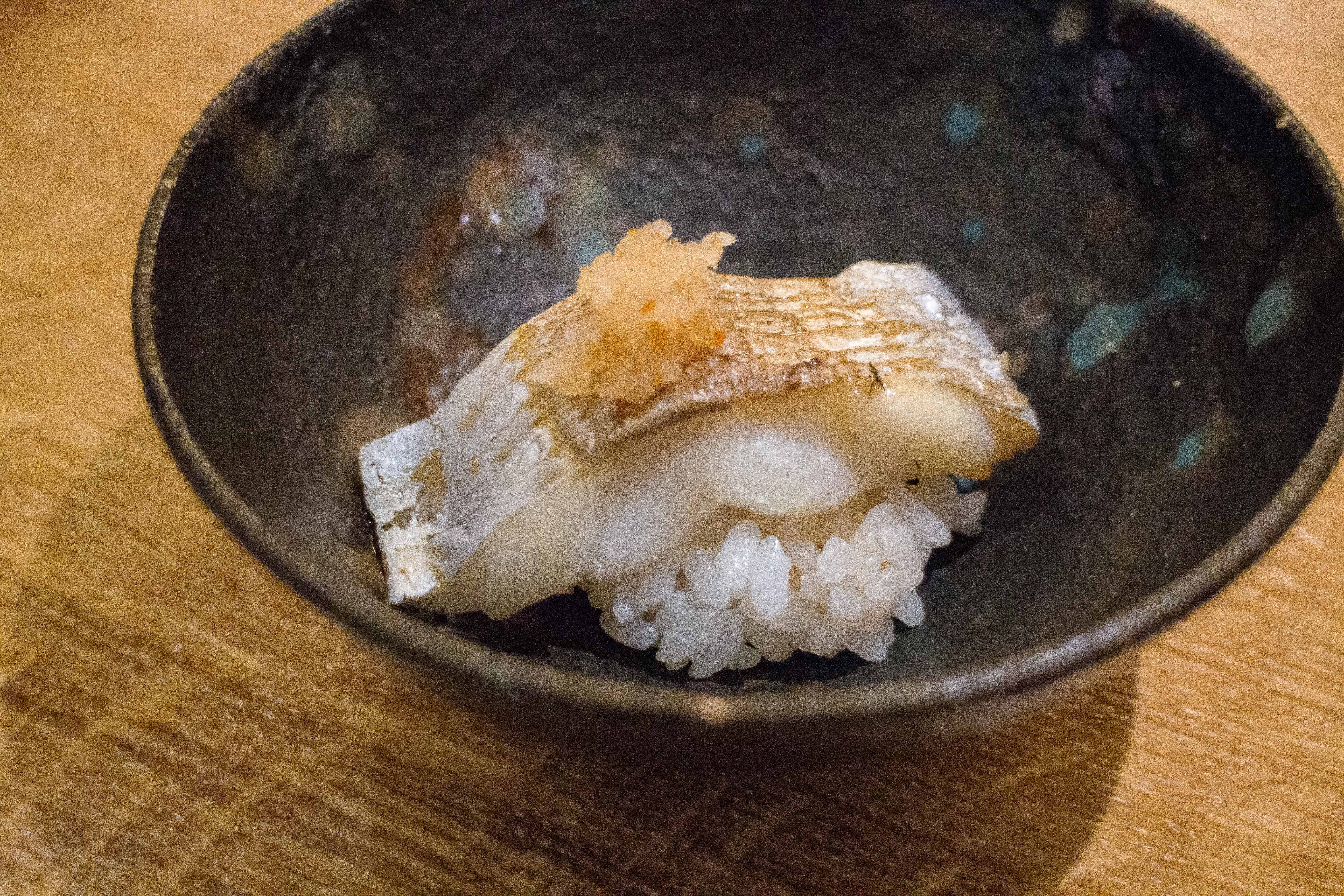 This dish was also very similar to a plain cooked white fish. At first, I thought that the horseradish would kick me in the face. Because the fish was so mild, I expected the horseradish to really kick me in the face. It was actually quite mild.
Sea Bream with grated Karasumi (salt cured fish roe)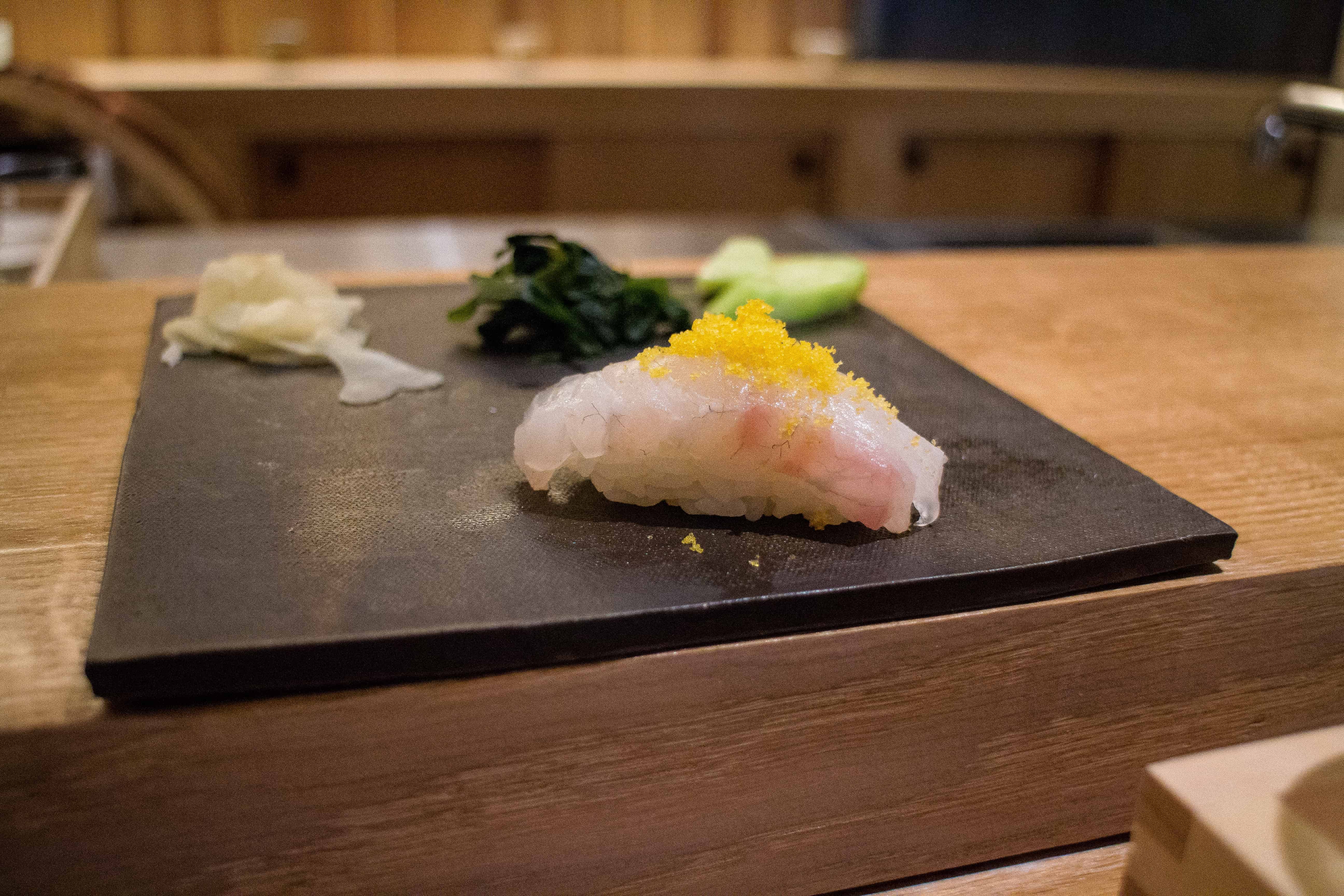 I loved the cured fish roe grated on top of this! It gave a wonderful salty, creamy pop to the sushi. It tasted similar to the salt cured egg yolks I'm used to eating in the middle of mooncakes. I want to grate this all over my food.
Sea Scallops with lime
At first I was pretty scared of the scallops on the menu. I've never eaten a scallop raw before, and I'm not the biggest fan of scallops cooked either. It turns out I've probably just eaten a lot of bad scallops because this was GREAT. It had a very mild flavor. The lime popped and it was wonderfully zippy. I'm going to order scallop sushi much more often now.
Steamed egg custard with uni miso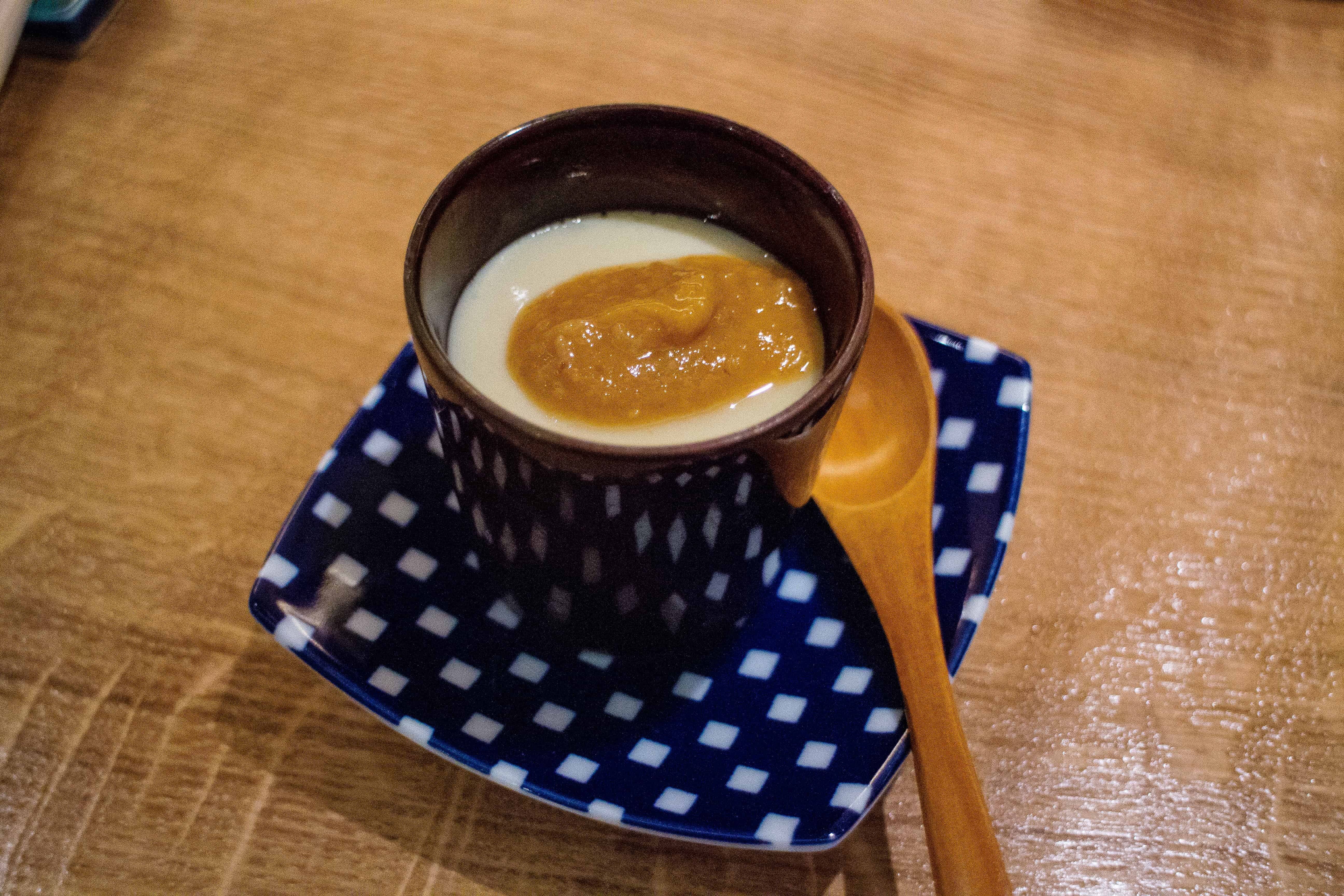 I laughed when this was brought out, because it reminded me of Korean steamed egg. My boyfriend absolutely hates Korean steamed egg, so I was sure he would hate this. The custard itself was pretty plain. It had the texture of flan. The uni miso brought most of the flavor. It was a double umami punch!
Salmon with shaved black truffle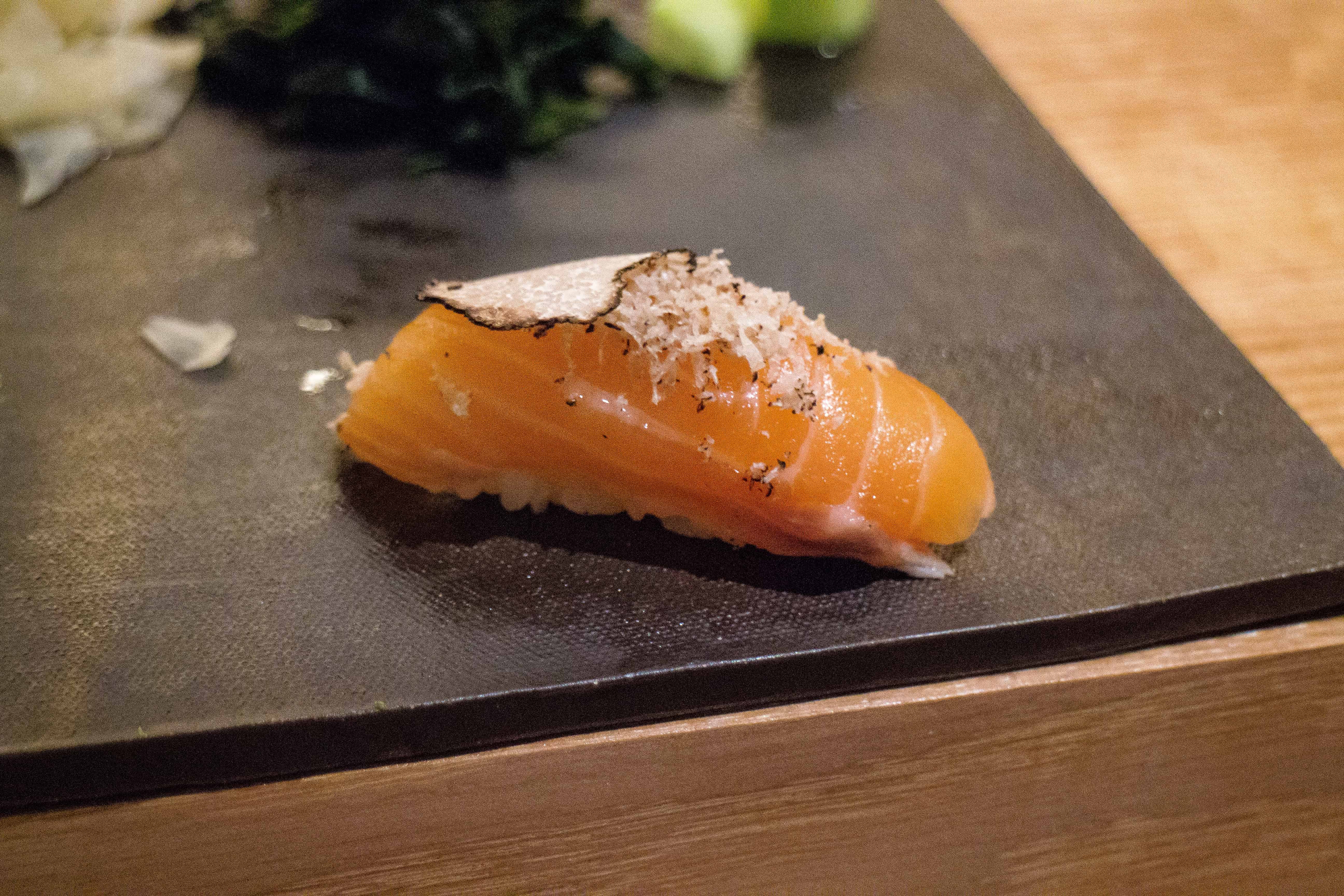 I've never eaten a real truffle before. I've had plenty of truffle fries and I knew that I liked the flavor of truffle oil, but I had no doubts that any truffle oil I've consumed was artificial. The truffle shaved on top of this Norwegian salmon was amazing. It had the truffle flavor I was used to, but much milder. The bae didn't understand why anyone would have tried to eat the black poop shaped fungus, but agreed that we were grateful for whoever it was.
Striped horse mackeral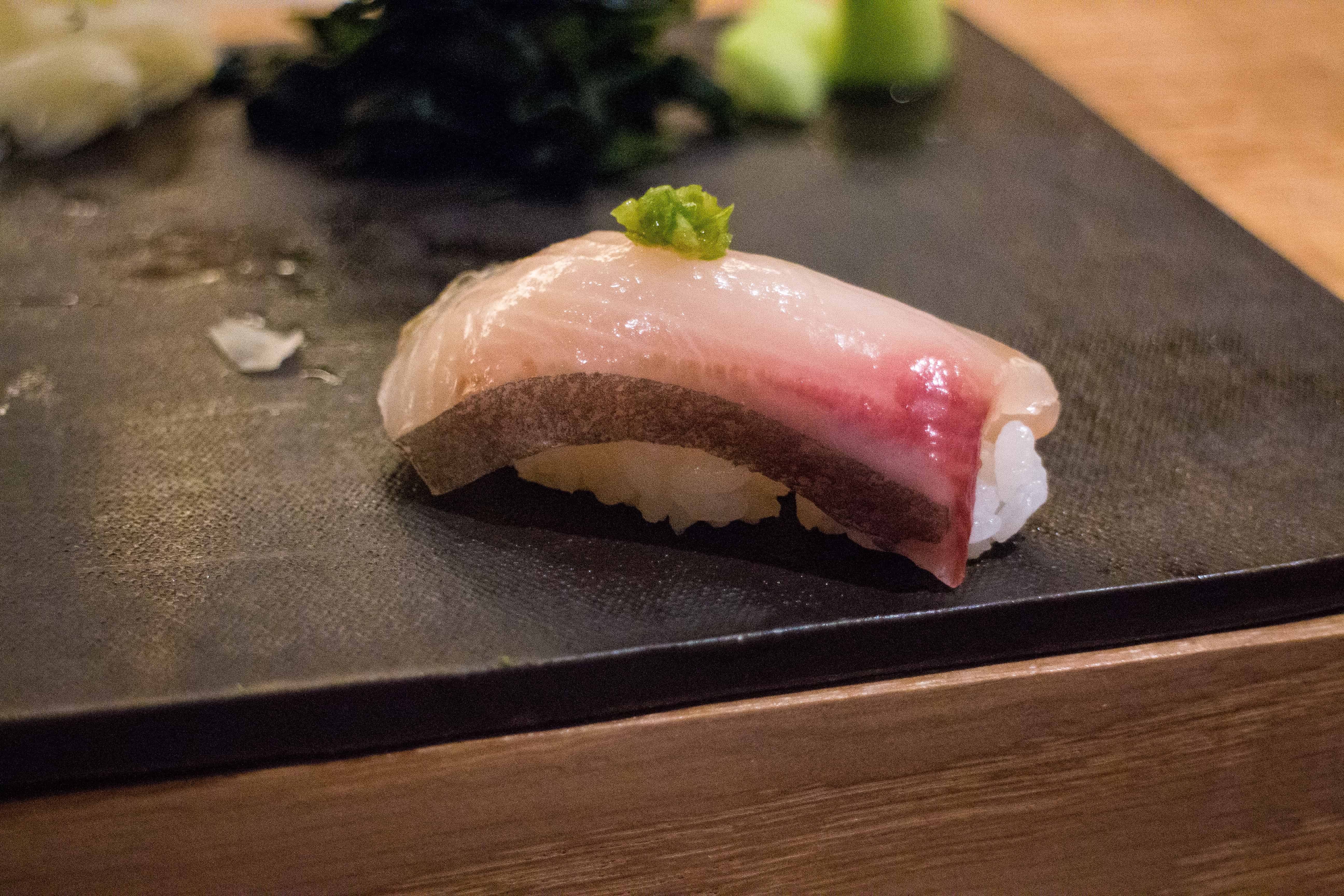 I knew that once the mackerel arrived at the table that our omakase experience was almost over. Chefs always start with milder fish and transition to stronger, fishier ones. Mackerel is one of the more pungent fishes on the menu. This piece in particular, sourced from Ehime, Japan, was actually very mild and fresh, with none of the sardine-like flavor I was expecting.
Marinated mackerel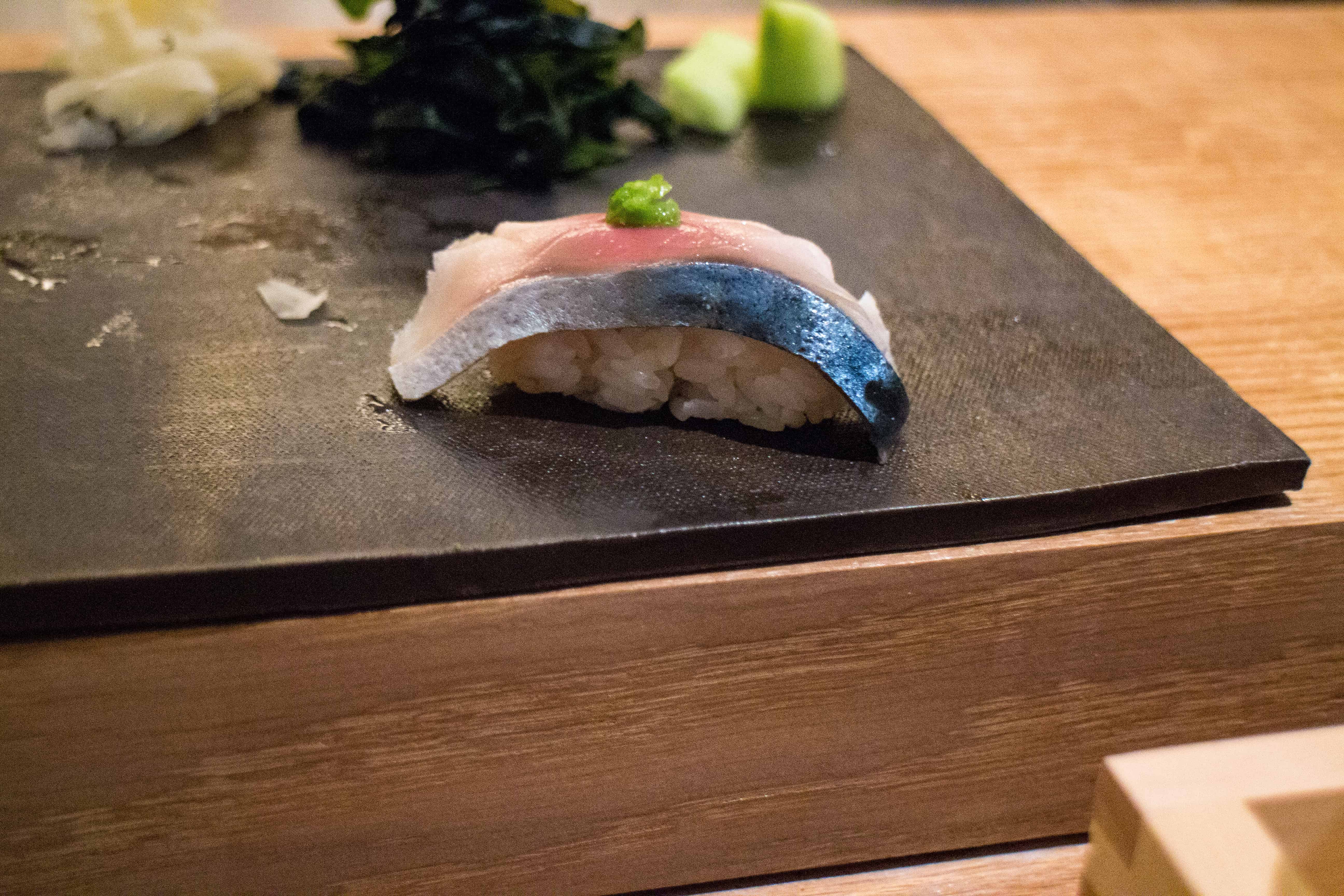 This mackerel was more similar to what I'm used to ordering at a sushi restaurant. It had a mild sardine-like flavor and was slightly salty. I'm a big fan of mackerel sushi, as the fish has a stronger flavor than most other choices.
Amberjack belly with shiso and yuzu kosho
Clearly this piece of sushi was so good, I forgot to take a picture of it. My ears perked up as soon as I heard that it would be served with yuzu kosho, a hot sauce made with yuzu lemons. It's bright and sweet and spicy. Trader Joe's has a great yuzu kosho product. I put it on everything!
Shrimp nigiri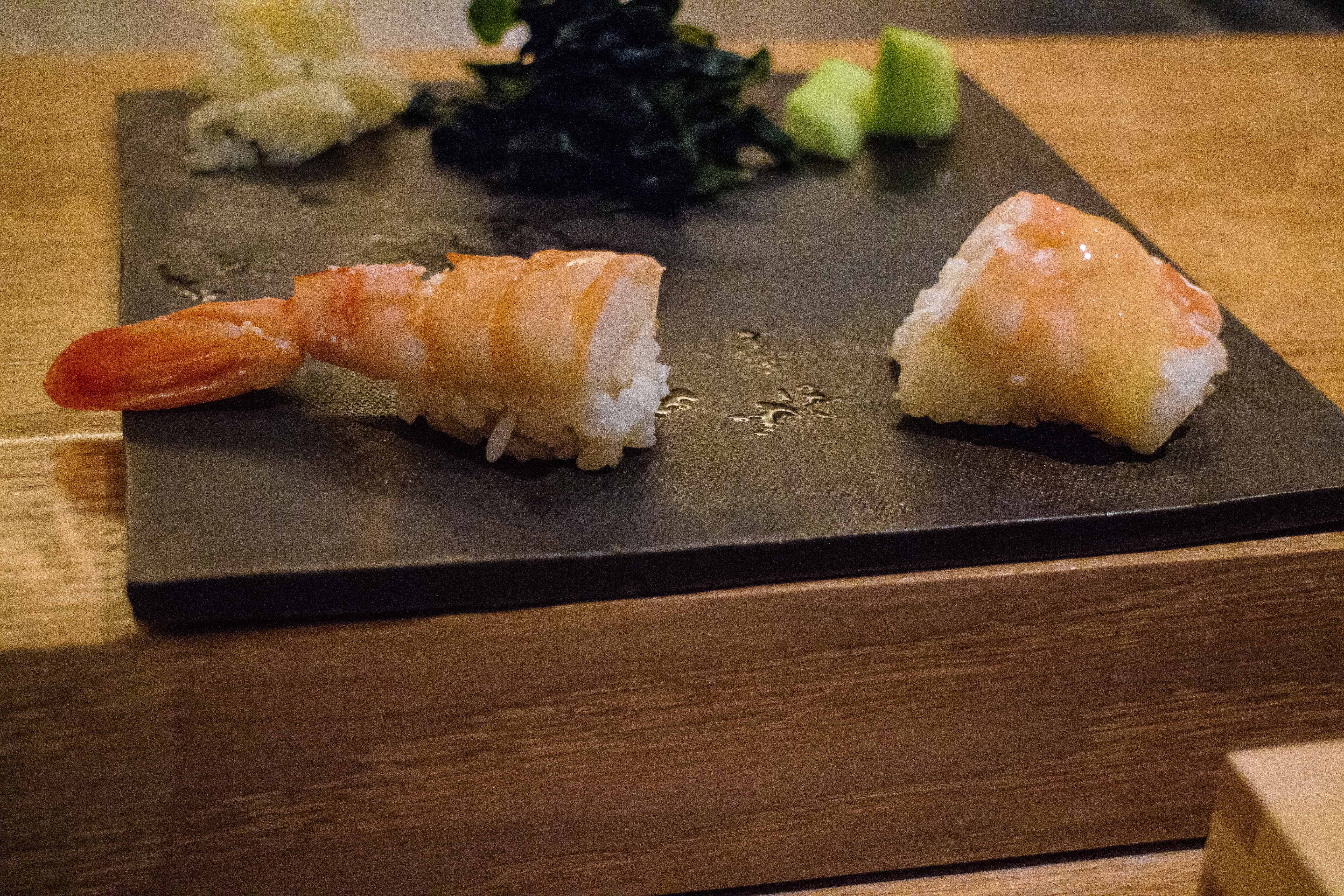 These shrimp were GIGANTIC. The flesh was sweet and succulent. I am not the biggest fan of shrimp in general, so I gave half of mine to the bae.
Shrimp head temaki (hand roll)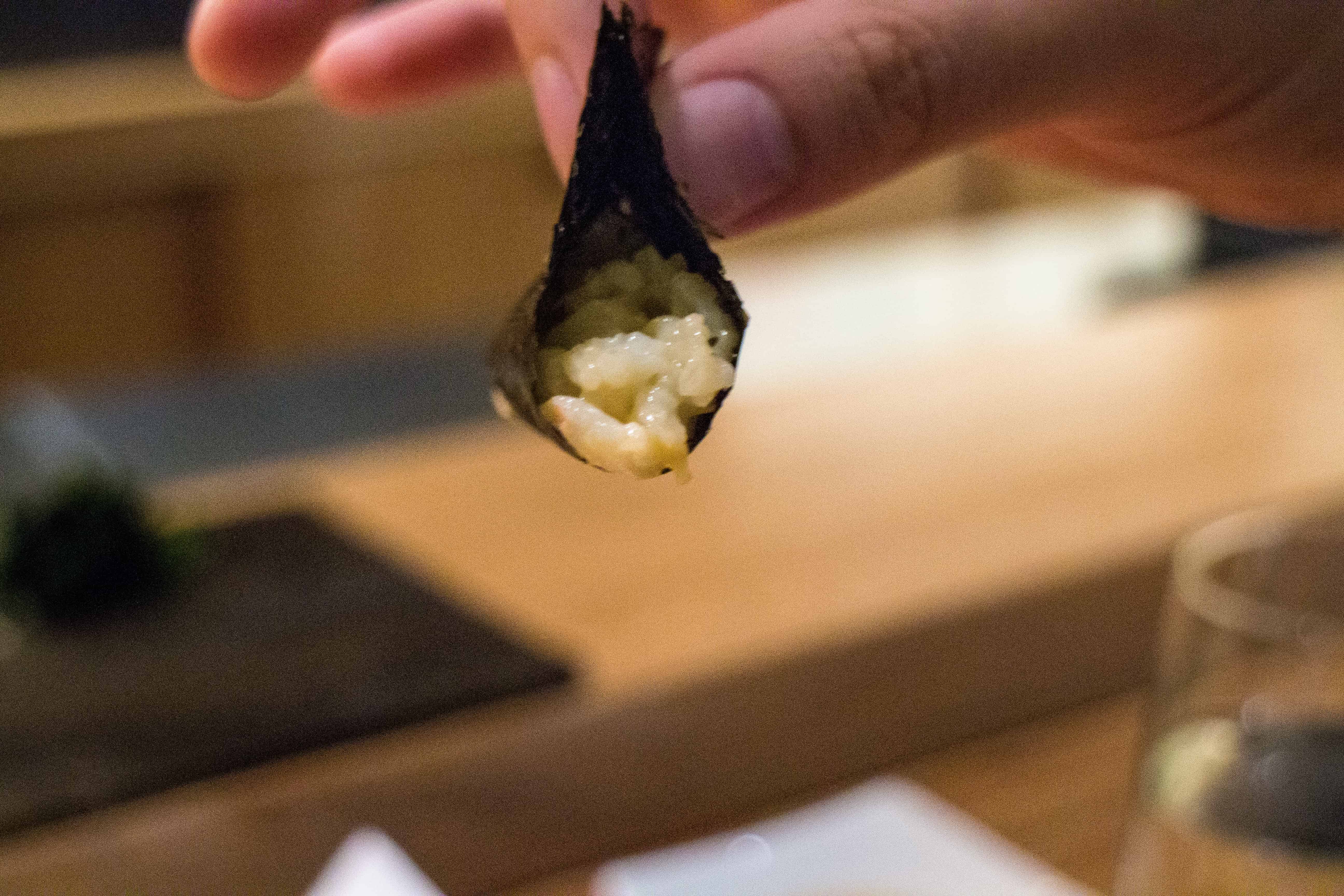 While I don't like shrimp, I do love shrimp heads. The chefs took the juices from the shrimp heads, mixed it with rice and rolled it up in crispy seaweed. It was rich and sweet. I could have eaten a whole bowl of this rice.
Uni tasting - Sea urchin from Maine and Hokkaido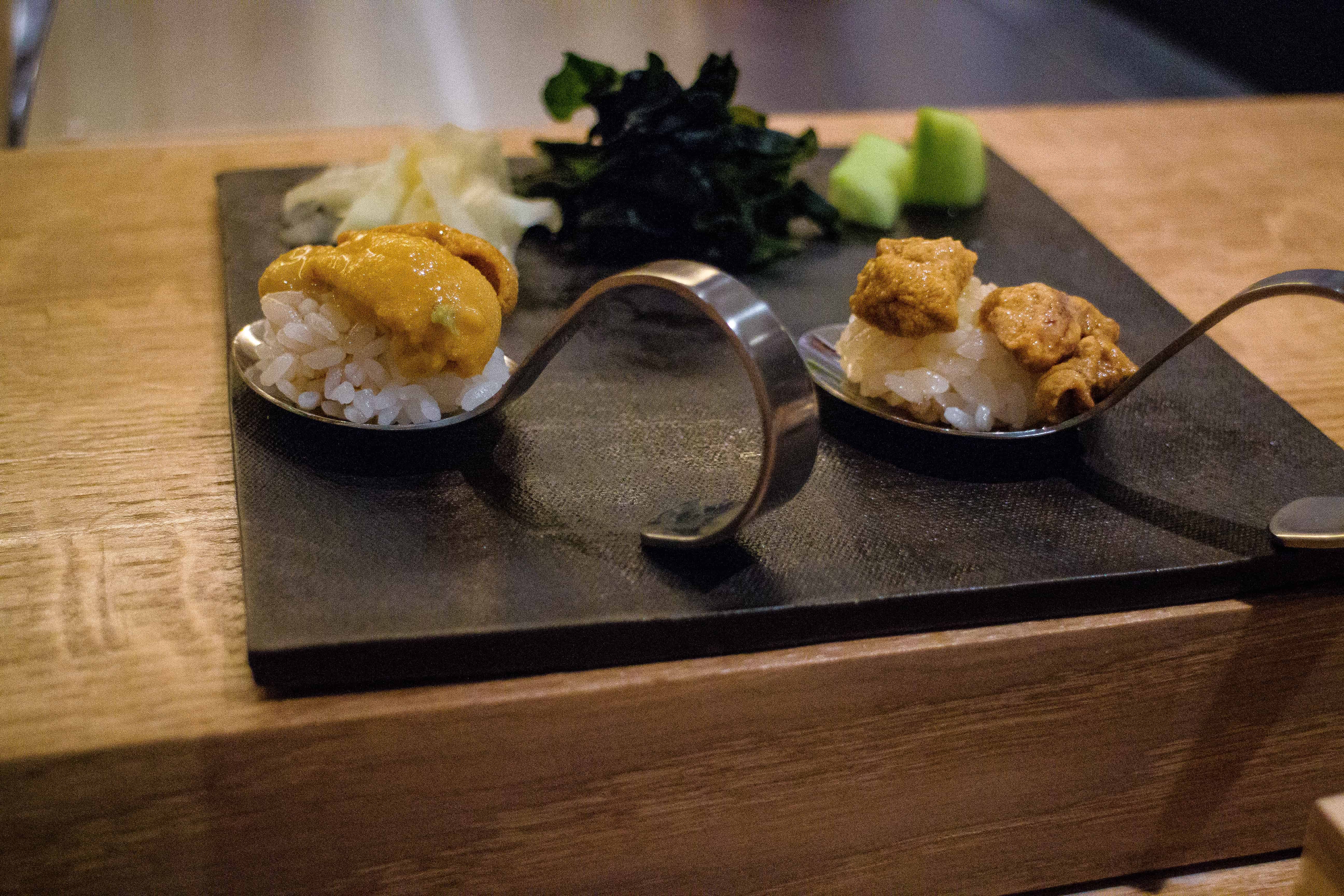 The bae and I tried to order uni for the first time at Zeppelin, a new sushi restaurant in DC. Neither of us had ever eaten it before, so we were really disappointed when it was sold out. Luckily, that night we were given TWO types of uni to try. The one on the left was from Maine, and it had a very strong, pungent salty flavor. It sort of tasted like an egg yolk, but more savory and ocean-y.
The Hokkaido uni had a more custardy texture, and was much sweeter. I preferred the Hokkaido one. After it was gone, it left the fresh taste of the sea in your mouth. I felt like I was at the beach!
Tuna temaki (hand roll)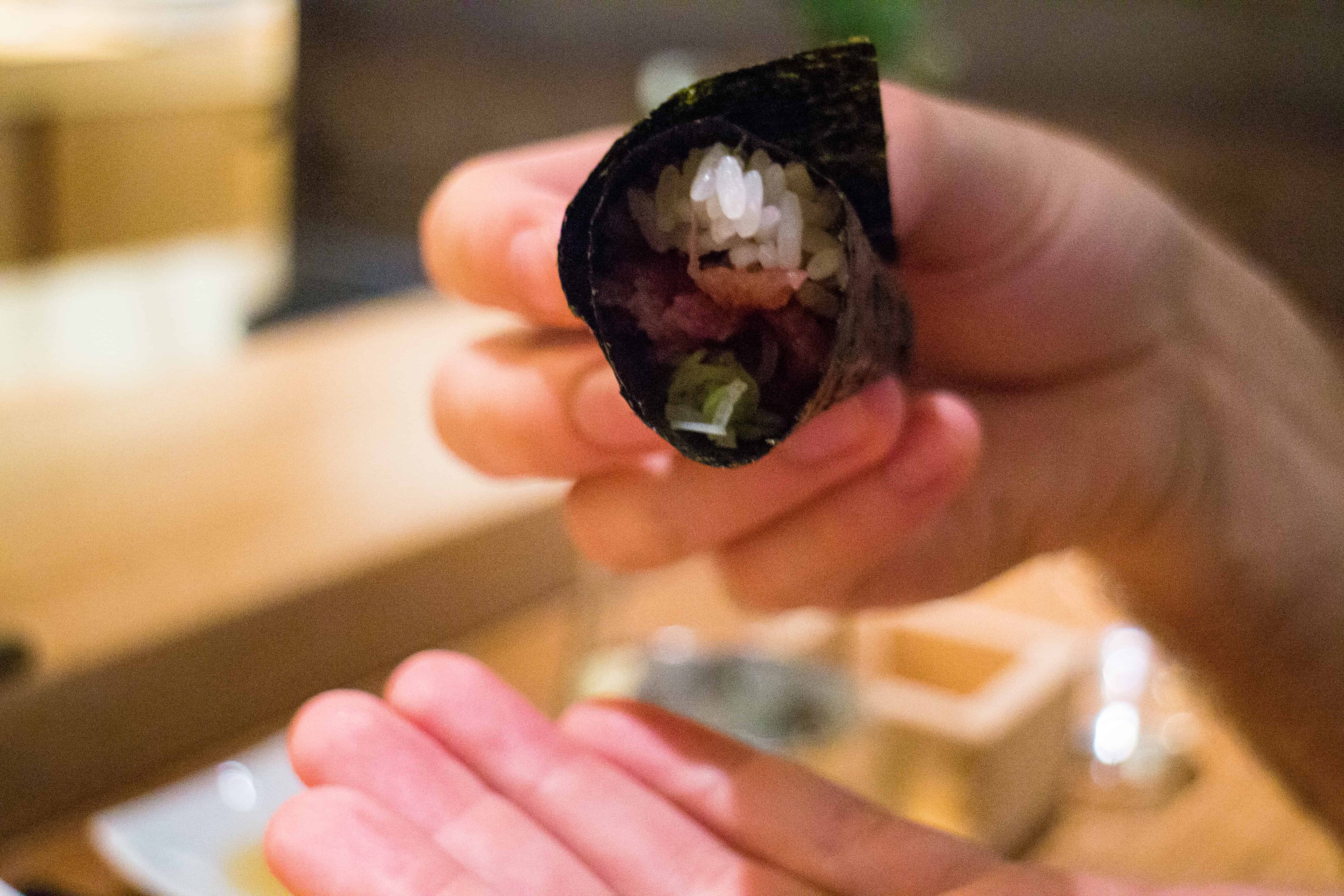 By the time we got to this hand roll, I was ready to die. I was SO FULL. Omakase usually ends with a hand roll. It's the best saved for last. However, I was just too full for a piece of sushi stuffed chock full of tuna. I took one bite and gave the rest to the bae.
Tamago - rolled egg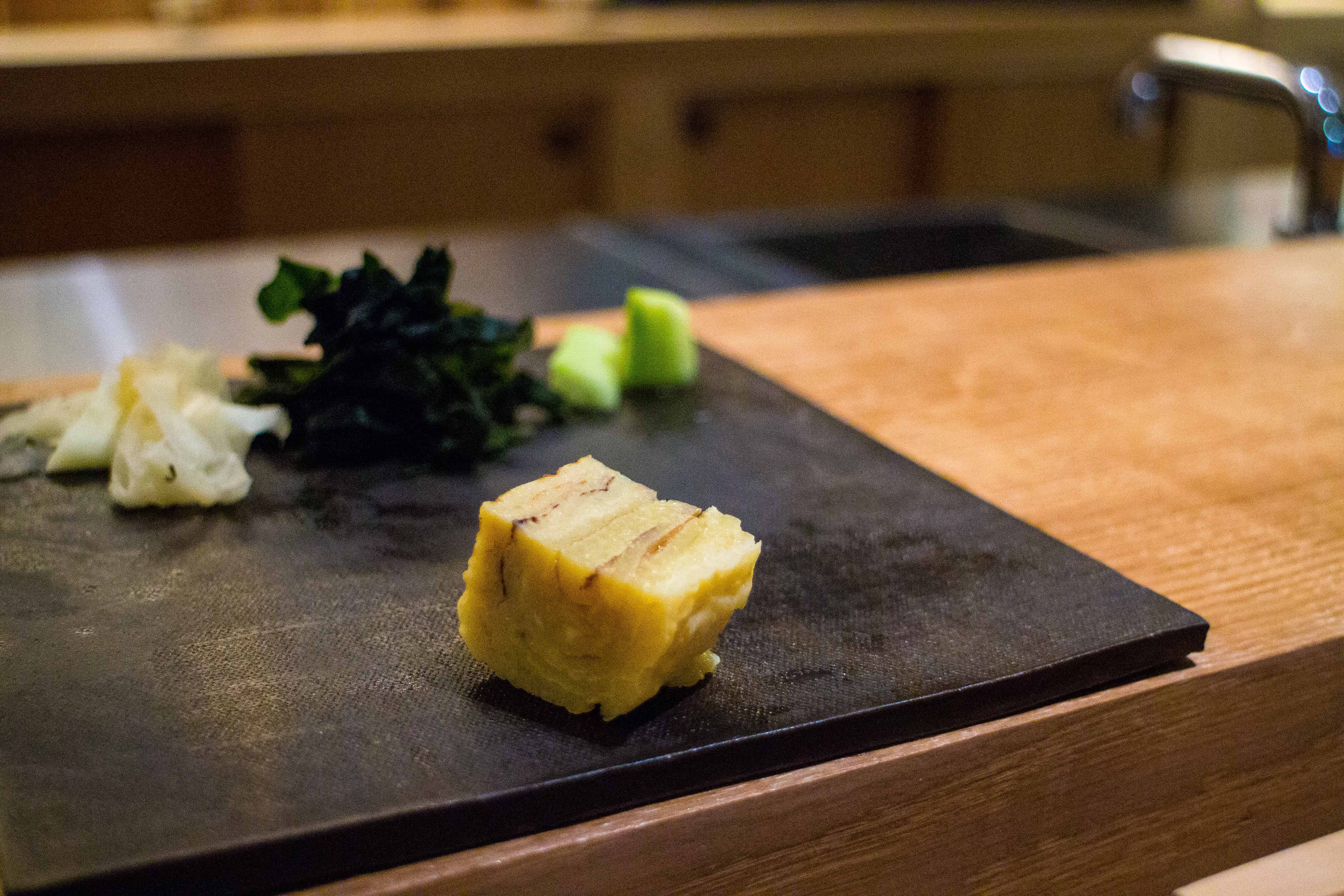 I make this rolled omelette at home all the time, but it's usually always savory. This tamago was sweet, almost like a custard but in omelette form. I loved it, and would have loved to eat three or four more pieces to finish off the meal. The bae made fun of how fast I ate this after complaining I was too full to take another bite.
Dessert- Black Sesame Gelato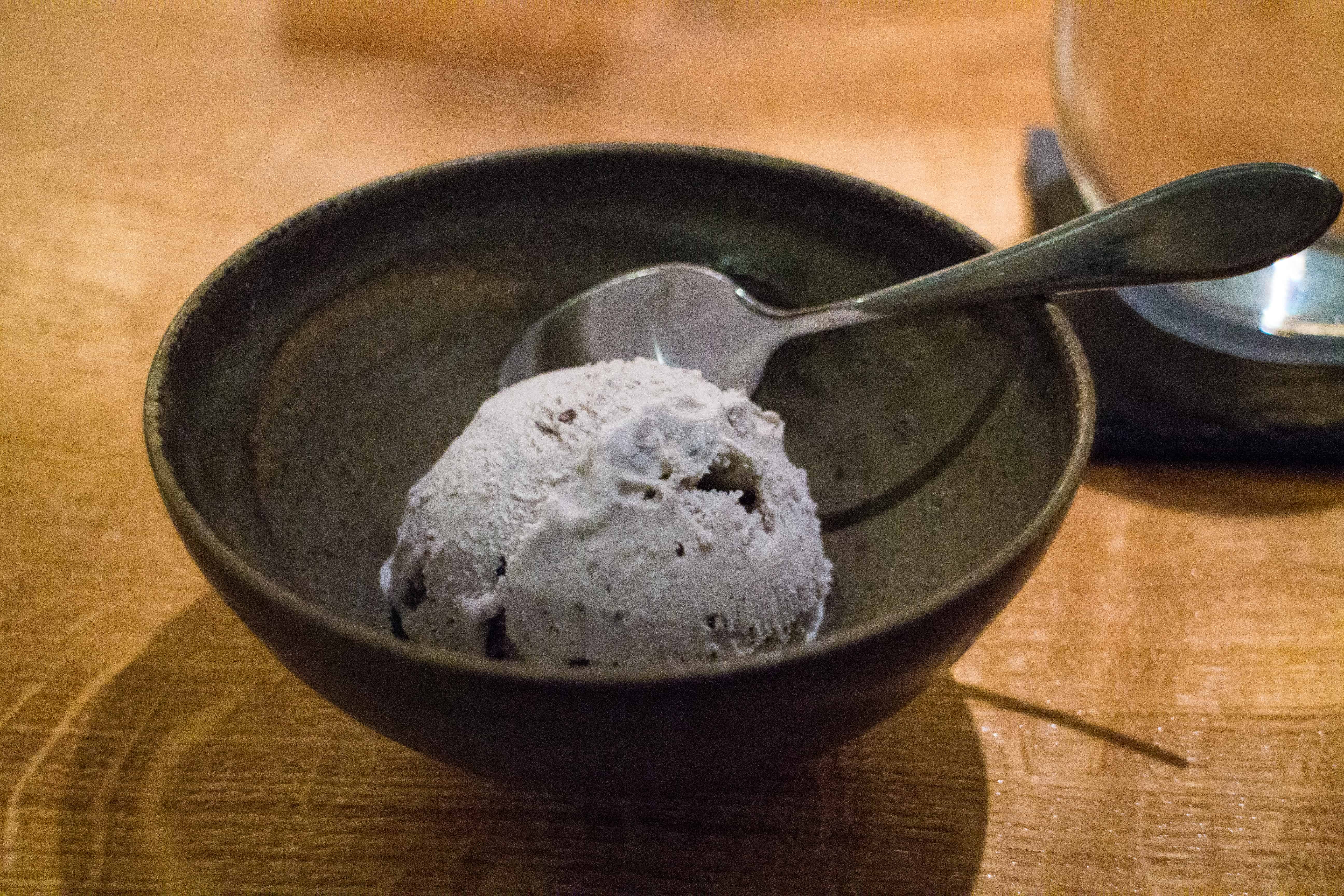 The bae doesn't understand quirky ice cream flavors. He'd rather eat a sickly sweet chocolate concoction. I, on the other hand, love odd ice cream flavors, and sesame is one of my favorites. We had a laugh when this came out, because I had eaten a cone of black sesame ice cream from Sundaes and Cones earlier that day, and he hated it. This version was much sweeter and milkier, so the bae was able to finish off his scoop. I'm going to be looking for black sesame ice cream recipes now, just to mess with him.
Final Review
You can't beat the ambiance at this cozy six-person bar. It's the perfect place for a romantic, celebratory date. The bae and I love spending time together over a good meal, and my heart was as full as my stomach was after our date. Despite the hefty bill, I still felt like it was a steal because of the sheer amount of food we were served. The only complaint I had was that the restaurant played the same four songs over and over again. When you're eating for two hours, it starts to feel like you're trapped in a video game.
Price point: $$$$ ($60 and above)
Dress code: Dressy casual. The bae dressed in a bright blue polo and white jeans, and was very stressed when a middle aged man in white khakis and a blue shirt showed up in his exact outfit. Is this my future?
Food: ????????????????????/5 The sushi was super fresh, and the chefs paired each fish with very creative accompaniments. The garnishes were simple but flavorful.
Service: ❤️❤️❤️❤️/ 5 Super intimate, with knowledgeable chefs and waitstaff. A great omakase expierence! I'm only taking off one heart for the music.
Zauo is located at 152 W 24th St, New York, NY 10011
---
Looking for other restaurant recommendations? Then check out my D.C food map!
---
Want more recipes and reviews in your inbox? Sign up below!