As you may know, I have a map of every place I want to go to eat in Washington, DC. The map is getting pretty crowded, so I was thrilled when I got to attend one of District Dining Club's events. We hit up four spots in the Shaw neighborhood of Washington DC for the Shaw Food Crawl, and they were all delicious!
District Dining Club
District Dining Club is run by Qui-Juan Jones. He plans events like neighborhood food crawls and supper clubs to bring people together and support local businesses. He's done a "Bad and Boozy" brunch series, as well as a series highlighting the best food trucks in the area. The Shaw neighborhood is not an area I visit very often, so I had a ton of fun checking out some of the restaurants there.
First Stop: Halfsmoke
The Shaw neighborhood is just a short walk from Howard University, so I couldn't think of a better restaurant to start the crawl than the black-owned Halfsmoke. The restaurant is an homage to Washington DC's signature sausage. A half-smoke is a sausage that's usually smoked before it's grilled. It's made with spicier and more coarsely ground meat than a typical hotdog is.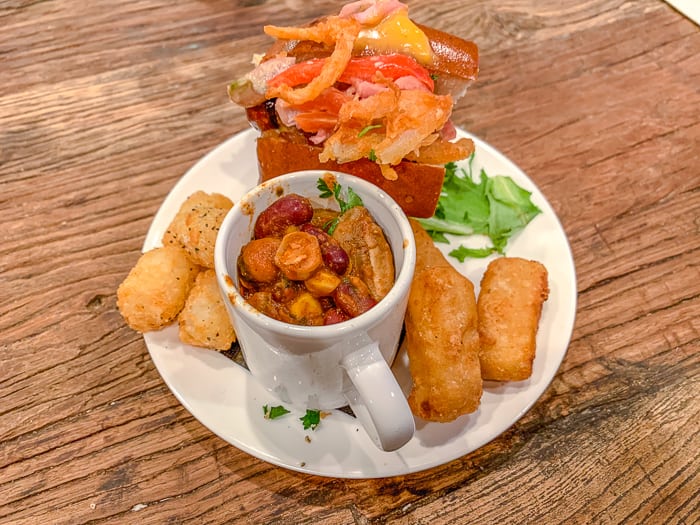 We were served half of their signature half-smoke topped with crispy onions and spicy mustard, a small cup of veggie chili, tater tots and mac and cheese bites.
I loved the half-smoke, which was spicy and salty and really hit the spot. If I were to be honest though, I would eat a Chicago style hotdog over a half-smoke any day. Sorry! You can take the girl out of Chicago...
For me, the veggie chili was the star of the show. It was delicious, with just the right amount of heat. I didn't miss the meat at all, especially after eating half a sausage.
The tater tots and mac and cheese bites were good, but a little bit salty.
There's a big sign in the restaurant that says "growing up is a trap!" and the venue certainly maintains a playful vibe. Your receipts come out in empty VHS boxes. I was given mine in a Tigger movie VHS box and the waiter told me he thought I'd like it and winked. I'm still trying to figure out what he meant.
Second Stop: Declaration
Declaration has been open for three years now, and its part of the Presidential Hospitality Group, which also runs Teddy and the Bully Bar and Lincoln. There's another venue for Declaration in Nats Park. Both serve New American fare. I love the presidential theme of the restaurants. What could possibly be more Washington DC?
We sampled different pizzas as well as a kale salad and fried mozzarella. I had a slice of the caramelized onion pizza and it was buttery and savory all at once. I've never considered caramelized onions as a pizza topping, but the sweetness of the onions complemented the cheese really well!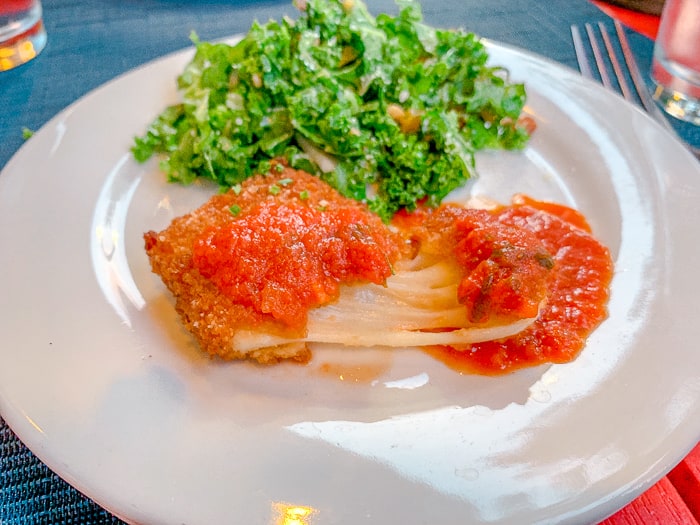 The kale salad was refreshing after so many fried foods at our first stop. I enjoyed the almonds and apricots.
As for the fried mozzarella? You can't really go wrong with fried mozzarella. I mean, look at this cheese pull.
Third stop: 801 Restaurant and Bar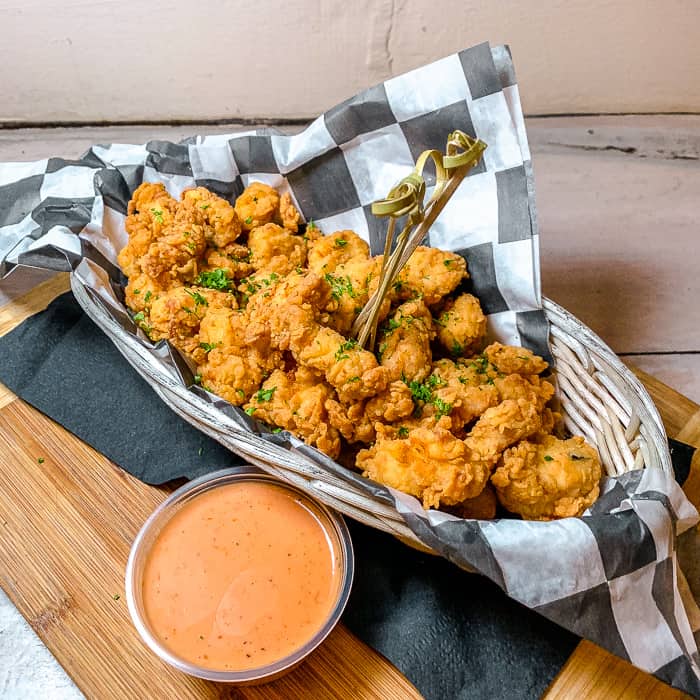 801 Restaurant and Bar is a casual spot with a gorgeous rooftop. They have great brunches (which we obviously did not get to attend that night), which usually sell out fast!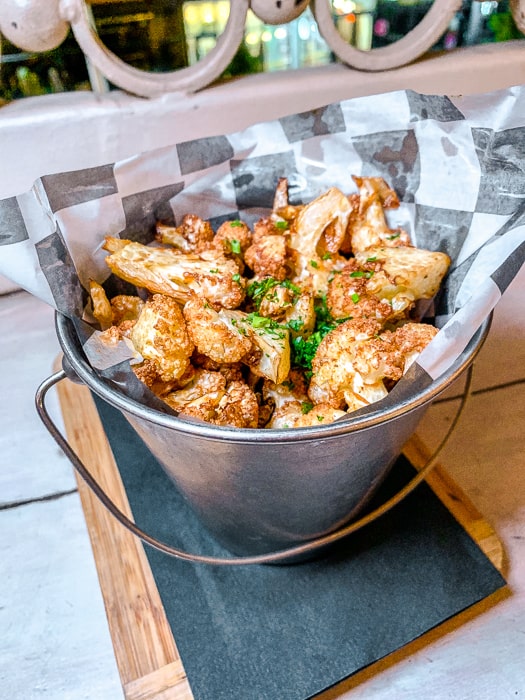 I was getting pretty full by the time we arrived, but managed to grab a bite of the popcorn chicken and popcorn cauliflower. I've honestly never been so excited to eat cauliflower before. It was perfectly roasted, and the piquillo dipping sauce was creamy and spicy.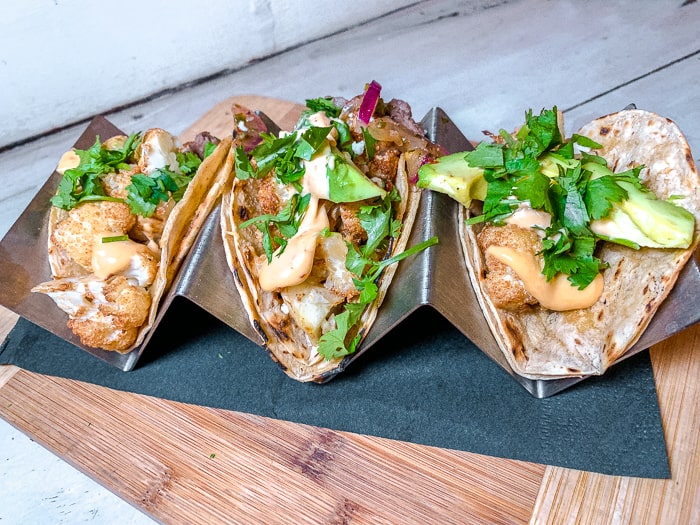 We were also served steak, chicken and cauliflower tacos, but I was way too full to try any. I really wanted to, but I didn't want to waste food! They did look delicious though.
My favorite part of 801 bar is the decor. If you look up the venue on Instagram, you'll probably see a bunch of girls posed in front of their "Goods Vibe Only" neon sign. Me included.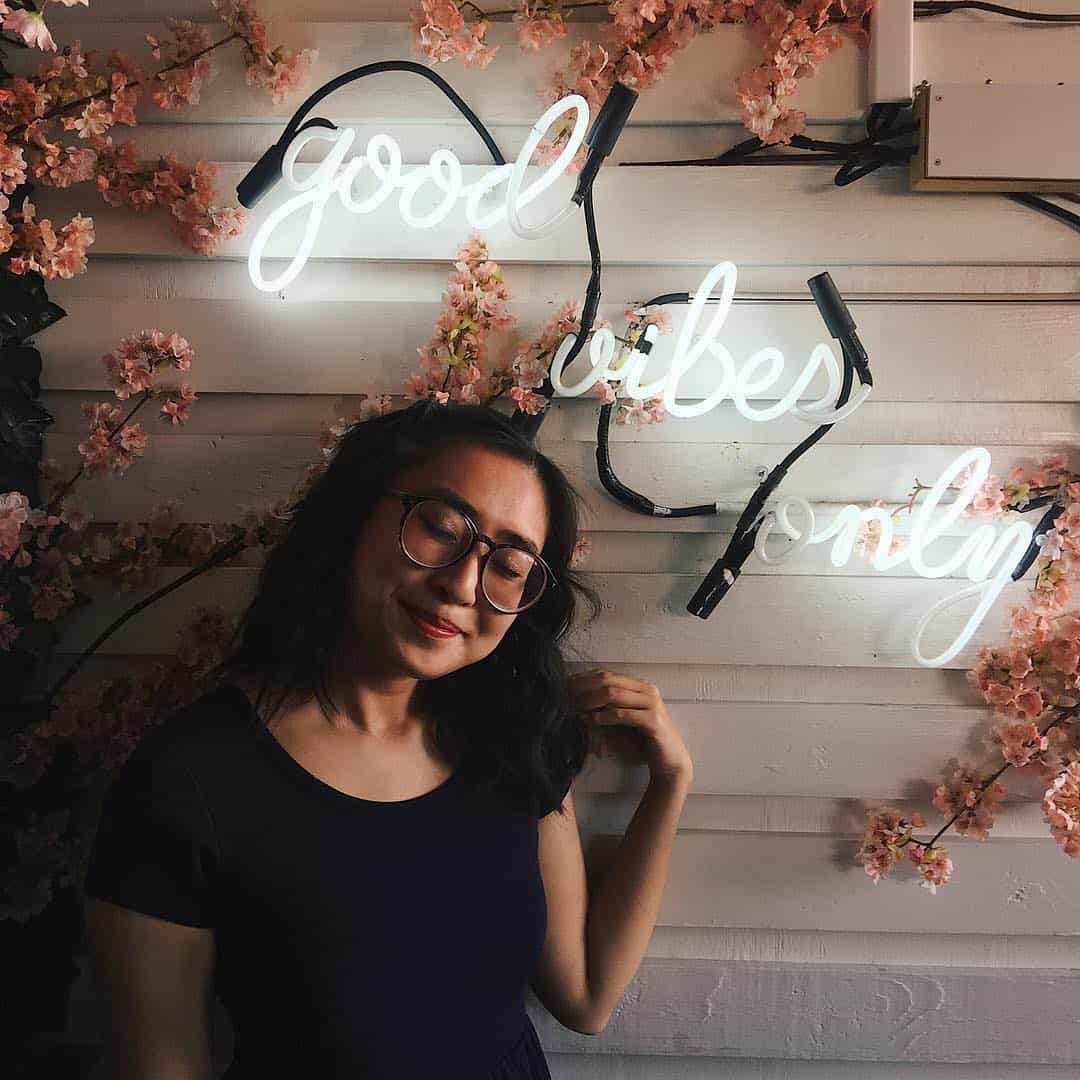 Last Stop: Nicecream
No matter how full you are, there's always room for dessert. Nicecream is an ice cream shop that specializes in small batches of ice cream using local grass-fed dairy. The ice cream is frozen using liquid nitrogen and made right in front of you in stand mixers. Because the liquid nitrogen brings the ice cream to temp so fast, the resulting product has smaller ice crystals, creating a smoother, creamier ice cream.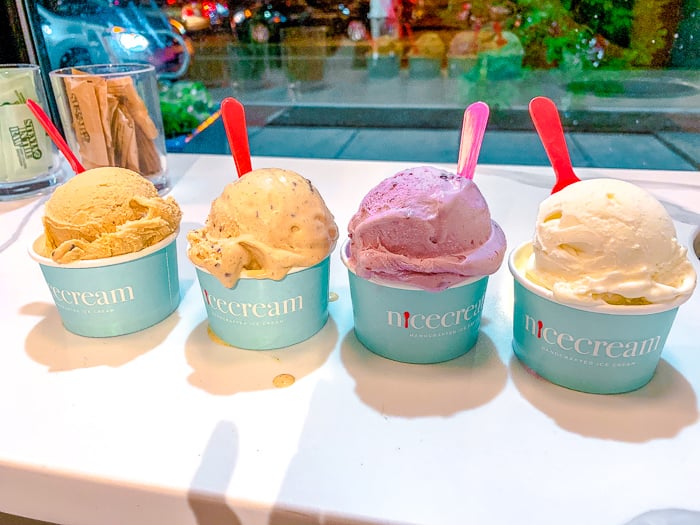 I had the blackberry ice cream, which was at once fruity and creamy. The blackberry seeds gave a nice texture. I was surprised by how mild the flavor was. The creamy taste of the local dairy really shone through!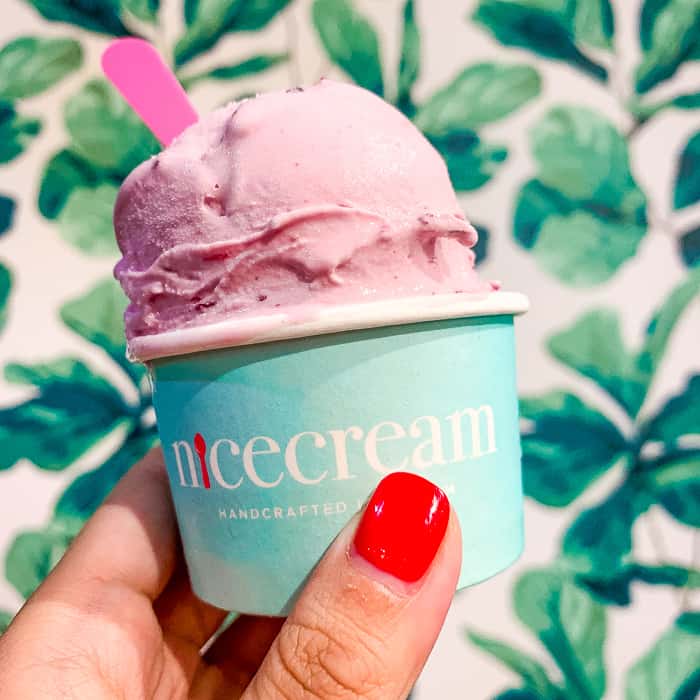 Overall, I'd definitely return to any of these four places. I had a great time with District Dining Club exploring the Shaw neighborhood, and I can't wait to see what else Qui-Jon has in store for the city!
Looking for other restaurant recommendations? Then check out my D.C food map!
---
Don't miss a single post! Sign up for my newsletter!