The bae and I went to The Shed on our last morning in Santa Fe. We had reservations at a spa, and an hour-long drive to Albuquerque to get to the airport, but I wasn't going to leave the city without eating New Mexican cuisine one last time.
We had gone to a wedding the the night before and talked to a couple who had been living in Santa Fe for a little while now (One of my good friends from middle school got married and is moving to Santa Fe, which is why the bae and I ended up there on vacation)! When I told them that we had just been to Tomasita's, they admitted that they thought it was an overrated restaurant. They told me that I needed to go to The Shed if I wanted good chile, which is how the bae and I ended up there with a little under and hour for lunch before we needed to get back on the road.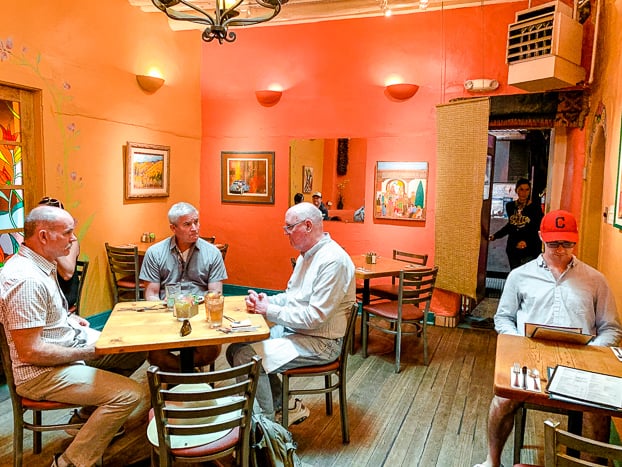 History of The Shed
The Shed has been serving New Mexican cuisine since 1953, and its currently run by the third generation of the Carswell family. It used to be housed in Burro Alley, but moved to its current location on Palace Avenue due to high demand.
The current restaurant is located at a hacienda called Prince Patio. The building dates back to 1962, when the prince of Spain gave the property to Captain Diego Arias de Quiros for his role in the reconquest of New Mexico. In 1879, Governor Bradford Prince bought the property and renamed it Prince Patio. The building has 18 rooms with three patios, and has been the home of The Shed since 1960.
Because of all of the individual rooms, The Shed feels like a maze sometimes. We walked through several rooms filled with diners before getting to our table. The entrances have low doors, so watch your head unless you're only 5'2'' like me.
The food
Vegetarian Posole
The bae ordered the day's special for an appetizer. Posole is a stew usually made with hominy and pork, but this one was vegetarian. Hominy is a type of corn that's been treated so that the shell of the kernel becomes soft. The shell is then washed off and you're left with a puffy, fluffy kernel. The bae thought that the stew was pretty refreshing! The hominy was tender and the green chile gave it a bit of a kick.
I didn't take a photo of the posole because my started came out at the same time and I was WAY too excited to eat it.
Chicken tamale with green chile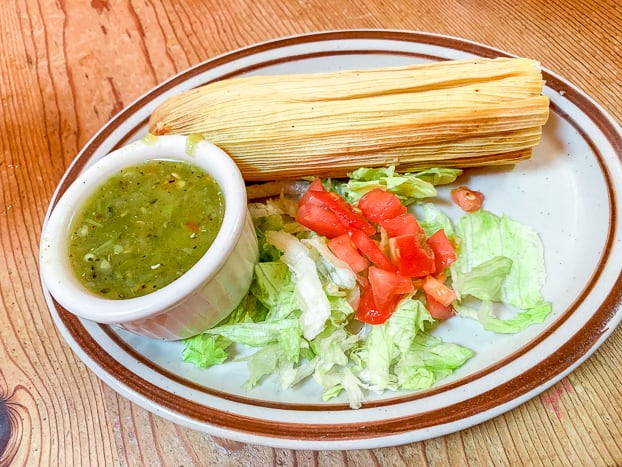 Our first foray into New Mexican cuisine in Santa Fe was at Tomasita's, where I ordered a tamale platter. It was delicious, albeit a tad dry.
This chicken tamale was SO fluffy and tender. The masa was soft and the chicken was juicy. The green chile was a lot spicier than the green chile at Tomasita's. I inhaled this tamale, and even the bae, who doesn't like tamales, admitted this one was pretty tasty.
Chile con carne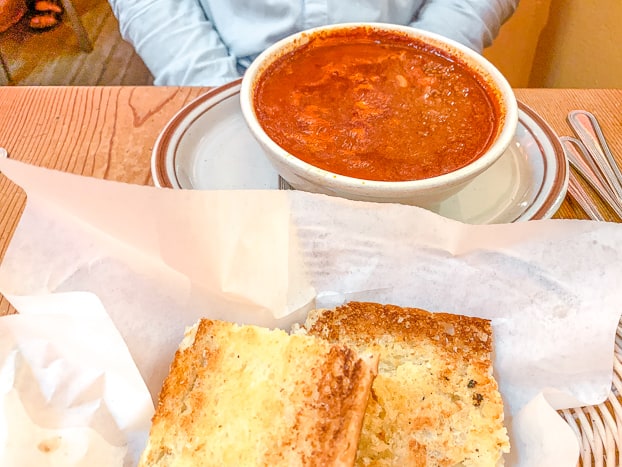 The bae ordered a bowl of chili con carne for his entree. It came out piping hot. The soup was really savory and flavorful, and the red chile had a deep smokiness to is. It was really satisfying to eat with the garlic bread that came with our meals. Can you tell I was more excited about the garlic bread than the chili from that photo?
Taco and enchilada plate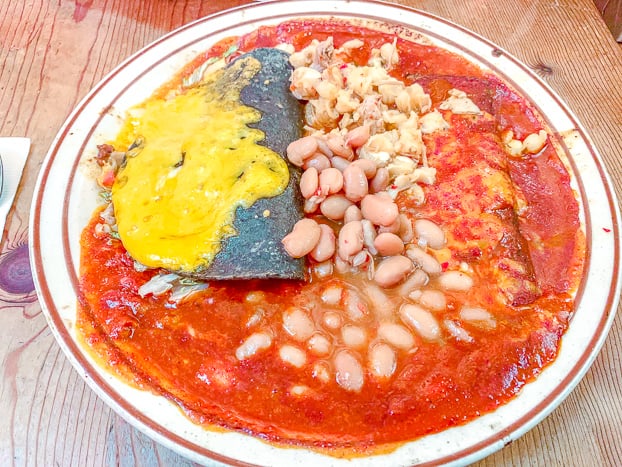 I ordered a ground beef taco and cheese and onion enchilada platter. They were smothered in red chile and served with pinto beans and posole.
I did closed my eyes and did a little dance when I put this in my mouth. This plate made me decide that these reviews should all include whether or not I do my food dance when I eat the food. Seriously, I was like Winnie the Pooh presented with a pot full of honey.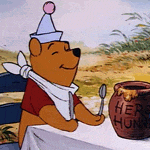 This platter was SO GOOD. The red chile was so flavorful, and it was actually spicy. The cheese was wonderfully melty, and the beef was tender. I loved the pinto beans served with the meal, as I prefer the whole beans to refried beans. Seriously, the bae had to tell me to pace myself because he was scared I'd get a stomach ache. I don't think he expected me to finish my plate but I almost cleaned it.
The Shed Santa Fe: Final Review
The Shed was hands down my favorite meal in Santa Fe. I hesitated to go because we were short on time to get to the airport, but two full weeks after my return to DC, I'm STILL thinking about that tamale. The venue is quirky and bright, and our waitress was accommodating of our time restraints. I'm so glad we ended our trip on this extremely high note.
PSA: The Shed sells canned versions of their red and green chile, and they ship! If you can't make it to Santa Fe, just take the leap and order two jars. You won't regret it. This isn't an ad, I'm not being sponsored, I just really love their chile.
Price point: $$ ($11-$30)
Dress code: Casual. Bonus points if you have a bolo tie, boots or a cowboy hat!
Food: ????????????????????/5. Not a day has gone by that I haven't thought about that chicken tamale. I'm serious. The best New Mexican cuisine ever!
Service: ❤️❤️❤️❤️❤️/5 Our waitress brought out the food quickly and was so accommodating of our tight timeline for lunch. This was the first meal we ate where every single dish was served as ordered too! The bae was joking that every meal we ate in Santa Fe had one little thing wrong with it. Not enough to send food back or even complain about, but enough to bother us.
Noise Level: ????????????/5 Our room was small and intimate, so it wasn't too loud. The restaurant does get very crowded though so you might have a different experience depending on where you're sitting.
The Shed is located at 113 ½ E Palace Ave, Santa Fe, NM 87501
---
Looking for other restaurant recommendations? Then check out my D.C food map!
---
Don't miss a single post! Sign up for my newsletter!