Nashville has always been one of my top destinations to visit. Admittedly I have very little interest in country music or honky tonks, but I AM interested in soul food and hot chicken.
Naturally when the bae said he wanted to take me to Nashville for our two year anniversary back in January, I said yes in a heartbeat.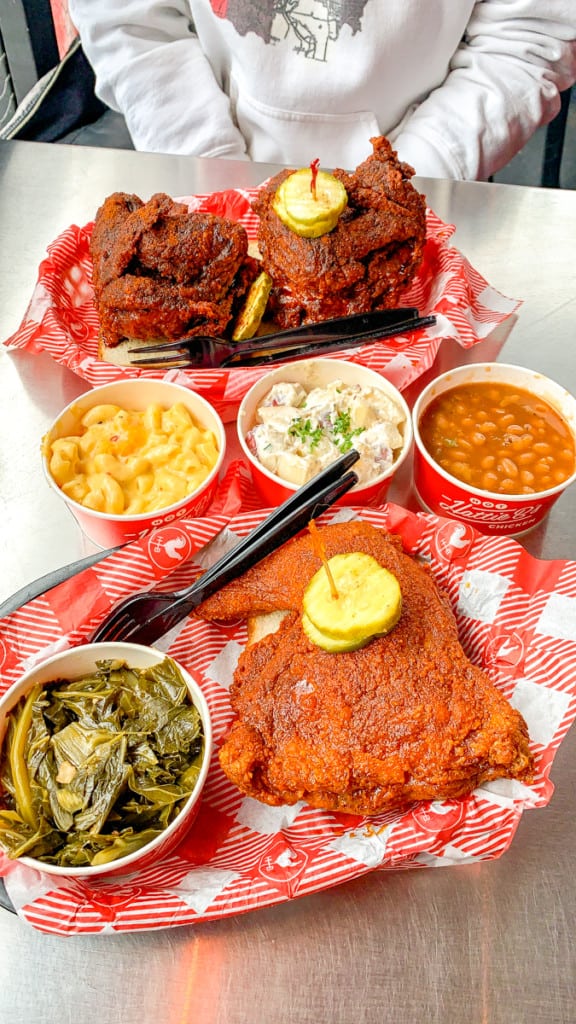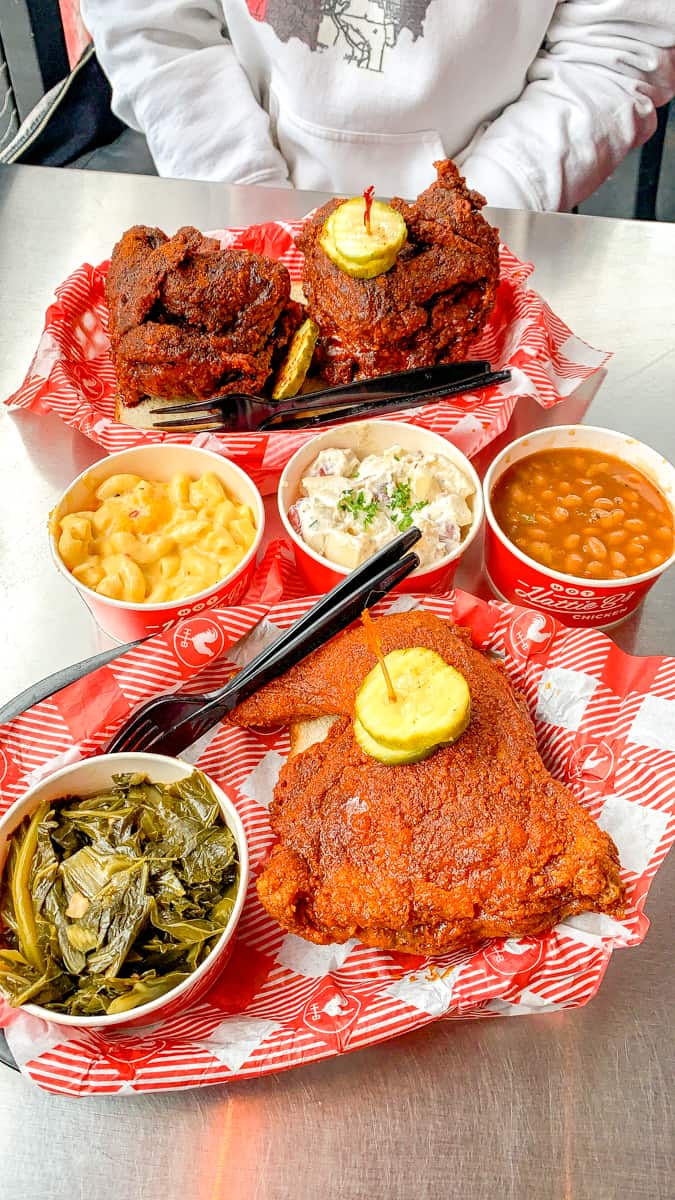 I didn't get a chance to upload this guide before statewide shutdowns went into place. I'm hoping once it is safe to travel again, this guide will be useful for all!
Jump to:
Where we stayed
We booked rooms at the Hutton Hotel on West End Ave. The bae and I don't travel often, but when we do we definitely prefer to stay somewhere nice. Hutton Hotel was the most affordable out of all the 4-star hotels we looked at.
The hotel is beautifully decorated and has all the amenities you could want. There's a spacious gym with a Peloton bike and spa services are available in room. Live music every plays every night at the bar and restaurant, and more shows scheduled periodically at the Analog.
For those that are musically inclined, the hotel also has a writer's room equipped with several guitars and a piano for you to jam out. Guitars and record players can also be ordered to your room upon request.
The lobby and shared spaces in the hotel are really the star attraction. I admittedly did not go to the fitness center, but the website says they have Peloton bikes, TRX machines, fresh fruit, water and towels. If you want to work out on vacation you'll definitely have everything you need. There are also spa and message services that you can order directly to your room.
The bae and I spent a lot of time together in the lobby. The bar and restaurant are beautiful, and in the mornings there's a small cafe open with giant donuts. We raided the hotel's board game stash one night and he beat me at Scrabble again. We played Scrabble on our first date, so it seemed appropriate for our anniversary, but I haven't won a single game yet 🙁
The hotel also has a Tesla available with an employee that will drive you anywhere within three miles of the hotel. We took advantage of the service once and it was super convenient, but if you plan on hitching a ride, be aware that there's only one car that can take one party at a time. Every time we asked to take the car there was about a 20-30 minute wait because the car had either just left or there were three or four people waiting before us. Since a lot of the time we could have walked to our destination in 20 minutes, we opted out of using the car service most of the days we were there.
READ: See our guide to what to do in Santa Fe!
What to do
Country music is integral to Nashville's history. That being said, we did not hit up the Grand Ole Opry or Ryman Auditorium. We simply didn't have time, and the bae and I are not the biggest country music fans. Here's what we did manage to do during our tip.
Tour a whiskey distillery
You can't go to Tennessee without seeing how they make Tennessee whiskey! The bae and I toured Corsair Distillery and Taproom. The tour only costs $10 and I learned so much about whiskey making! Our guide was witty and engaging, but honestly the most fun part of the tour was the other tourists. There was a VERY drunk group of older adults out celebrating a woman's birthday. I don't really drink, but they looked like they were really having fun!
The bae really liked the small tasting at the end of the tour. He ended up getting a bottle of Corsair's Triple Smoke to bring back to D.C. It's aged with peat straight from Scotland, but mixed with other woods to give it a milder smokey flavor.
Brush up on some music history at the Johnny Cash Museum
I don't listen to a lot of modern day country music, but I do love the old stuff. Johnny Cash is my favorite artist in the genre. I was actually introduced to his music as a kid when I watched "Walk the Line" starring Joaquin Phoenix and Reese Witherspoon. I was enamored by the songs Phoenix sang and the rest is history.
The museum isn't super large, so it won't take you all day to visit. The bae and I like to read every little thing, as mentioned before, and it still only took us about two hours. Make sure you stop and listen to some music every time you see a pair of headphones! It's the best part of the museum.
My favorite part of the exhibit was learning more about Cash's activism for prison reform and Native American Rights. The man definitely had his vices but I really respect him for speaking out on topics that were not popular at the time.
Listen to some live music at a honky tonk
The bae and I are admittedly not big country music fans. This trip was more about the food than the country music culture (more on food later). It's hard not to be pulled into a honky tonk when you're walking down a neon light-lit Broadway at night though.
We went to Robert's Western World, which was voted "Nashville Scene's" Local Favorite Honky Tonk eight years in a row, according to their website. The bae and I loved how chill it was. The venue was crowded but super low key. There were people of all ages there. Some had drinks in hand and others were just enjoying the music. Others were getting fried bologna sandwiches at the bar. My eyes were on an older couple dancing right in front of the state the whole time.
Learn about how tobacco is made at The Original Snuff Shop
My sister, who works at Altria, recommended this spot as a fun, quick tour. It's the U.S. Tobacco Company's flagship store, and it is steeped in history. The front of the store is a simple smokeless tobacco shop, but you can request a free tour of a small exhibit on how smokeless tobacco is made. You will have to tell the tour guide that you are a tobacco user if you want access, as U.S. law forbids them from advertising to non tobacco users.
View some art at the Parthenon Nashville
Nashville's nickname is the "Athens of the South," which is something I'd never heard of until the bae and I ended up at a life size replica of the Parthenon. It was originally erected in 1897 as the Fine Arts building for Tennessee's Centennial Exposition. All of the buildings built for the fair were made with plaster and was not meant to last long term, but the Parthenon was so beloved that it was later renovated in concrete and it still stands today.
Inside you'll see a small exhibit about the history of the Tennessee Centennial Exposition where the Parthenon was just built. It was a huge fair and I was wishing we still help events like that today until I got to the part of the exhibit about cultural exhibits that included PEOPLE. I was not a fan of the photos of the Chinese Village, where fair goers could gawk at real Chinese people dressed up in a human exhibit. It's a product of the times that was definitely uncomfortable for me to see.
Further inside the Parthenon is a small art gallery, with pieces donated by local collector James. M. Cowan.
If you go upstairs, you'll see HUGE statue of Athena, goddess of wisdom. The Athena statue at the real Parthenon was lost, but the sculptor did extensive research for this recreation. I personally think she looks a little scary, but you can't deny that it's an impressive piece of art.
Enjoy the city's street art
You can't visit Nashville without taking some insta-worthy pics by the giant wing mural. The piece is called "What Lifts You." Be prepared for a line if the weather is nice. It's a very basic thing to do but you have to admit it's a little fun.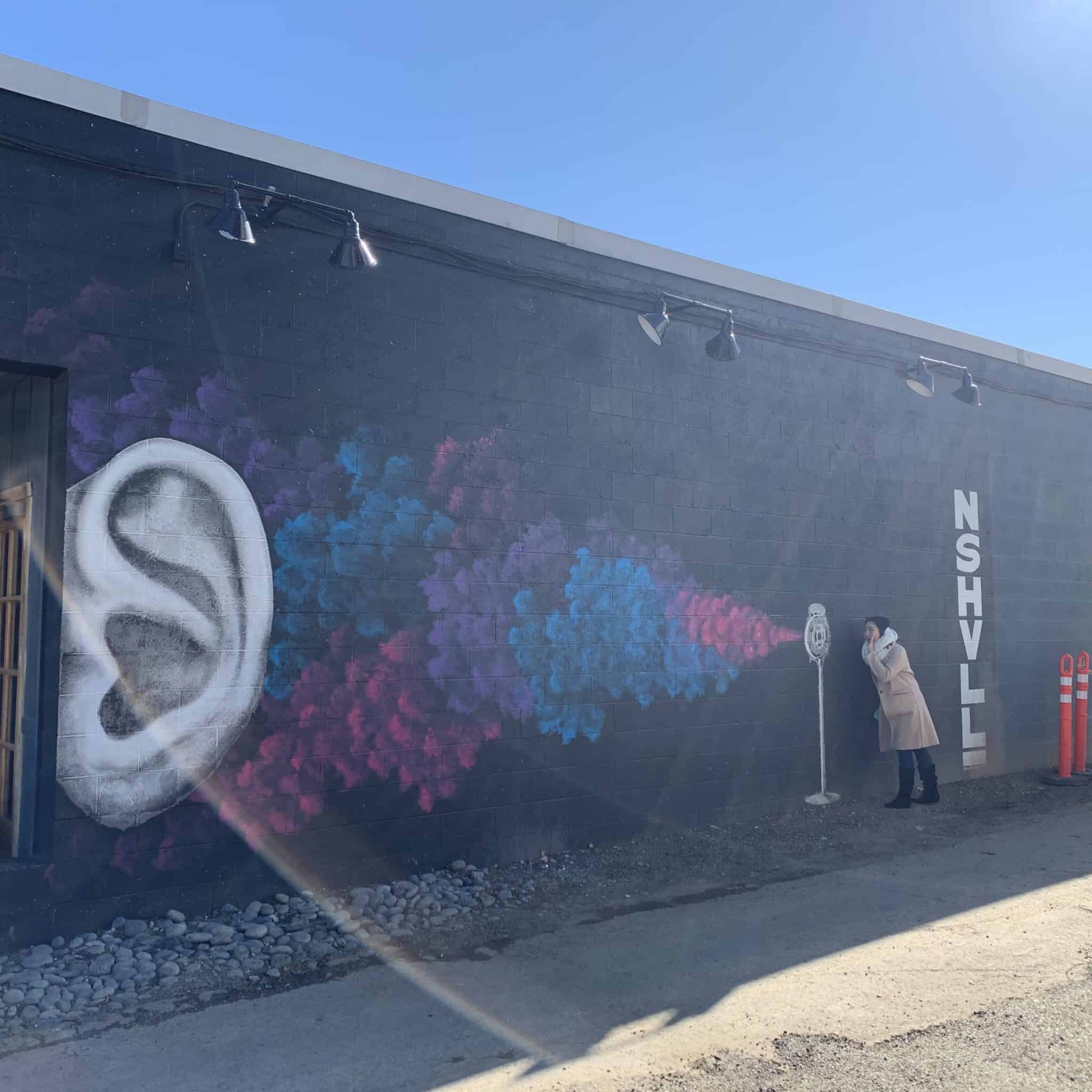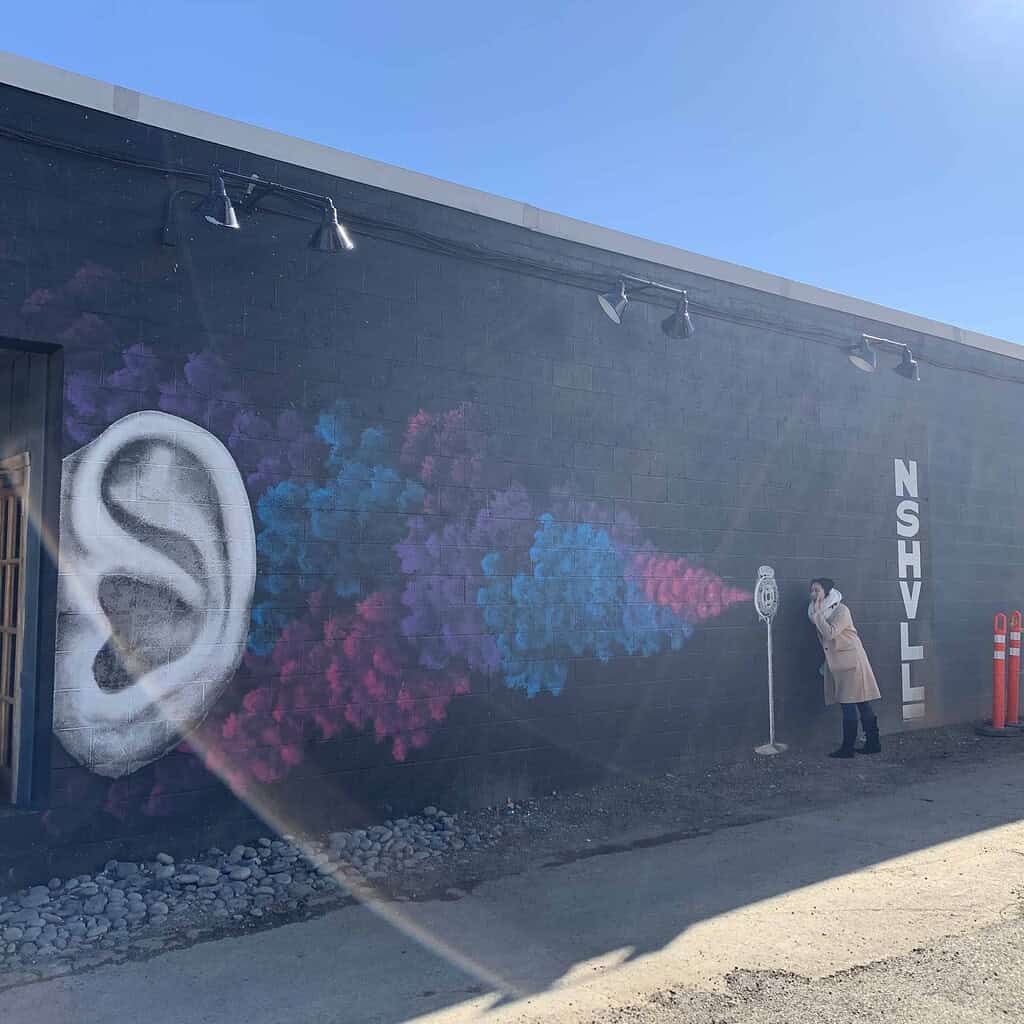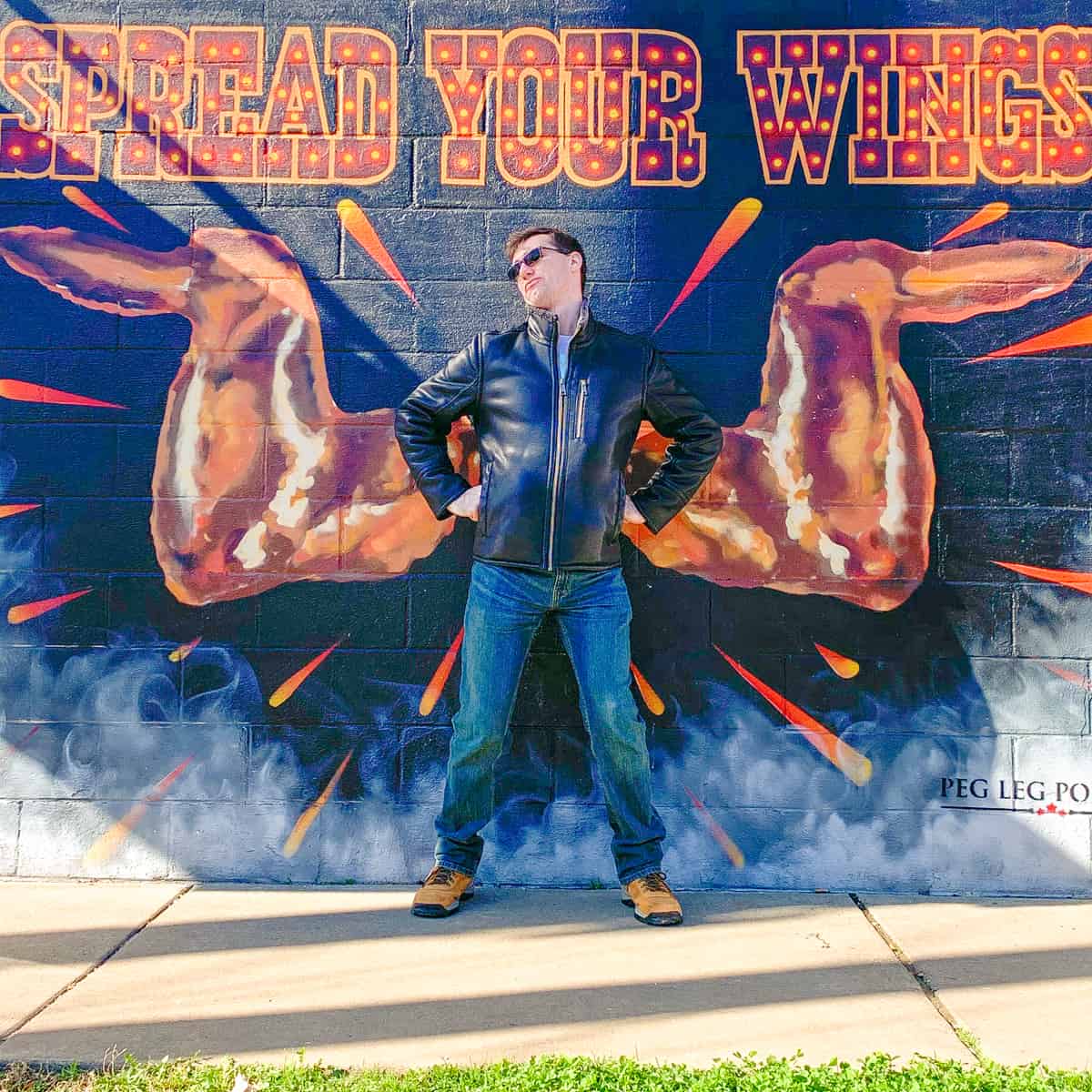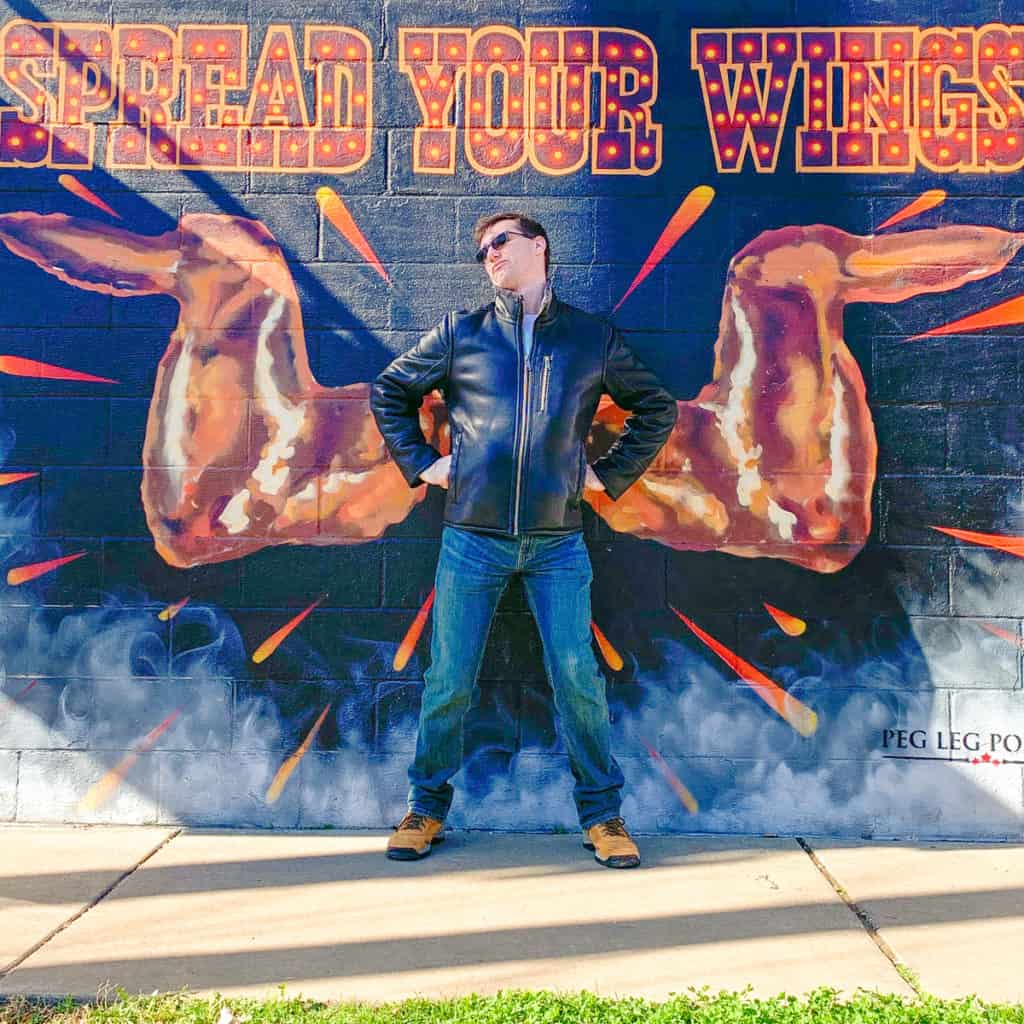 The bae and I found all sorts of fun murals while exploring the city, including this fun chicken wing parody of the Nashville wings, found in front of Peg Leg Porker's BBQ.
Where to eat
This vacation was definitely a food vacation. I spent weeks looking up places in the city I wanted to eat at. I had way too many on my list to make it to on our short trip. Here are the places we did manage to go to!
Hattie B's Hot Chicken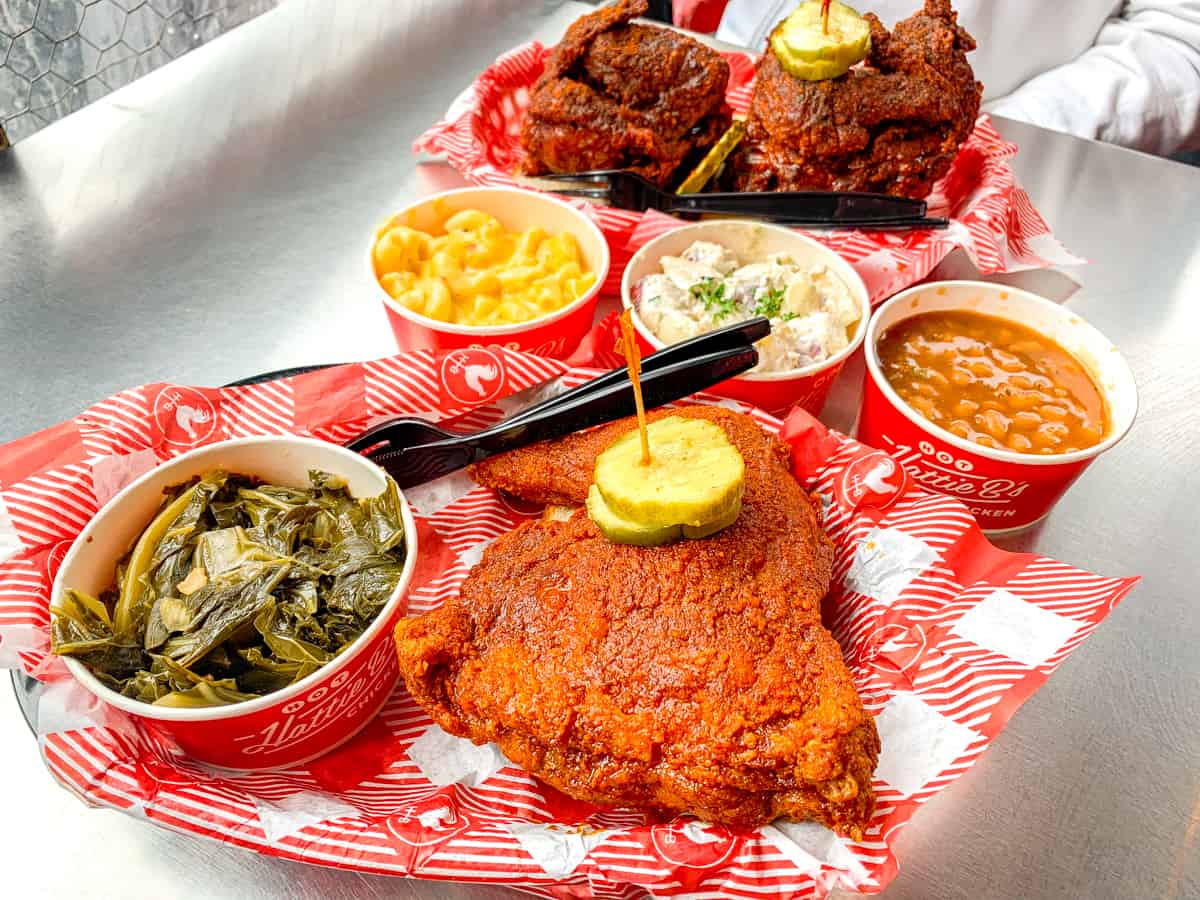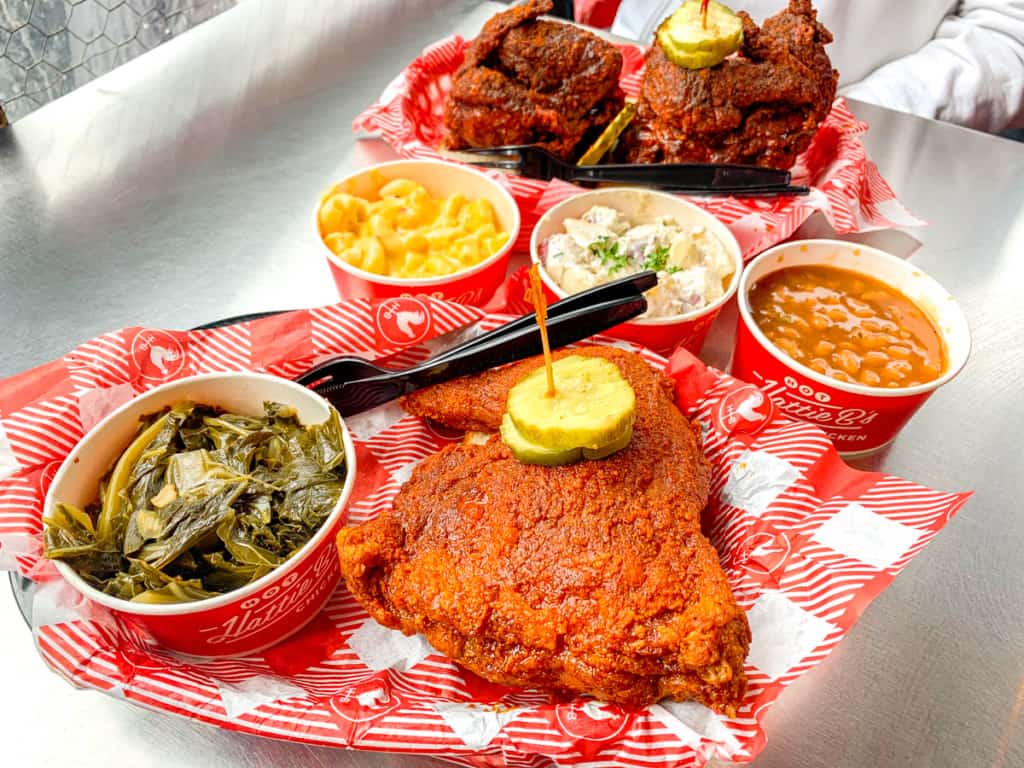 If you stay at the Hutton like we did, you're in luck because the hotel is right across the street from Hattie B's Hot Chicken.
I have wanted to try genuine Nashville Hot Chicken for SO LONG and Hattie B's hit the spot. The restaurant was created by Nick Bishop Sr. and Jr., and named after various women in the family named Hattie. The chicken in various spice levels, and there are TONS of side dishes available.
The bae and I got into Nashville around 12:30 p.m. so we had to wait in line for about an hour because of the lunch rush. We usually HATE waiting in line for anything, no matter how good but I was determined to get my hot chicken. Reader, it was worth it.
The chicken was extremely juicy, and not at all as spicy as they warned it would be. I got a regular "Hot!" level and the bae got "Damn Hot!." We both felt like we could have gone up one level.
Our favorite sides were the beans and potato salad. I've never tasted beans with so many layers of sweet and savory flavors!
Prince's Hot Chicken Shack at 6th and Peabody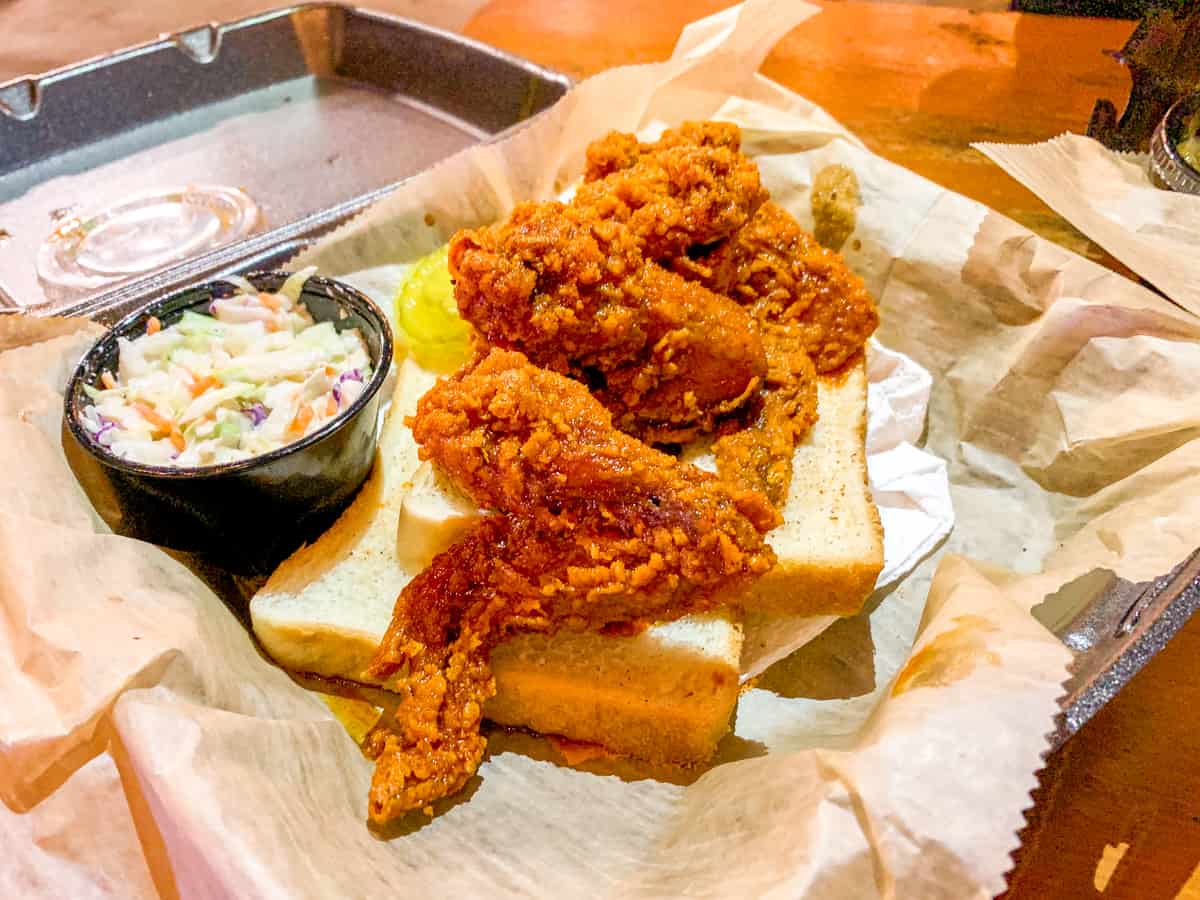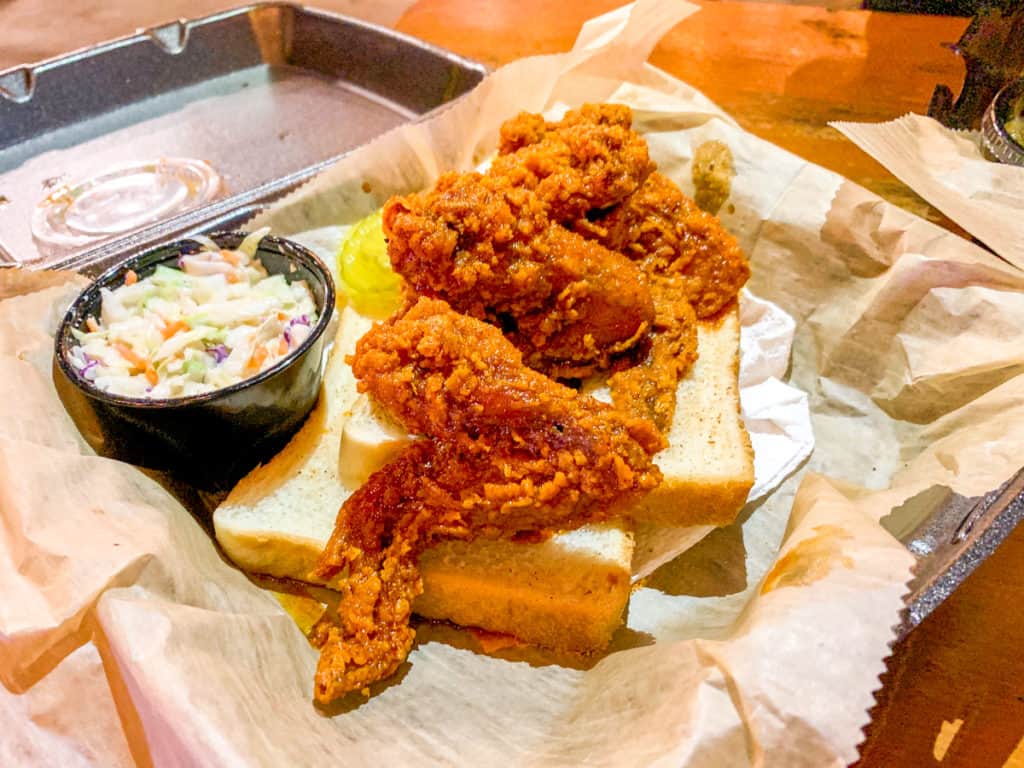 Hattie B's was the first Hot Chicken place we went to, but Prince's is the original Nashville Hot Chicken. We unfortunately missed out on eating at the original South Nashville location because it was closed on the days we'd be in the city, but we manage to hit up the Prince's Hot Chicken Food Truck at 6th and Peabody.
Heading to 6th and Peabody was a blessing in disguise, because we LOVED the venue. The indoor/outdoor space had huge TV's playing that night's hockey game and a beautiful beer garden, with cornhole and giant connect four. The venue had an impeccable playlist of early 2008s Top 40 hits, which transported me back to middle school. The bae and I ended up spending a lot more time there than we planned. Playing a serendipitous game of cornhole reminded me of our second date, where we took a cornhold detour as he was walking me home.
Barista Parlor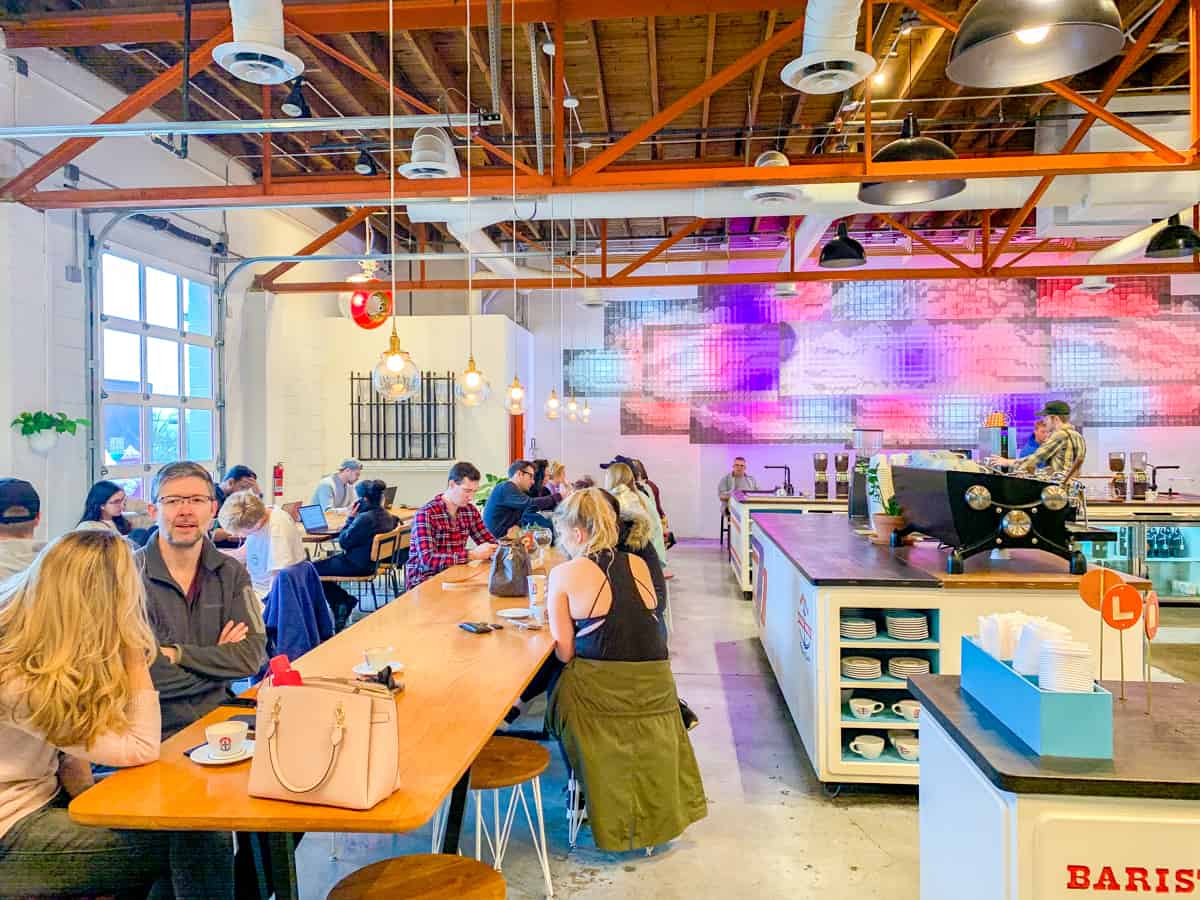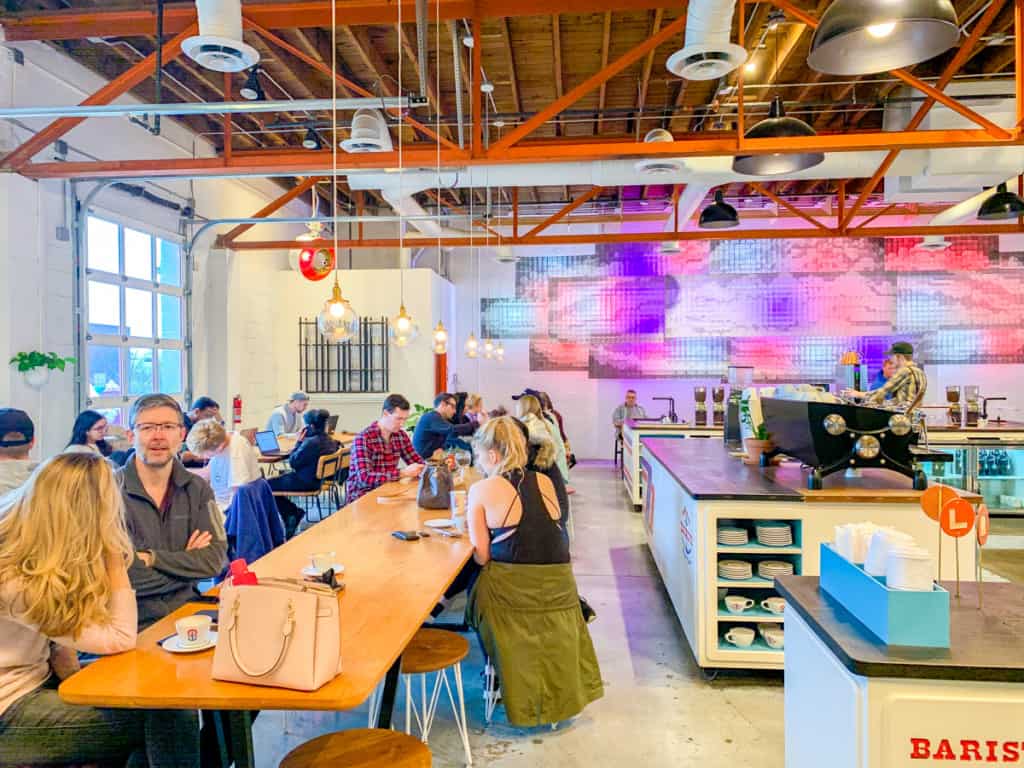 Biscuits were second on my list of must-eat foods in Nashville after Hot Chicken. I originally wanted to go to Biscuit Love, but the line was SO long every single day we tries to line up. Luckily a quick google search brought us to a cute coffee shop called Barista Parlor, just in time for the rain to start pouring down.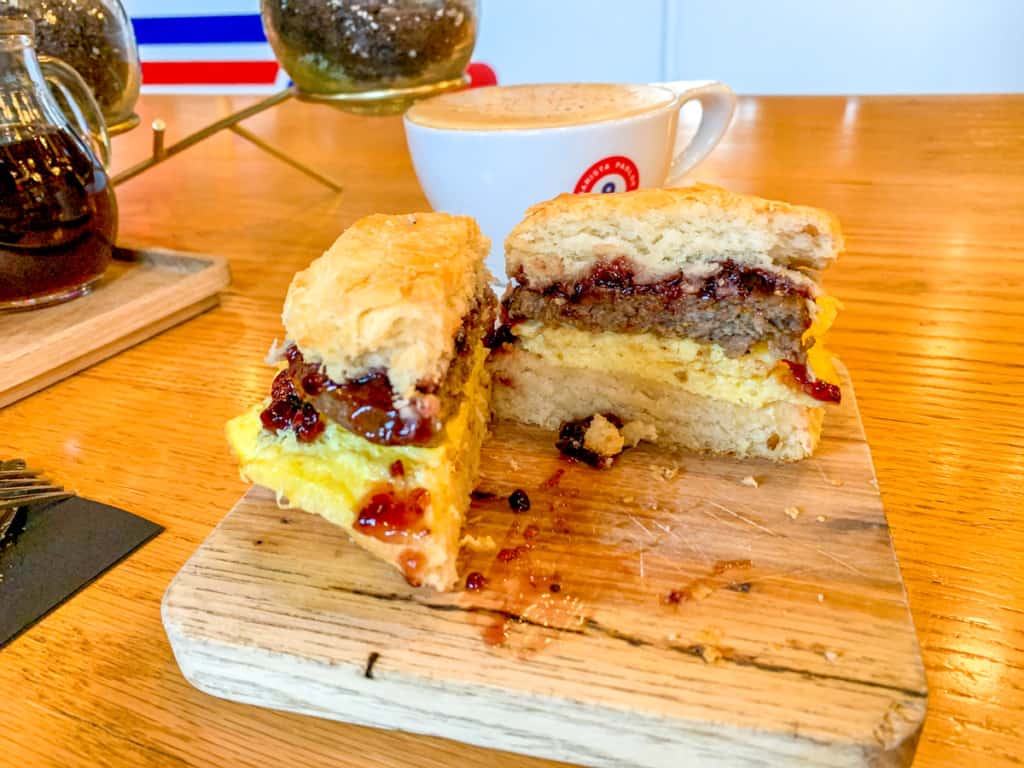 I ordered a biscuit breakfast sandwich with housemade sausage and blackberry jam. I'll admit I was skeptical about blackberry jam and eggs in the same sandwich, but this sandwich WORKED. The biscuit was so buttery and soft, and the blackberry jam wasn't too sweet. It balanced the salty fattiness of the sausage perfectly. I still periodically crave this sandwich.
Patterson House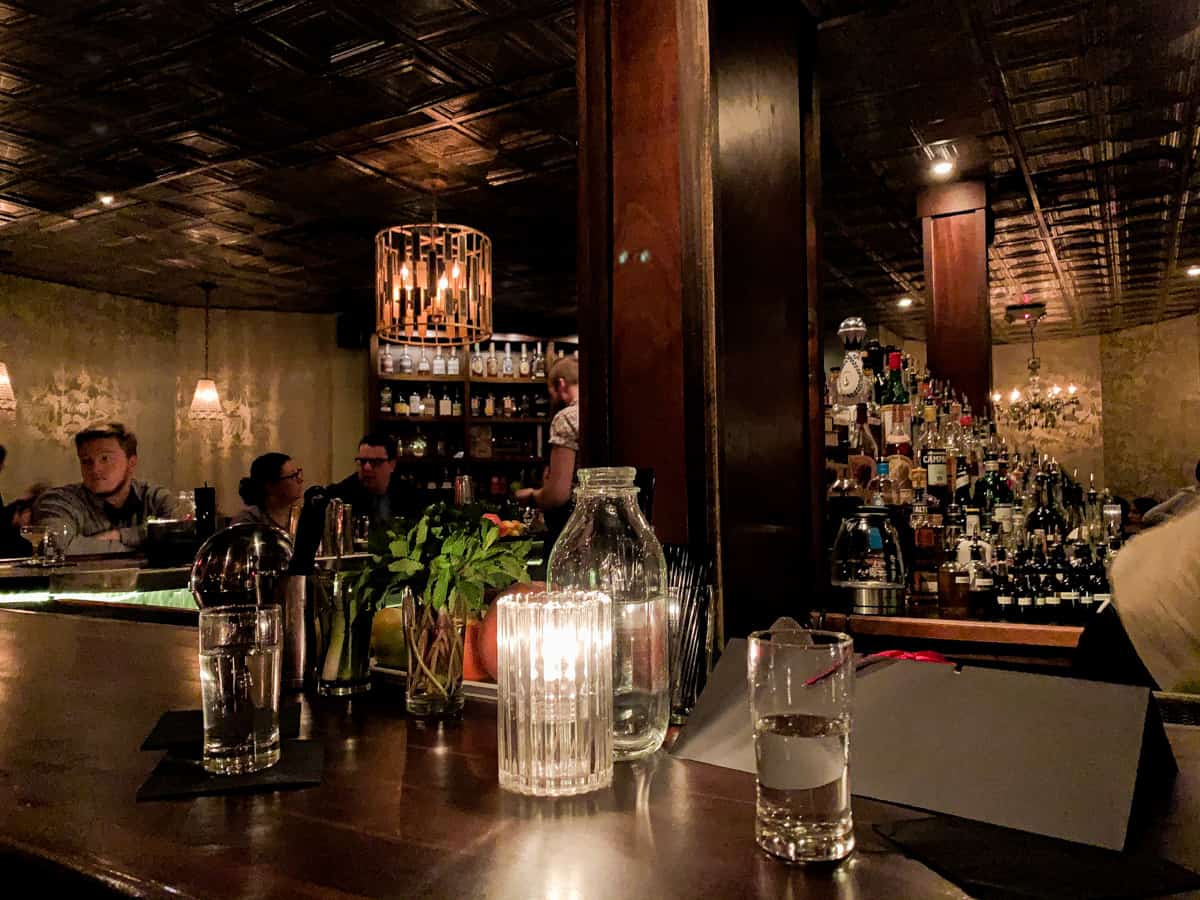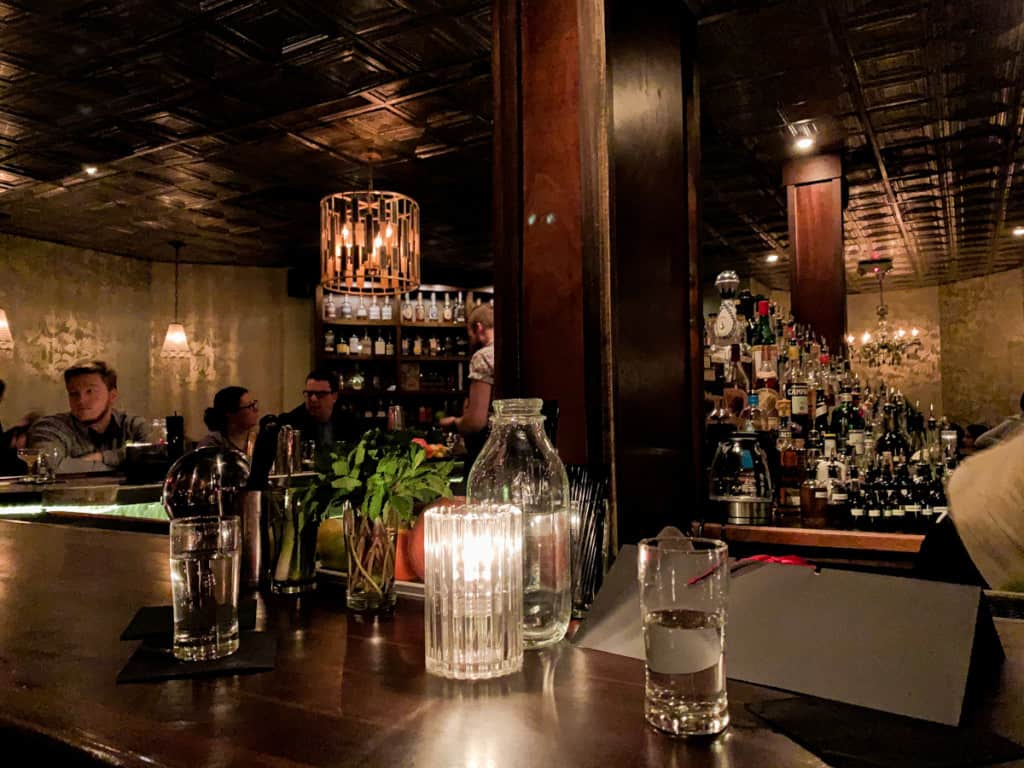 This craft cocktail bar was probably the most romantic spot the bae and I hit up on our trip. The venue felt very intimate, as only 80 guests can be seated at a time. A heavy curtain separates the drinking room from the cozy waiting room.
I ordered some snacks for myself while the bae perused the house cocktails. I got johnnycakes, which were filled with corn flavor, and a house pickle platter that we both enjoyed snacking on. The bae is a whiskey fan, so he loved working his way through the whiskey menu.
Our bartender was very attentive and knowledgeable, but didn't bug us too much, letting us enjoy each other's company in a cozy intimate space. Even though I'm not a big drinker, I thoroughly enjoyed my time there.
Swett's Restaurant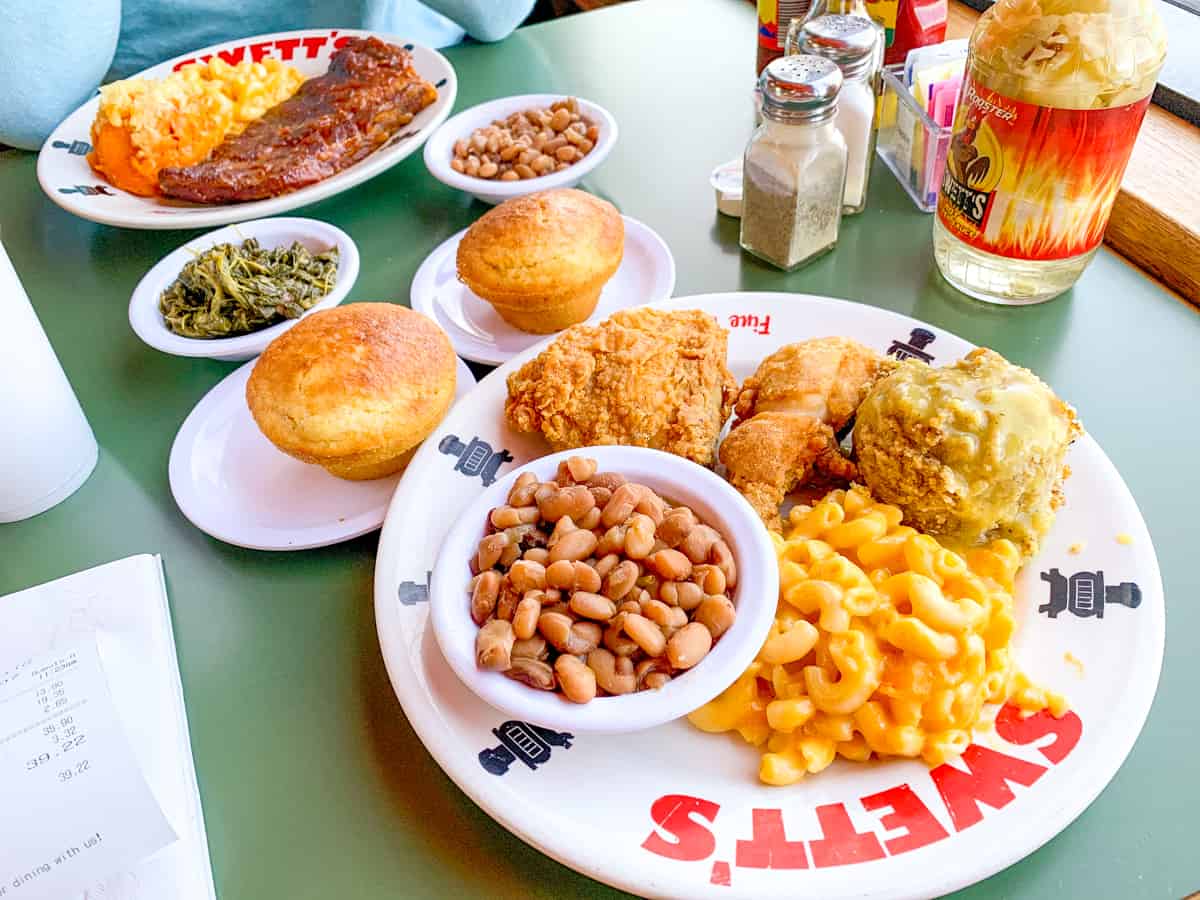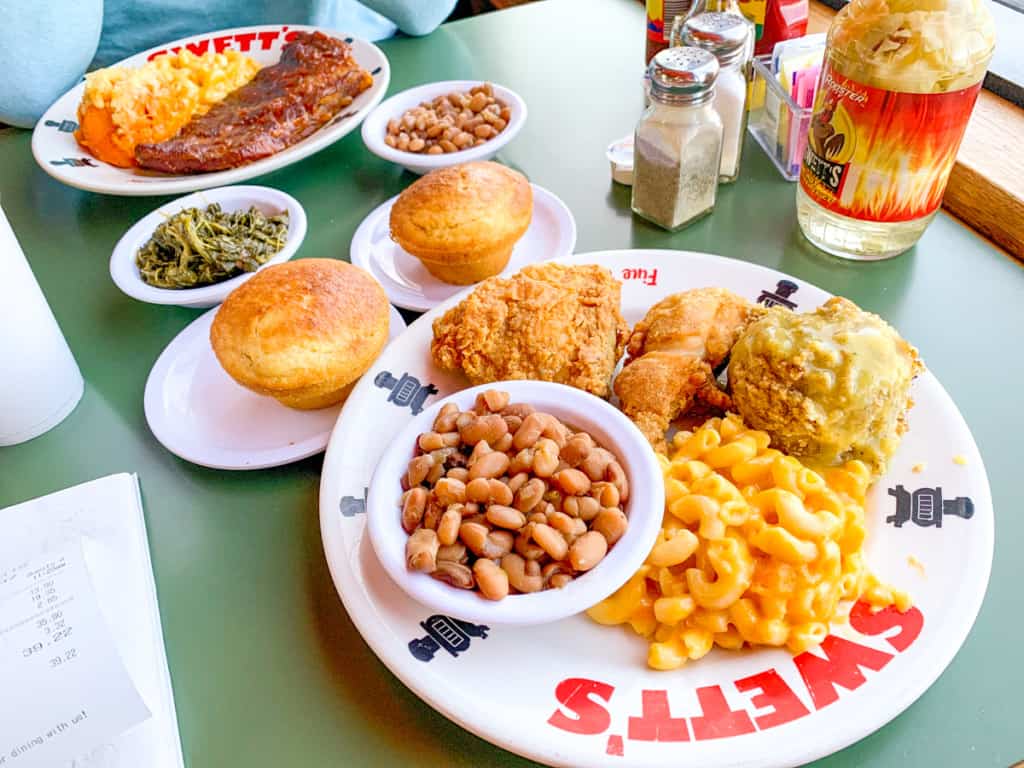 Third on my Nashville food bucket list: A classic meat-and-three. They're classic, dining hall format restaurants where you get to choose a meat from the day's selection, followed by three or more sides. The bae and I opted to go to Swett's restaurant, which has been in business since 1954. The restaurant wasn't walking distance from our hotel like all of the other places we'd been to so far were, but it was worth the early morning uber ride.
We went on a Sunday and came before the Sunday mass rush. I couldn't resist ordering another plate of fried chicken and mac and cheese, whereas the bae got a plate of ribs. Everything on our plates was pure comfort. The beans were once again immaculate, and I loved the stuffing. We left ready to go home and take a nap, full of delicious food.
Otaku Ramen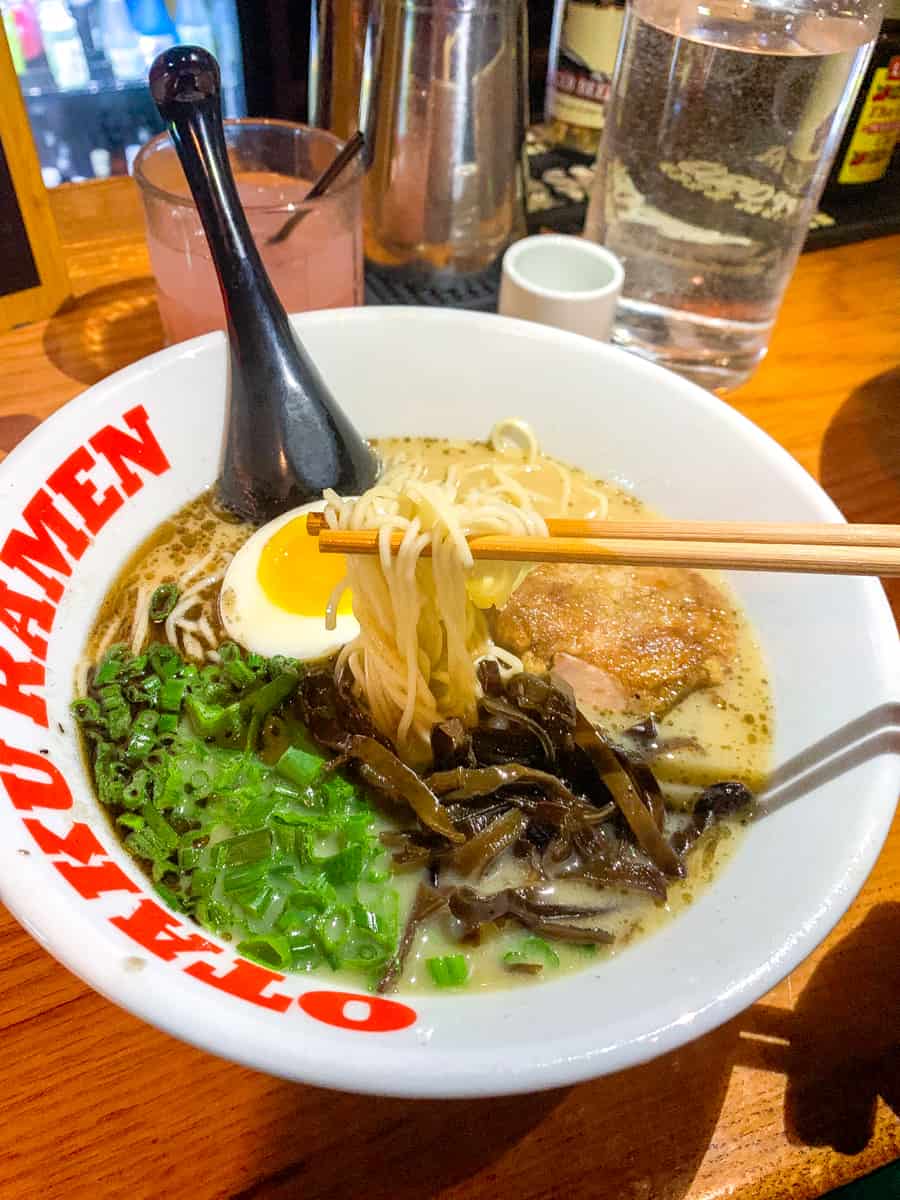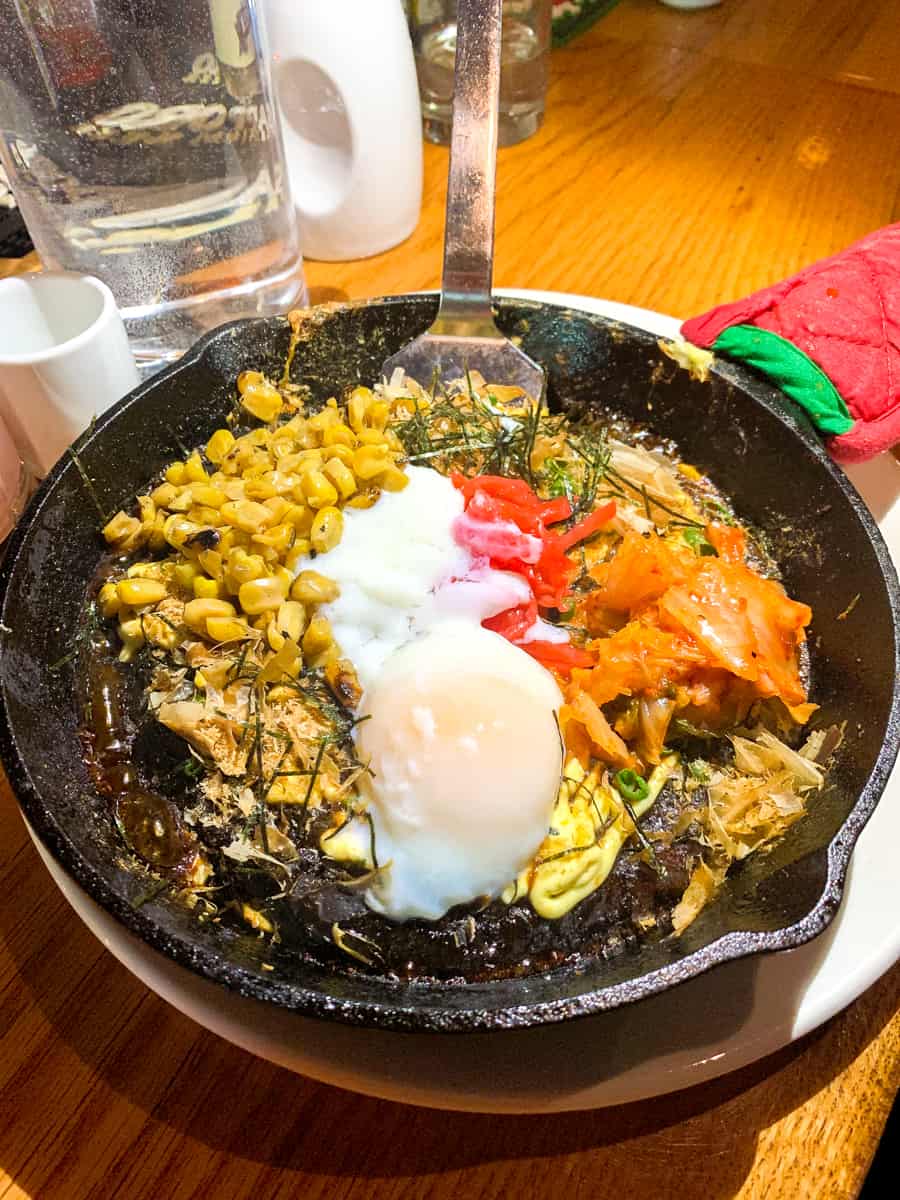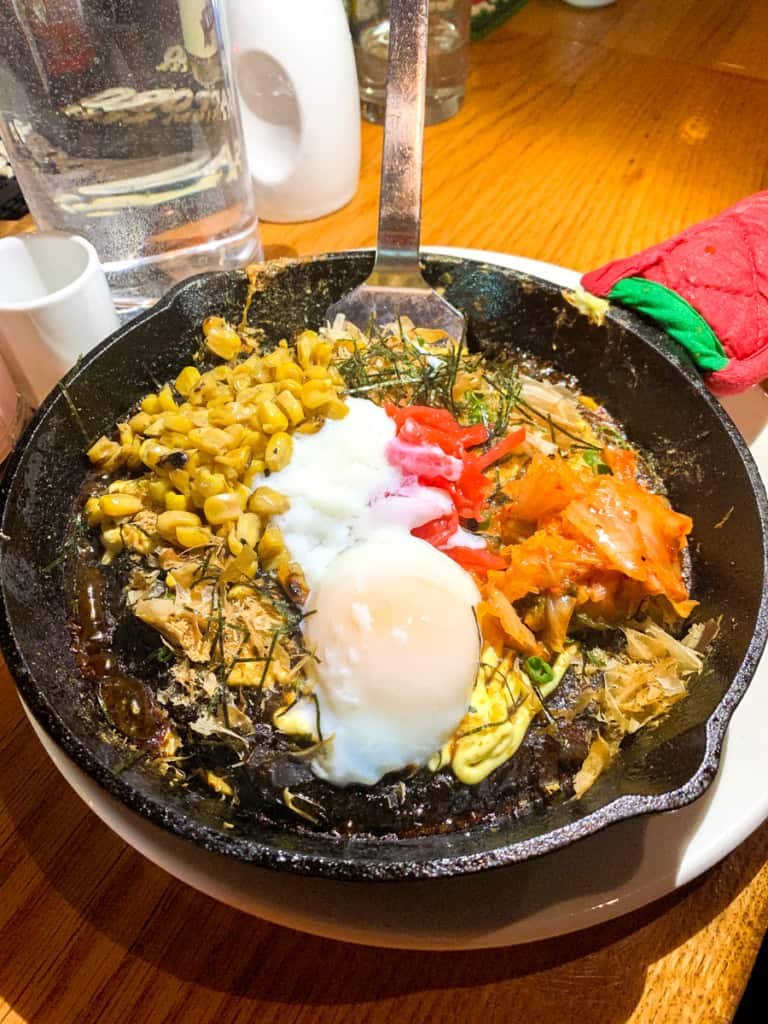 Our last meal in Nashville was unconventional. It was below freezing out and we missed Asian food after days of fried chicken and biscuits. A high school friend of mine who interned in Nashville for a summer recommended this ramen place, and we thought a noodle soup would hit the spot on a bitterly cold night.
Otaku ramen is the city's first dedicated ramen shop, from the mind of Sarah Gavigan. I've had a lot of ramen in my day, and I liked that my Tennessee tonkotsu melded traditional tonkotsu ramen with some smokey Nashville flavors. It was unlike any other ramen I've had!
Sunday night was also okonomiyaki night, so the bae and I split the cabbage pancake between the two of us. It was a little mushy for me, as I prefer my okonomiyaki a little crisper and drier (the dish means "as you like it, so the customer is always right!), but it was still delicious nonetheless. The soup gave us the energy to walk all the way back to the hotel in the freezing cold.
Want to follow more of my travels? Follow me on Instagram @BunBoBaeBlog!
Check out more of my travel posts and restaurant reviews