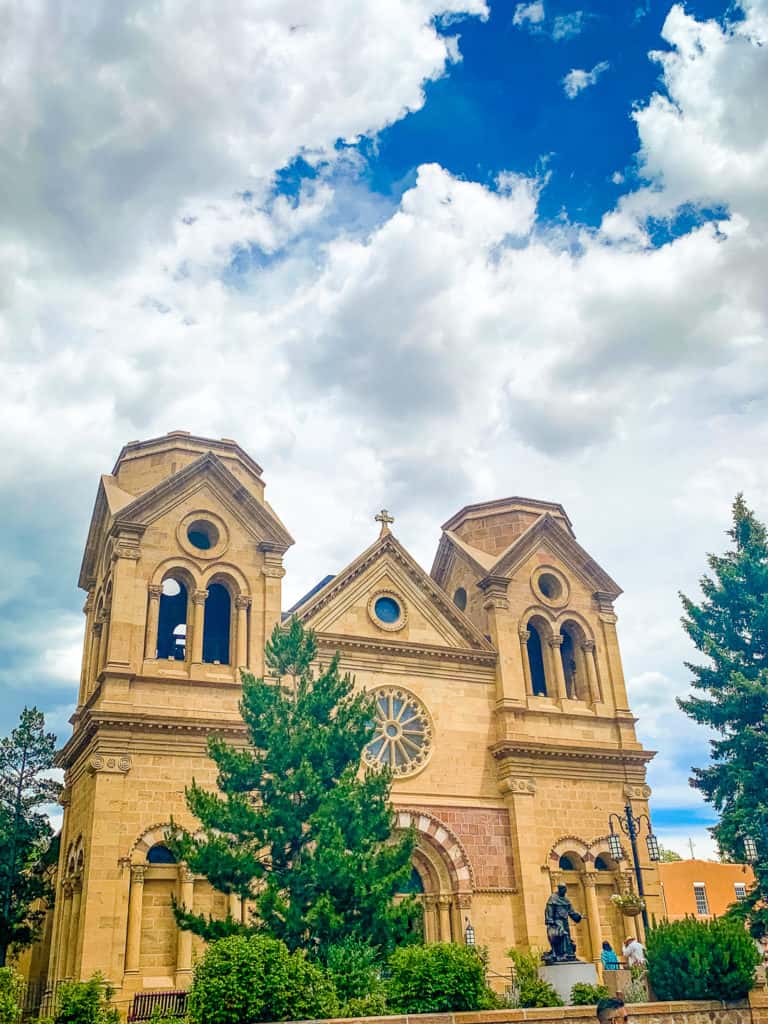 The bae and I took a trip to Santa Fe in July, and the city quickly became on of my favorite places. The city was the perfect peaceful getaway from our busy lives in Washington, DC, and they had GREAT food as well.
We landed on Friday morning on July 5th, and left Monday afternoon on July 8th. It may seem like we didn't get around to doing or seeing much, but we were in town for a wedding, so one night of our trip was already booked.
Where we stayed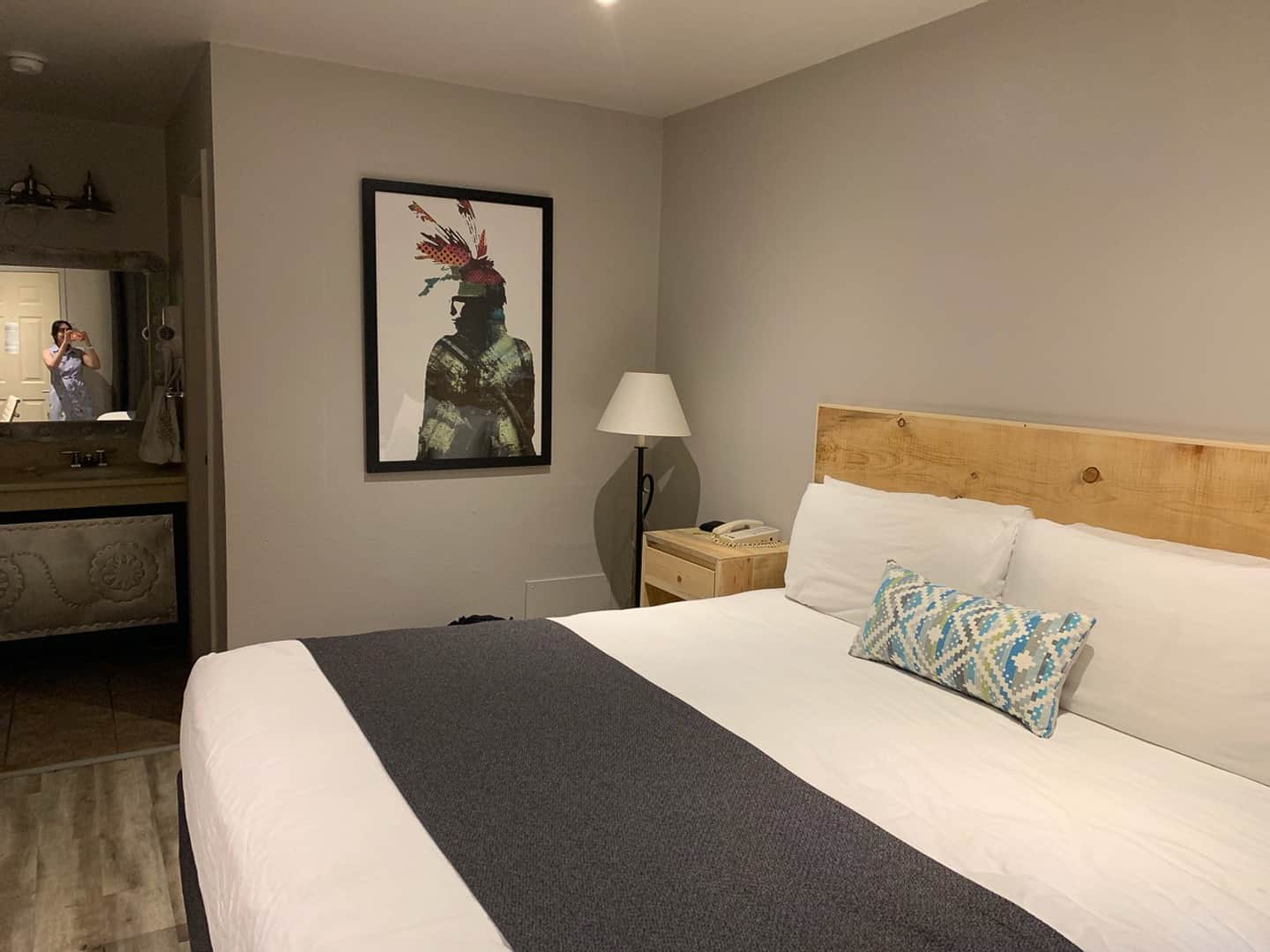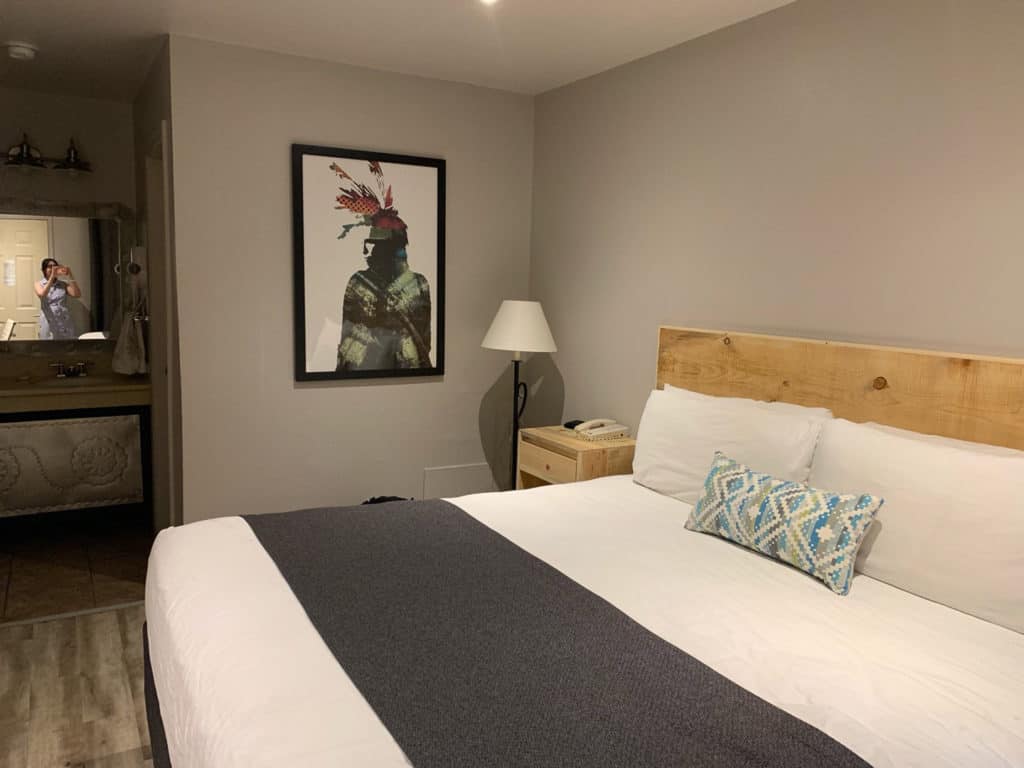 We booked rooms at the Sage Inn Santa Fe. It's a cozy, three star hotel located close to the plaza, so it's easy to explore the city on foot or by car. My room wasn't extremely spacious, but a king sized bed was all I needed. Breakfast is offered for free in the morning, but the bae and I had way too many places we wanted to eat, and didn't take advantage of it. I've definitely stayed in nicer hotels, but I have no complaints about this one!
What to do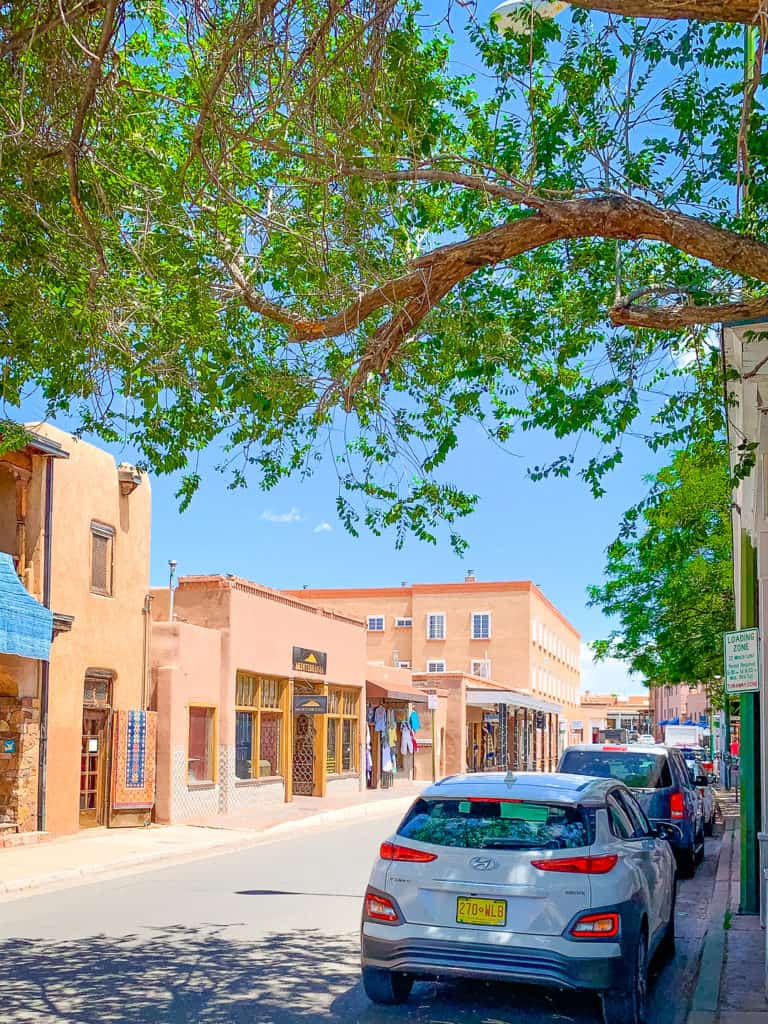 Visit the Santa Fe Plaza
The plaza has been the heart of the city for nearly 400 years. The area is very walkable, with winding streets and quaint boutiques. The plaza is centered around the Palace of Governors, which was built in the 17th century as Spain's seat of government. There's no shortage of galleries, shops and restaurants in the area. It was a beautiful day out, so the bae and I were content sitting on a bench watching some performers sing.
I also met Claudia Chavez, a beadwork artist, on the plaza. She's been selling jewelry there for years. Her family has lived in New Mexico for generations, and she gave us some wonderful restaurant recommendations. She also made me a necklace and earrings that perfectly matched my dress!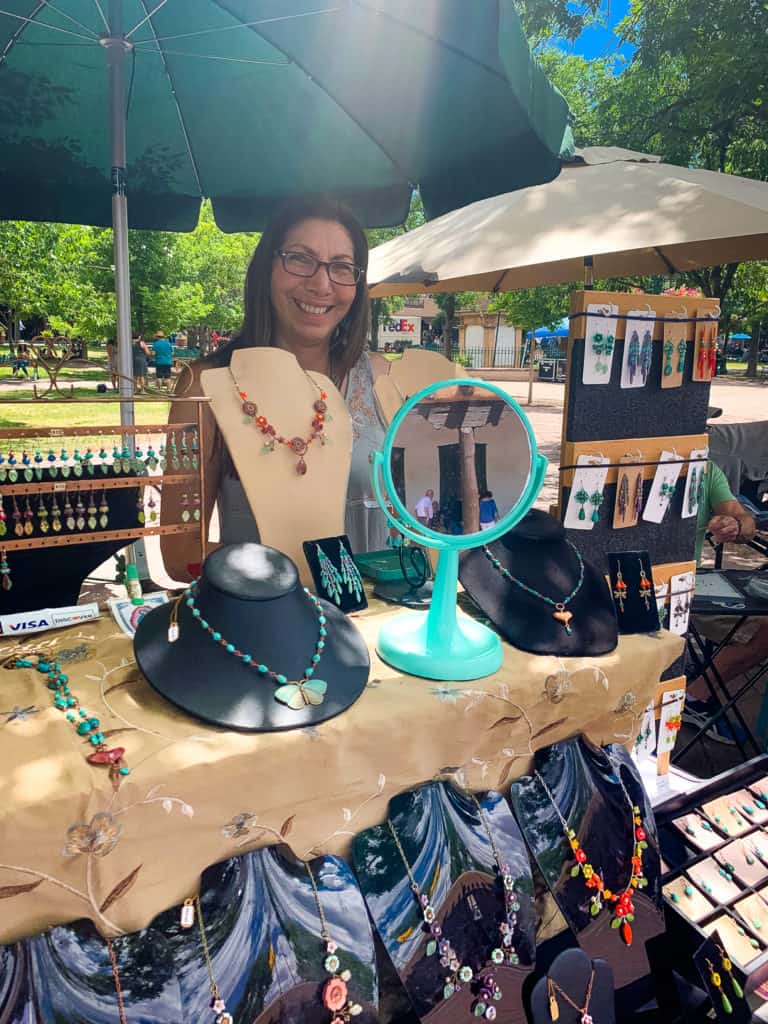 Buy a book and grab a coffee at Collected Works Bookstore and Coffeehouse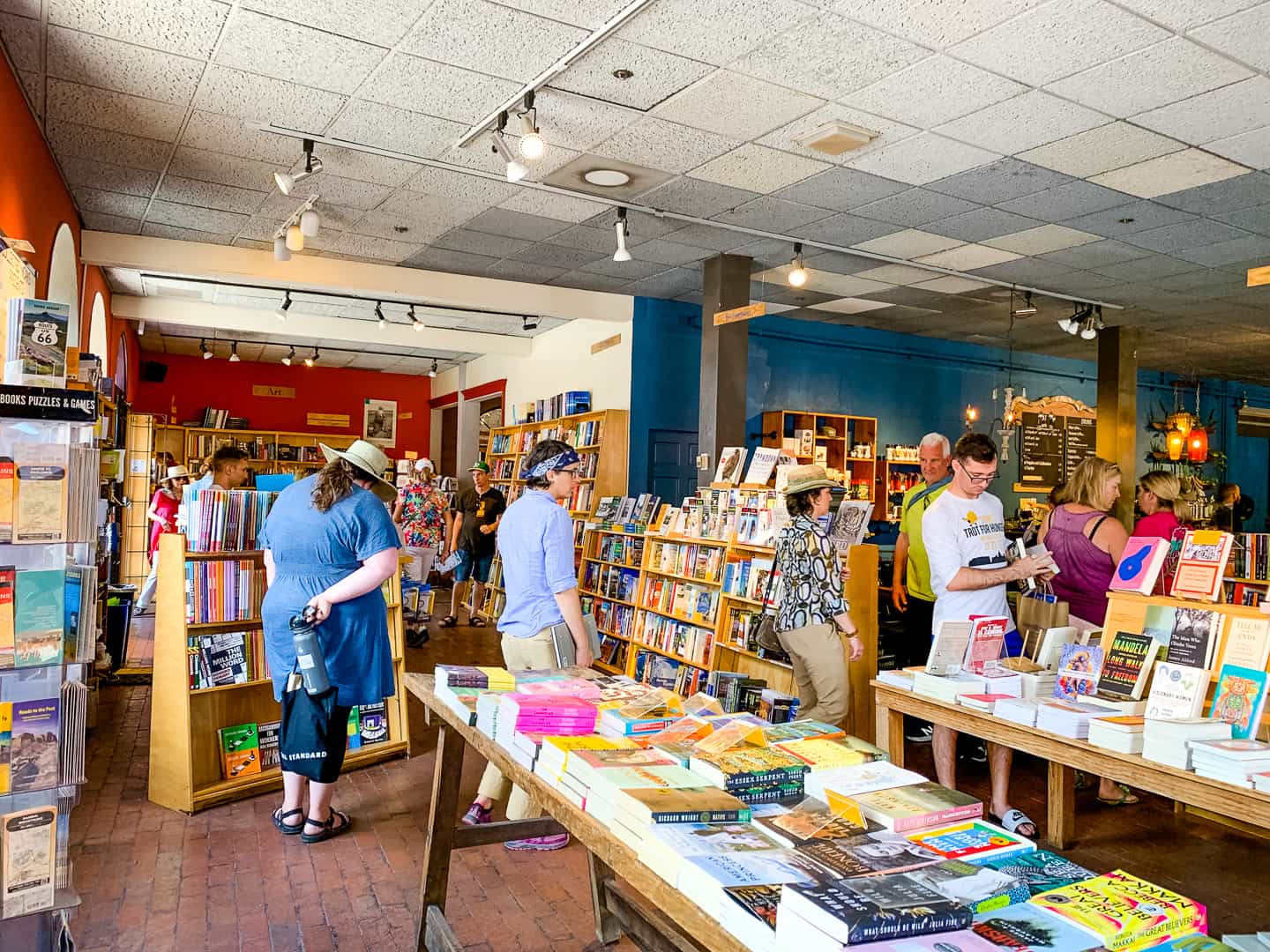 The bae and I had our first date at Kramerbooks & Afterwords Cafe, a bookstore and restaurant in DC. Naturally, we couldn't resist visiting Collected Works when we landed in Santa Fe.
The bookstore is huge, and the cafe serves coffee from Iconik Roasters, another local Santa Fe business. When we landed our hotel rooms weren't ready yet, so the bae and I enjoyed relaxing a bit with some drinks and books.
Hike the Atalaya Mountain Trail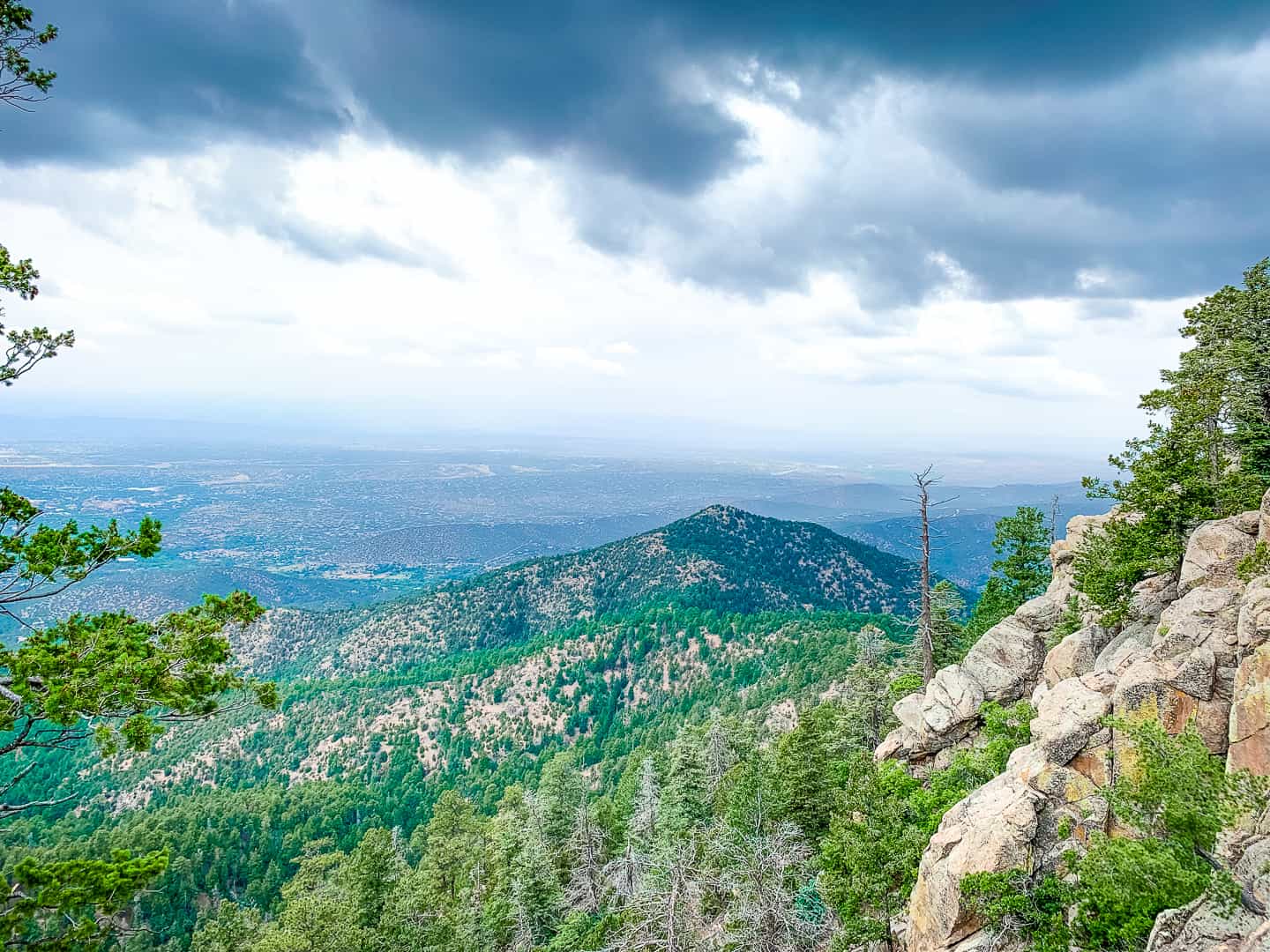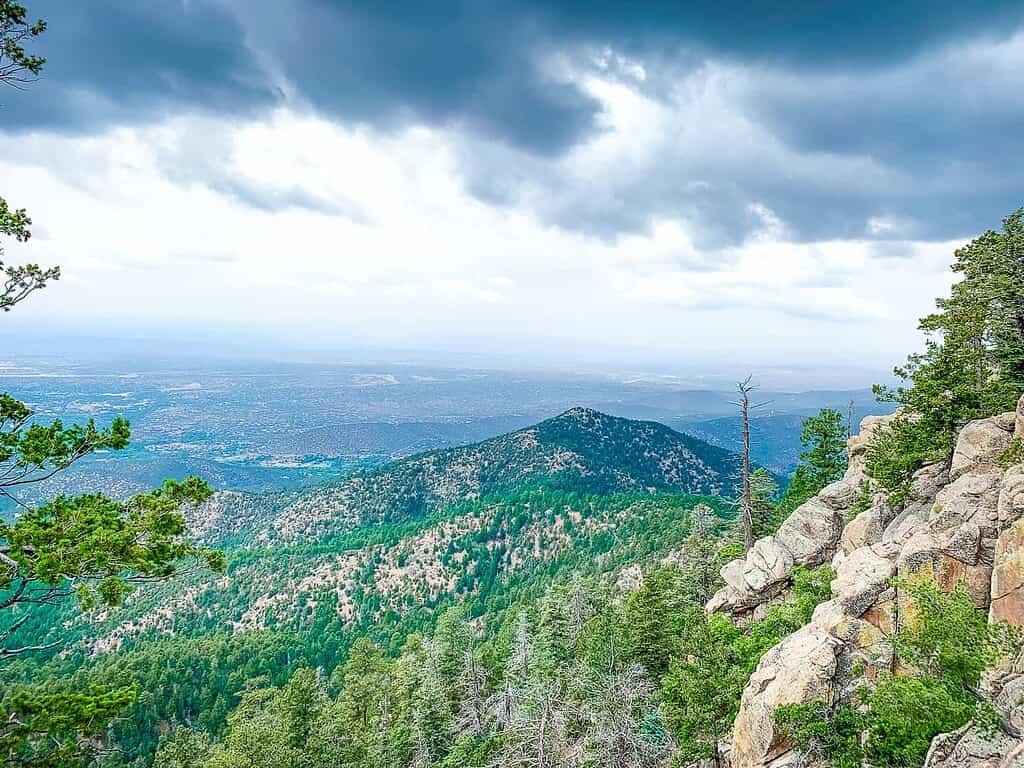 The bae and I planned on eating A LOT on this trip, so of course we needed to get some exercise in. The Atalaya Mountain Trail is a little under six miles long, with great views of Santa Fe all along the trail. AllTrails.com lists the trail as moderately difficult.
I'll admit I'm not the most athletic person, and the steeper parts of the trail had me quite winded. At one point we heard a woman in the distance scream "I'M SO TIRED OF WALKING UP THIS HILL" and it was extremely relatable. I'm sure the bae had some very funny stories to tell his coworkers after the hike.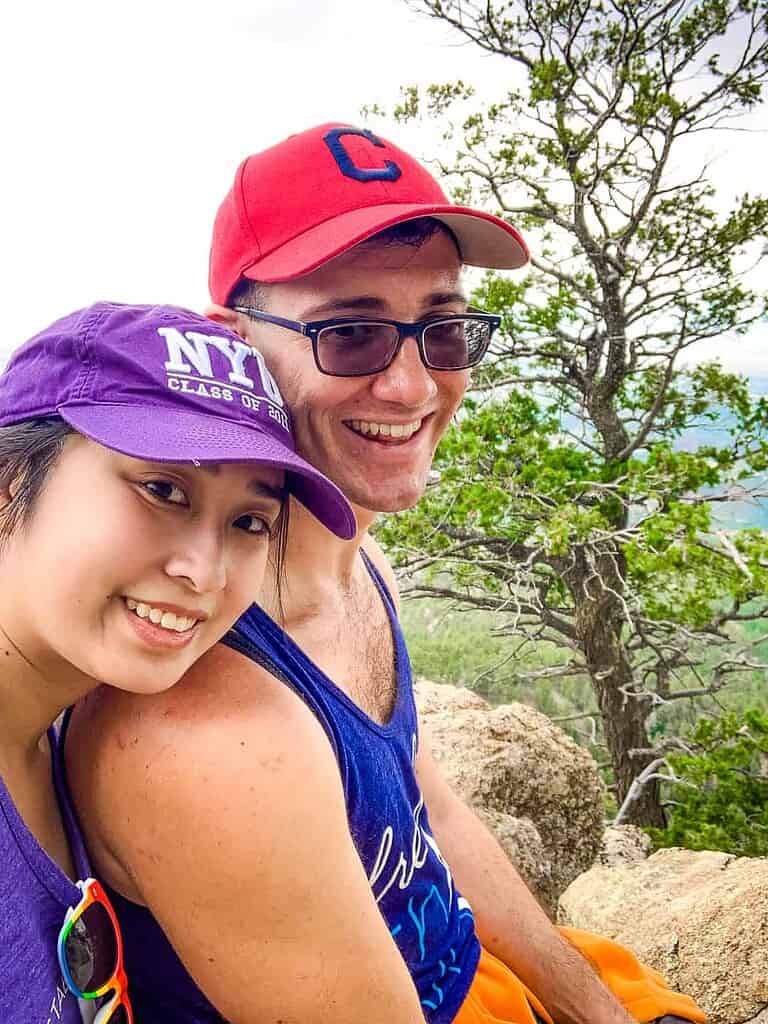 Even though I complained all the way up the trail, the views at the top make it all worth it. We sat quietly and took in the scenery while enjoying our trail mix. It was one of the most relaxing moments of the whole trip.
Go stargazing
I have no photos of this activity, which is to be expected. But, if you live in a city like I do, you HAVE to drive up the mountain and go stargazing. We took the car up Hyde Park Road towards the ski venue and parked at the top. We couldn't stay long because it was colder and windier than I expected, but I'd never seen so many stars in my life!
Visit Meow Wolf
Santa Fe is a huge arts city, and Meow Wolf is an immersive art experience that you won't want to miss. The name refers to an art collective that formed in 2008. The exhibit we went to is called The House of Eternal Return. The exhibit features a fantastical Victorian House with tons of secret twists and turns. Something mysterious happened to the family living there, and as you explore, bits and pieces of their story are revealed.
Every form of media you can think of is used to truly create an immersive experience. The bae and I were completely engrossed in the narrative of the story. Words don't do the exhibit justice. You really have to experience it to appreciate it!
Have a relaxing bath at Ten Thousand Waves Spa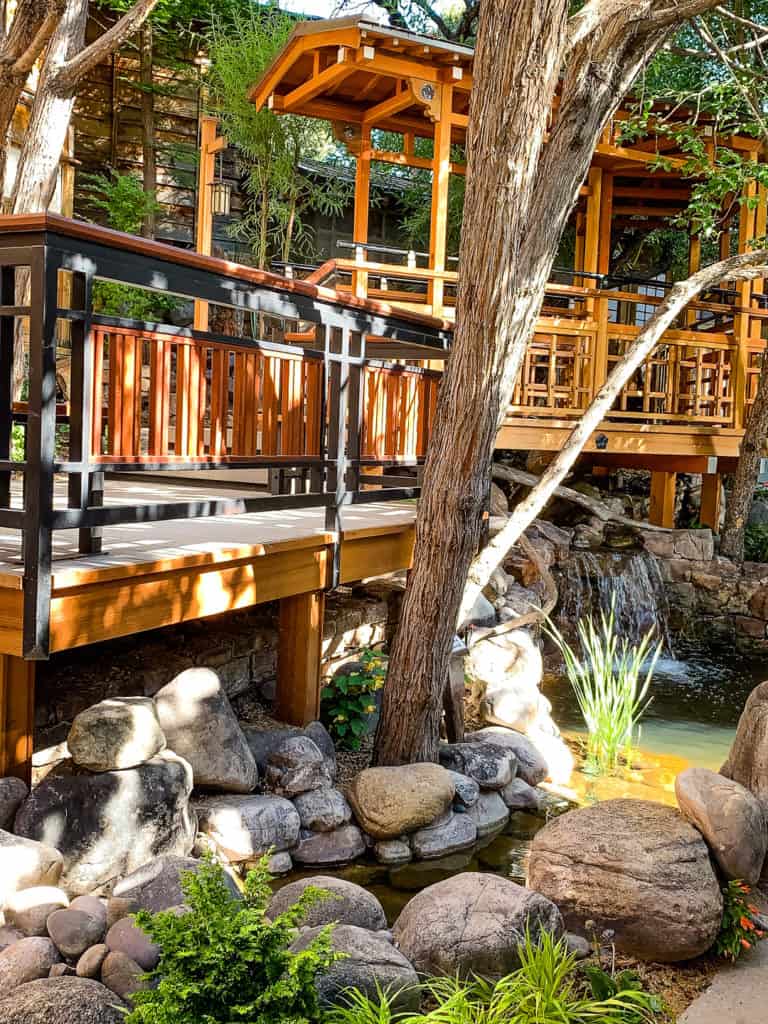 I would give anything for a spa like this in DC. Ten Thousand Waves Spa is a ten minute drive from Downtown Santa Fe, but it feels like you're in Japan once you enter. The Spa is inspired by Japanese mountain resorts. Lush greenery and beautiful Japanese architecture greet you at every turn.
The spa has gender separated baths, as well as private ones. There are also relaxation rooms and foot baths. The whole venue is actually a resort with lodging and a restaurant as well. If I'm ever back in Santa Fe, I'm totally staying here. The bae and I tried the saunas and a bath but I wanted the whole experience. I needed more time!
Where to eat
El Farol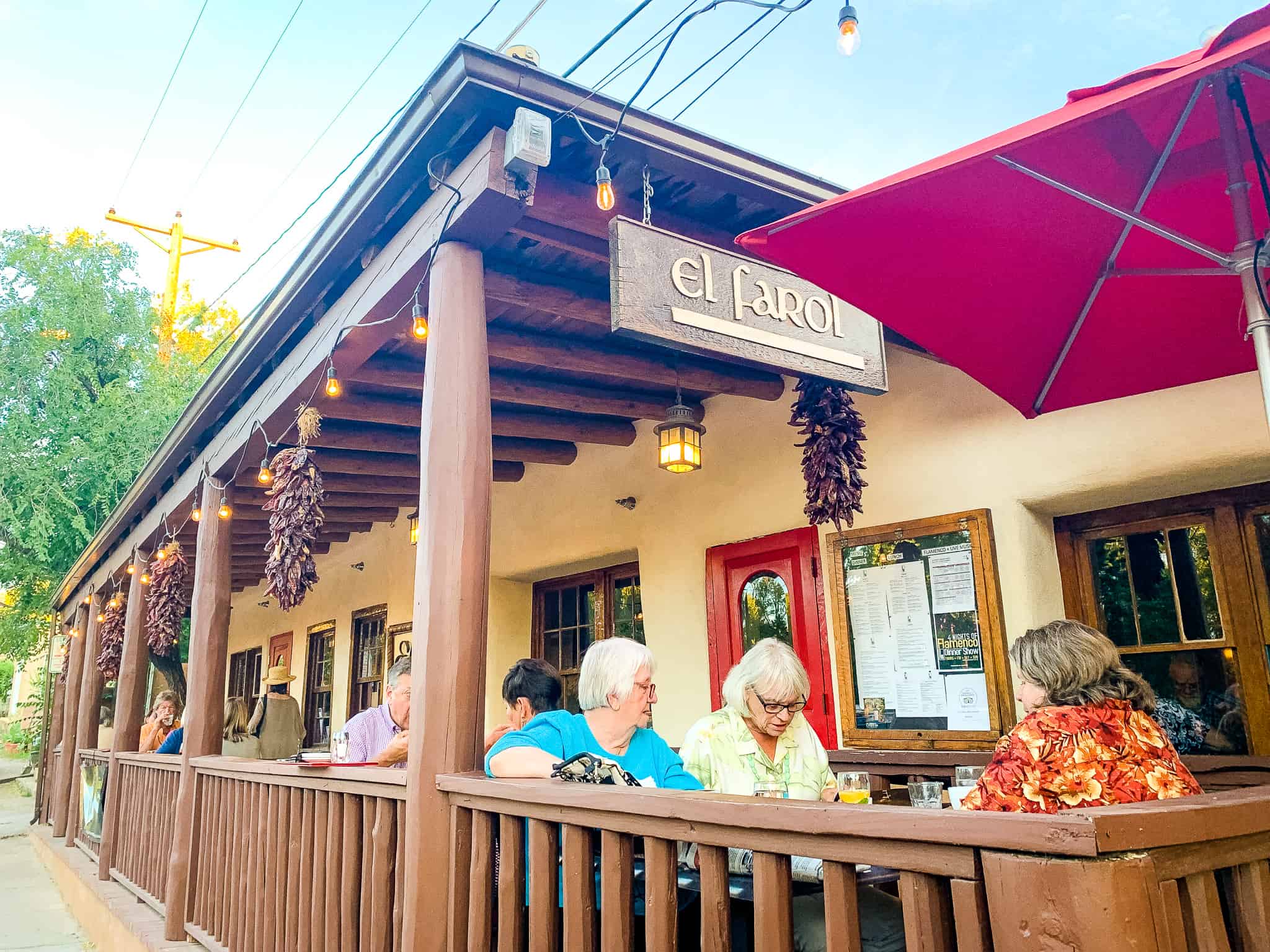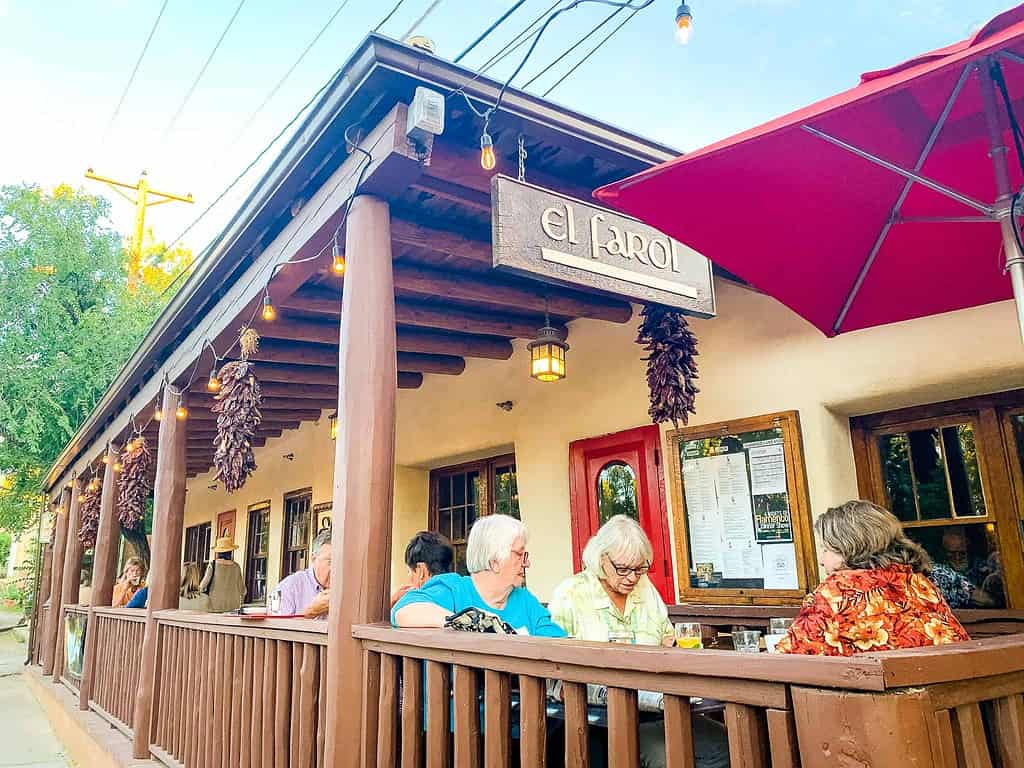 El Farol is Santa Fe's oldest restaurant. It's located on a quiet road, which makes for a perfect quiet night of eating outside. The restaurant has live music sometimes, and it can get quite loud inside.
El Farol serves a variety of Spanish tapas, and their menu is extensive. If you get overwhelmed trying to decide what you want, I recommend you try the prix-fixe option, where the chef chooses a selection of cold and hot tapas for you.
My favorite dishes of the night were the marinated anchovies, lamb meatballs and chorizo croquettes.
Read the full review of El Farol here!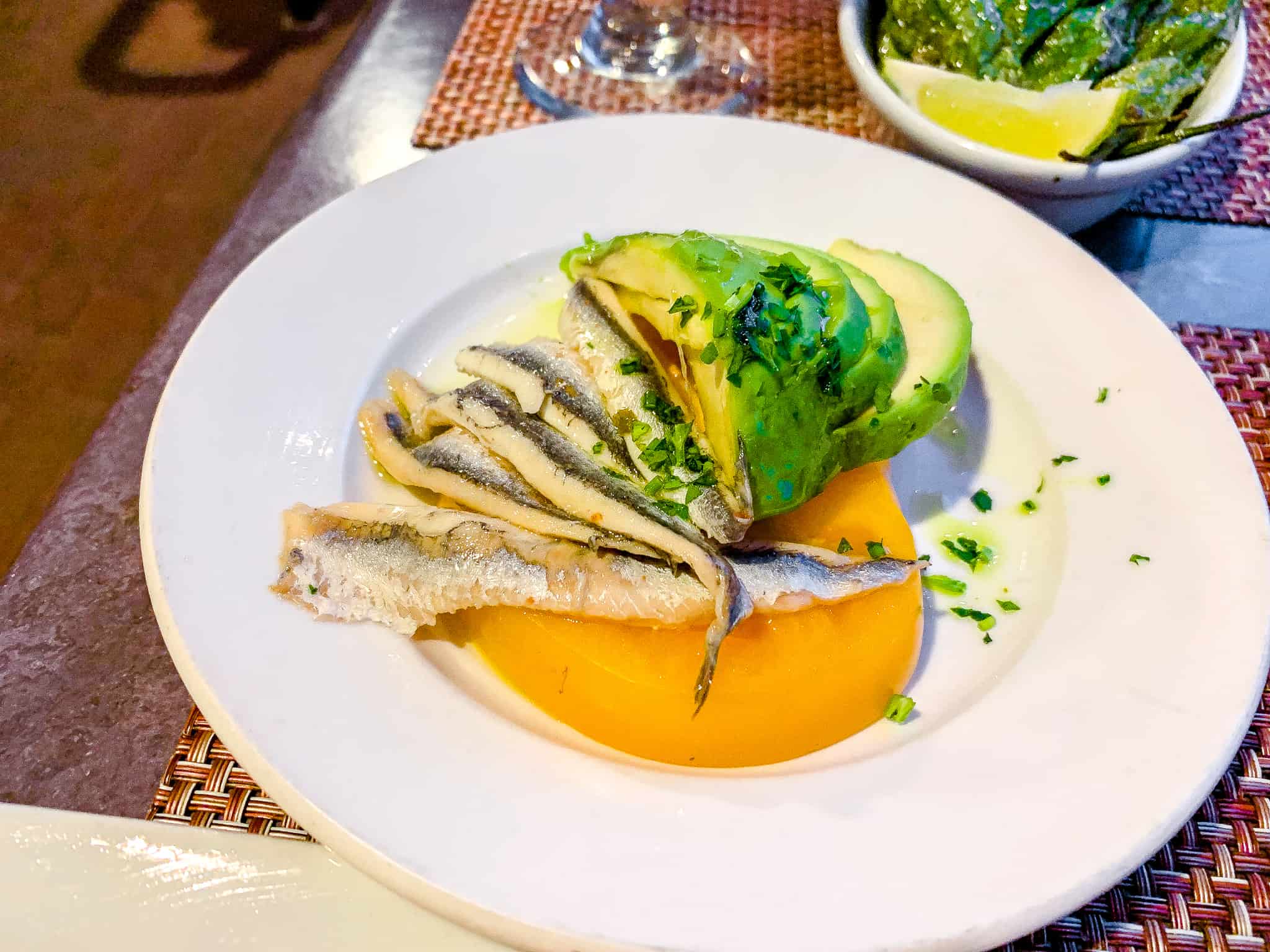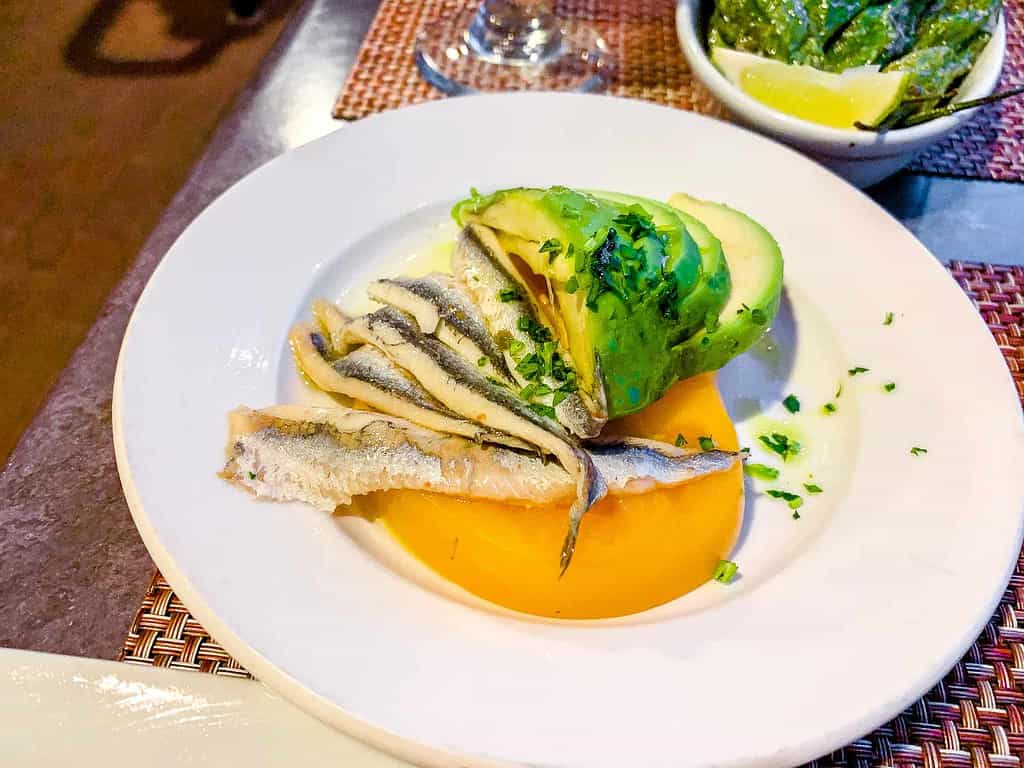 Modern General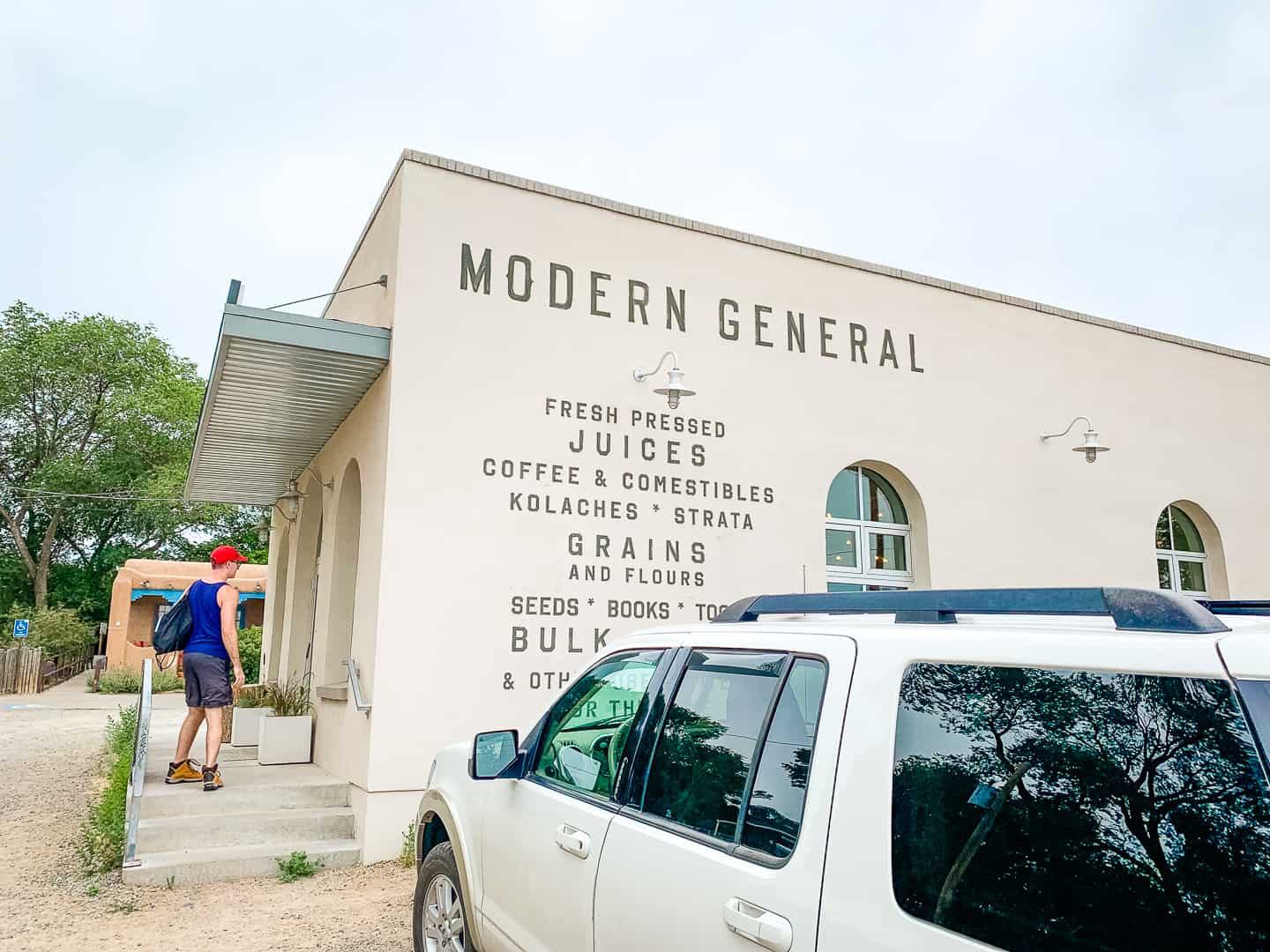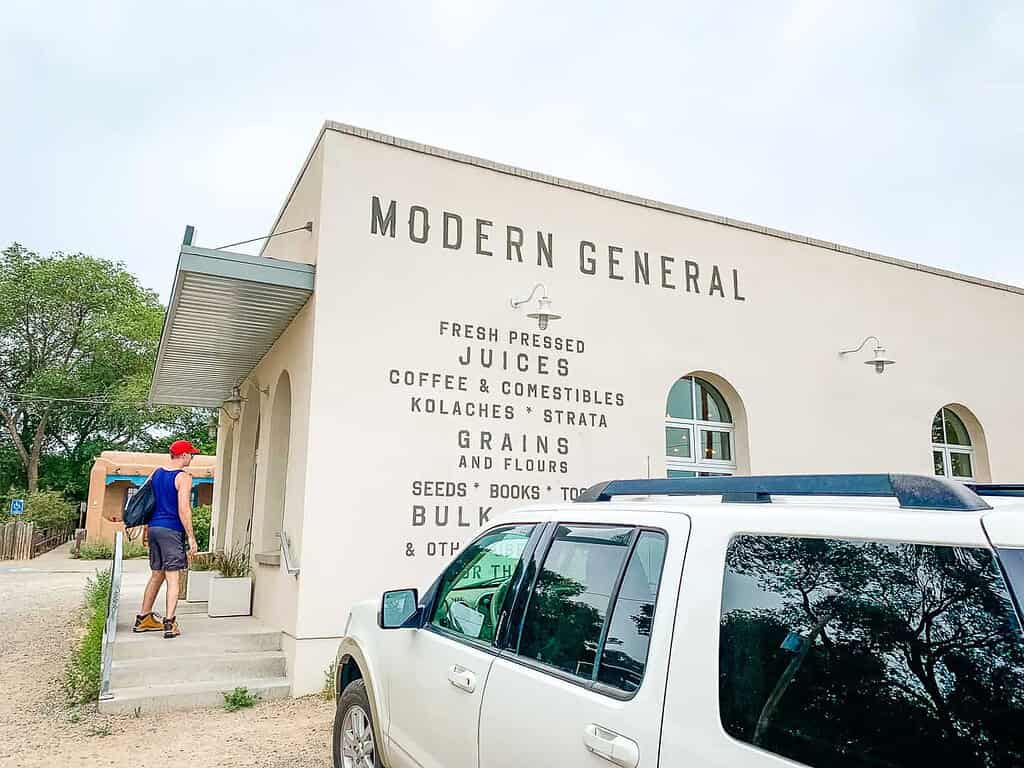 Modern General is a feed and seed store that also serves fresh pressed juices and organic breakfasts. The store was right next to our hotel, so the bae and I stopped by right before our morning hike.
The store is BEAUTIFUL on the inside. It's an instagrammer's dream. The whole place is flush with sunlight. You can buy kitchen and garden products, cookbooks and bulk grains and seeds.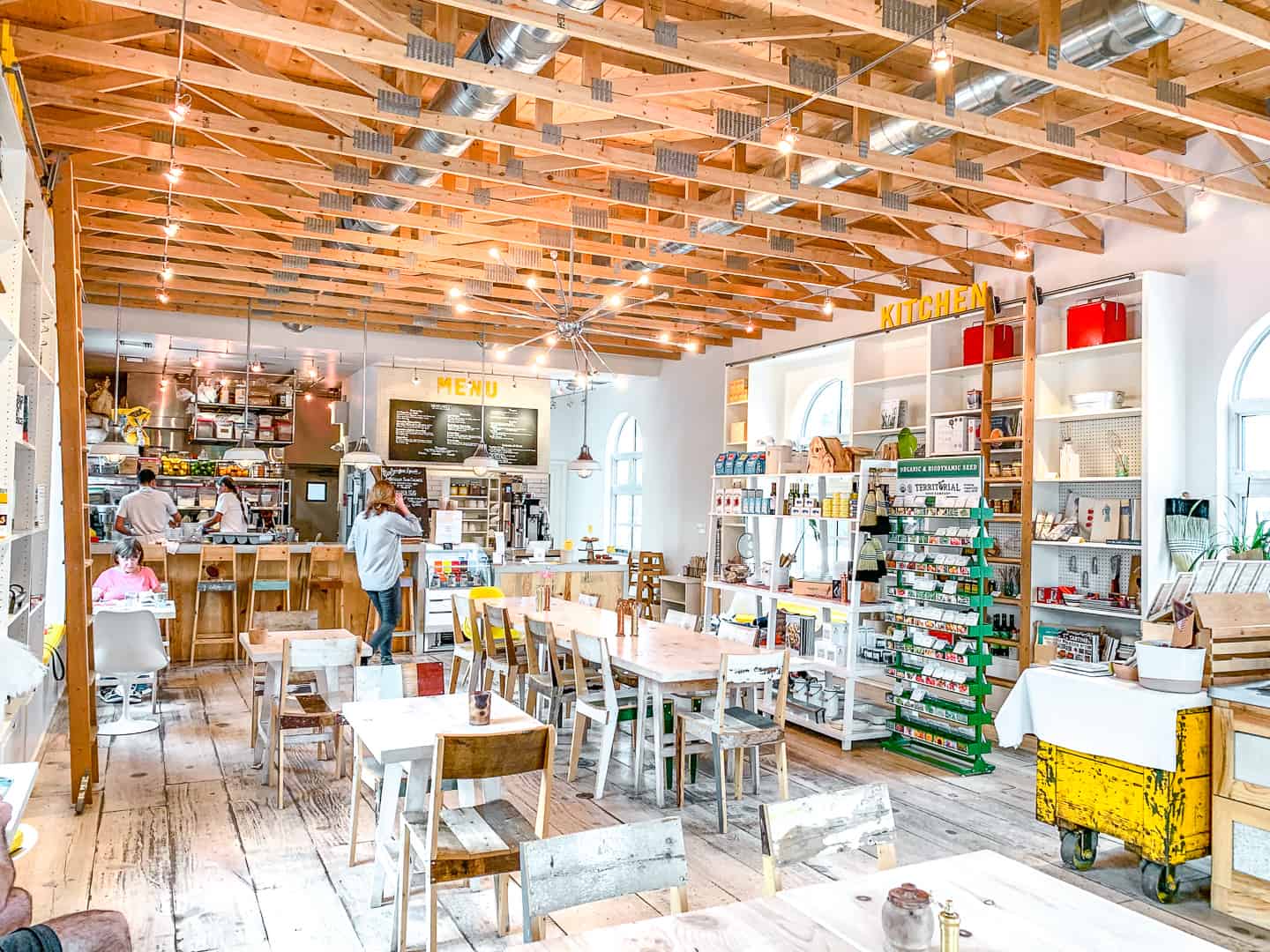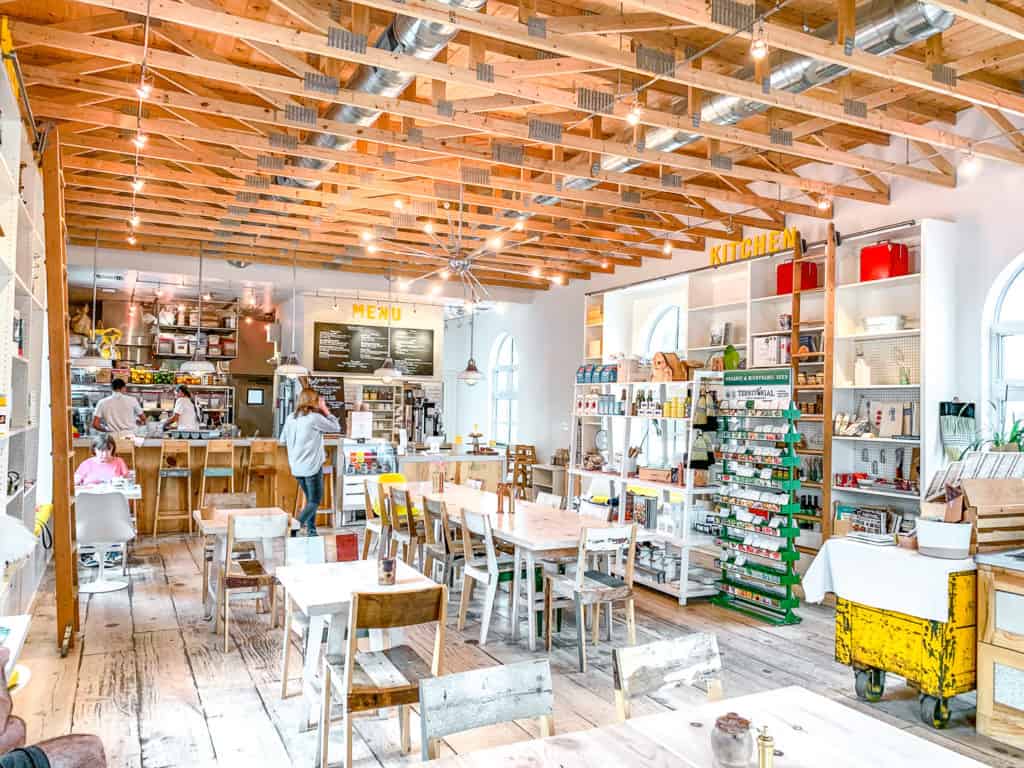 The bae got a breakfast sandwich and I got avocado toast with a gingery carrot juice. Both were delicious, and made for the perfect start to a long hike.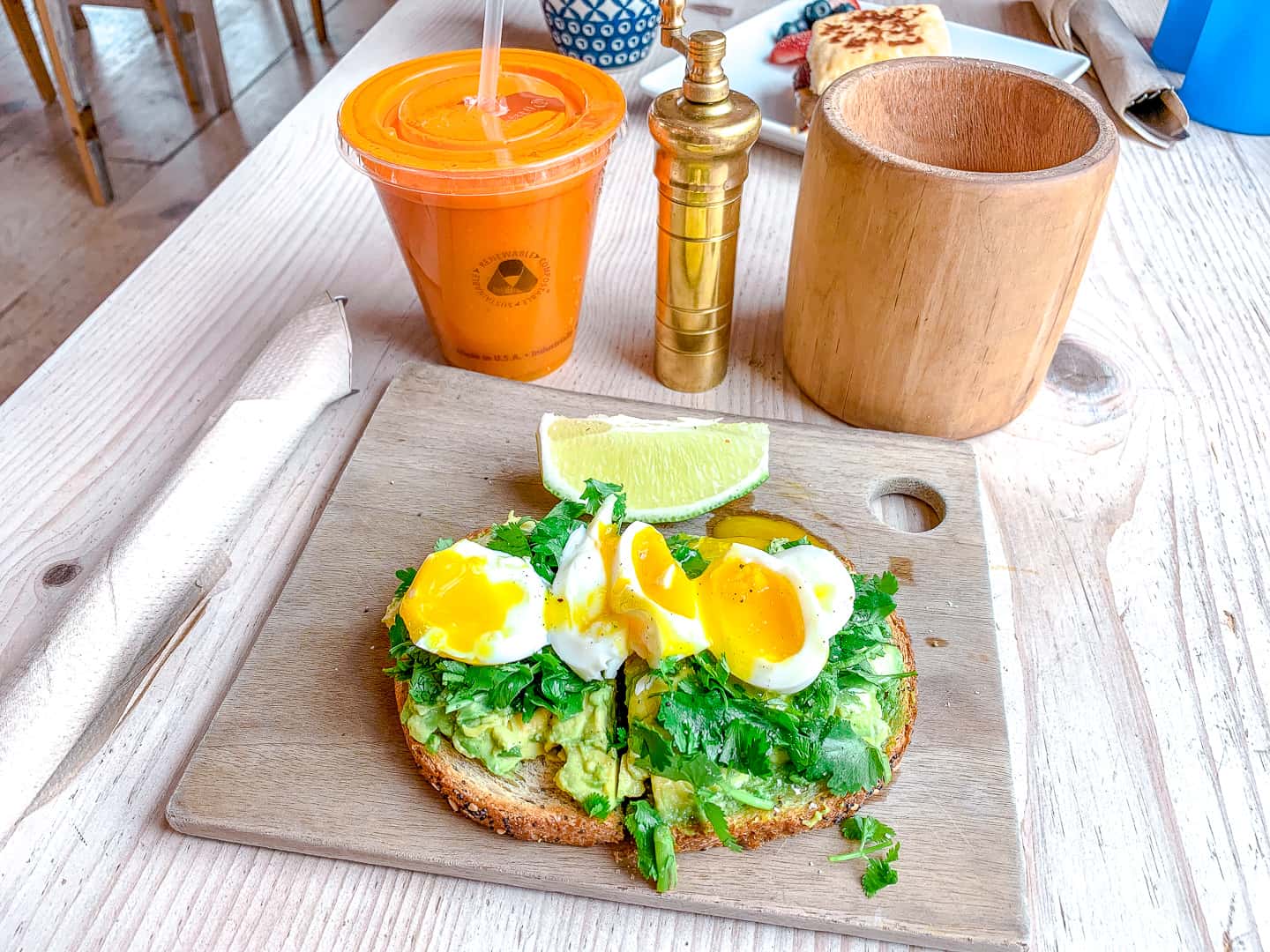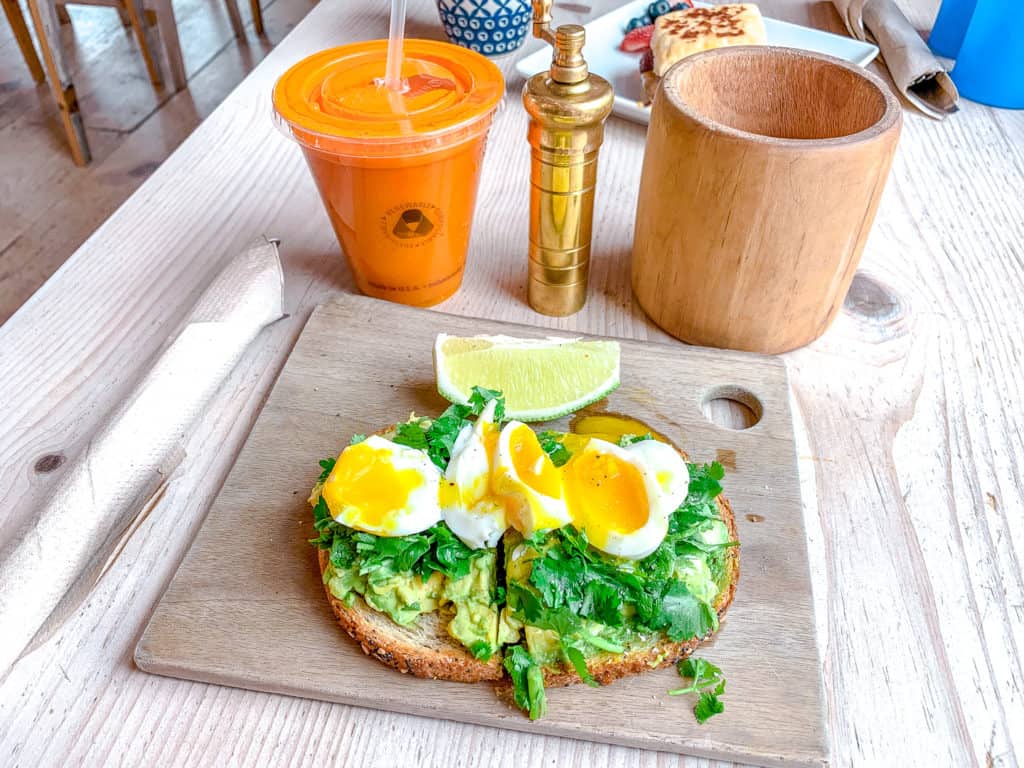 If I'm ever back, I want to try the pho-zole. It's a combination of Vietnamese pho broth and New Mexican posole soup. The description sounded like all of the flavors and aromatics of pho were there, and I was intrigued!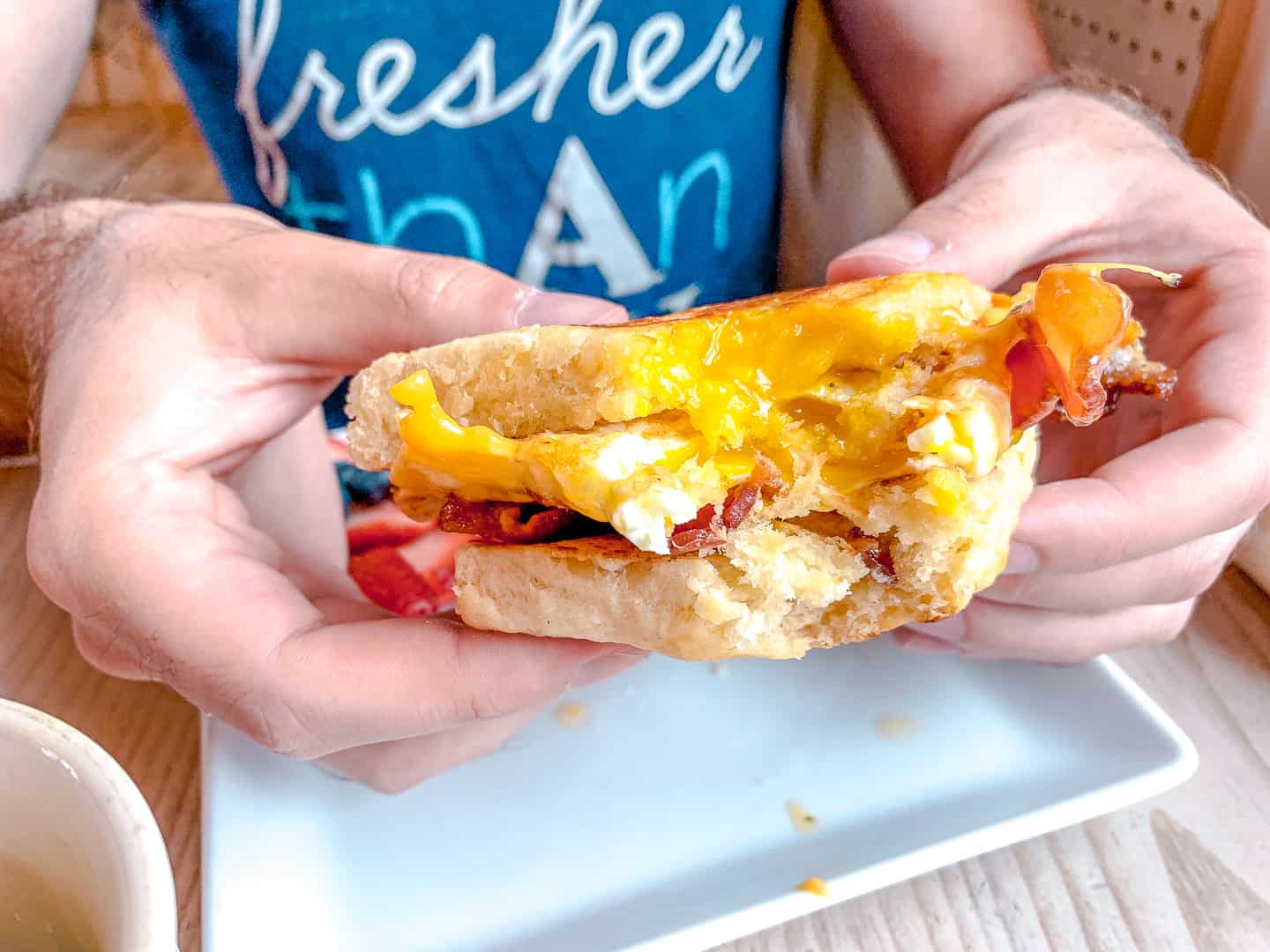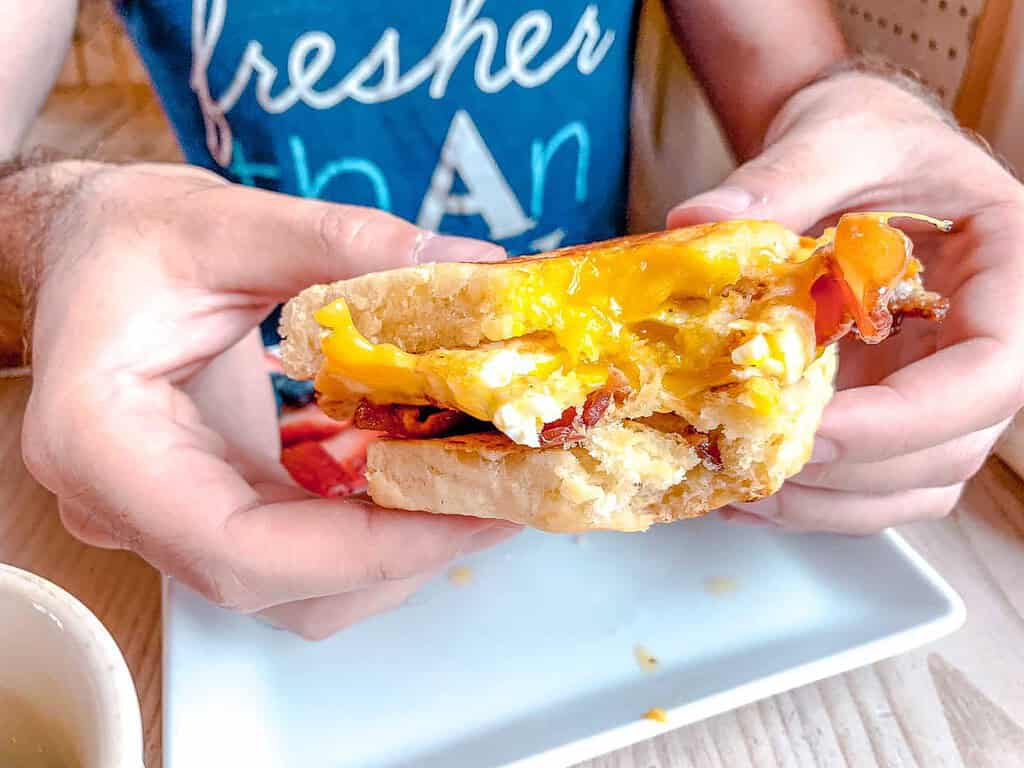 Shake Foundation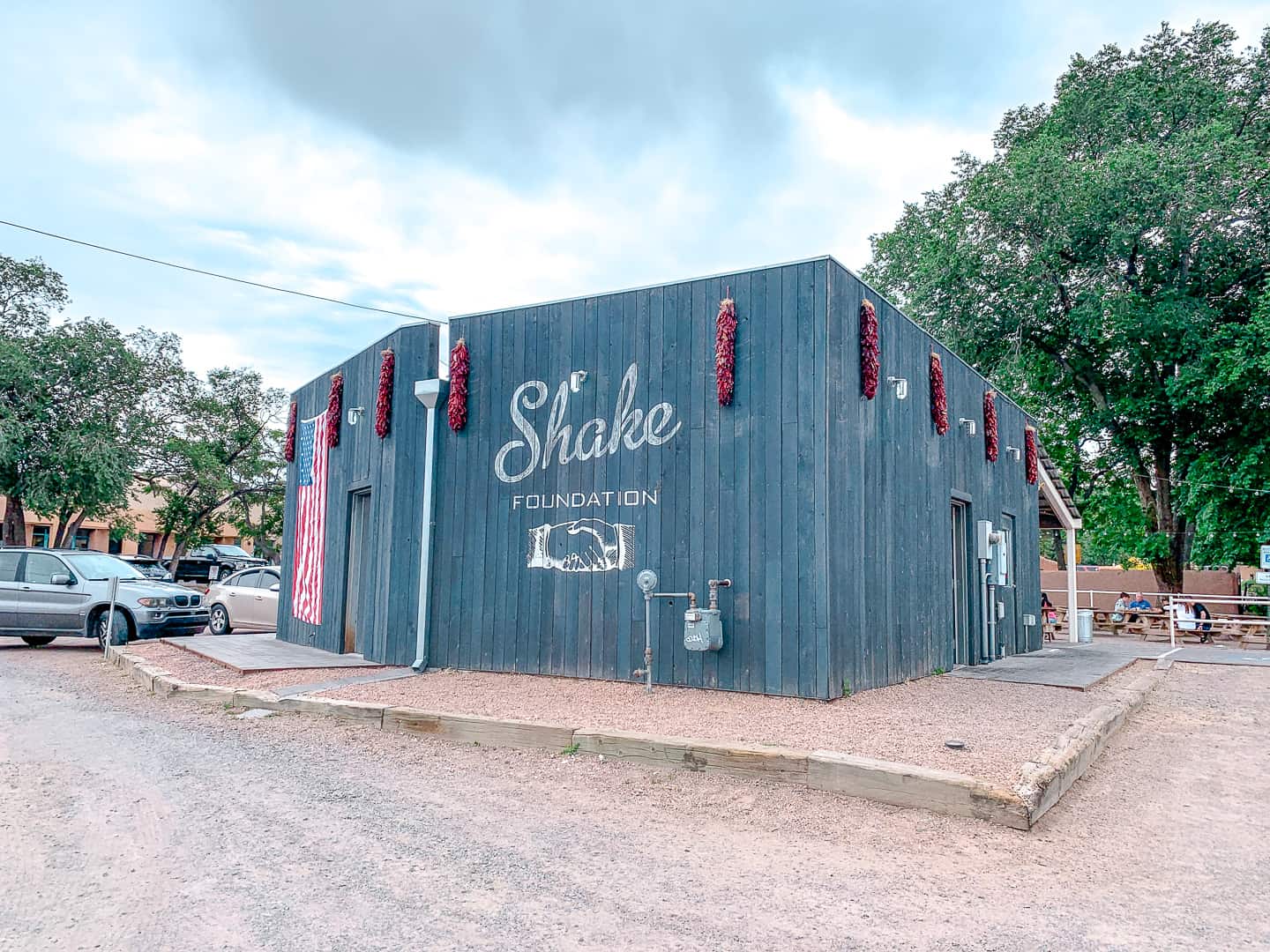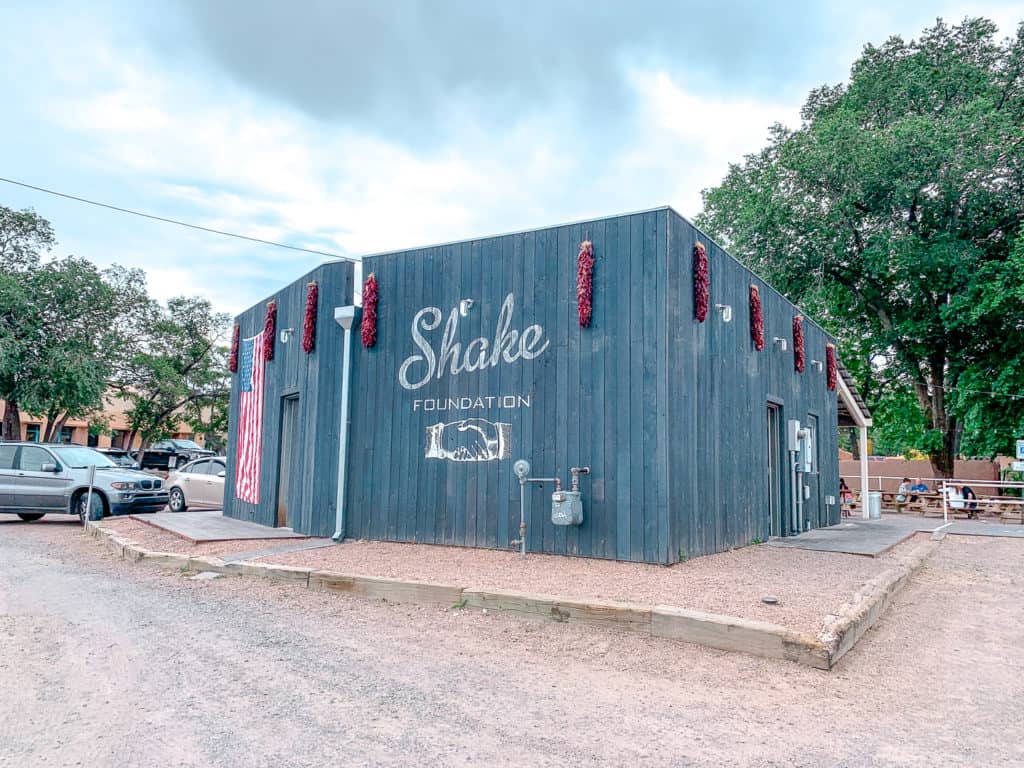 Shake Foundation is a little burger counter. It was near my hotel, so it was a .convenient place to stop for a quick snack after our hike. I loved the classic look and all of the oldies playing over the speaker. The bae and I felt like 1950s youths going out for a milkshake at the local diner. All I needed was a poodle skirt!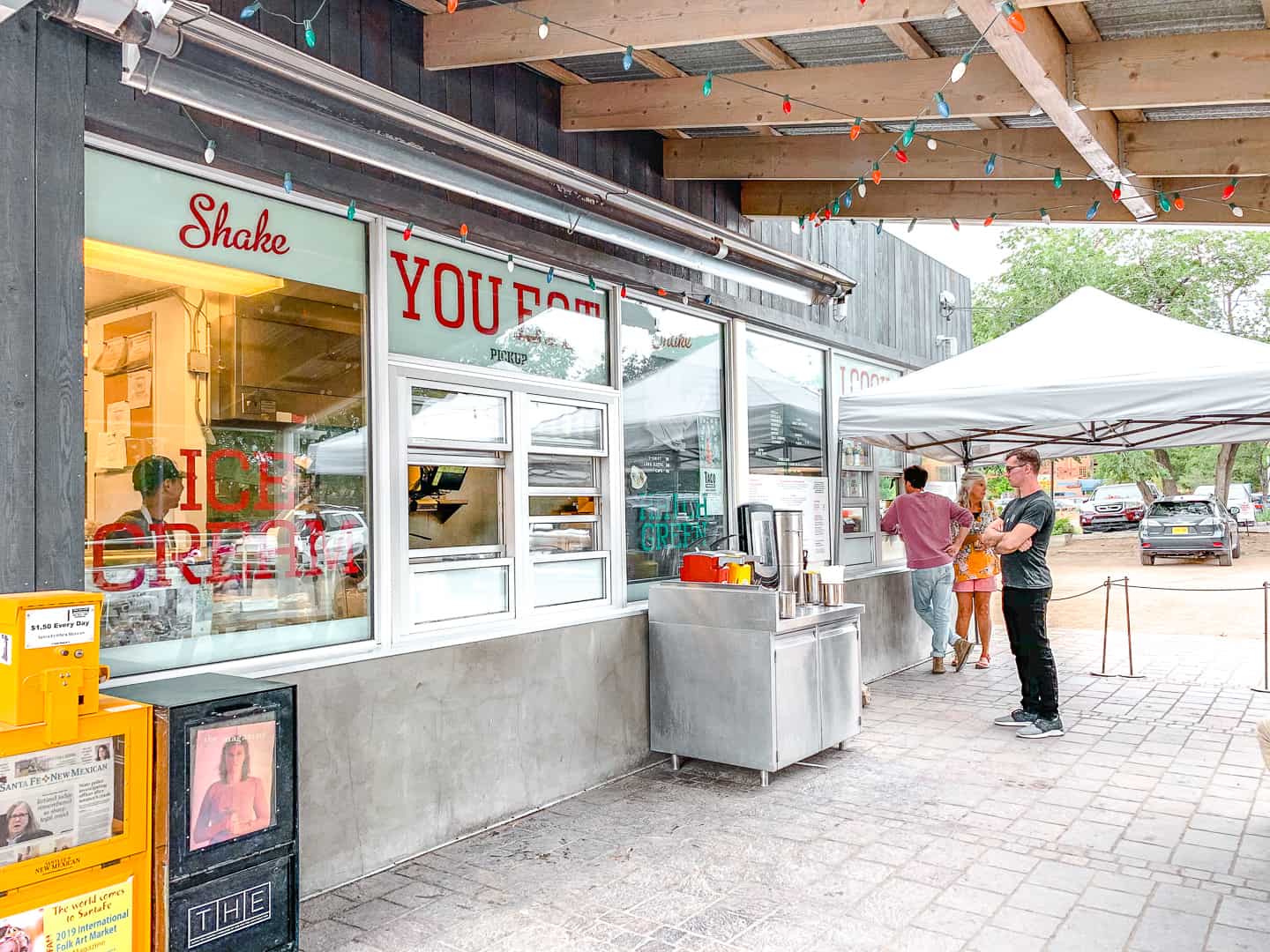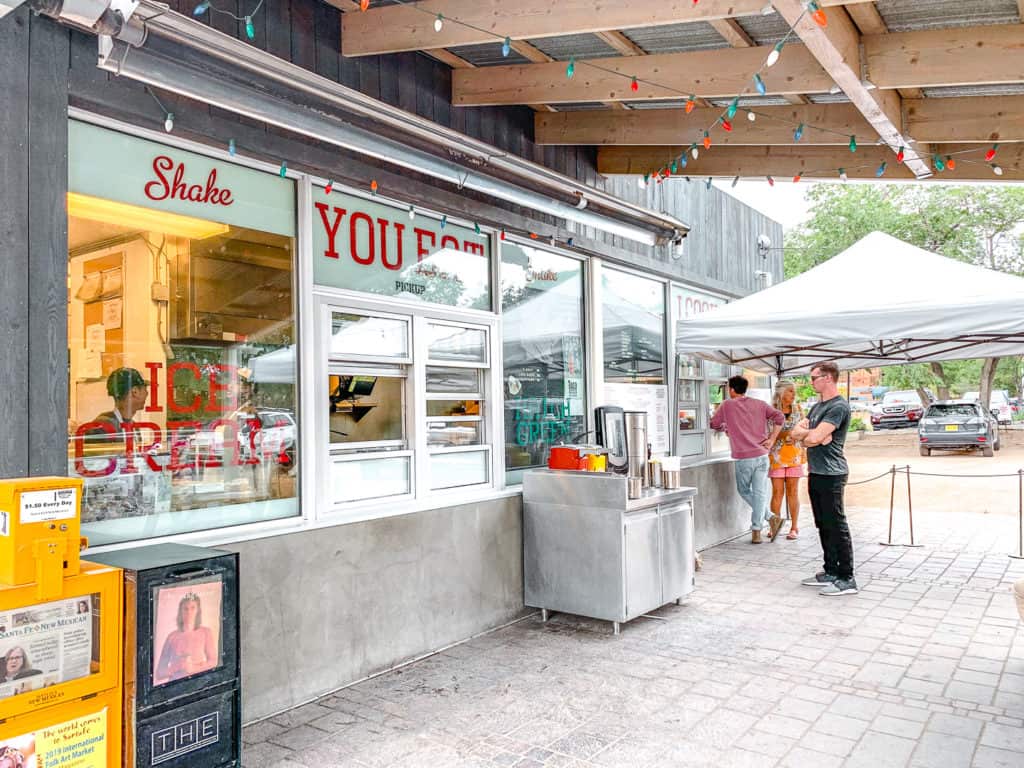 We both ordered cheeseburgers with green chile, and we shared a strawberry milkshake with malt. The burgers were a little underseasoned and the green chile was not as spicy as advertised, but it's hard to mess up a burger, especially after you've just done a six mile hike.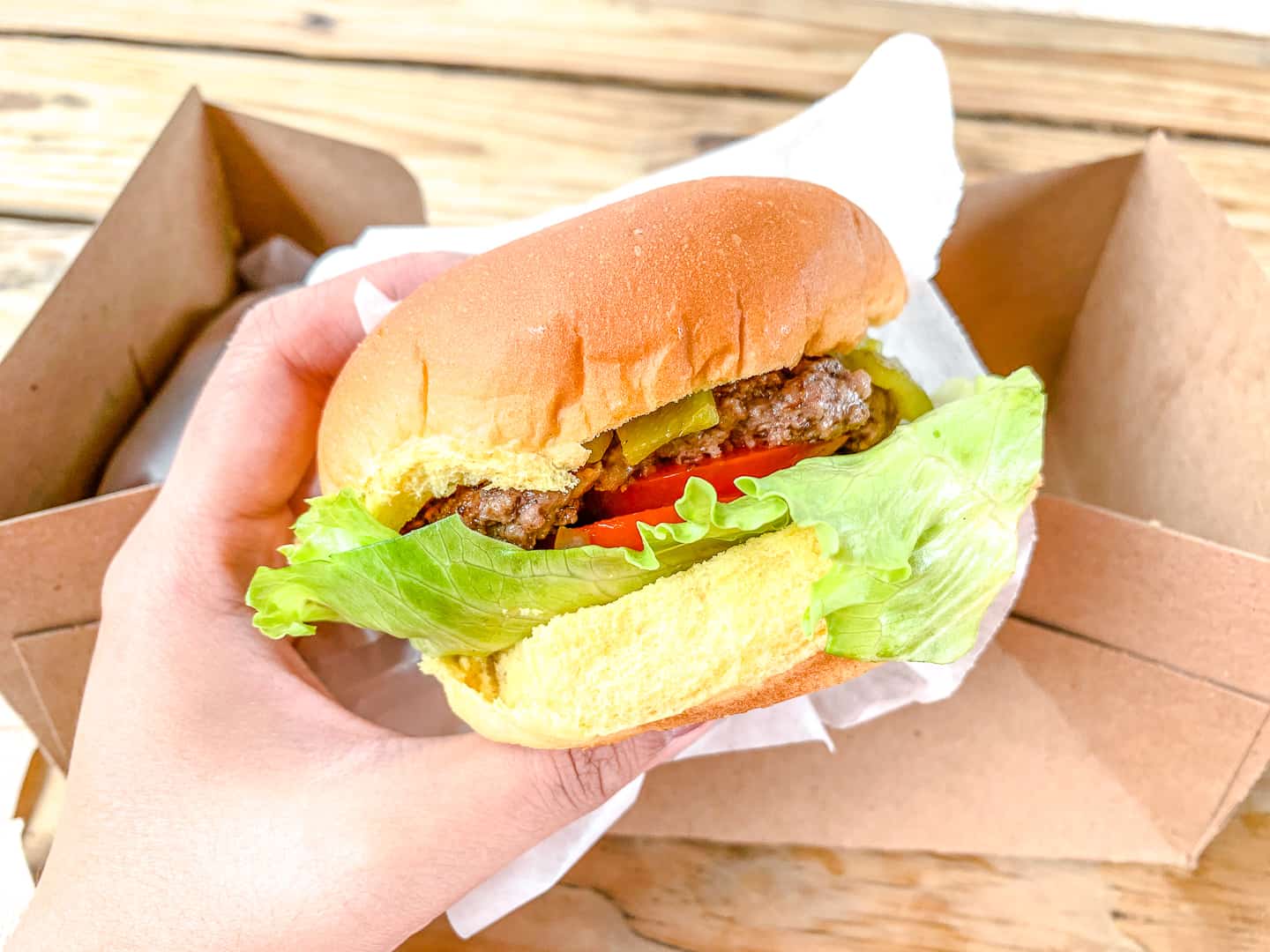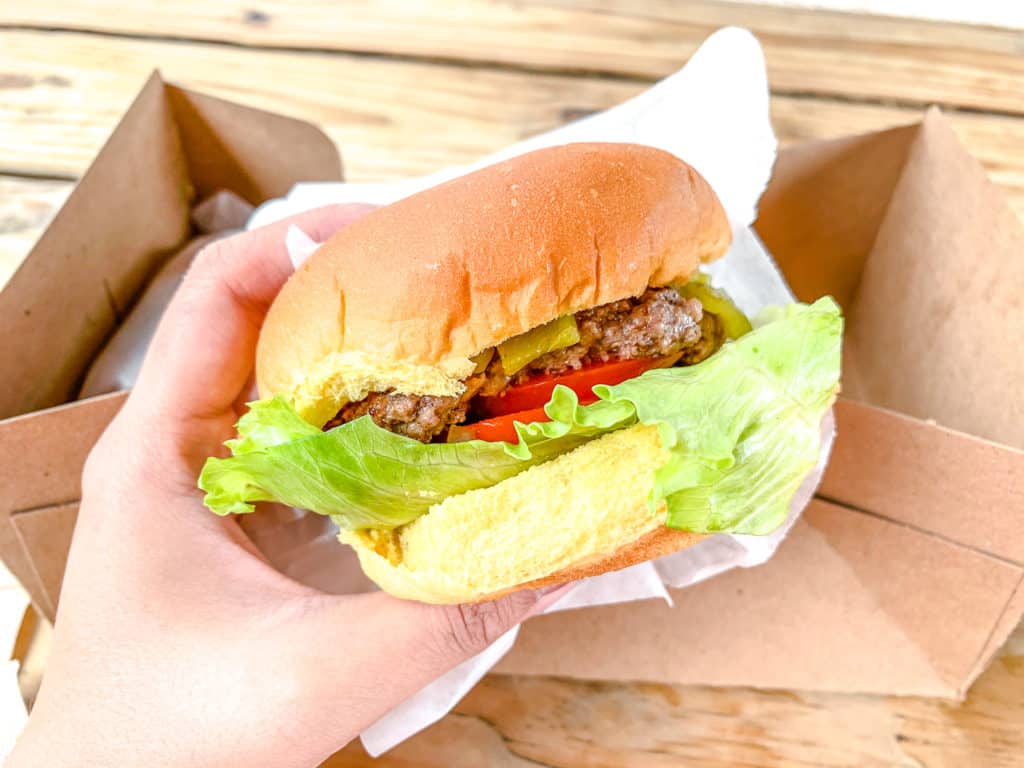 The milkshake was thicc. I had to use a spoon to eat it. It was creamy and so rich. Overall, the milkshake was the highlight of my meal.
Tomasita's Santa Fe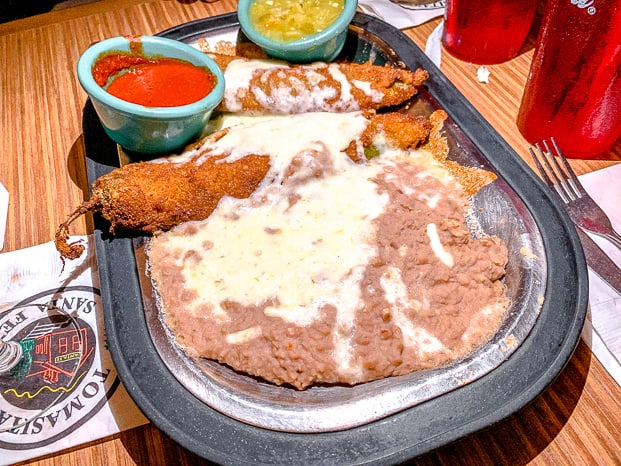 Our first taste of New Mexican cuisine was at Tomasita's. The beadwork artist from the plaza gave us this recommendation, and after a LONG day, we couldn't wait to stuff our faces.
Tomasita's was the first restaurant where I tried New Mexican red and green chile, and I immediately became addicted. Although the tamales were a little dry, their sopaipillas with honey and honey butter made up for everything. I would just eat the sopaipillas next time and nothing else.
Check out my full review of Tomasita's here!
The Teahouse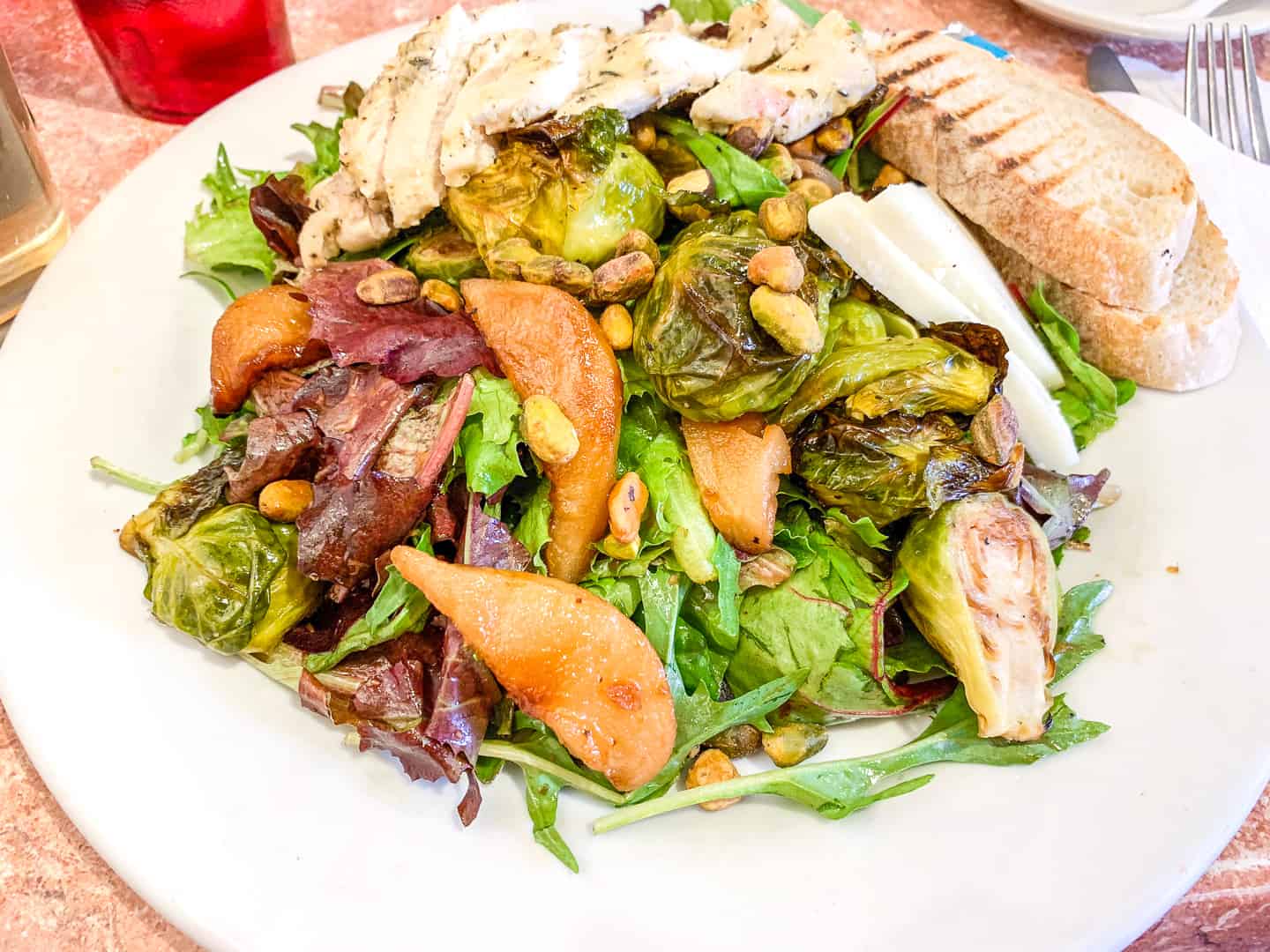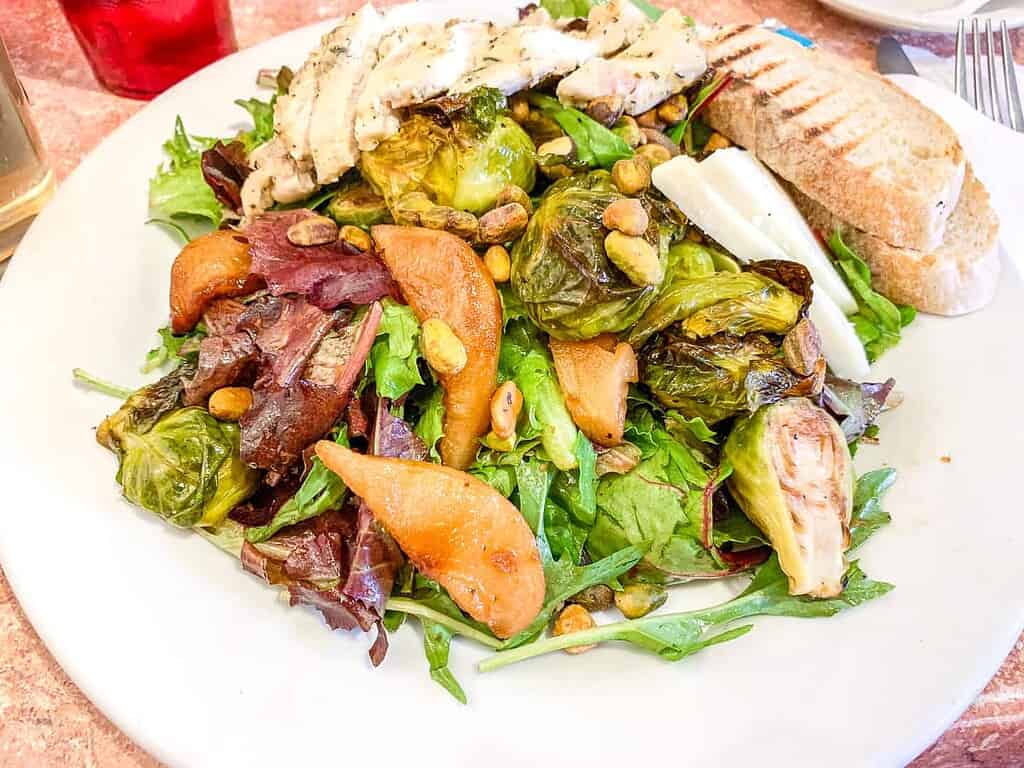 The Teahouse is a quaint little cafe close to El Farol, and was also a recommendation from our favorite Santa Fe beadwork artist. The walls of the shop are lined with tins of tea.
I ordered a tea called "King of Duck Shit," admittedly, because it had a funny name. According to the menu, the tea is so fragrant that, in order to keep its secret to themselves, the tea growers named it "Duck Shit" so that others wouldn't want to drink it.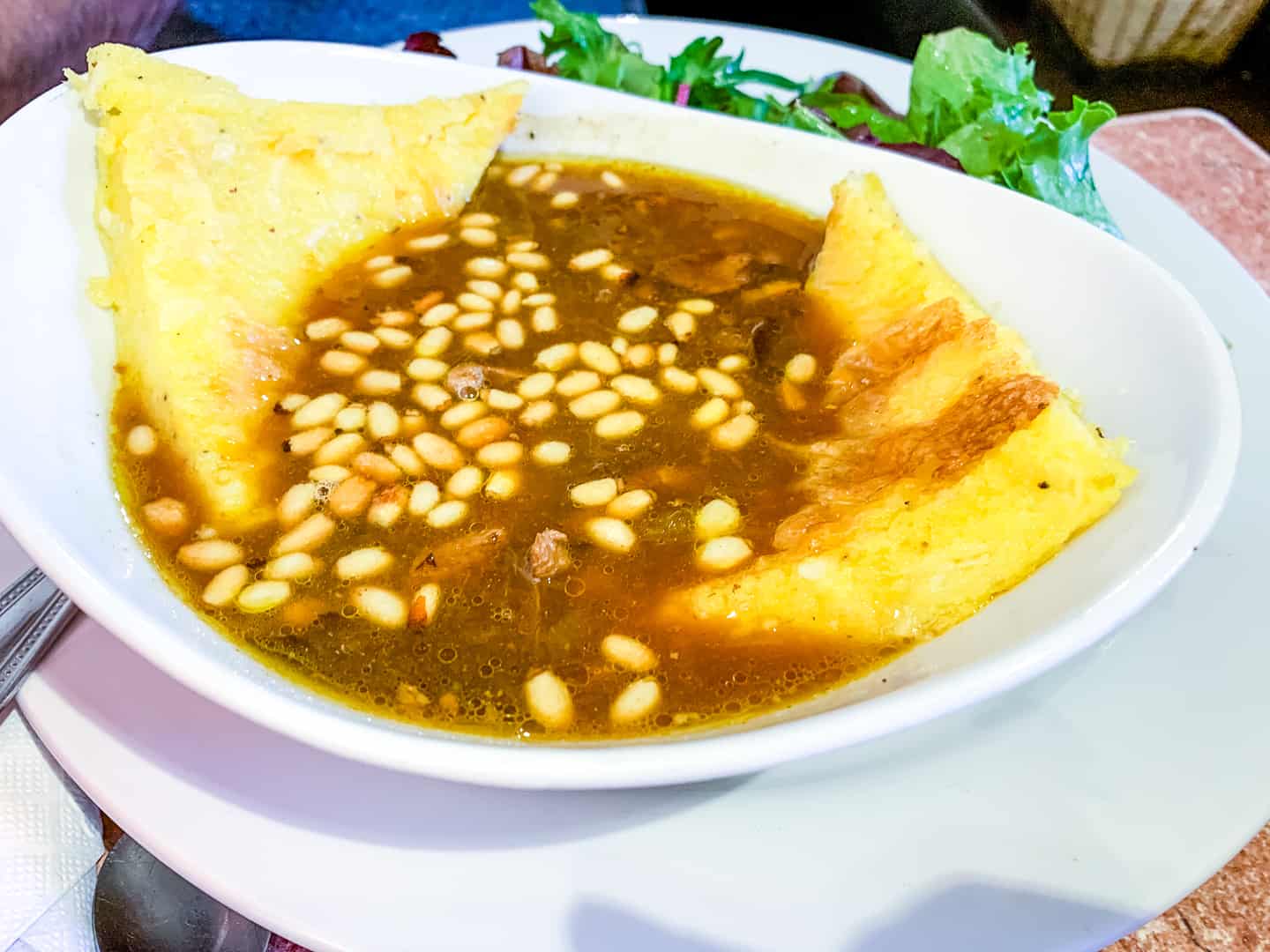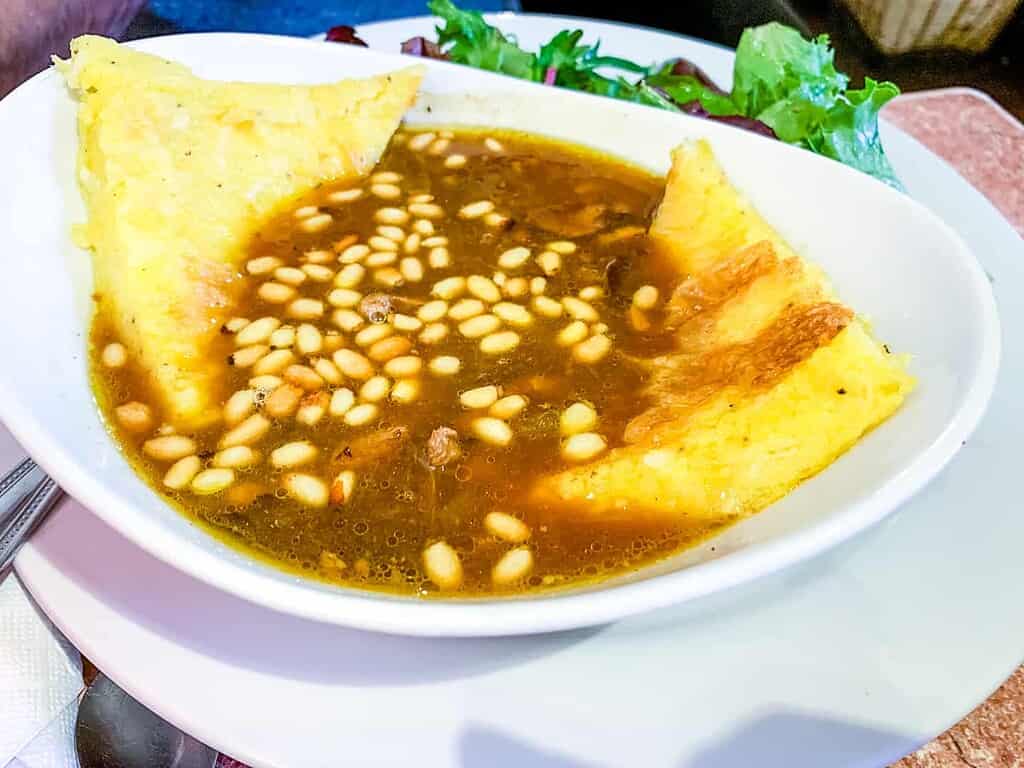 We went to this cafe after spending all morning watching the Women's World Cup championship. I had a LOT of bacon at the hotel breakfast buffet, so we needed something light. The caramelized pears in this salad were delicious, and really hit the spot.
The bae ordered a pork stew with the softest polenta I've ever had. He really liked it, but wasn't a fan of the pine nuts floating in the soup. We had a stew with almonds in it at El Farol and the bae was really over nuts in his soup after a few days.
The Shed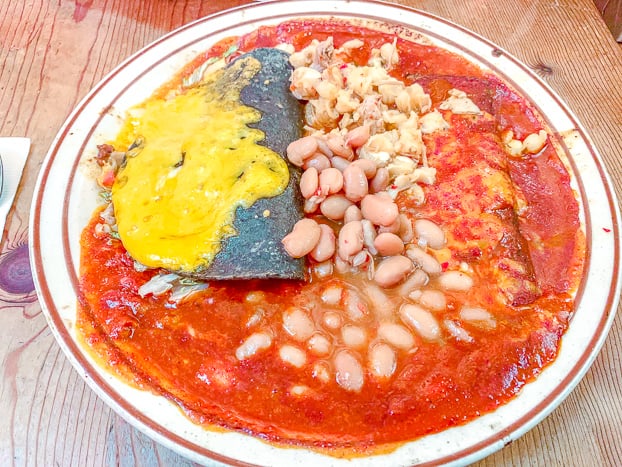 The bae and I almost didn't make it to The Shed. It was a close call, but we had to go because we met another couple at my friend's wedding and they had such good things to say!
We almost missed our flight back home because of this lunch, but it was completely worth it. Compared to Tomasita's, the red and green chile had more depth of flavor. It was also a lot spicier.
I ordered a tamale again, and it was perfect. It wasn't dry, and the green chile complemented the chicken well. It was definitely the best tamale I've ever had.
Read the full review of The Shed here!
Have you ever been to Santa Fe? Let me know in the comments what I missed out on!