The bae and I had our second dinner in Santa Fe at Tomasita's at the recommendation of one of the vendors on Santa Fe's plaza. Her name is Claudia Chavez, and her family has lived in New Mexico for ages! I bought a beadwork necklace and a set of earrings from her for the wedding I was attending in the city. If you're in the area, ask her for her favorite places for New Mexican cuisine.
The restaurant
Tomasita's doesn't take reservations, so when the bae and I arrived around 6:30, there was already an hour-long wait for seats. We grabbed a buzzer and went back into our car to wait. Most couples would probably make out in the car while they waited. We had just gone to Meowolf, an interactive and immersive art exhibit in the city, so we sat in the car and read an article about the exhibit to each other for an hour. Don't worry, my little sister has already made fun of me for this.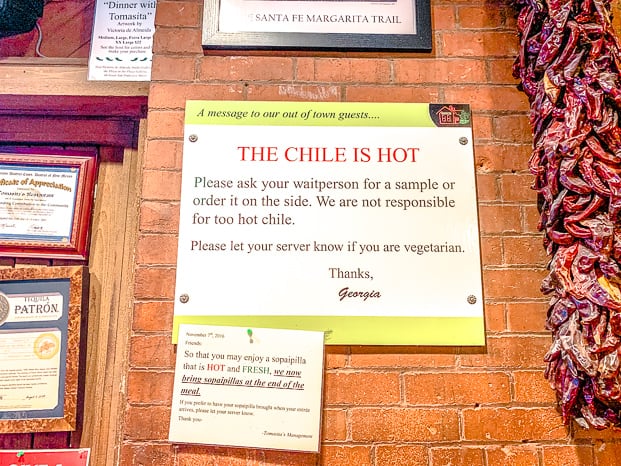 The restaurant is inside of a 100-year-old railroad station. Railroads connected people during the period between 1870 and 1880 when the Wild West was being explored. The line that ran from Antonito to Santa Fe was called the Chile line. It makes sense that the station now holds a restaurant known for how spicy its chile is!
The food
After seeing the above disclaimer, the bae and I were excited to try some spicy food. I was a little scared though, so we asked for a sample, just in case.
Red and green chile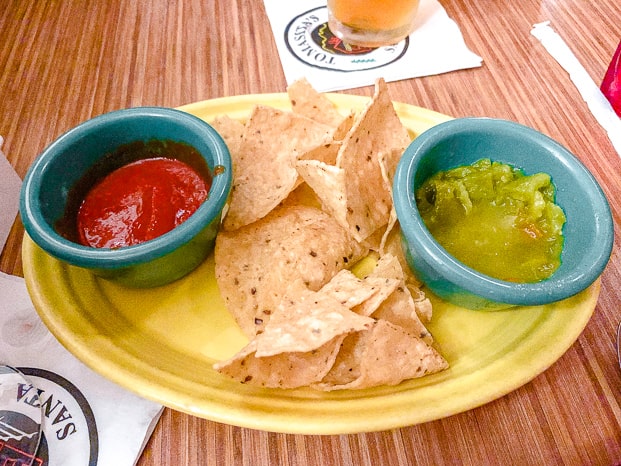 New Mexican cuisine is known for its red and green chile. Seriously, they eat it with everything! Both chiles are traditionally made with hatch chiles. The red is made with dried chiles and the green with fresh, roasted chiles. Our water told us the red was spicy and the green milder, but we felt like both didn't have too much heat. I think New Mexicans should try Korean food...
If someone asks you if you want red or green chile, I've been told the correct answer is "Christmas," or both. New Mexican locals may have a point. I couldn't decide which chile I liked better! The green is chunky and fresh, with a smoky taste and a pleasant texture. But the red is deeply smokey and the heat creeps in on you. Christmas is definitely the correct way to order New Mexican cuisine.
Chile rellenos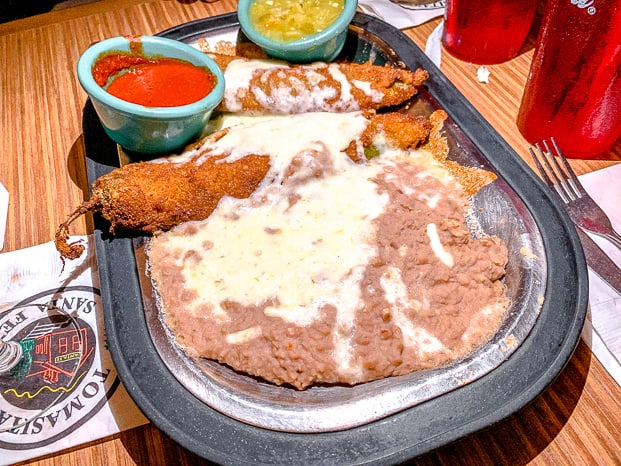 Instead of an appetizer, the bae and I ordered the chile rellenos to share. The stuffed peppers came with red and green chile. They were delicious, but very heavy! Between the cheese and the refried beans and the breading, just one pepper would have been enough for a full meal. It's really hard to mess up something that's stuffed with cheese, breaded, deep fried and covered in more cheese and beans though. The bae and I fully enjoyed these.
Tamale plate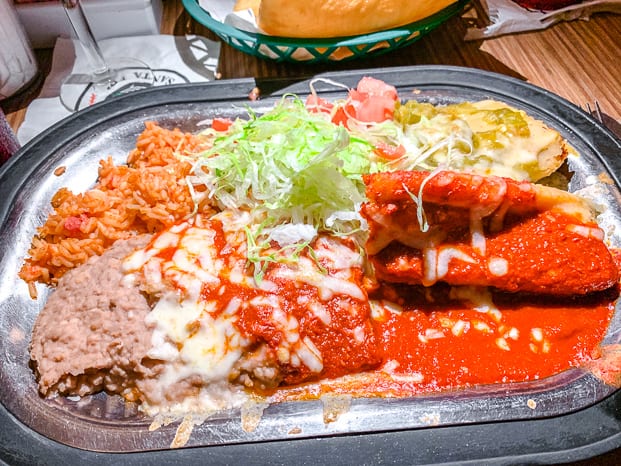 I ordered the tamale plate for my entree. It came with two pork tamales with red and green chile, a cheese enchilada with red chile, spanish rice and refried beans. The flavors were good, but I thought the tamales were a little dry, and the spanish rice was a little overcooked. It wasn't anything that ruined the meal for me, but the textures were just a little off.
Carnitas Antonio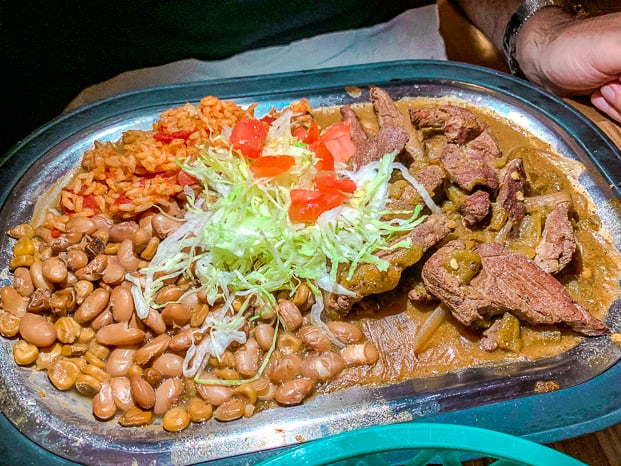 Every night, Tomasita's has a different special. The bae ordered Saturday's: Carnitas Antonio. It had strips of beef marinated with green chile served with spanish rice and pinto beans with chicos. Chicos is a special type of New Mexican dried corn. I really liked it with the pinto beans! I prefer whole pinto beans to the refried beans, and the corn gave it a nice smokey flavor and firmer texture.
Sopaipillas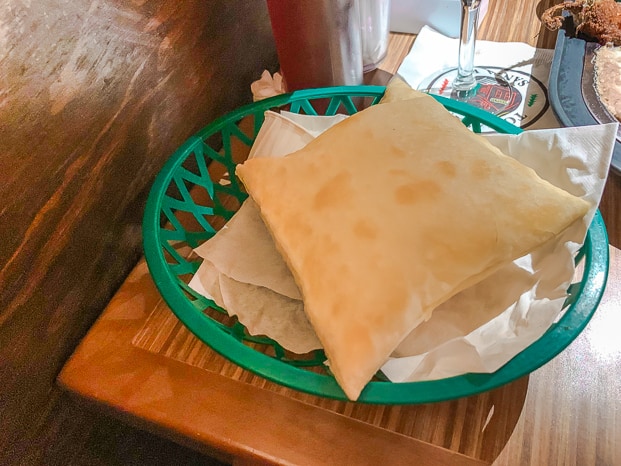 The REAL star of the show were the sopaipillas. They're a pillowy fried bread, served with honey butter and local New Mexican honey. There was a sign outside that said they would be served at the end of dinner instead of with our entrees so that they will stay hot, but they came with our entrees anyway. The bae was pretty peeved, because he really wanted to eat them after dinner as a dessert. I, obviously, stuffed my face with them and couldn't finish my entree.
The sopapilla looks big, but it's mostly full of air. It's crispy on the outside and slightly fluffy on the inside, but it's actually really thin. The honey butter melts into the dough for a beautifully sweet, salty and rich experience. Do you know where I can get sopaipillas in DC? Please help. I need them.
Tomasita's: Final review
The food at Tomasita's was delicious. The chile was not as spicy as I thought it would be (I definitely didn't need a spice warning for it), and while the flavors were all there, some things were overcooked.
Overall it was a great meal, but I'll tell you about favorite restaurant that serves New Mexican Cuisine later this week!
Price point: $$ ($11-$30)
Dress code: Casual. Bonus points if you have a bolo tie, boots or a cowboy hat!
Food: ????????????????/5 Minus one burrito (There's no tamale emoji) for the overcooked tamale, but seriously the sopaipillas are TO DIE FOR.
Service: ❤️❤️❤️❤️/5 The bae was pretty steamed his sopaipillas were coming out with our meal. I think he was just upset I was eating them all before he could.
Noise level: ????????????????????/5 This place is CROWDED. It's loud purely because of how many people there are.
Tomasita's is located at 500 S Guadalupe St
Santa Fe, NM 87501. They also have a location in Albuquerque.
Looking for other restaurant recommendations? Then check out my D.C food map!
---
Want more recipes and reviews in your inbox? Sign up below!