The bae and I have been eyeing Shaw's new sushi, yakitori and izakaya bar ever since it opened a few weeks ago. We're always chasing the best sushi in the city, and the giant Godzilla mural outside definitely excited the bae, who's a big fan.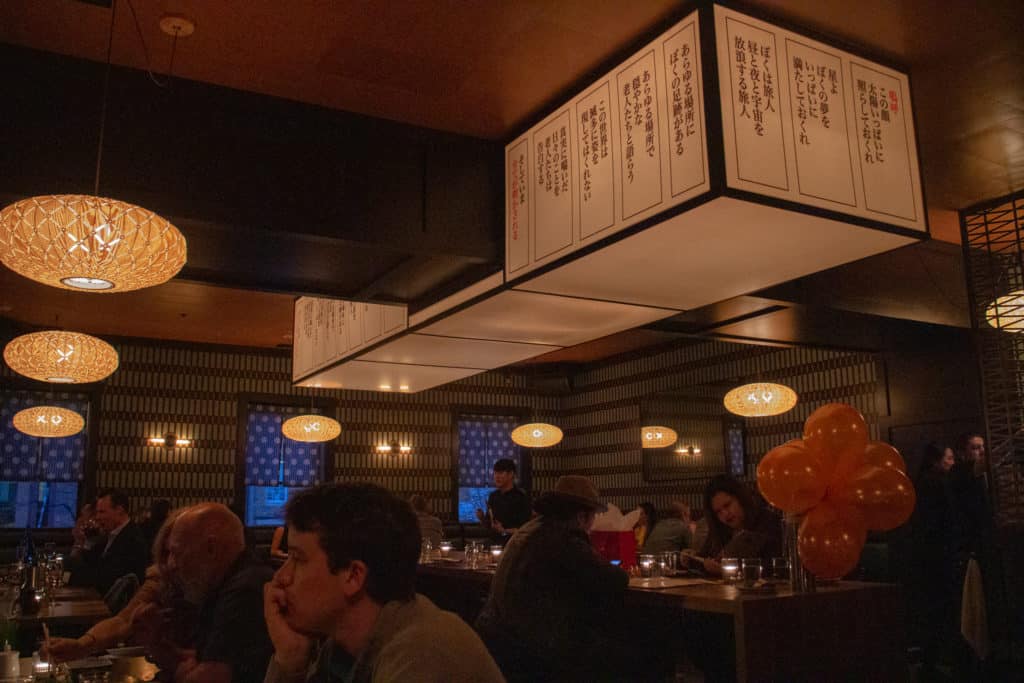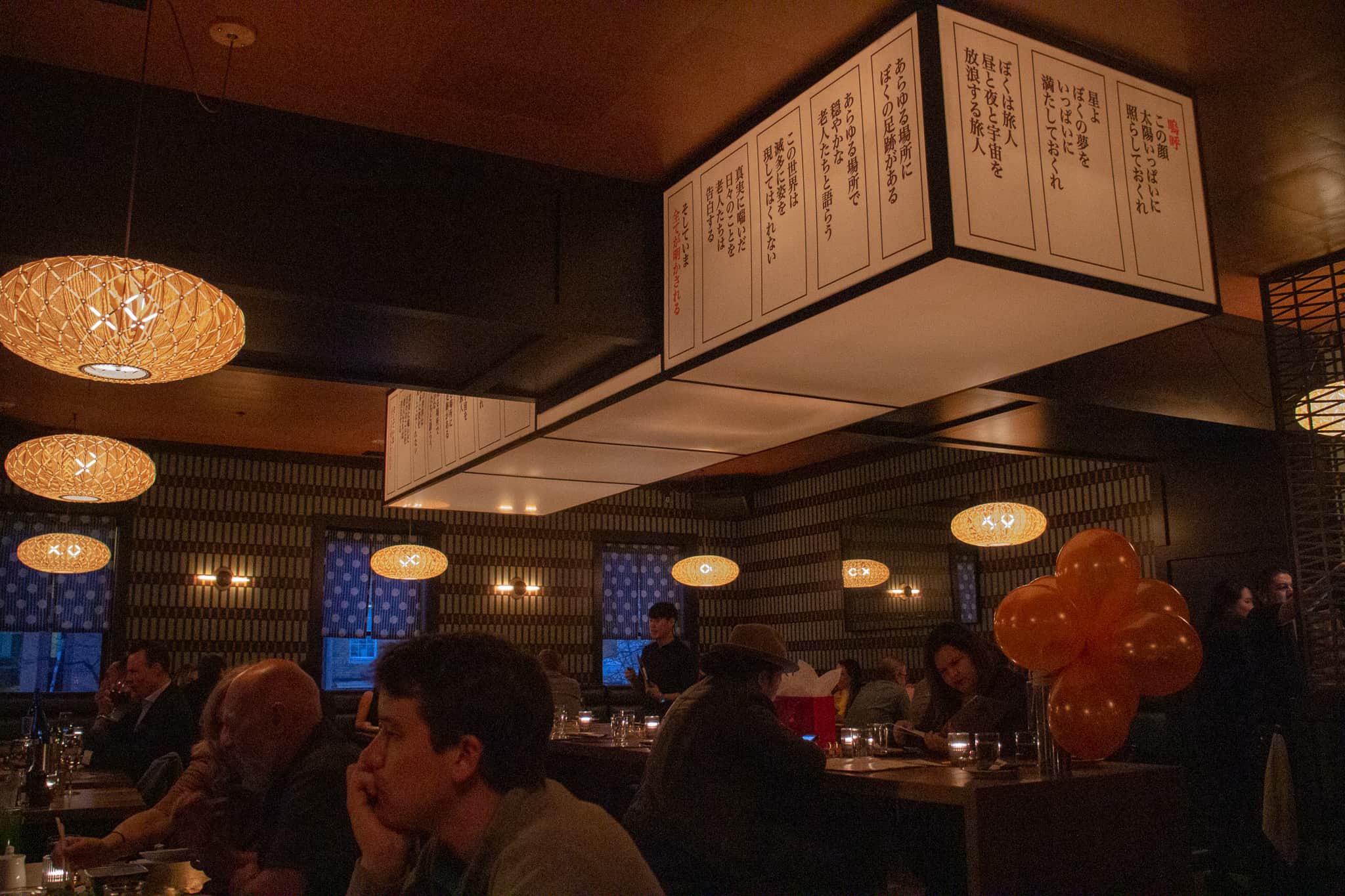 I didn't get any photos of the mural or bathroom decorations, but the restaurant is both fun and romantic. Vintage Godzilla posters line the walls to the bathroom. We were seated upstairs in a corner booth, which is my favorite place to sit on a date. Sitting next to your date is so much better than sitting across from them! I'll die on this hill.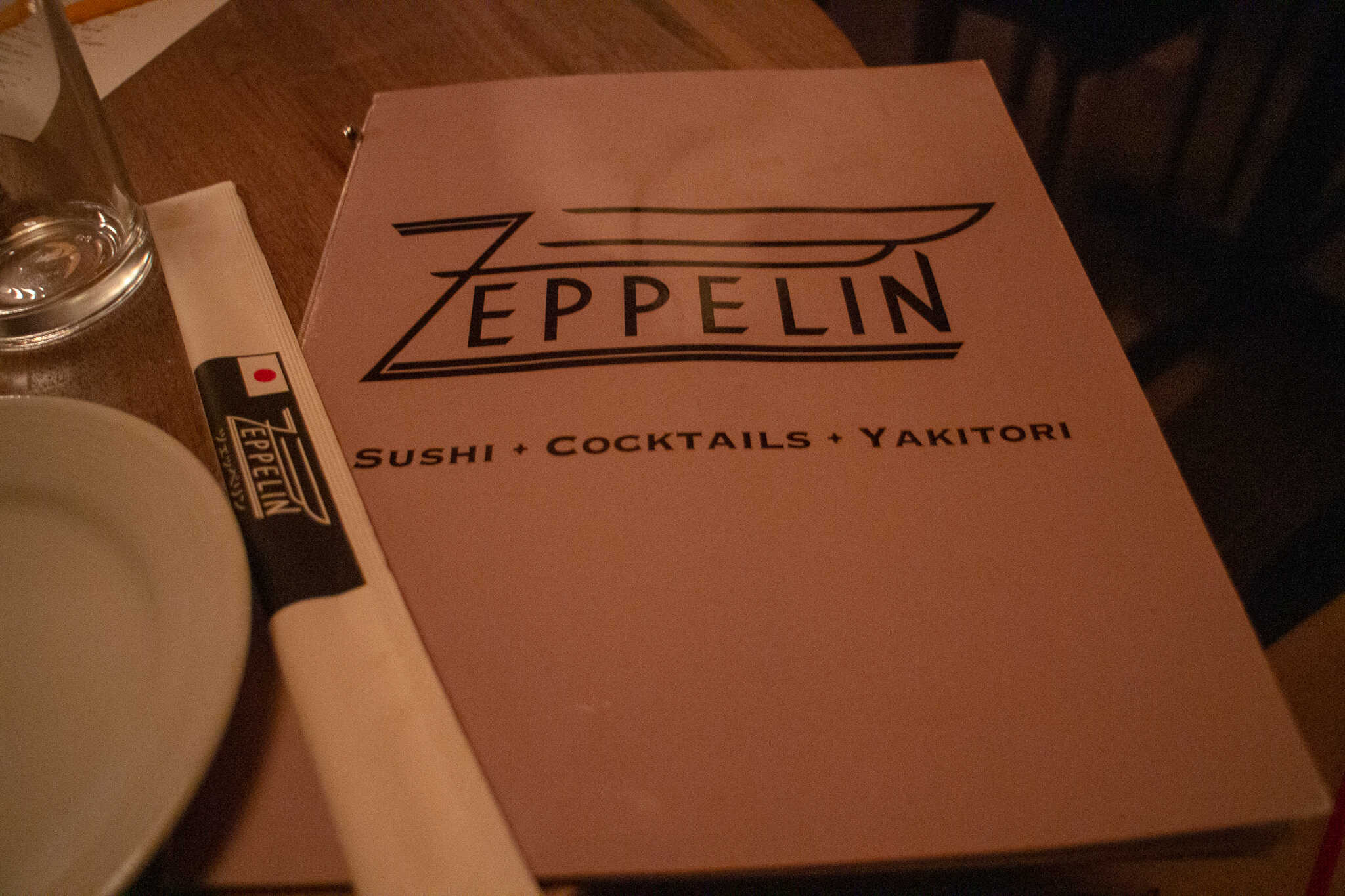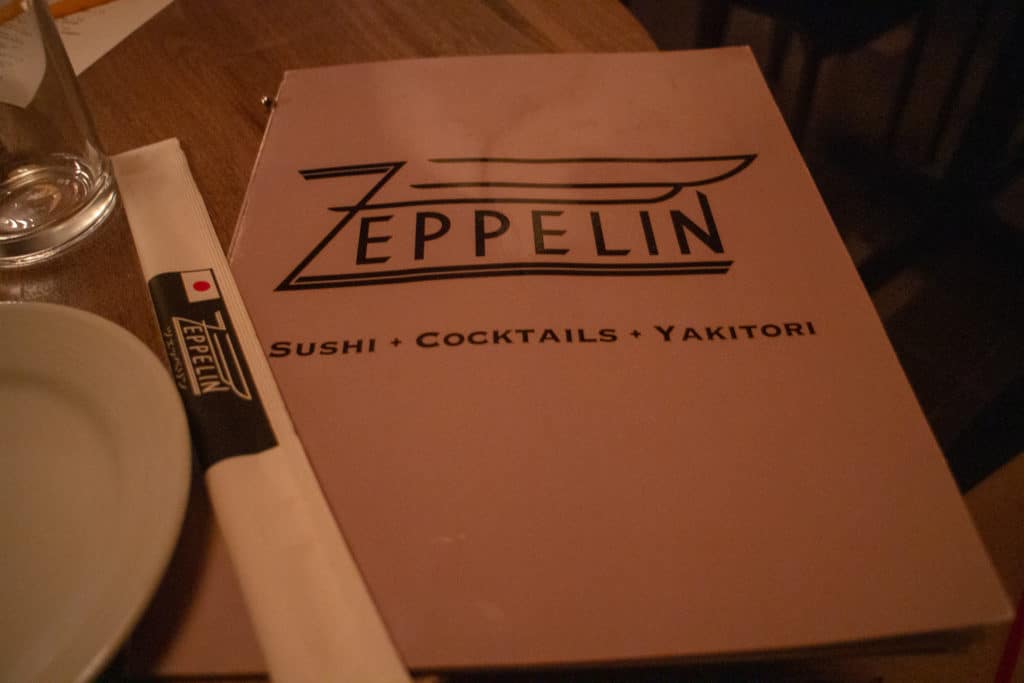 The restaurant has an extensive sake menu, with bottles ranging from $23 to more than $300. The bae ordered some hot sake on tap.
For appetizers, we started with the Tako Wasa, or marinated raw octopus, and vegetable tempura. Our waitress also convinced us to order some ebi (shrimp) shumai.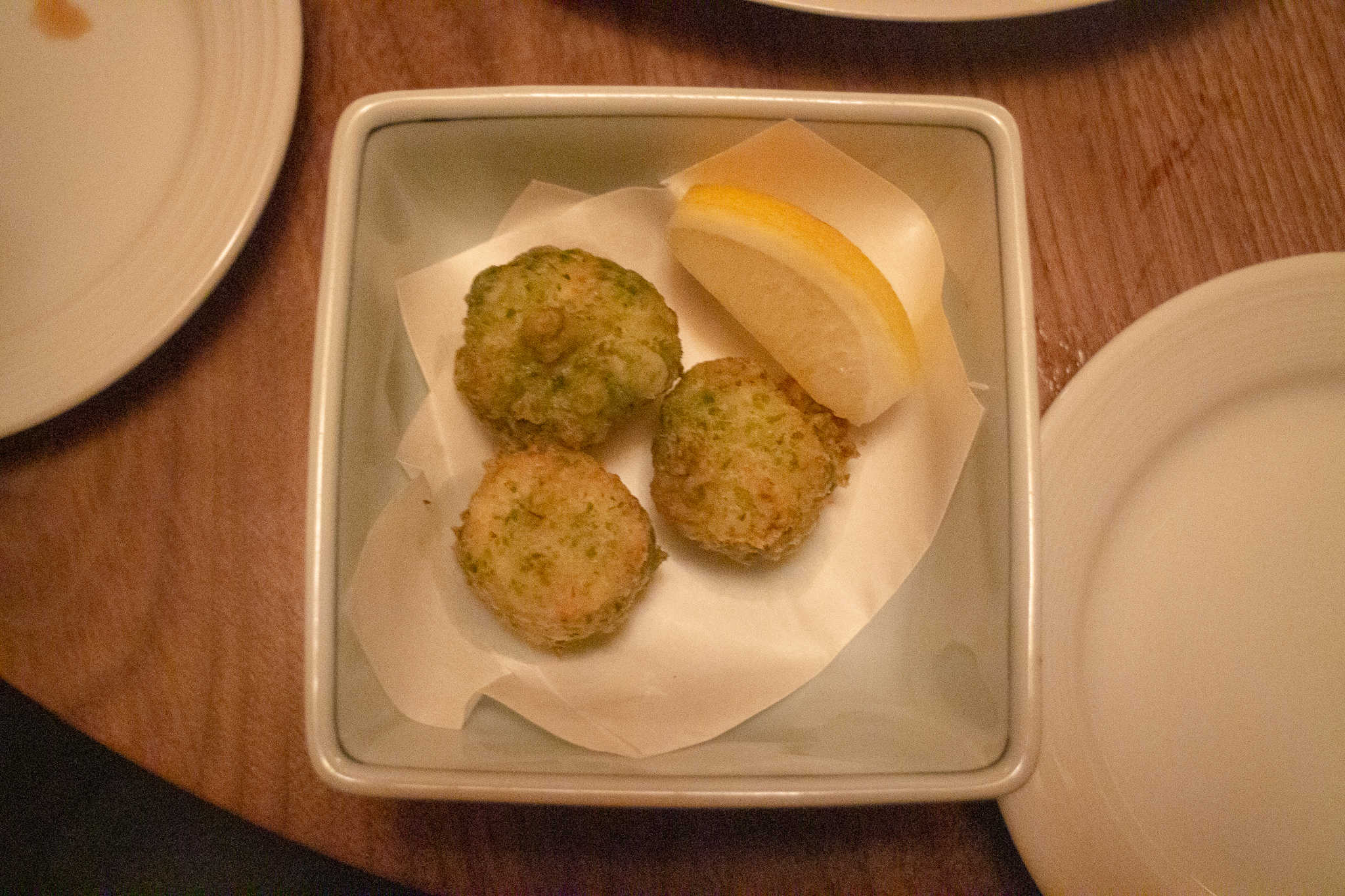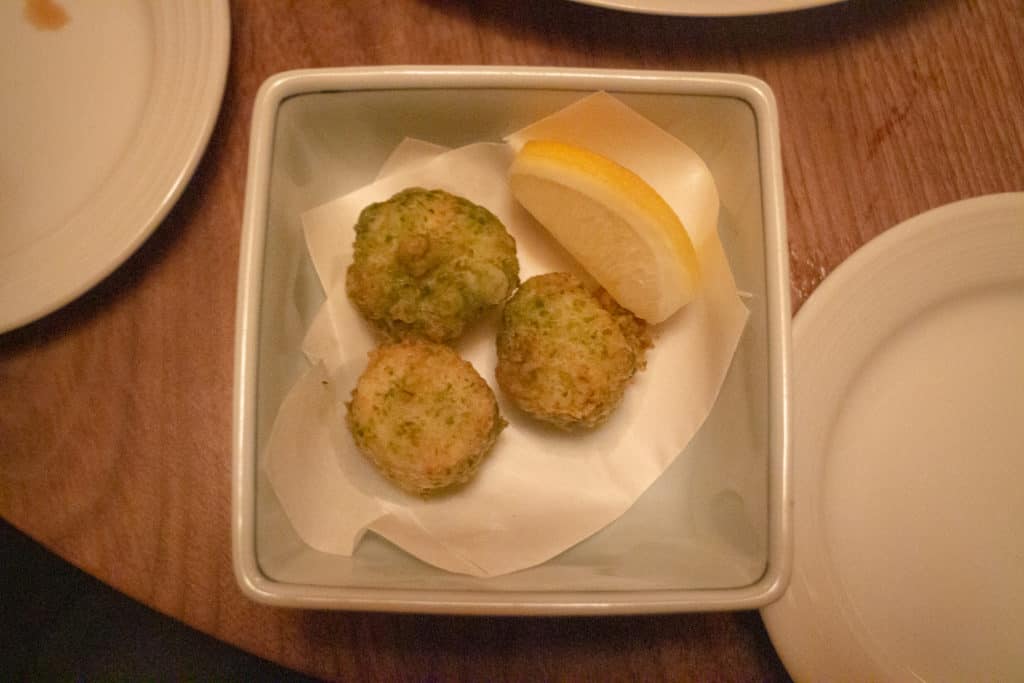 The shumai were good, but indistinguishable from the ones I would order at a more affordable sushi restaurant. The lemon wedge did give the whole dish a little brightness, but overall it was nothing unexpected.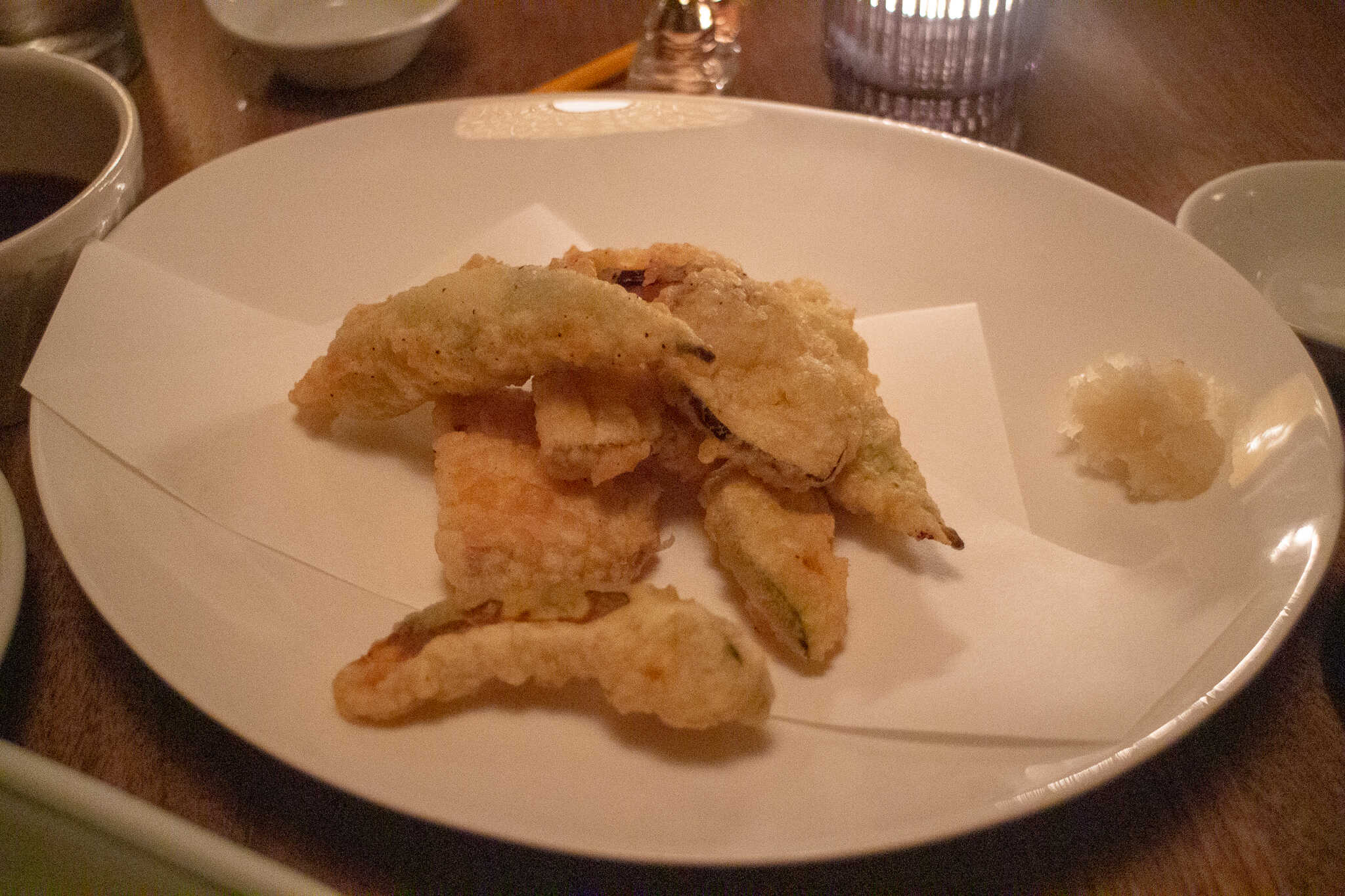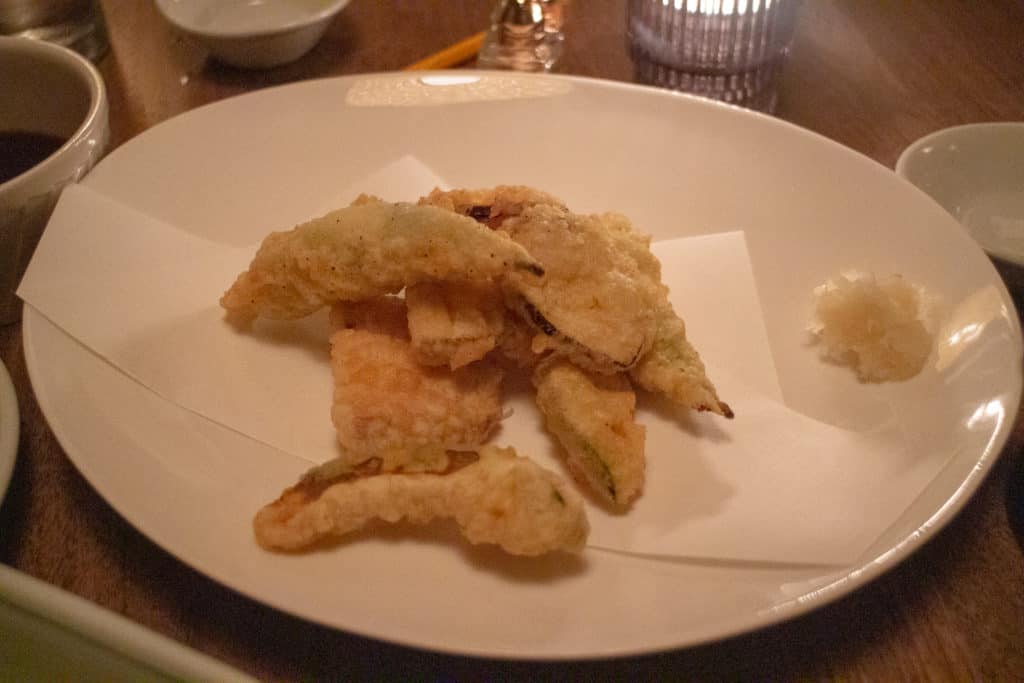 The tempura was delicious and light. I especially loved the okra tempura. The vegetables were crisp and flavorful, and not at all greasy.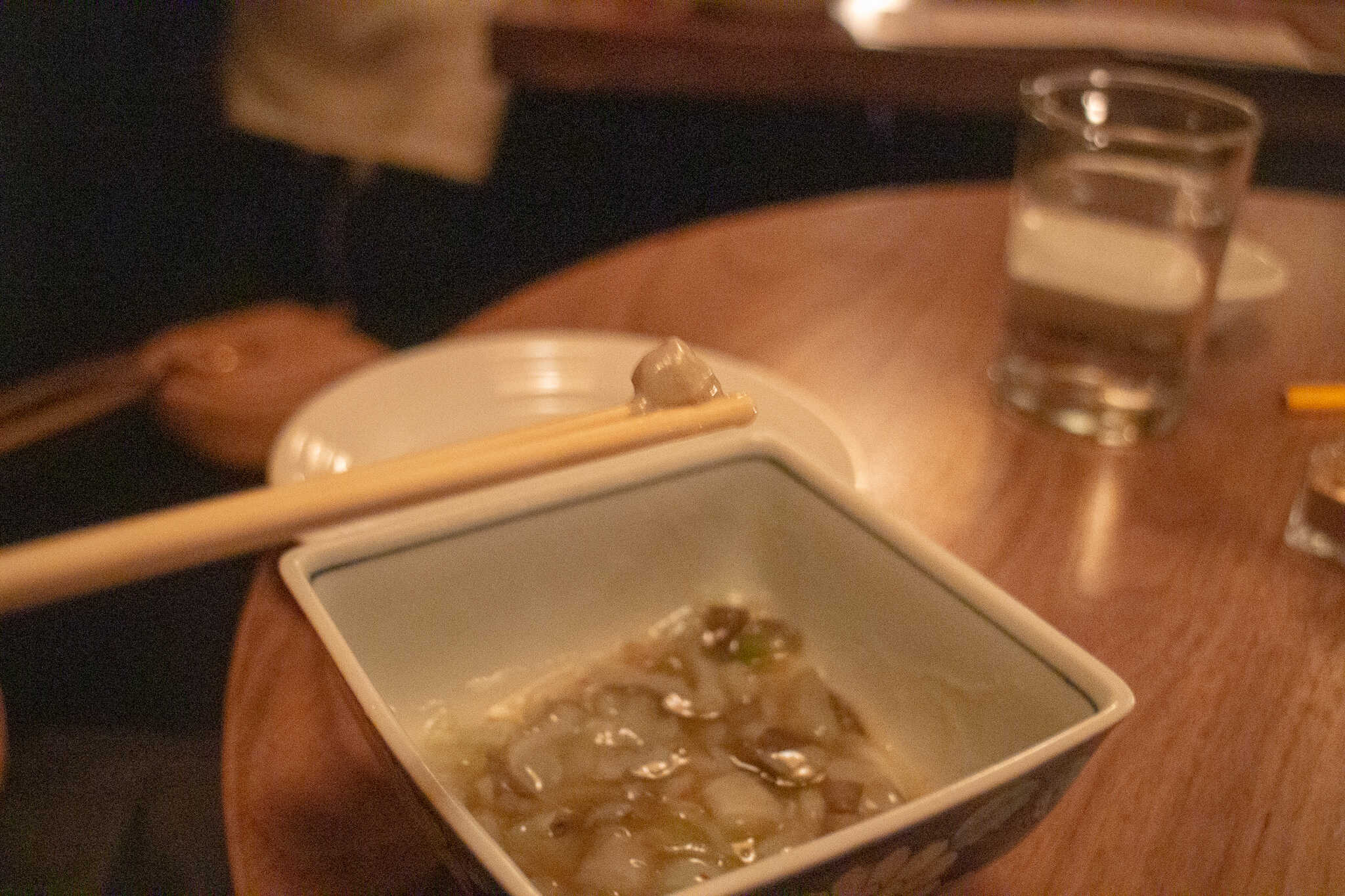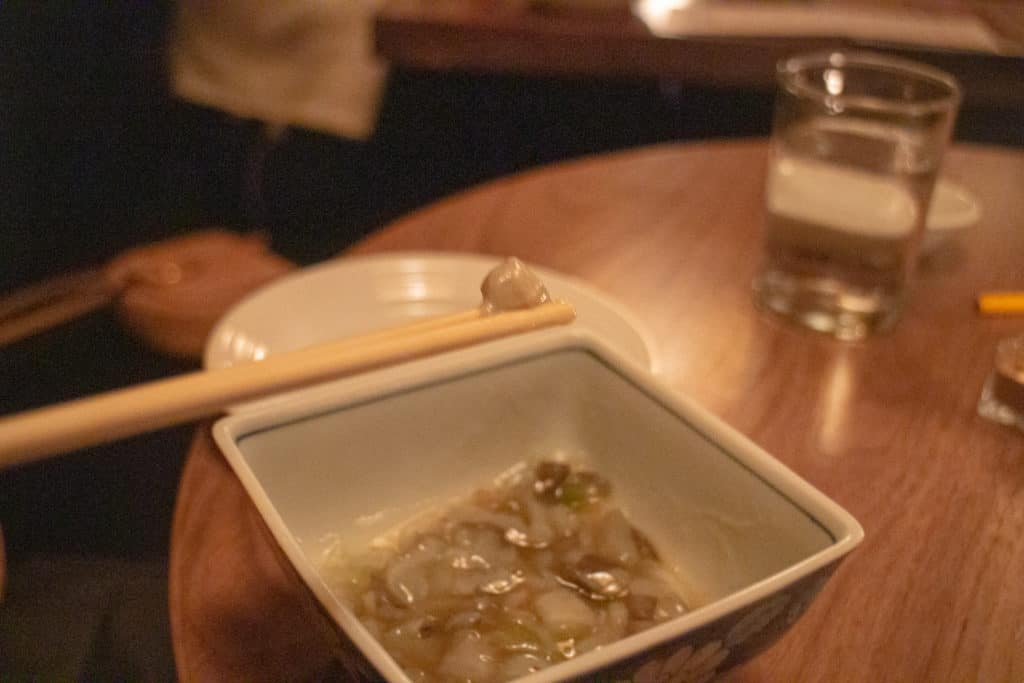 My favorite appetizer was the octopus. The wasabi sauce that it was marinated in had just the right amount of kick. This was my first time trying raw octopus, and I liked the firm, chewy texture a lot.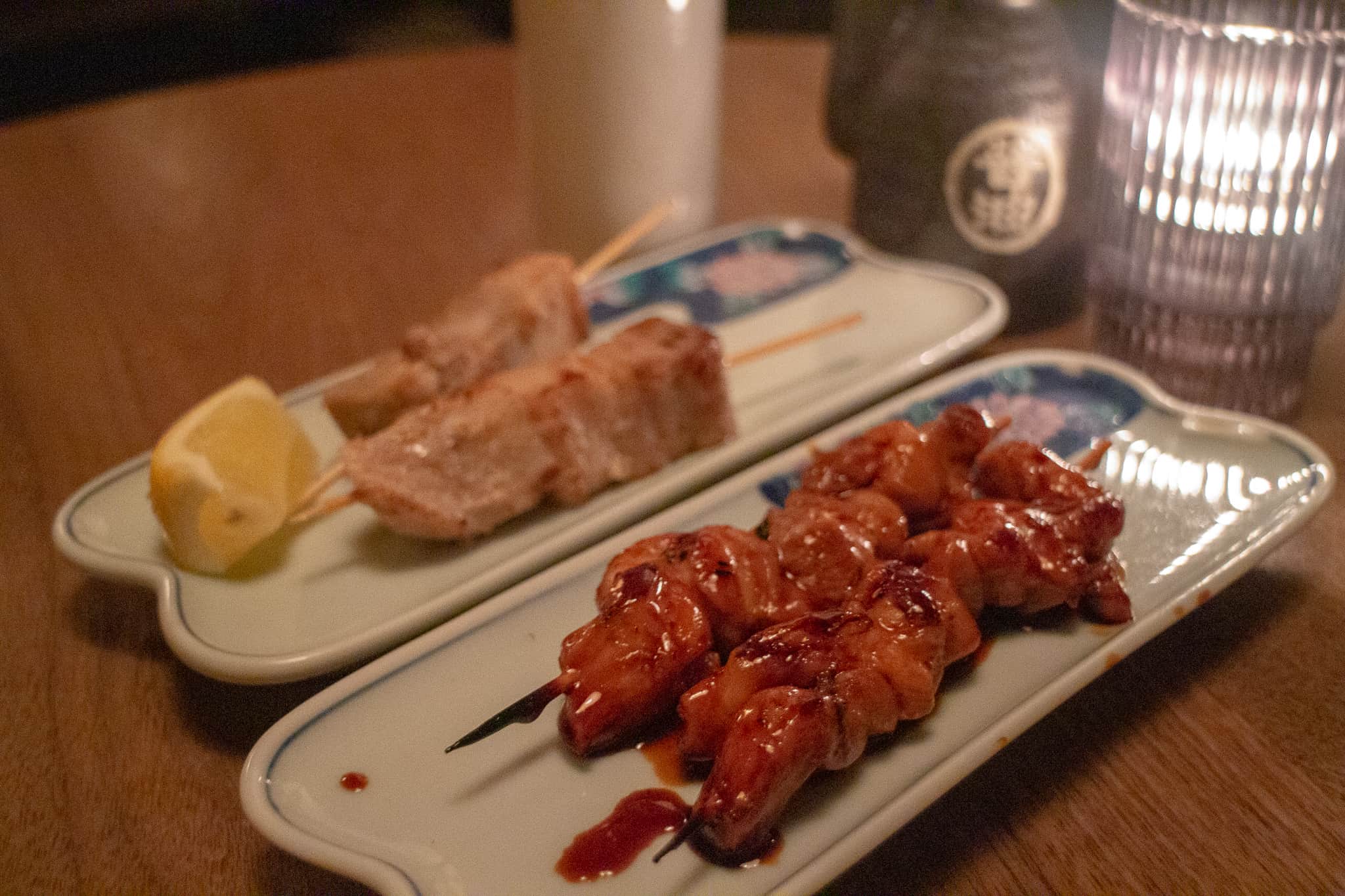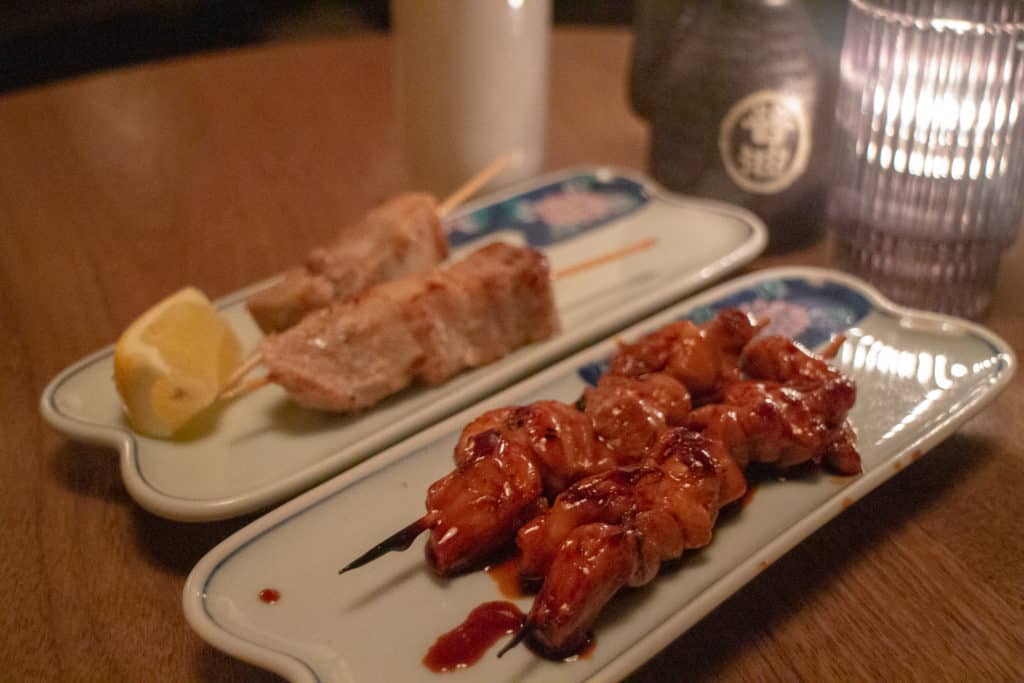 Zeppelin has a long list of yakitori as well. These are typically chicken skewers, but other meats and vegetables can be used. They're typically cooked over charcoal, which gives them a wonderful smokey taste.
We ordered the buta bara (pork belly) and momo (chicken thigh) skewers. The pork belly one was a little tough, but it was good. It was described as "silky" on the menu, and I expected it to be more tender. I liked the momo skewer a lot. The tare, or sauce had a very crisp mirin flavor and you could taste the charcoal it was cooked on.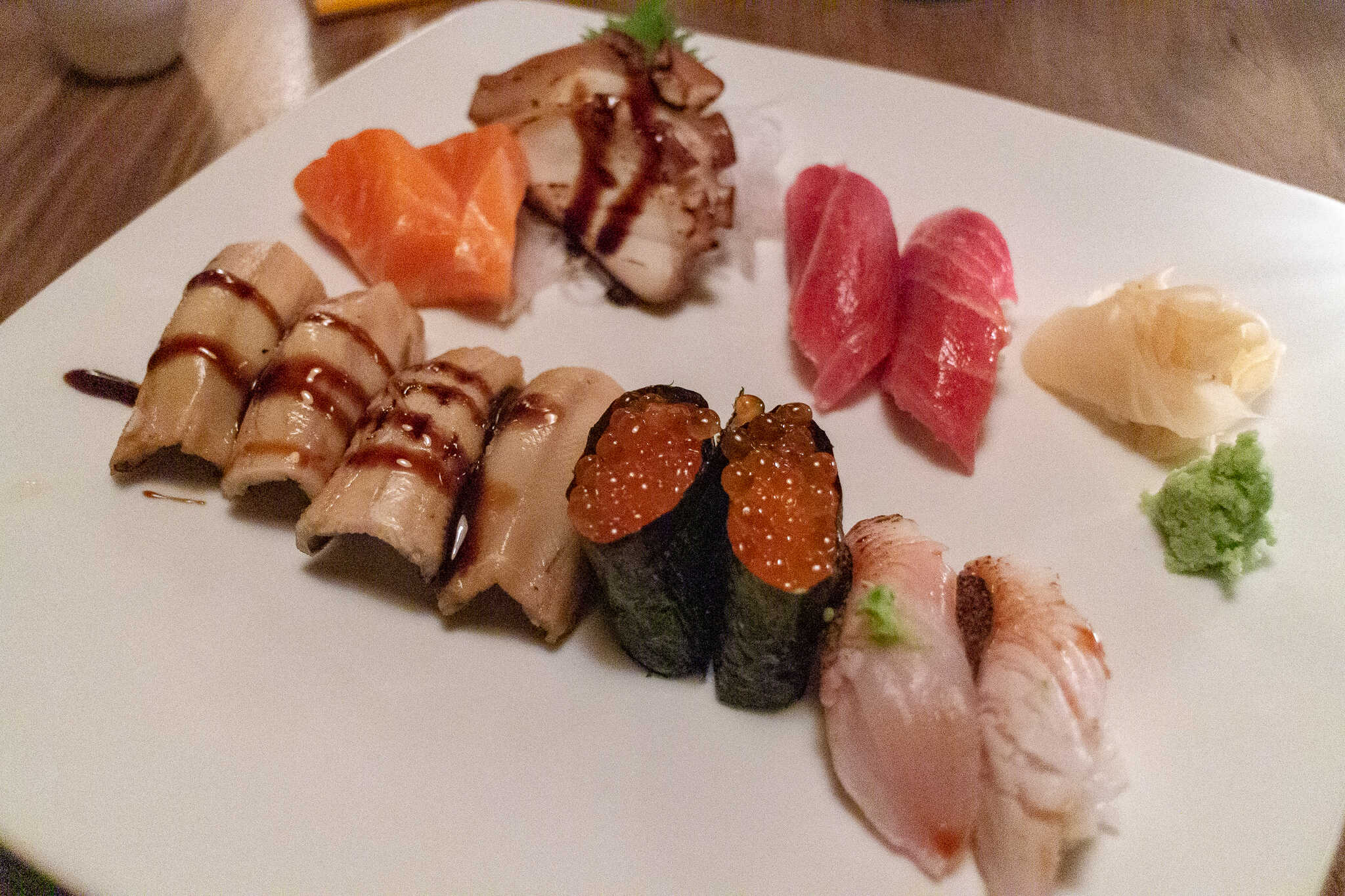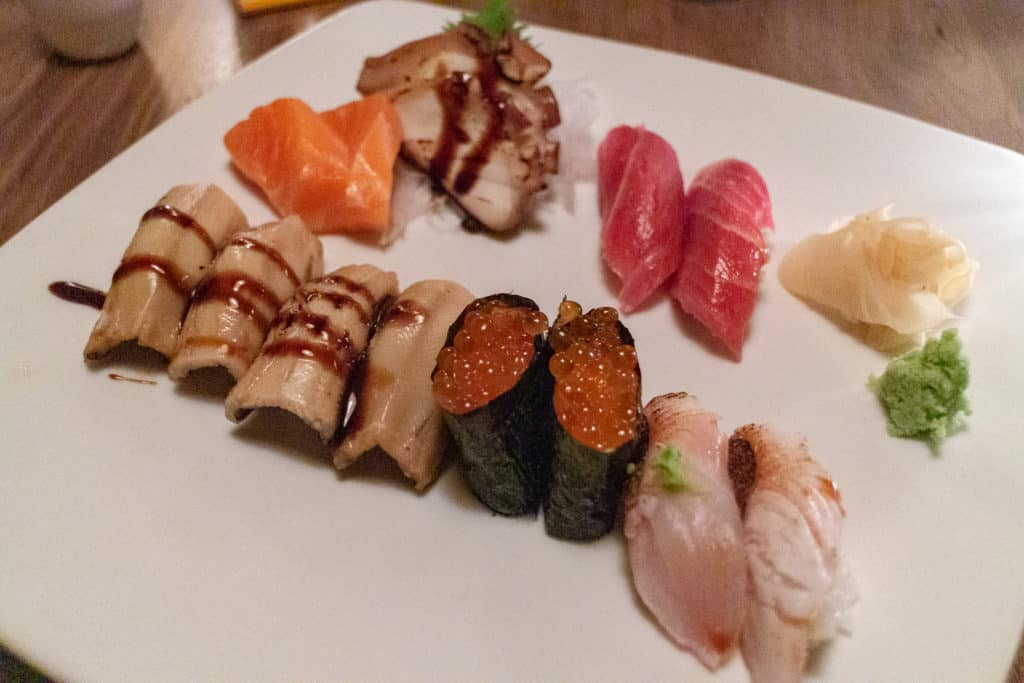 The star of the show came out last. The sushi here is PHENOMENAL. We had to wait quit a while between when our hot food arrived and the sushi, but it was worth the wait.
We ordered two servings of eel nigiri, and then one each of salmon roe, fatty tuna, mackeral, octopus and king salmon. The eel nigiri was unlike anything I've ever eaten before. It wasn't slathered in the sticky sweet eel sauce I was used to, because the eel itself was extremely rich and flavorful. It just melted in my mouth. I'm still thinking about it now. I want an entire plate of it!
The bae and I devoured our sushi selections within five minutes, and laughed that we should have taken more time to savor them.
Zeppelin has beautiful outdoor seating and communal late night karaoke. I'd definitely come back just to eat more eel. Next time around though, I don't think I'll order anything off of the regular menu, and you should do the same. Trust me, you'll want to save space for more sushi.
Price point: $$$ ($30-$60)
Dress code: Casual-business casual
Noise level: ????????/5 Easy to have an intimate conversation
Food: ????????????????/5 The sushi is sublime, but one star deducted because the appetizers were not stellar
Service: ❤️❤️❤️❤️/5 Our waitress was very sweet, but there was an awkward gap in between our appetizers and our sushi, which made us late for our movie date