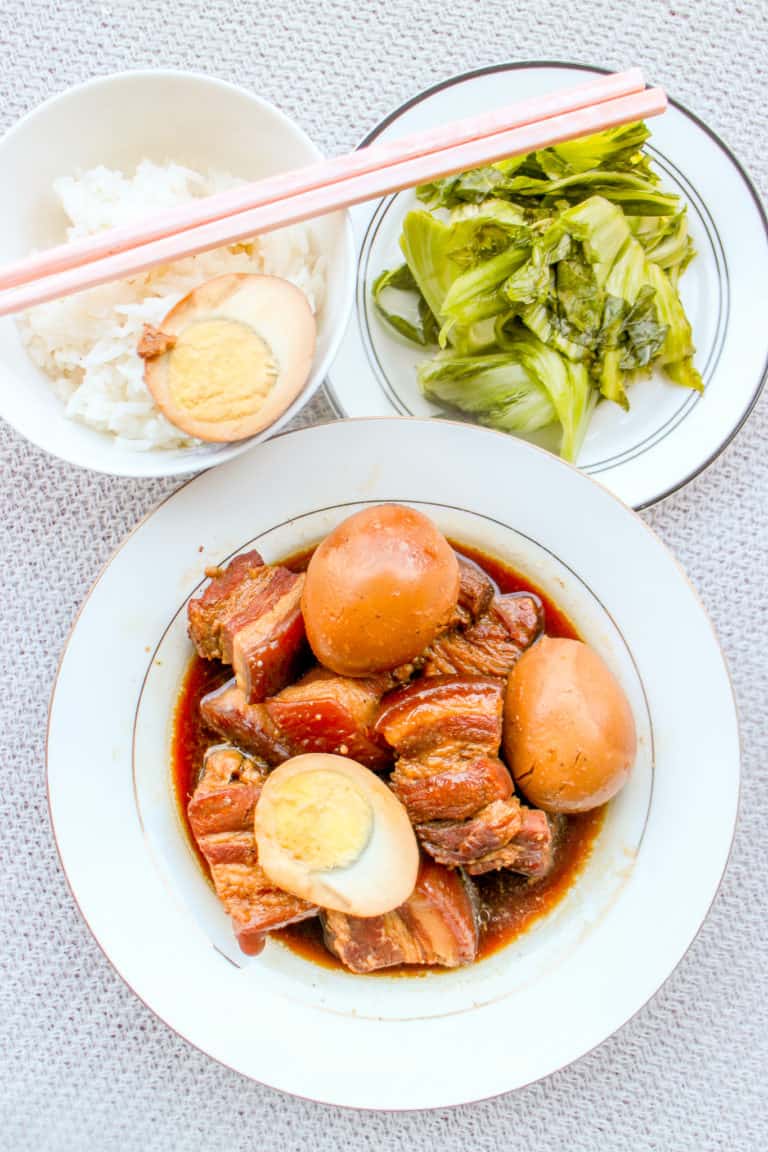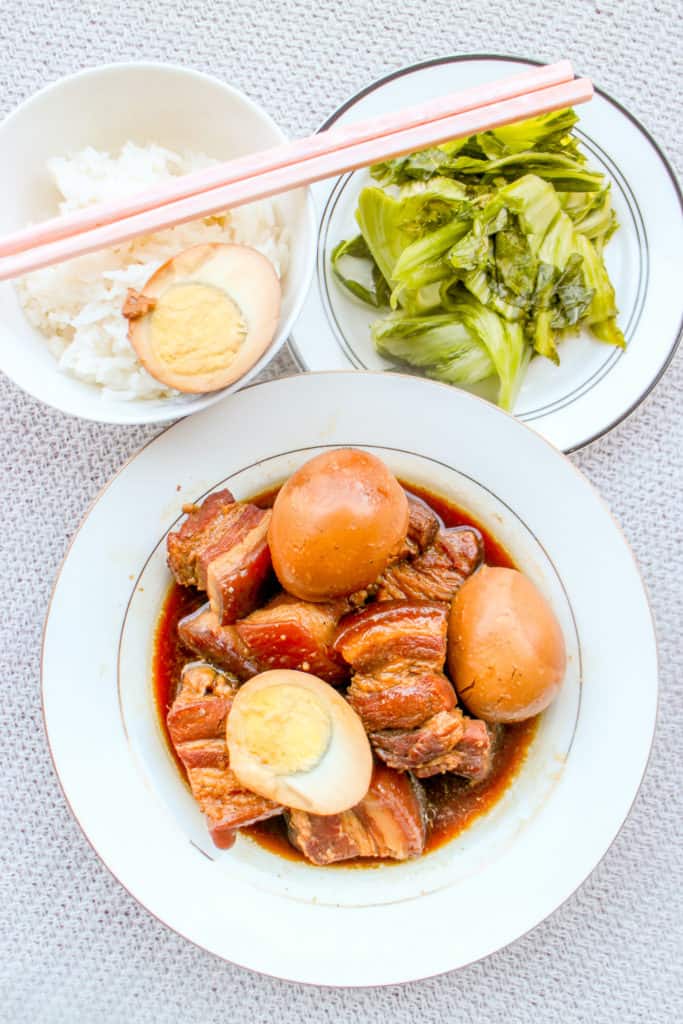 Caramelized Pork Belly and Eggs, or Thịt Kho Trứng, is a pretty common Lunar New Year dish. The Lunar New Year is one week away! In Vietnam, we call the Lunar New Year "tết." During tết, you get to eat foods that aren't served any other time of year.
I can't make any of those foods.
Seriously! The quintessential tết food, bánh chưng, is an extremely complicated sticky rice cake filled with mung bean and pork belly. It's wrapped in banana leaves and boiled over hot coals overnight. Yes, you have to pull an all nighter just to make these cakes.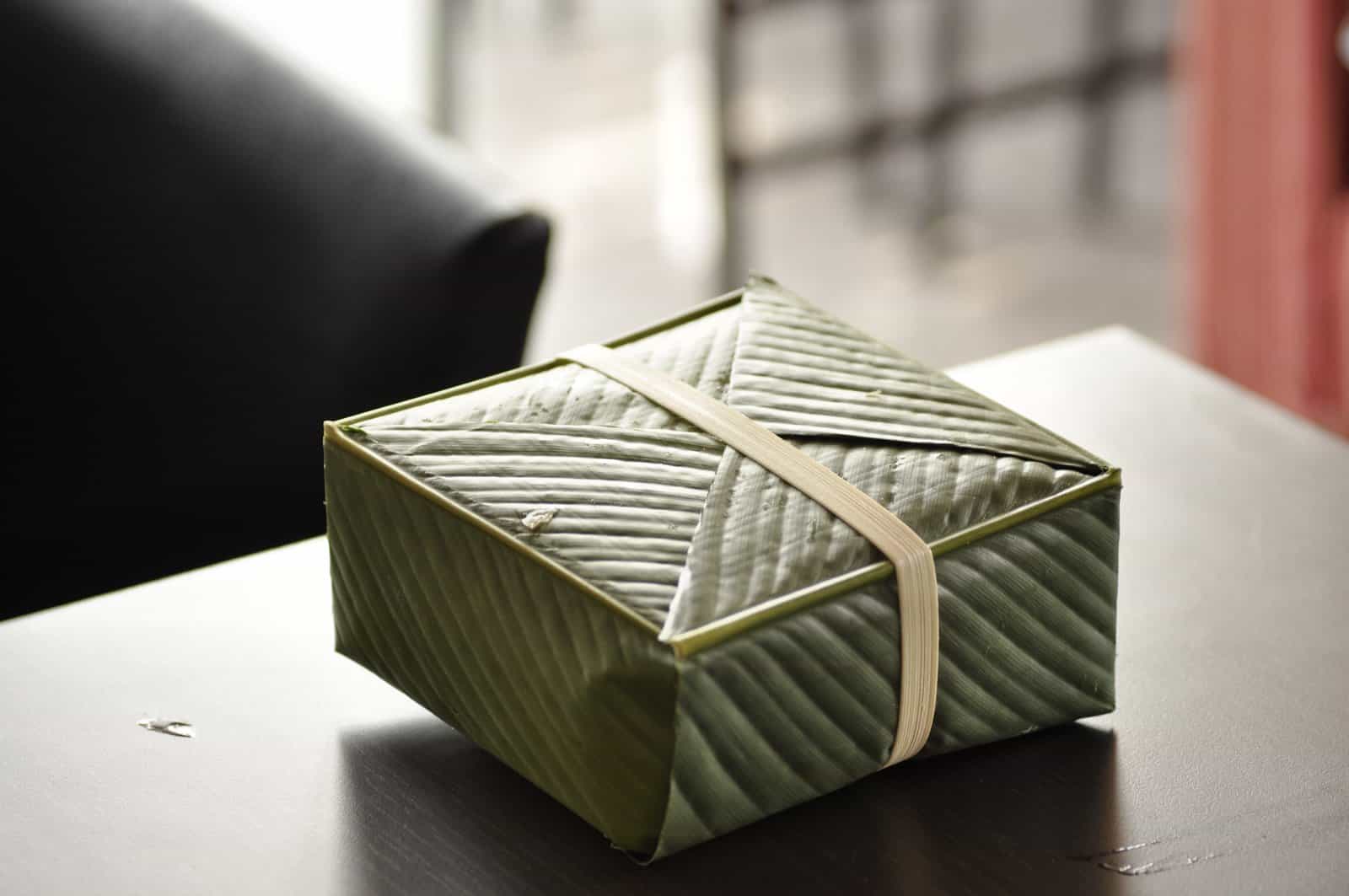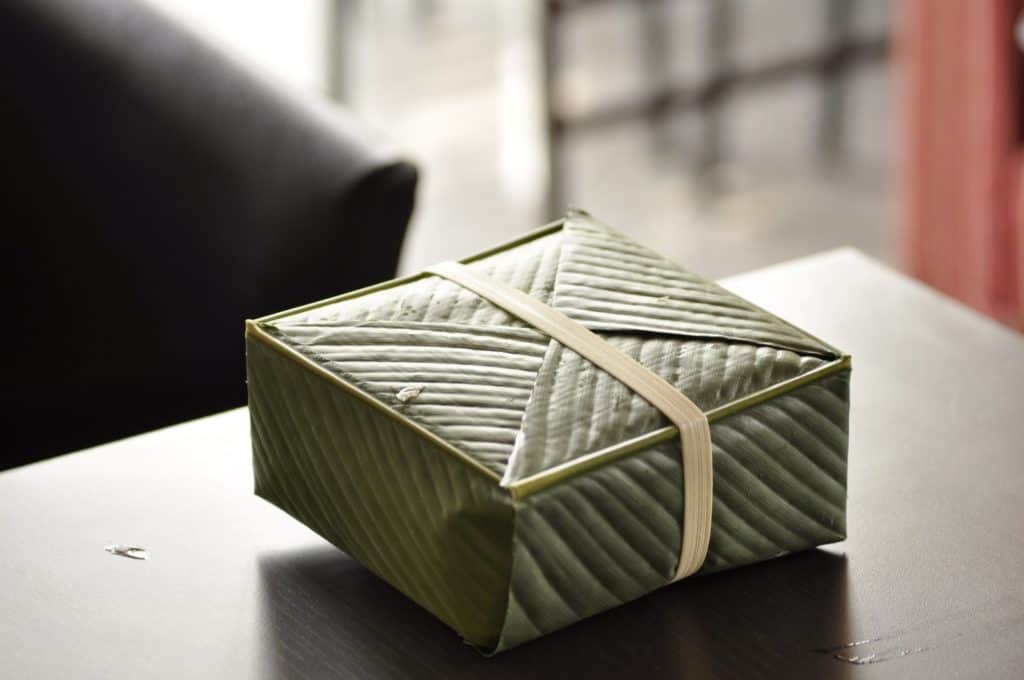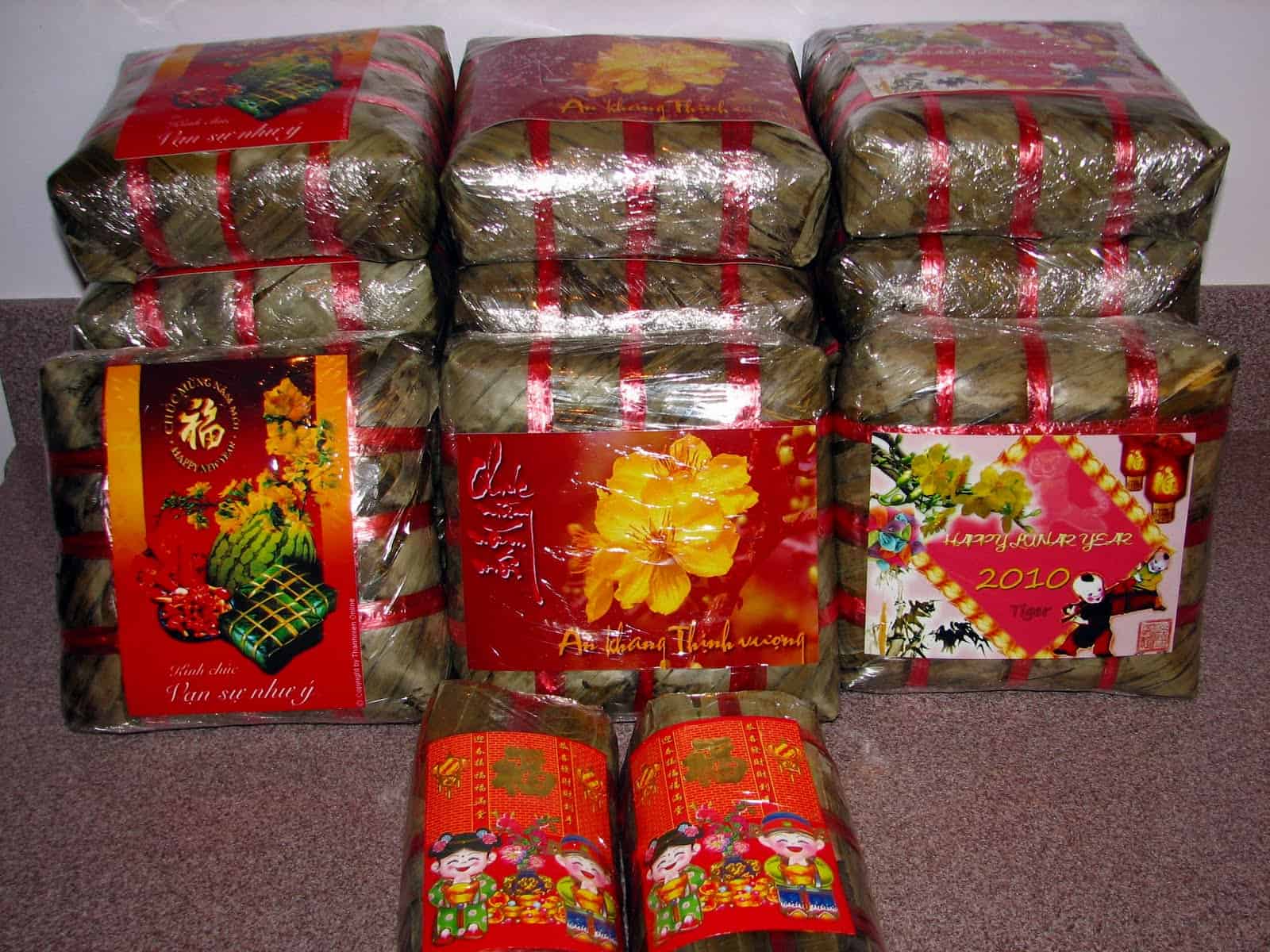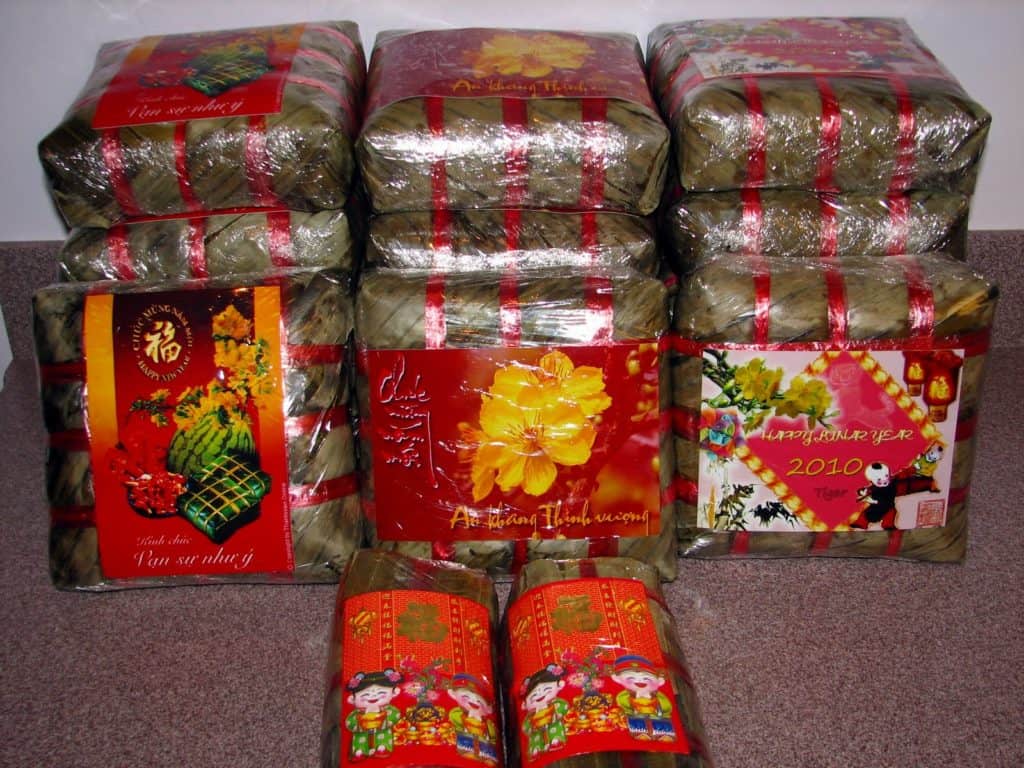 The square shaped cakes are beautiful and delicious, but you need a whole family to make them. Traditionally, tết preparations begin weeks before the New Year, and everyone goes back to their hometown. Families gather to make their own bánh chưng and sit down to eat them and enjoy the hard work and love that went into their creation on the New Year.
Caramelized Pork Belly and Eggs (Thịt Kho Trứng) recipe instructions
Here in the United States, I live in a one bedroom apartment and work weekends. It's a little harder to celebrate in the traditional way. But there is one tết dish that's relatively simple to make. It's also a dish that's eaten year round! You only need a few ingredients and a little bit of patience, and you'll be rewarded with some melt in your mouth braised pork belly. Thịt kho trứng gets its beautiful brown color from caramelized sugar, and it's savory sauce is balanced out by braising in coconut water.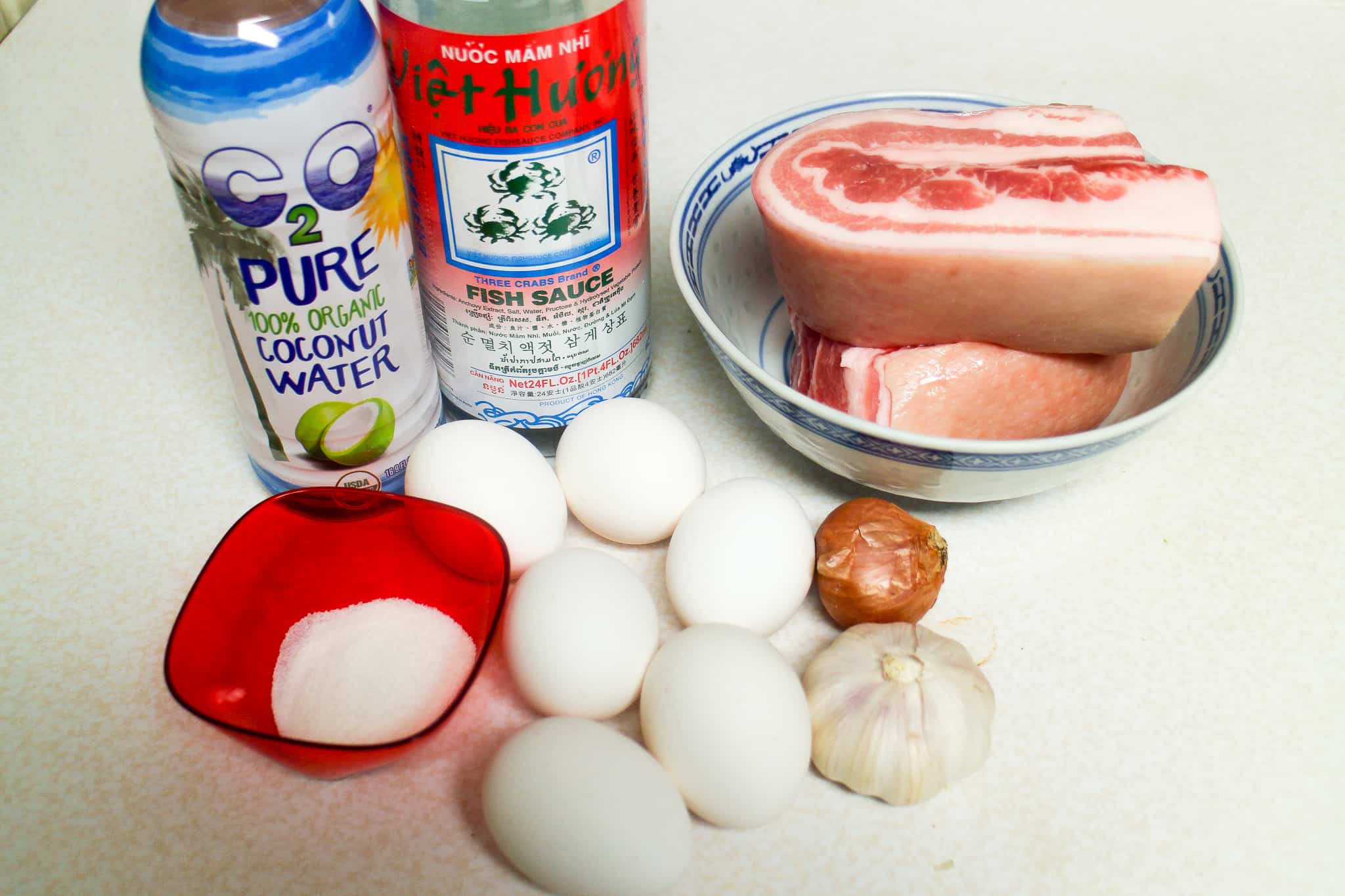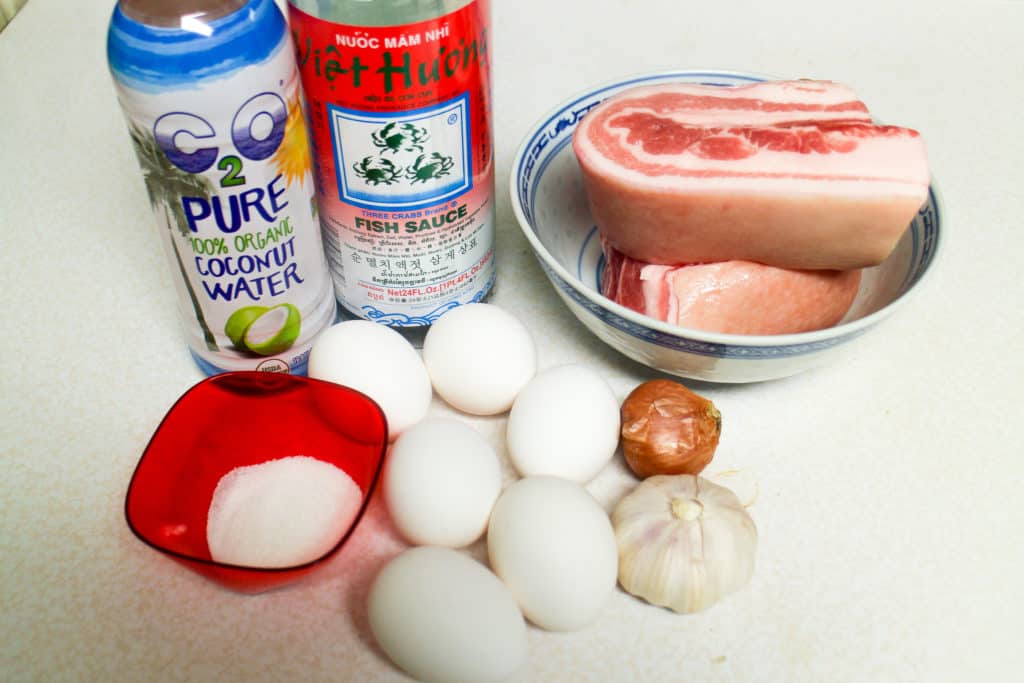 Start with about a pound and a half of pork belly, cut into one inch thick pieces. Marinate with, you guessed it: fish sauce, garlic, shallot, salt and pepper. Set the pork aside for about half an hour to marinate, and while you're waiting, hard boil and peel five or six eggs.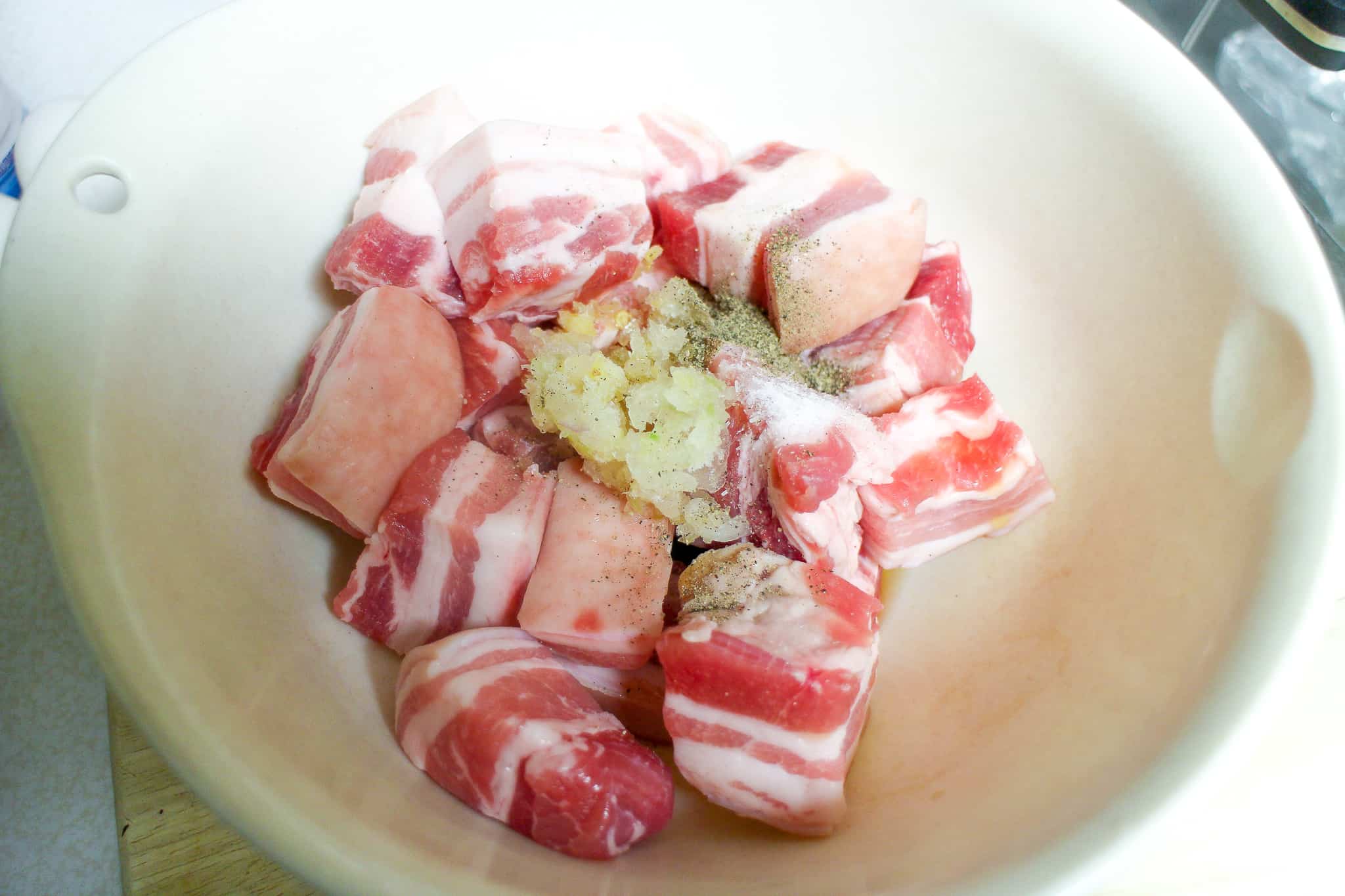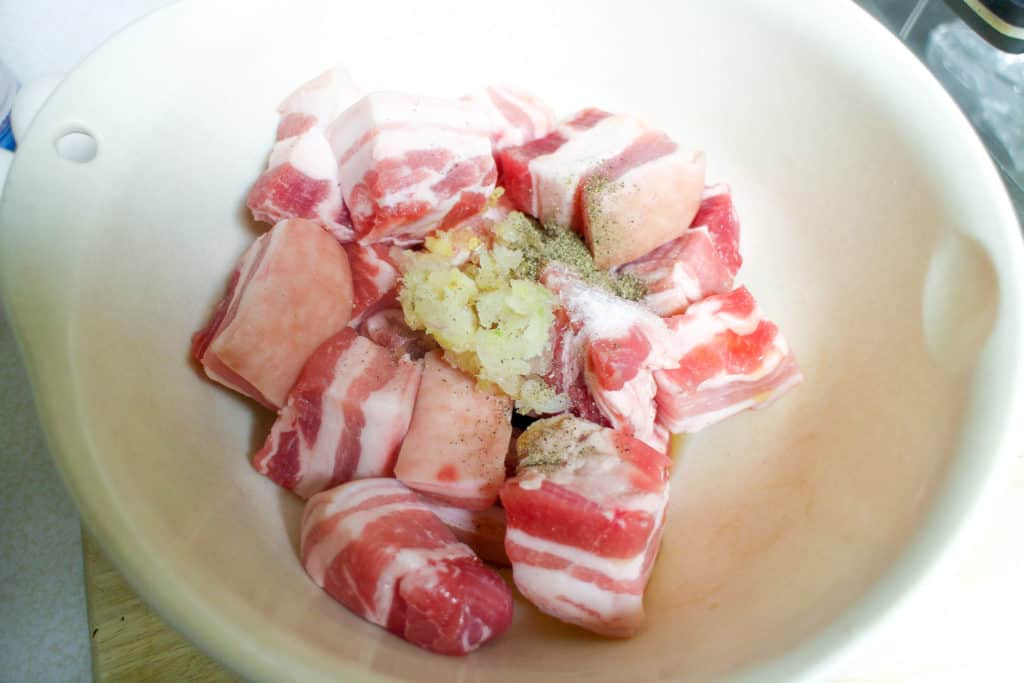 When you're ready to start cooking, start by heating one tablespoon of sugar in a pot. Leave it alone and it will start to melt and caramelize. It will start bubbling over, and you know it's ready when the bubbles subside. As soon as this happens, add all of your pork into the pot. You want to do this quick! The sugar will burn quickly at this point.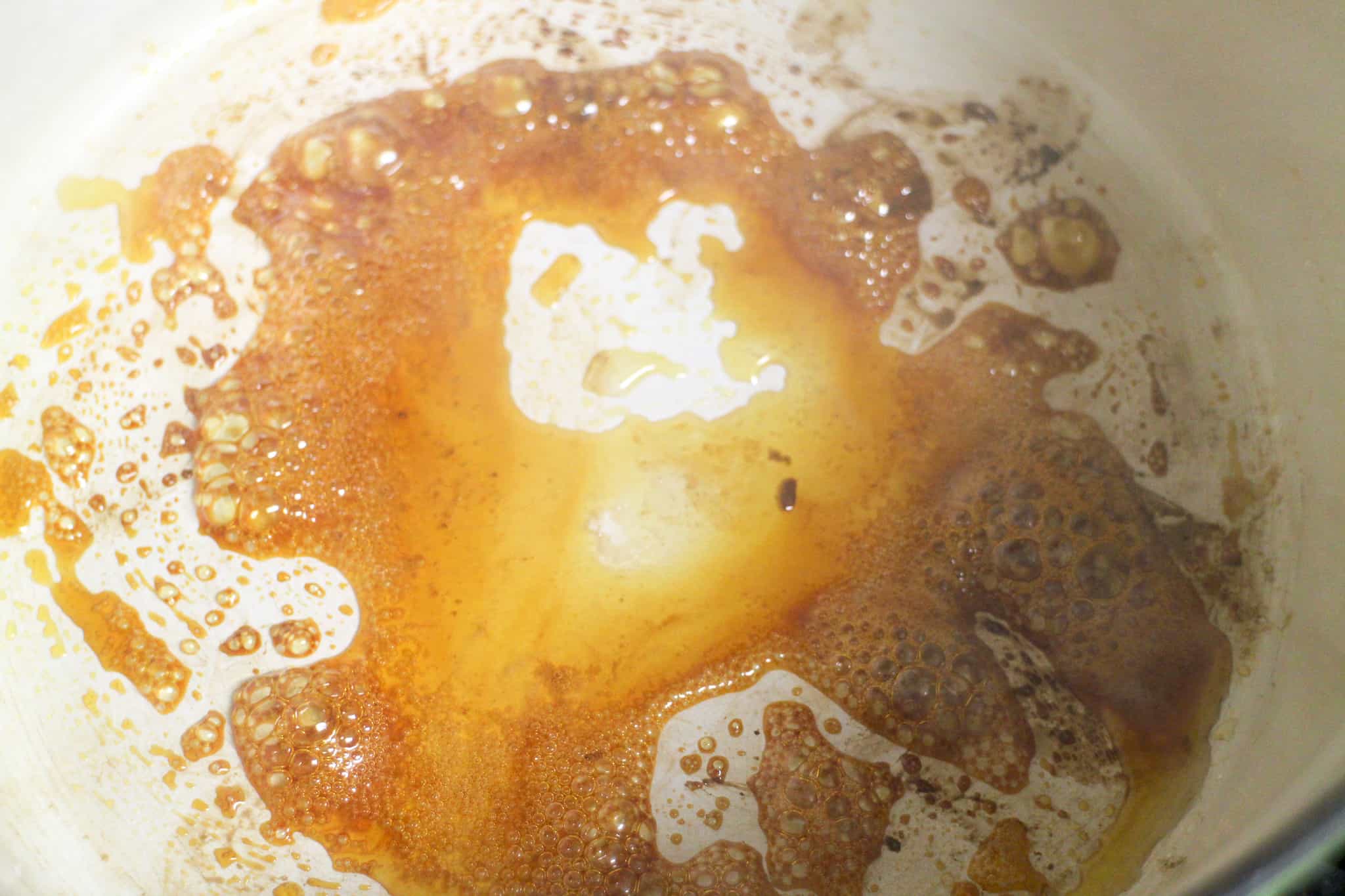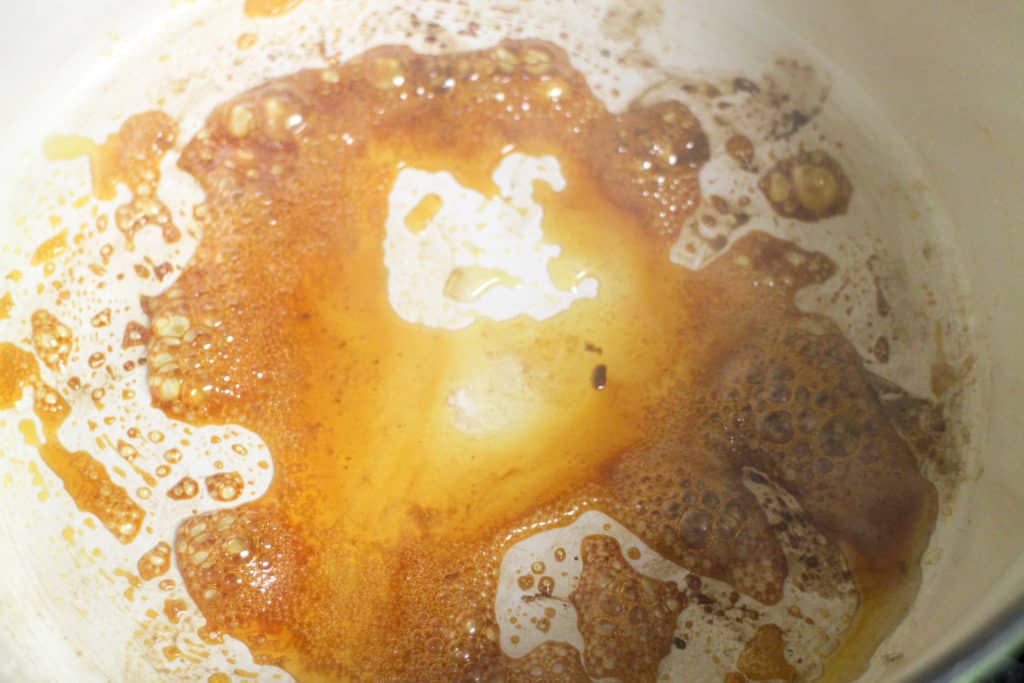 When the pork has been coated in the caramelized sugar, add enough coconut water to barely cover the pork (about 1 .5 cups). When everything is thoroughly mixed up, carefully add your eggs.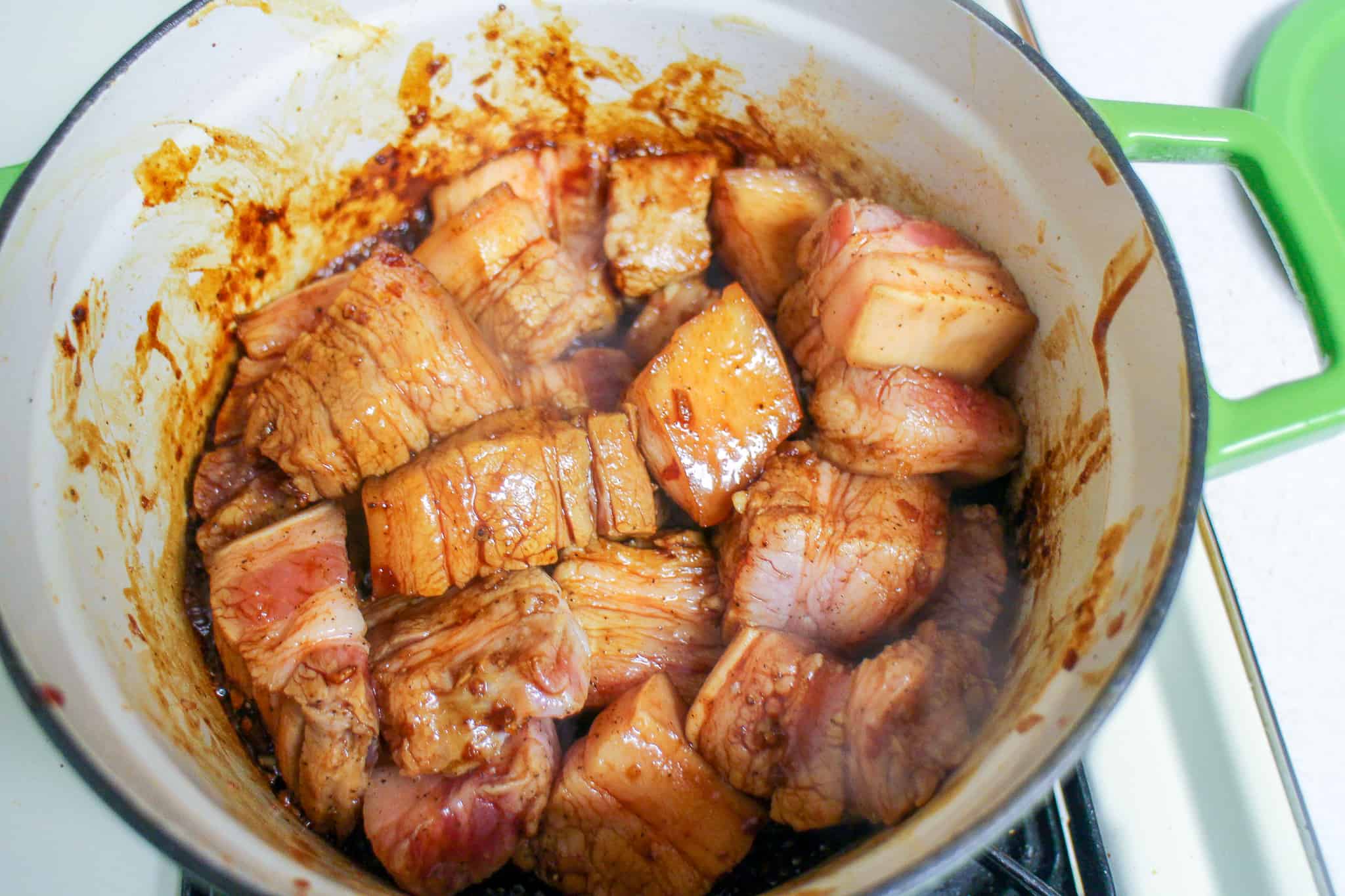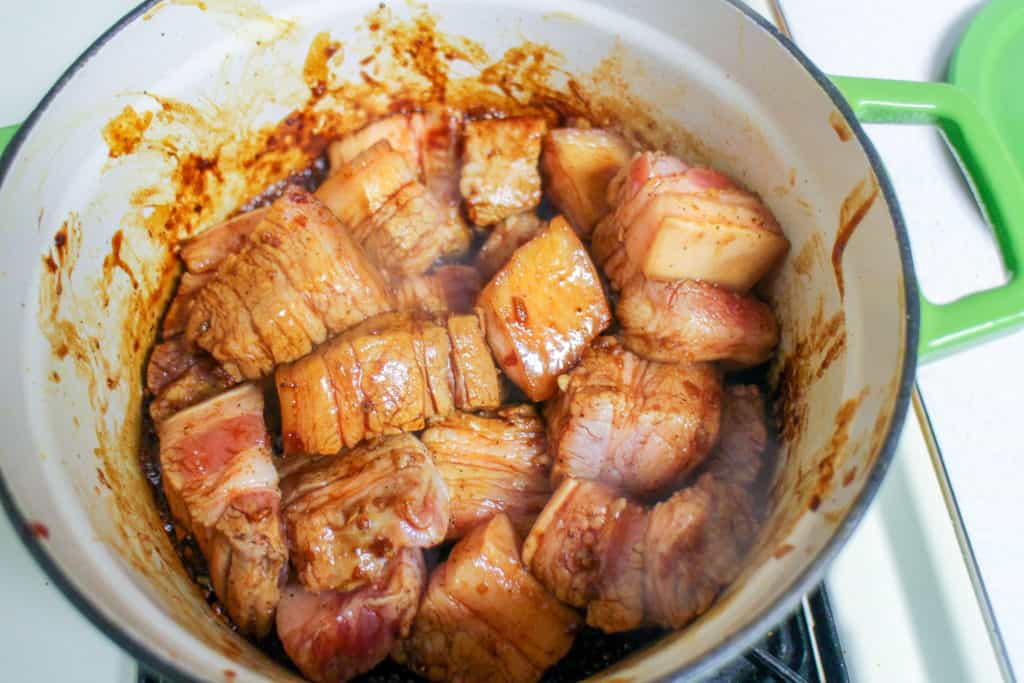 Bring the whole pot to a boil and then lower the temperature to a simmer. Continue simmering on low heat for 45 minutes to an hour, until the meat is tender and most of the fat has rendered out of the pork belly.
Recipe notes
I like to chill the thịt kho trứng in the fridge overnight so that I can skim off the extra fat. My favorite way to eat it is to cut the egg yolks out and mix it into some rice, along with some of the braising liquid. This dish tastes GREAT with some pickled mustard greens. The acidity cuts into the richness of the caramelized pork belly and the egg yolks wonderfully. If you can't find mustard greens, cucumbers bring freshness to the dish as well.
---
Caramelized Pork Belly and Eggs (Thịt Kho Trứng) - An An Easy Lunar New Year Dish
This dish is often served on the Lunar New Year but also great year round. With a bit of patience, you'll get silky soft pork belly from just a few ingredients.
Ingredients
1.5

lbs

pork belly

cut into 1 inch chunks

5-6

eggs

hard boiled

1.5

cups

coconut water

2

cloves

garlic

1

small shallot

2

tablespoon

fish sauce

½

teaspoon

salt

1

teaspoon

black pepper

1

tbps sugar
Instructions
Marinate pork belly pieces in fish sauce, garlic, shallot, salt and pepper. Set aside for at least half an hour.

Boil and peel eggs

Heat sugar in a large pot until brown and bubbling

Quickly add pork belly to sugar and stir to coat pork in the caramel

Pour enough coconut water over the pork belly to barely submerge the pieces, and then add the peeled eggs

Bring to a boil, then lower heat

Simmer 45 min-1 hour, or until the pork belly is tender and most of the fat has rendered out

Serve with white rice and pickled mustard greens
Nutrition
Did you make this recipe? Tag @bun.bobae on instagram and hashtag it #bunbobae!
---
Don't miss a single recipe! Sign up below for recipes in your inbox:
---
Loved this Recipe? You might also like: