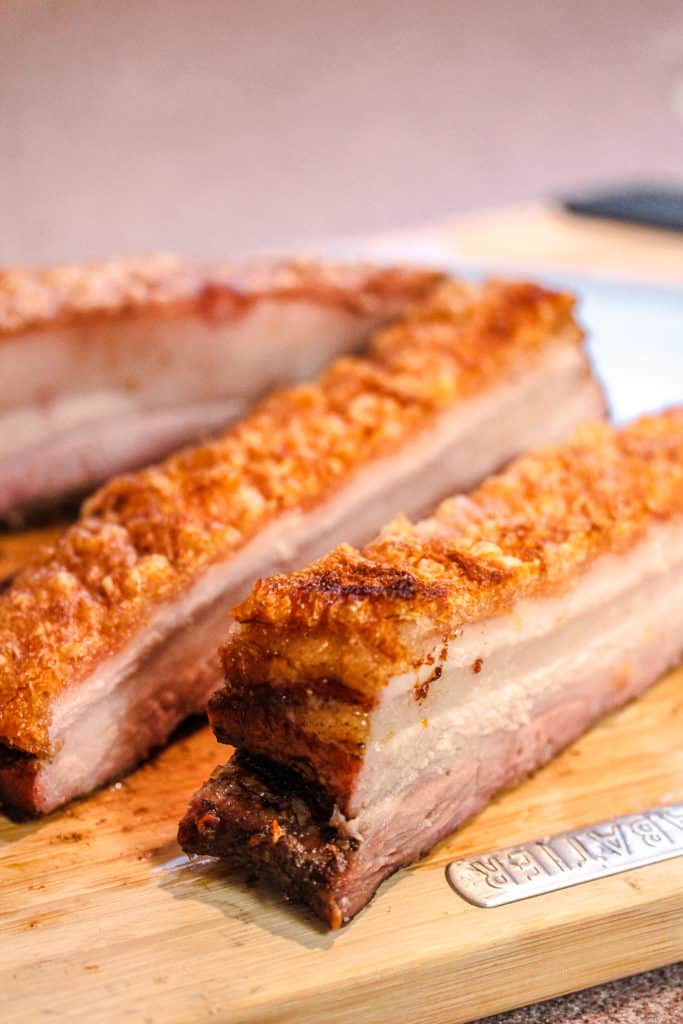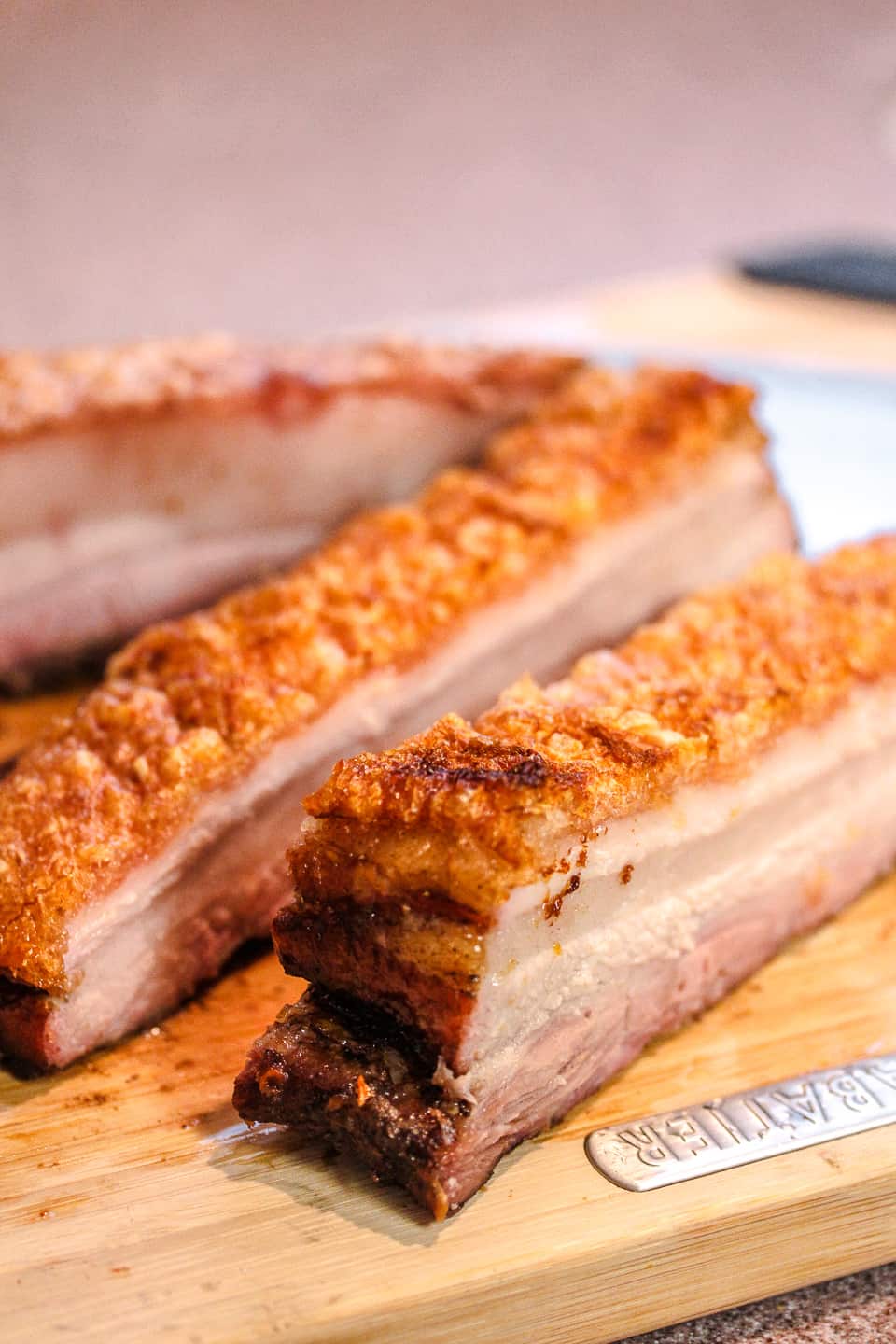 Crispy roasted pork belly, or thịt heo quay, is a beloved Vietnamese staple dish. It's at once a dish to serve at parties to impress the pickiest of guests and a staple at the dinner table. You can serve it in salads, with noodles or over rice.
At Vietnamese weddings, you'll always see an ENTIRE pig that has been roasted. It's later chopped up and served to guests. You don't have to find an entire pig to enjoy this dish every day though. All it takes is a slab of pork belly and some patience.
It's important that you give the pork enough time to dry out. That's how you get the extra crispy, bubbly skin. Unfortunately, this means this isn't a dish that comes together last minute. Plan to have this in the fridge overnight to have it for lunch or dinner the next day.
My family's recipe has a special secret ingredient: Fermented red bean curd. It's made by preserving fresh cubes of tofu in rice wine and other ingredients. It adds a salty, fragrant flavor to the meat that you can't get anywhere else. You can find jars of this stuff on Amazon or at an Asian grocery store. Use the leftover stuff in marinades, dressings or mixed in rice for a quick snack!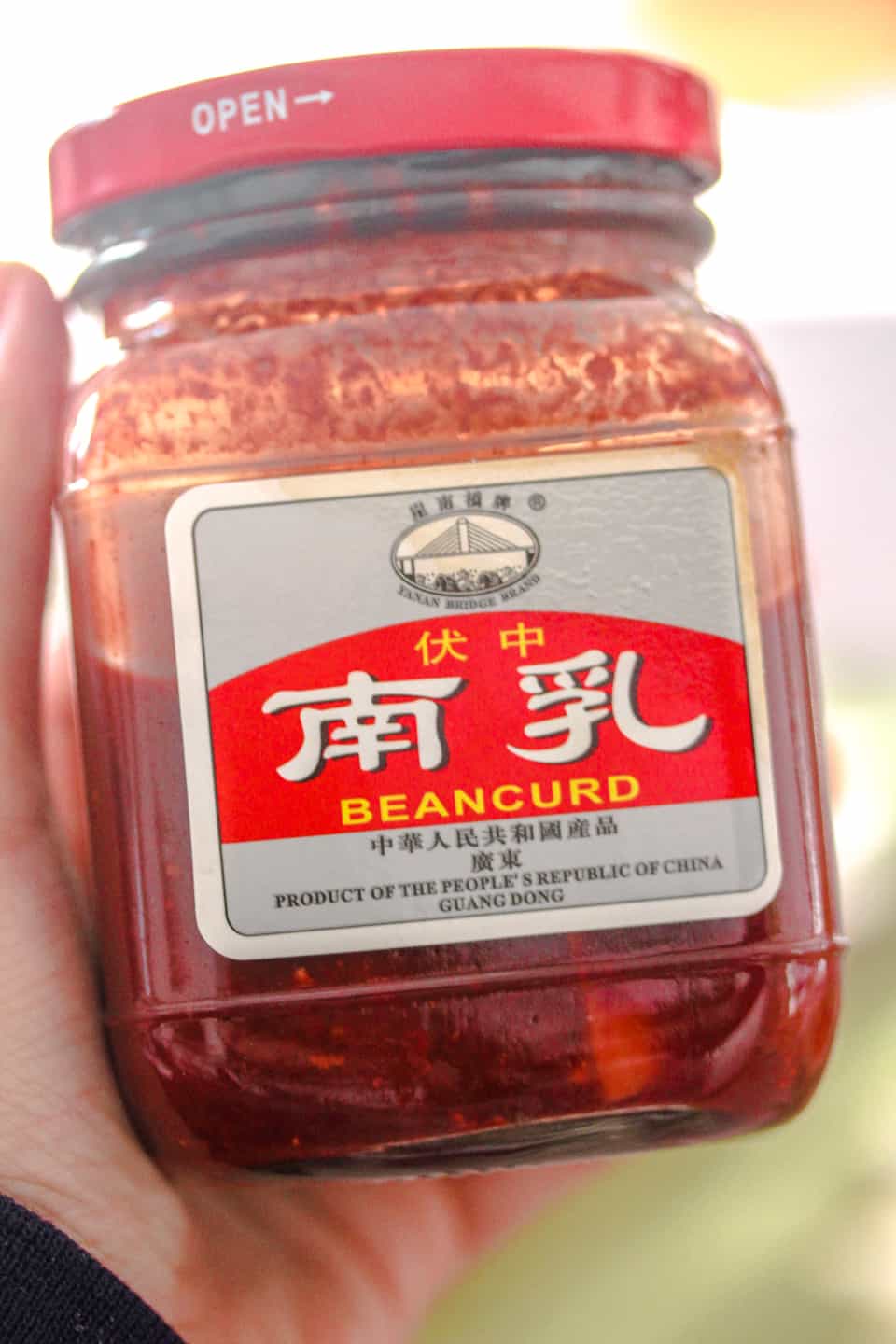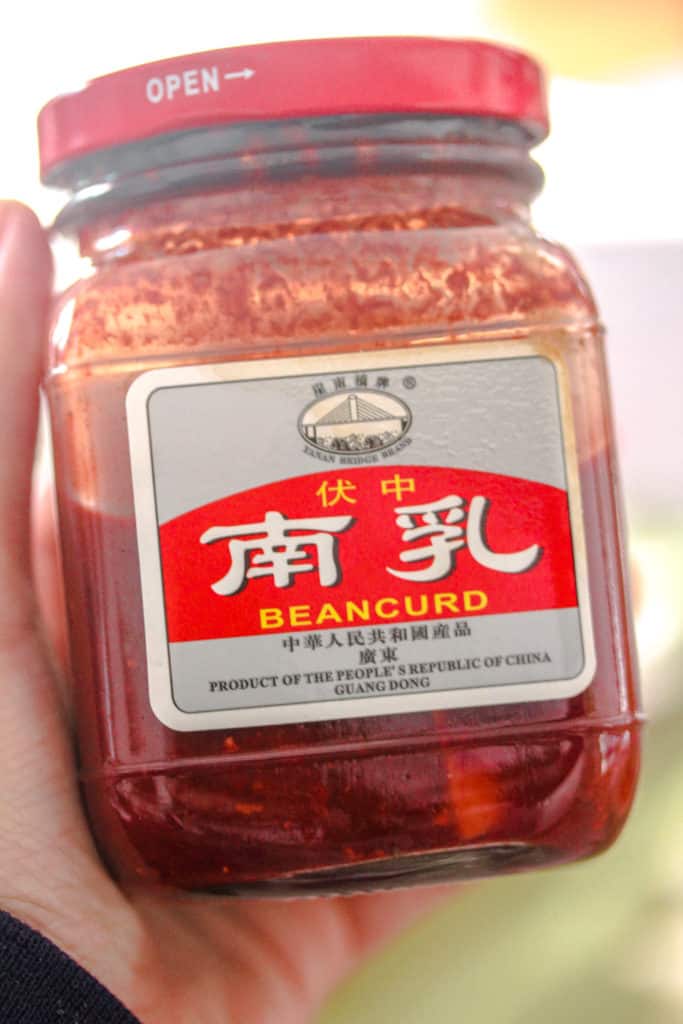 Crispy Roasted Pork Belly (Thịt Heo Quay): Step-by-step instructions
Preparing the pork
Try to find a slab of pork belly about 1.5-2 lbs. This might be hard to find at a traditional western franchised grocery store, but an Asian grocery store with a nice butcher section will have it. Check any local special butchers as well. As a last resort, you can try a store like Whole Foods and ask if they have any pork belly in the back they haven't cut into strips yet.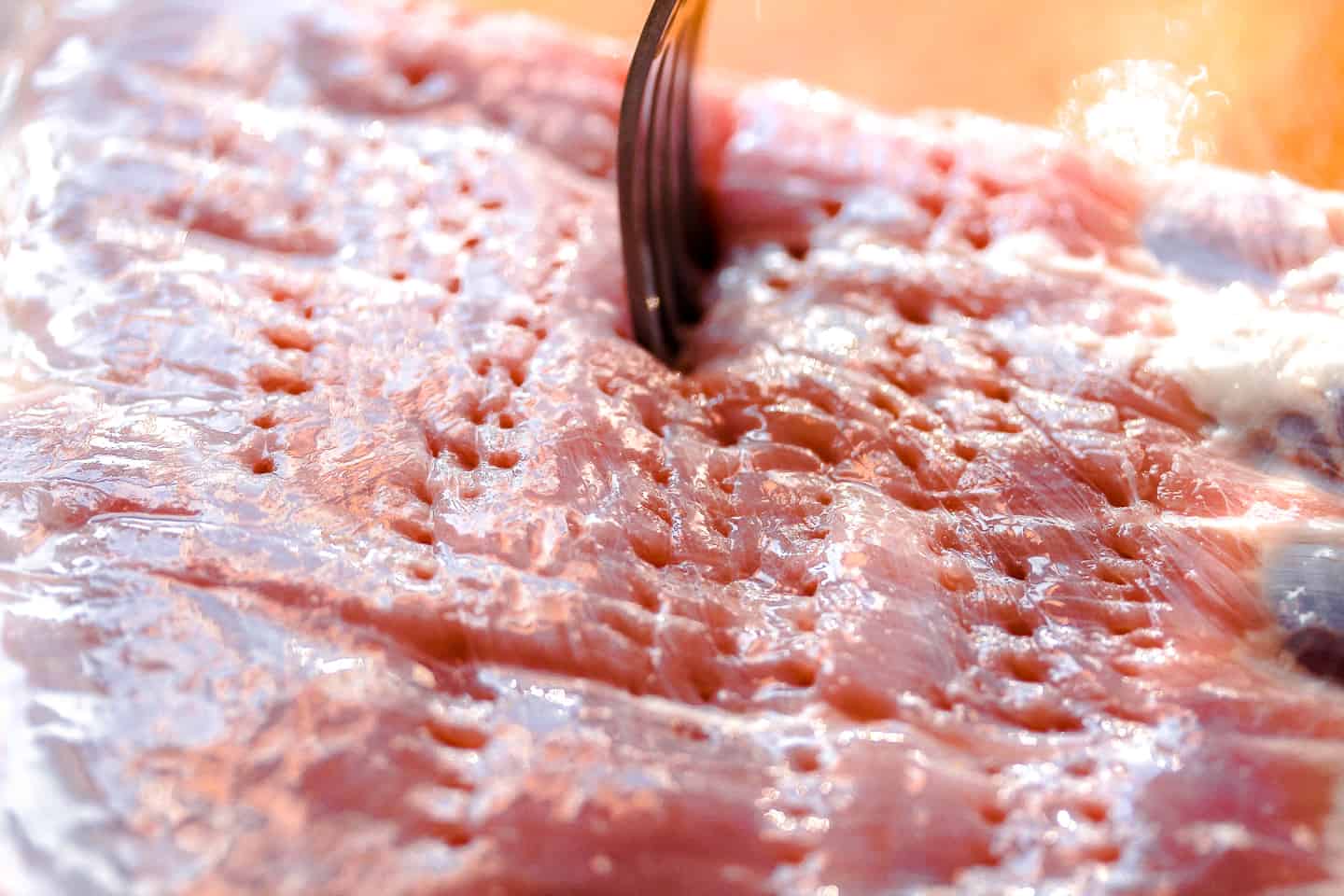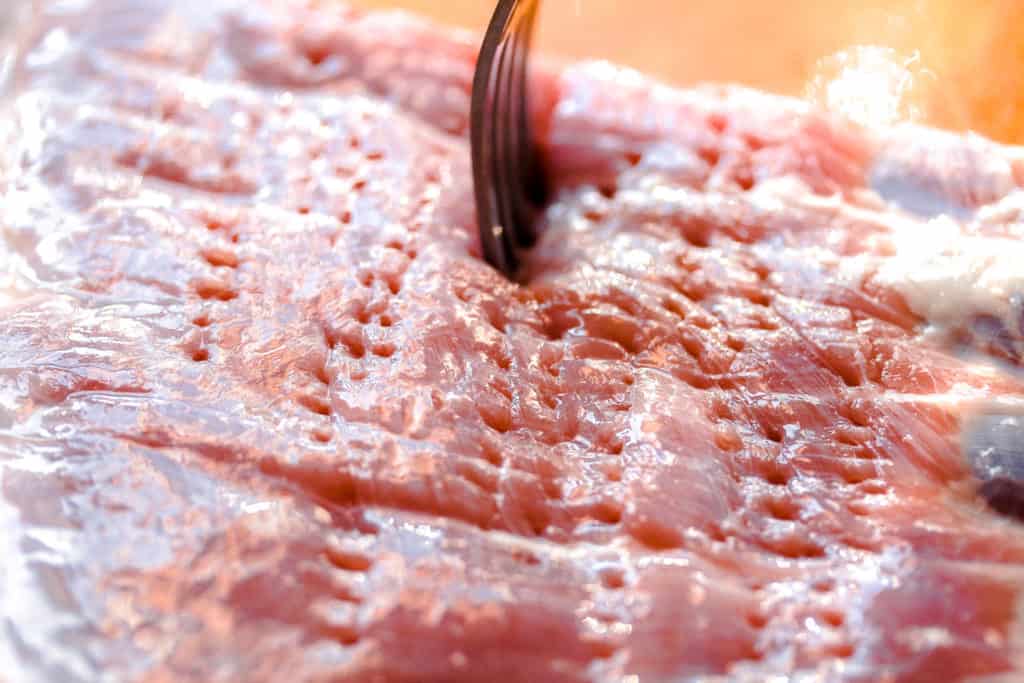 Using a fork, stab the underside of the pork belly where the meat is. This will help the marinade penetrate the meat better.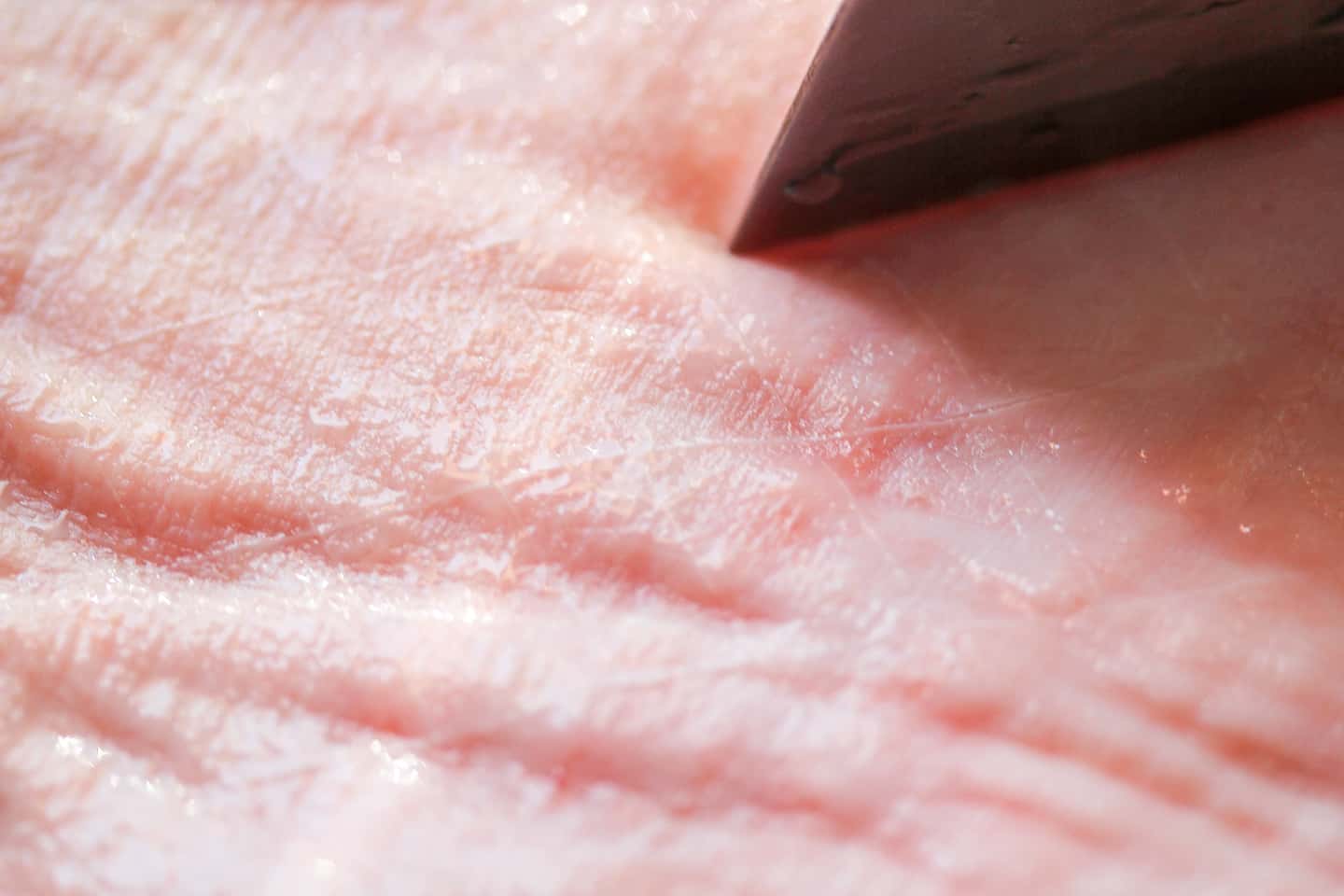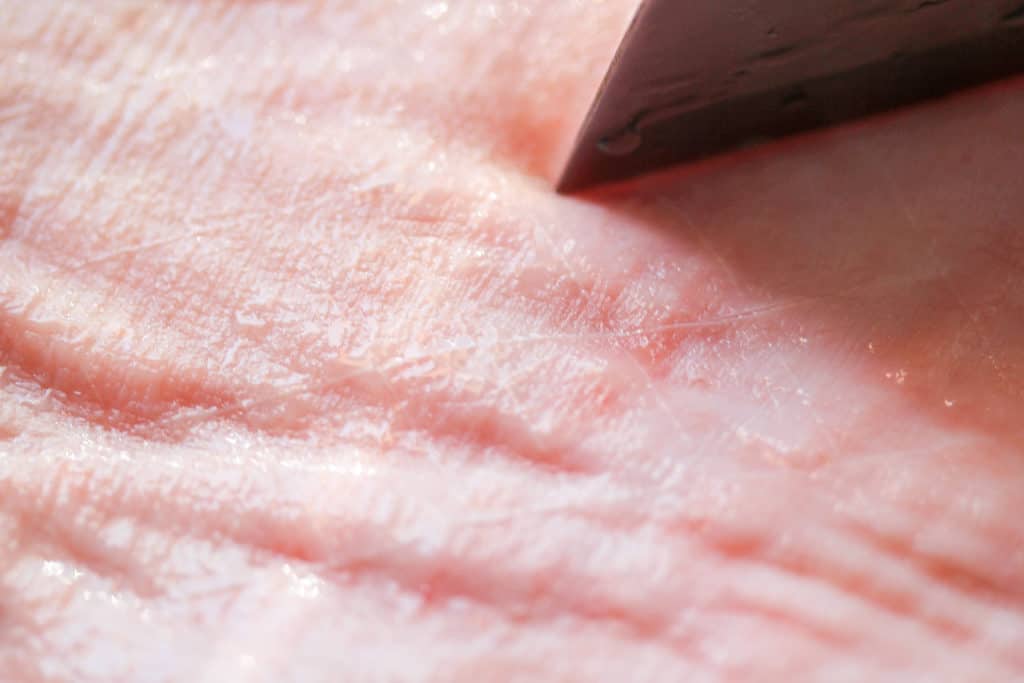 With a sharp knife, score the skin side of the pork belly. Go in both directions diagonally, making a cross hatch pattern on the skin. Be careful not to cut all the way through to the meat underneath. If that happens, moisture from the meat will bubble up during cooking and prevent the skin from getting bubbly and crispy.
Marinating the Thịt Heo Quay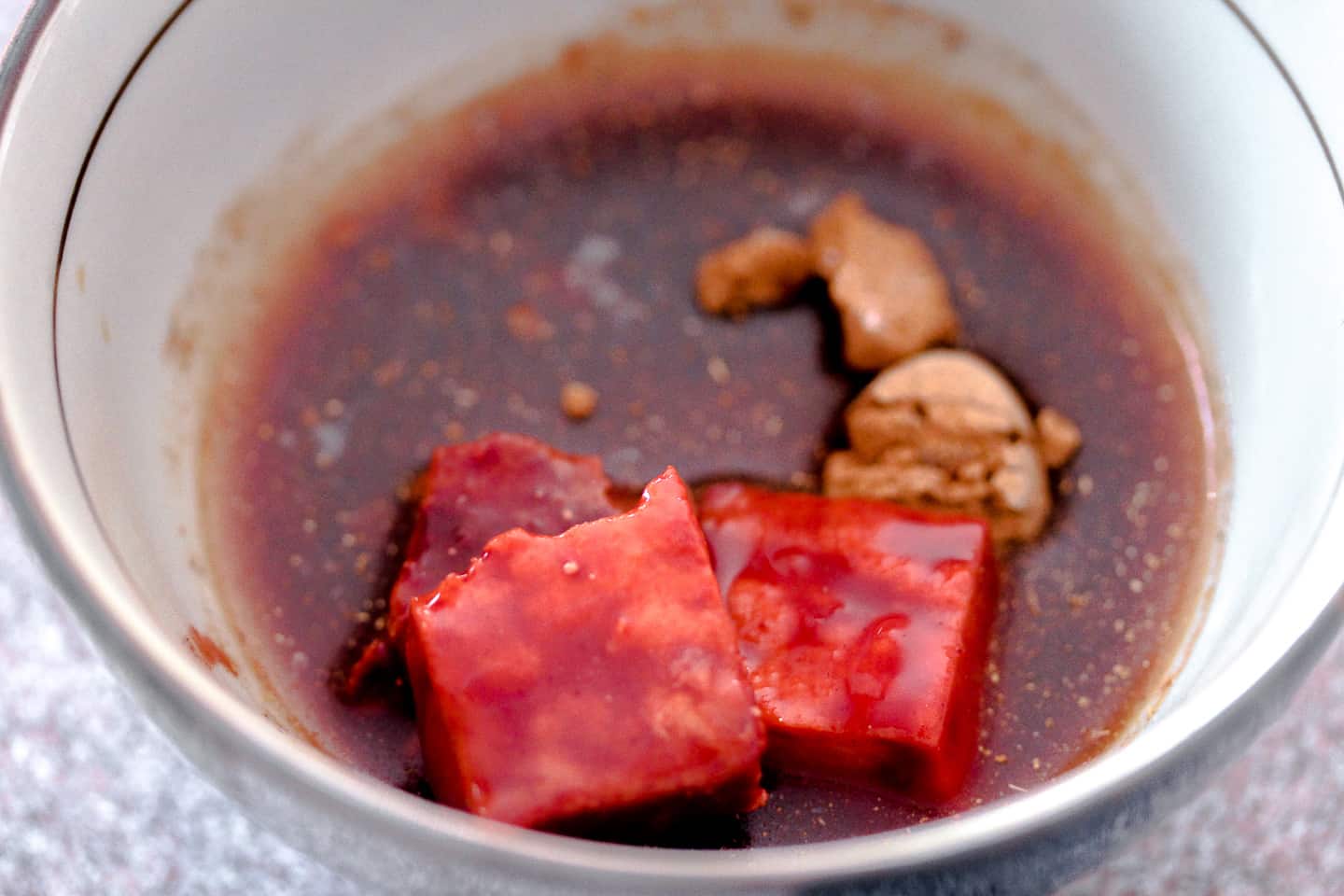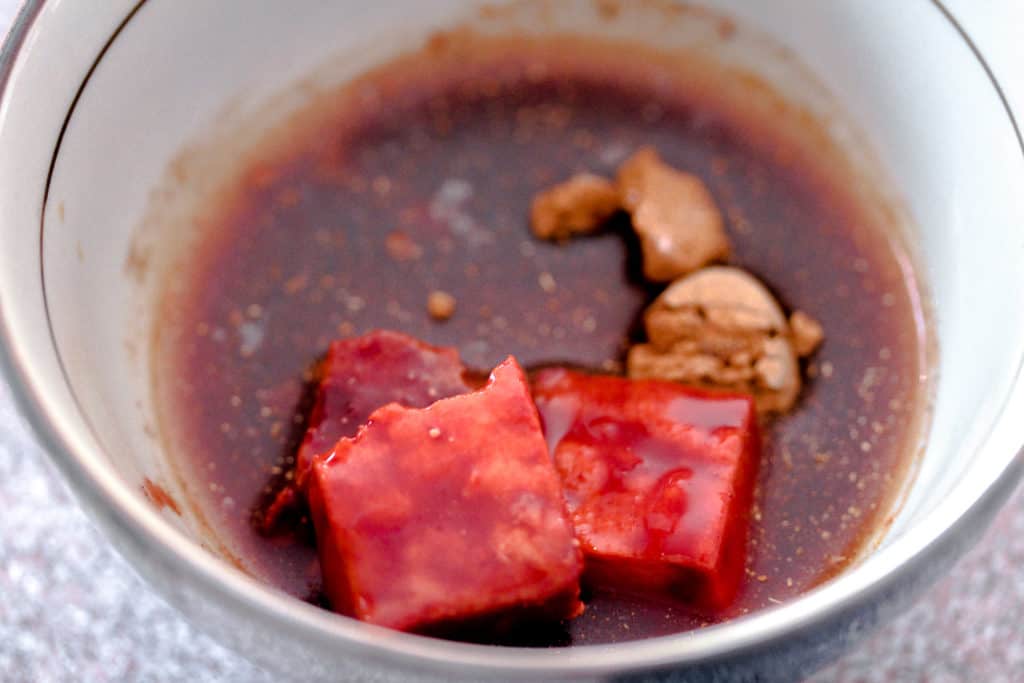 In a bowl, mix the fermented red bean curd, black pepper, five spice, sugar, soy sauce, cooking wine and salt together to form a paste. Massage the underside of the pork belly with this, making sure the marinade soaks into all the little holes you've poked into it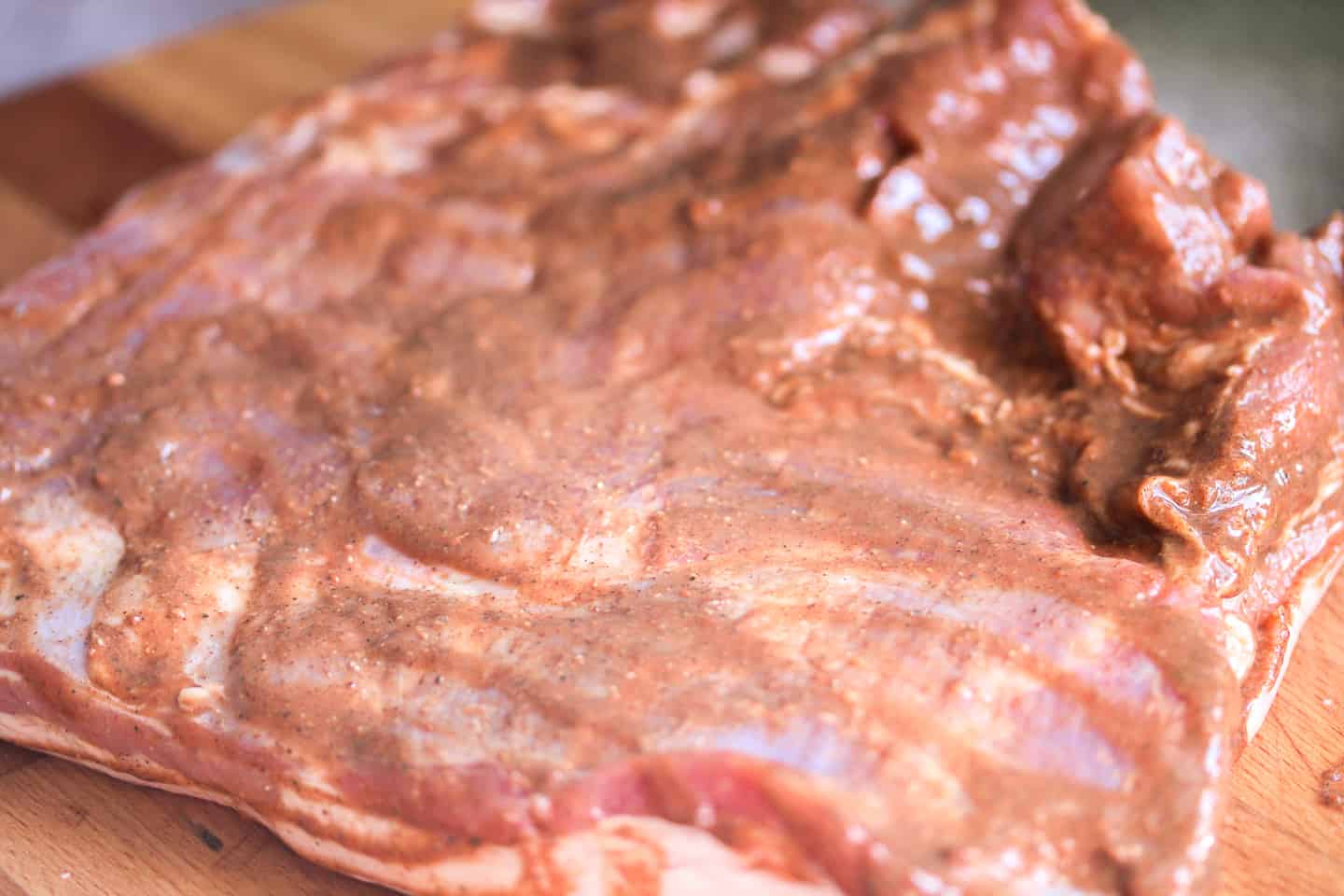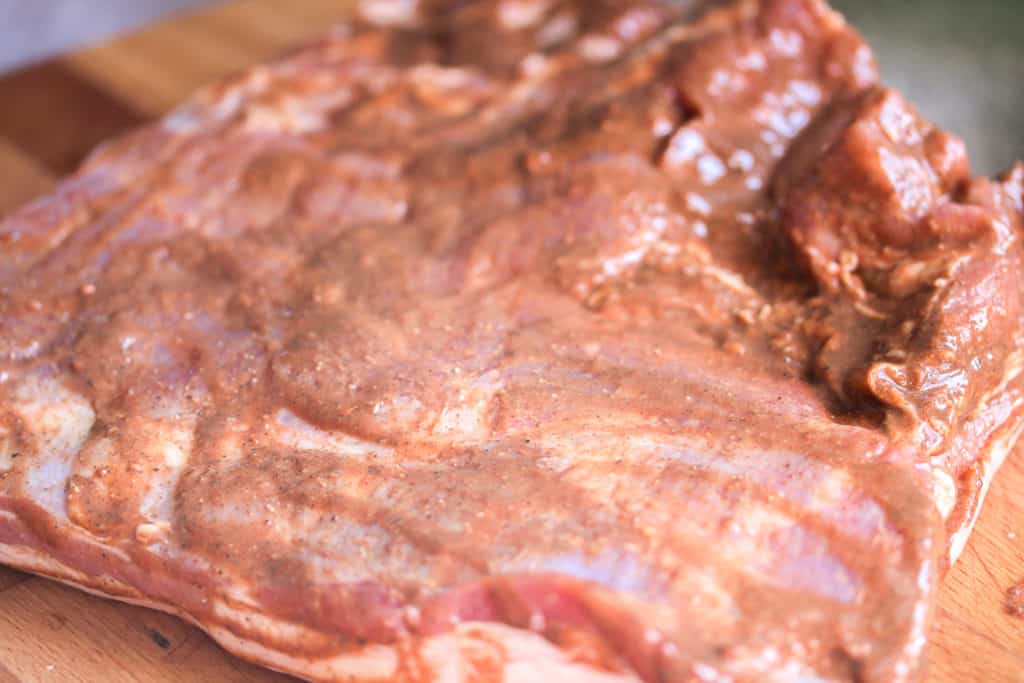 Flip the meat around, wipe off any marinade that may have gotten onto the skin, and refrigerate uncovered overnight, up to 24 hours. The longer to refrigerate this, the dryer the skin will get and the crispier the pork will be.
Thịt heo quay roasting process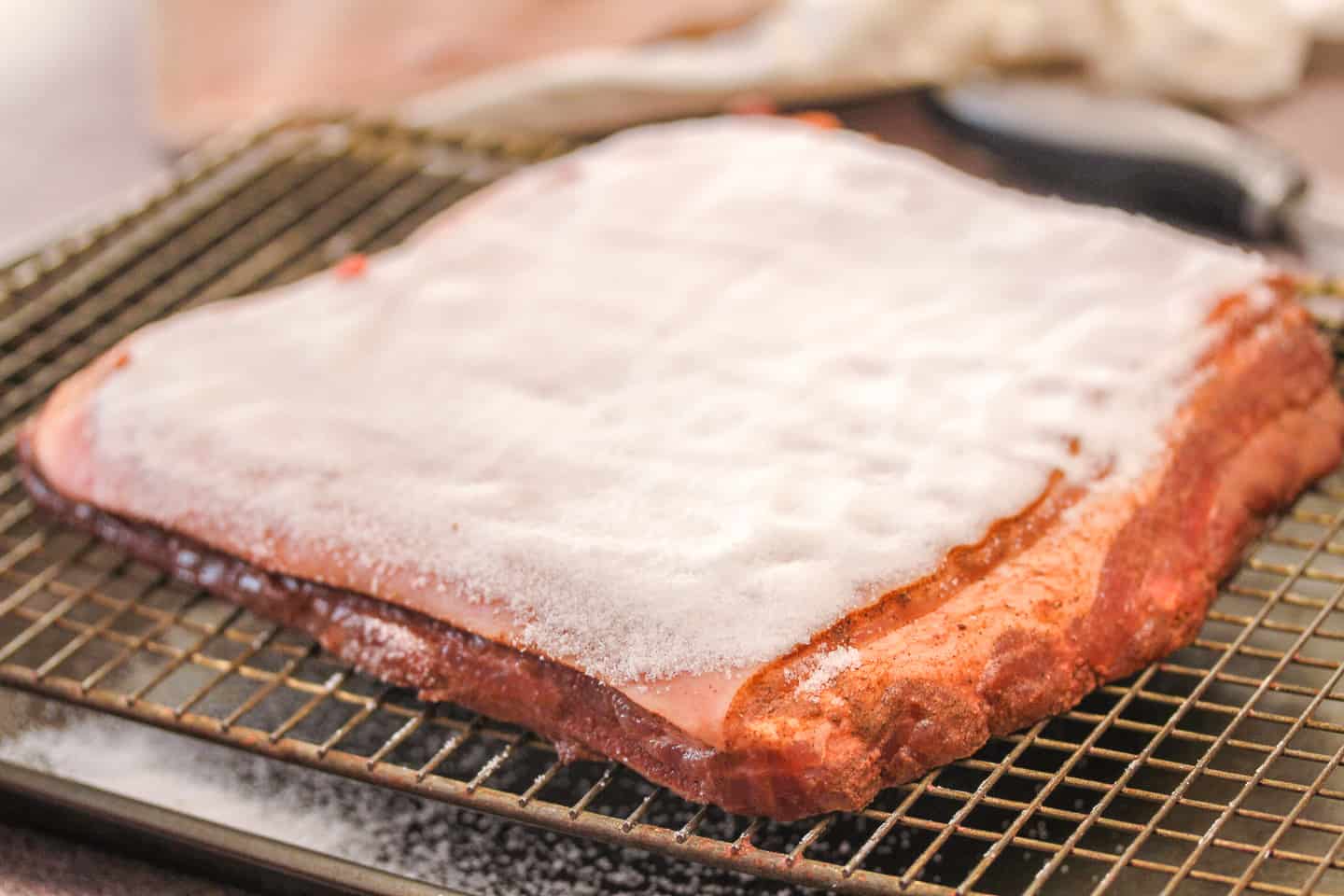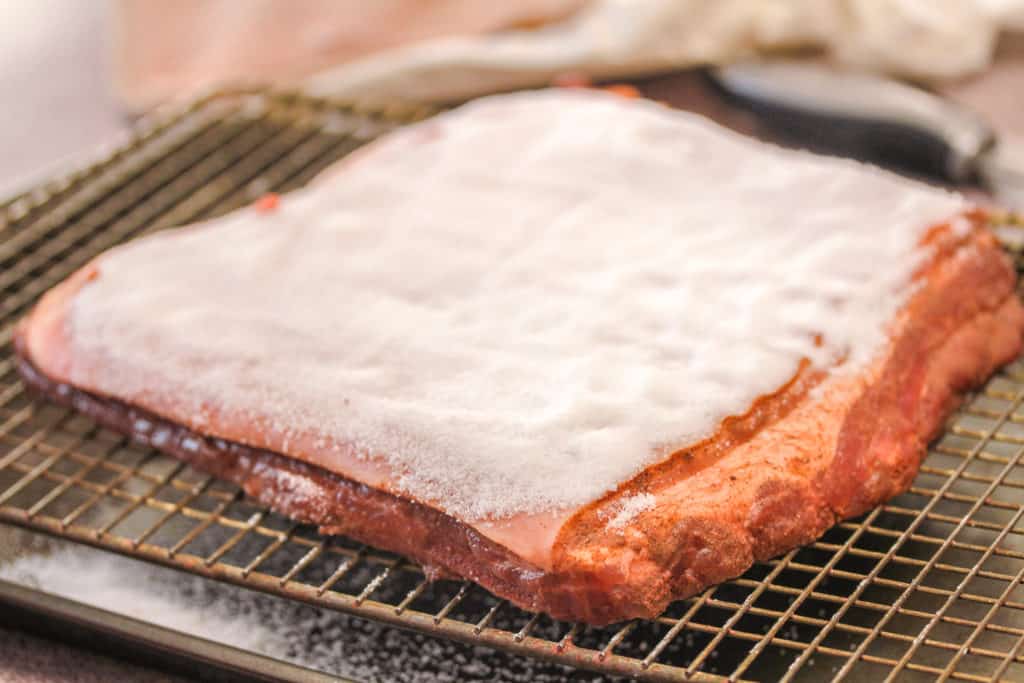 Before you roast the meat, take it out of the refrigerator and let it get to room temperature. Right before putting it in the oven, cover it with a layer of salt. This won't make the meat salty at all if you've dried it correctly. It will only draw moisture out from the skin as you roast it.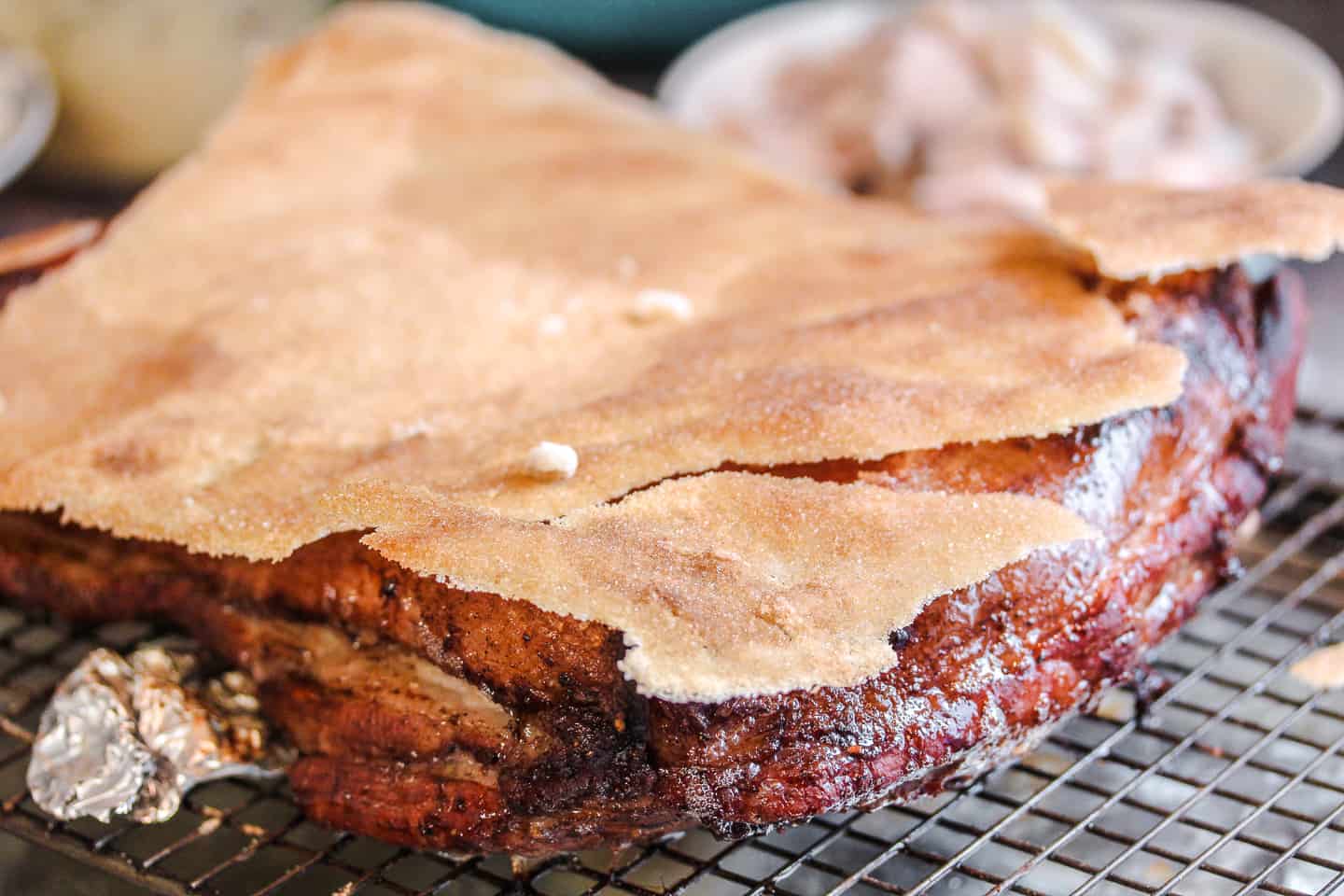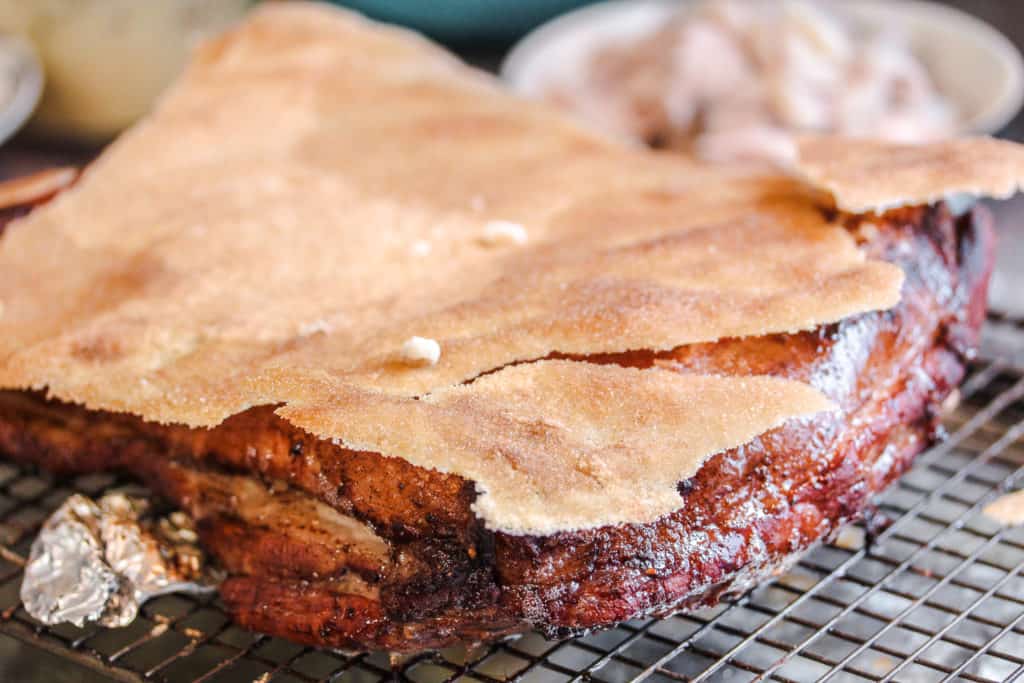 Line a sheet pan and fill it with warm water. The water will keep the meat nice and moist while it roasts. Roast the pork in the oven at 400 degrees for about 45 minutes, or until the salt layer has curled up in the corners and it's turned a golden brown color. The timing will depend on the size of the pork belly, your oven and how long the meat has been left out to get to room temp, so keep an eye on the oven.
Once the salt has turned a golden brown color, take the meat out of the oven and take all the salt off. It should be pretty solidified and easy to take off with an offset spatula. Put it back in the oven degrees for the skin to bubble and crisp up. This will take about another 30-40 minutes.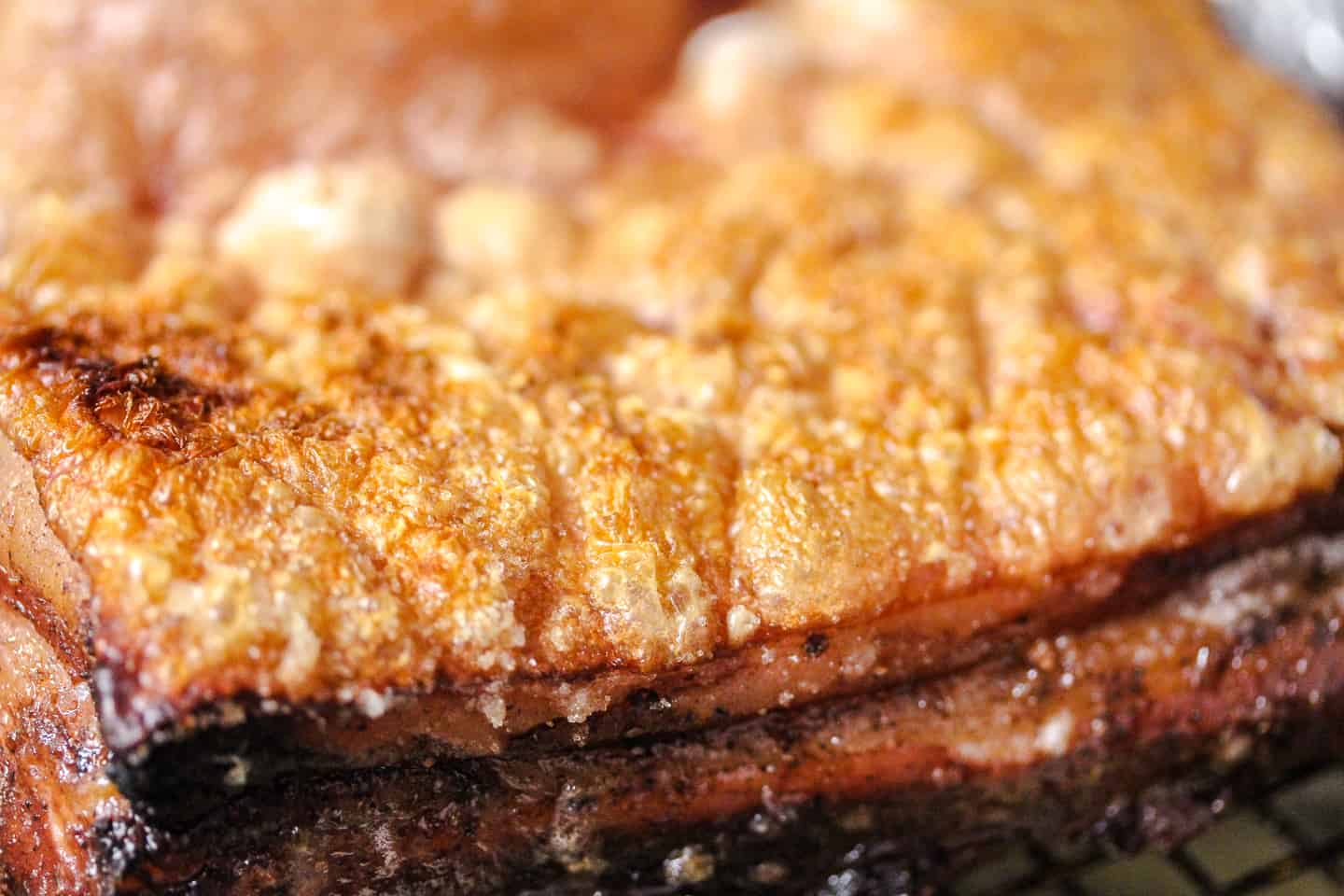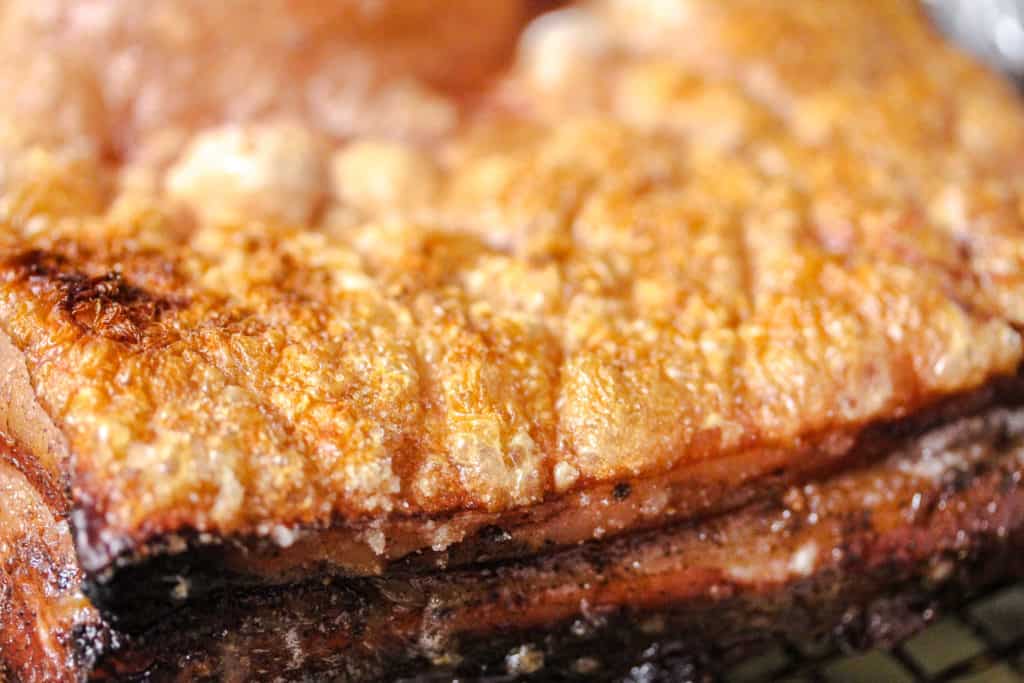 If you see parts of the skin crisping up faster or burning, cover those parts in foil and continue to bake until the skin is uniformly crispy. You may want to set your broiler on for 2-3 minutes at the end to encourage the skin to bubble and crisp up. You'll know the meat is ready when you poke it and the juices run clear.
Let the thịt heo quay rest for 10-20 minutes before slicing. Otherwise, it will release a lot of juices, which will make the crispy skin you've worked so hard to roast soggy!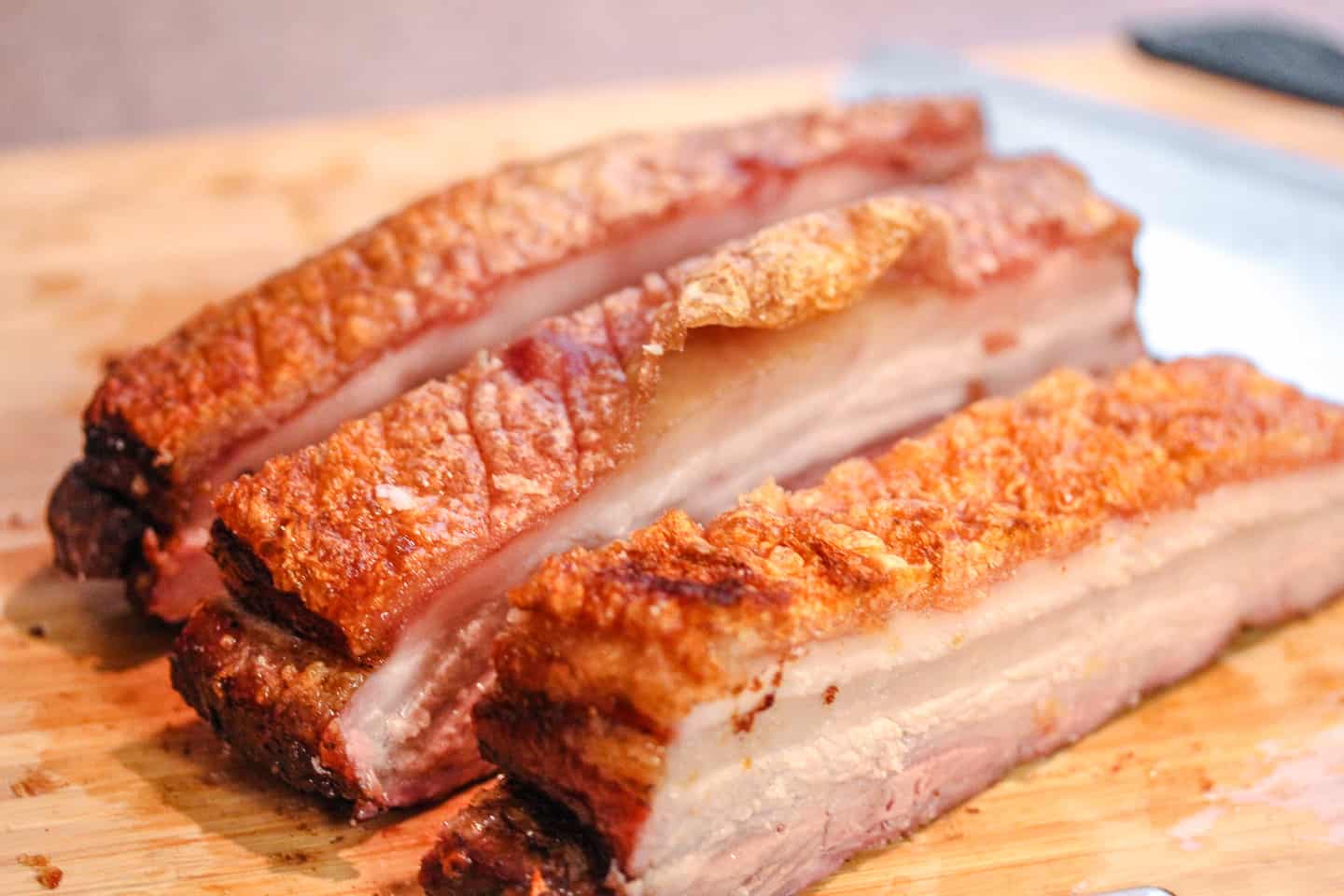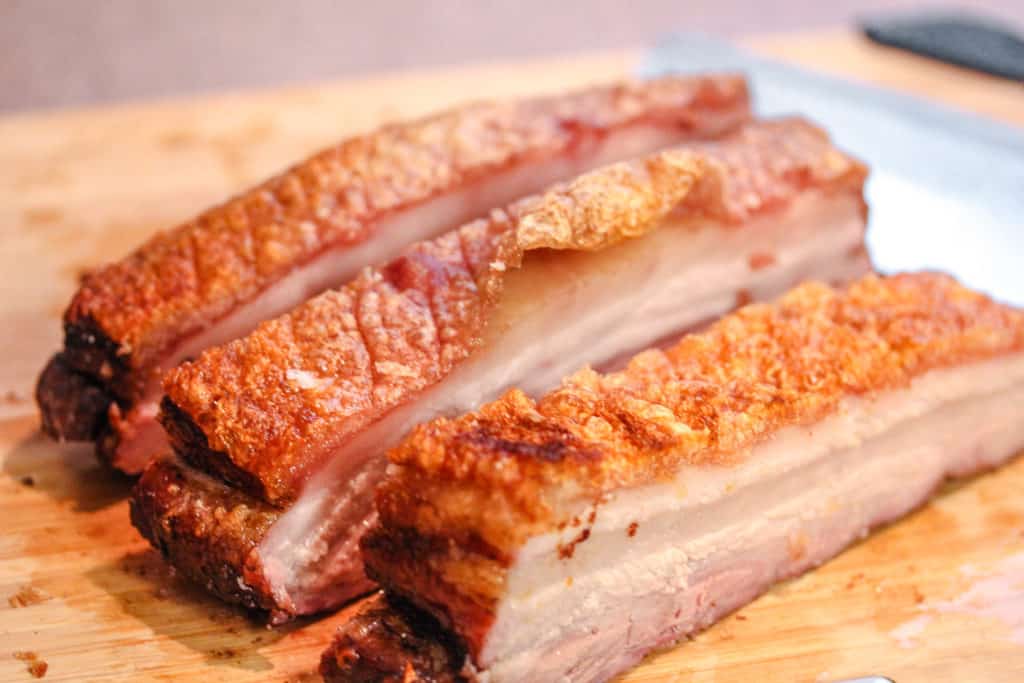 This crispy pork belly tastes great with just some soy sauce and rice. If you want, try adding it on top of some cabbage salad. It also tastes delicious in a baguette sandwich, or atop a noodle salad.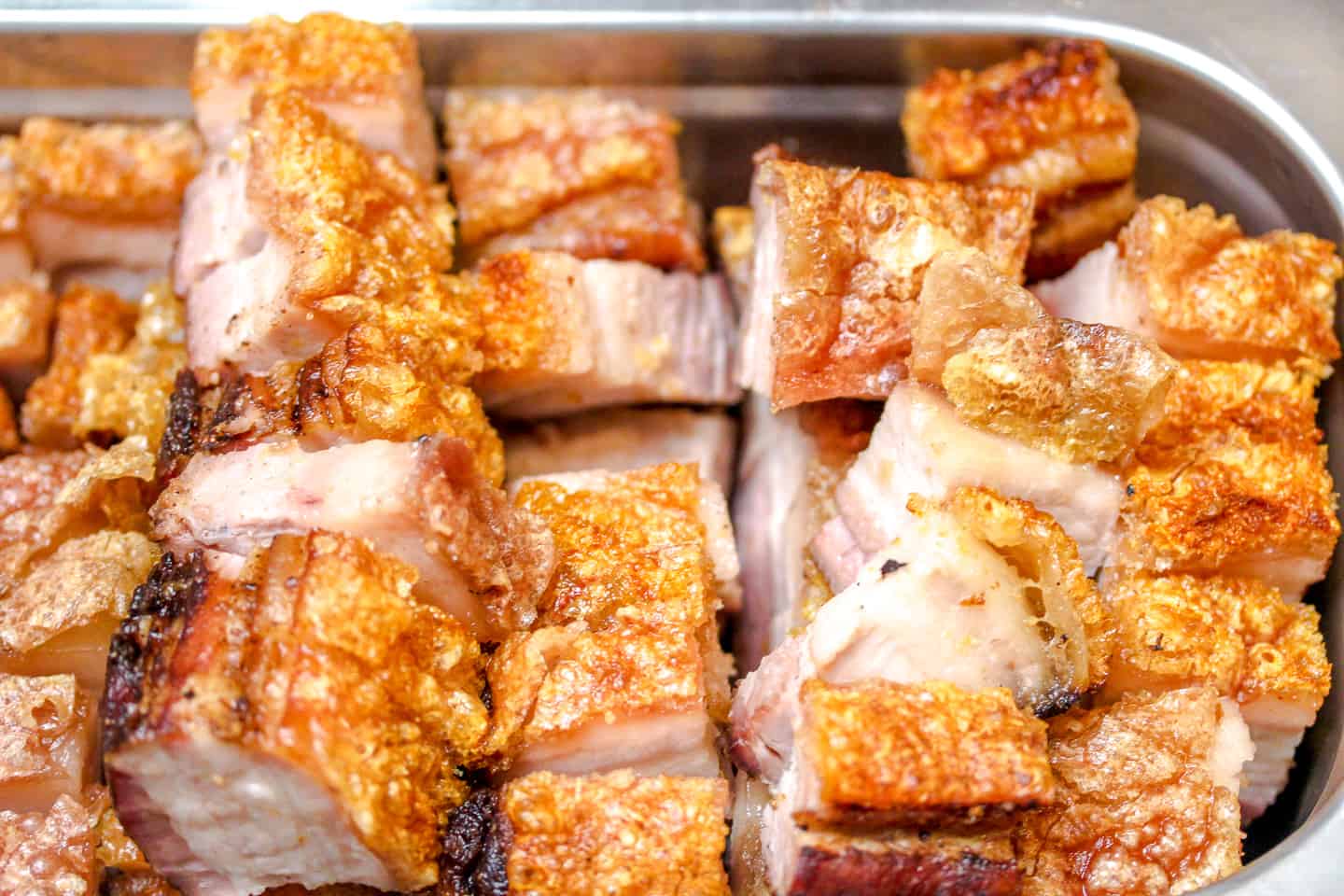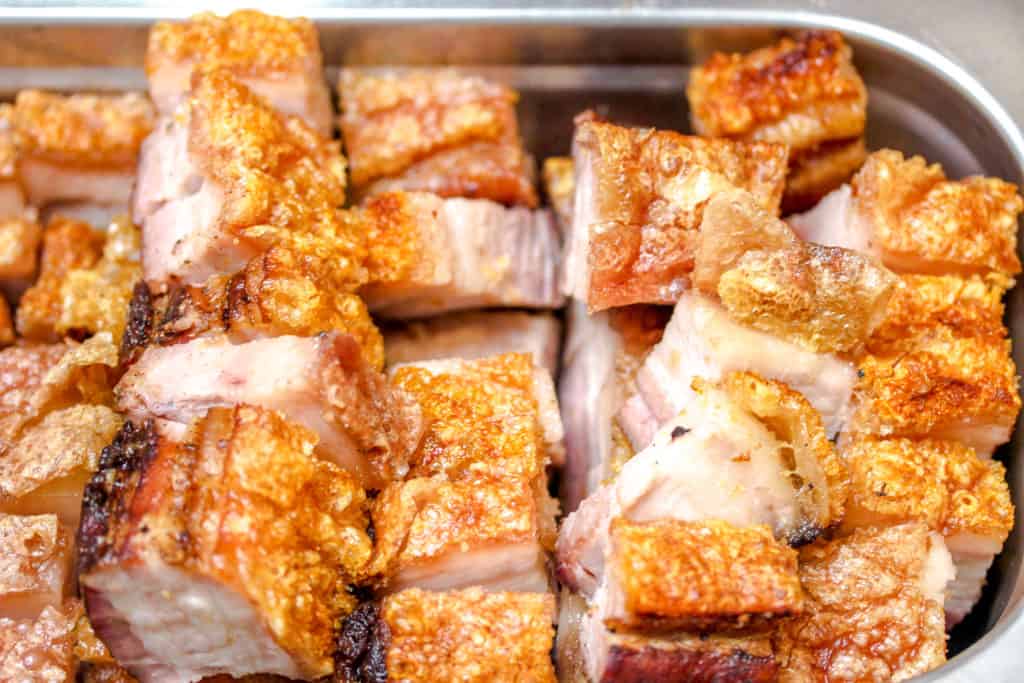 📋 Recipe
Crispy Roasted Pork Belly (Thịt Heo Quay)
This crispy pork belly requires a little bit of patience, but the result is the crispiest pork skin atop the juciest, most succulent pork belly you've ever had.
Ingredients
For the Pork
2

lbs

pork belly slab

2

pieces

fermented red bean curd

½

teaspoon

black pepper

½

teaspoon

five spice powder

½

tsp

sugar

¼

teaspoon

salt

1

tsp

soy sauce

1

tsp

rice wine
For roasting
enough salt to cover the skin of the pork
Instructions
Poke holes into the meat side of the pork belly with a fork and score the skin side of the pork belly with a sharp knife.

Mix together bean curd, pepper, five spice powder, sugar, salt, soy sauce and rice wine to form a thin paste. Rub into meat side of pork belly

Place pork belly in a tray skin side up. Wipe off any marinade that may have gotten on the skin. Refrigerate overnight at least 8 hours but up to 24

Preheat oven to 400 degrees once ready to roast.

Let meat sit and come to room temp before roasting. Cover skin with layer of salt about ¼ inch thick.

Place pork on a wire rack atop a lined baking sheet. Add warm water to the tray before roasting to keep the meat moist. Roast in the middle rack of the oven, about 45 minutes or until the salt has turned golden brown and started curling up at the edges.

Take pork out and remove salt layer with an offset spatula or knife. Return to oven on top shelf to let skin bubble up and crisp, about 45 minutes.

If skin is crisping unevenly or starts to burn, cover those areas with foil and continue to bake

Use the broiler for 2-3 minutes as necessary to get an even crisp on the skin

Let meat rest for 20-30 minutes before slicing
Nutrition
Calories:
338
kcal
|
Carbohydrates:
1.8
g
|
Protein:
27.9
g
|
Fat:
28.2
g
|
Saturated Fat:
3
g
|
Sodium:
377.5
mg
|
Potassium:
3.4
mg
|
Sugar:
0.3
g
Nutrition Facts
Crispy Roasted Pork Belly (Thịt Heo Quay)
Amount Per Serving
Calories 338
Calories from Fat 254
% Daily Value*
Fat 28.2g43%
Sodium 377.5mg16%
Potassium 3.4mg0%
Carbohydrates 1.8g1%
Protein 27.9g56%
* Percent Daily Values are based on a 2000 calorie diet.
Did you make this recipe? Tag @bun.bobae on instagram and hashtag it #bunbobae!
---
Don't miss a single recipe! Sign up below for recipes in your inbox:
Loved this Recipe? You might also like: