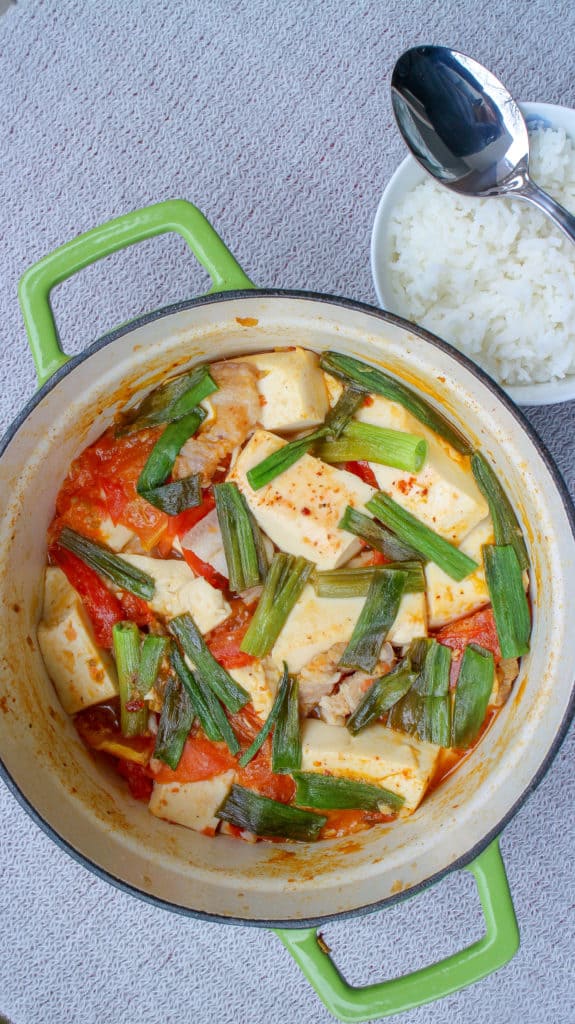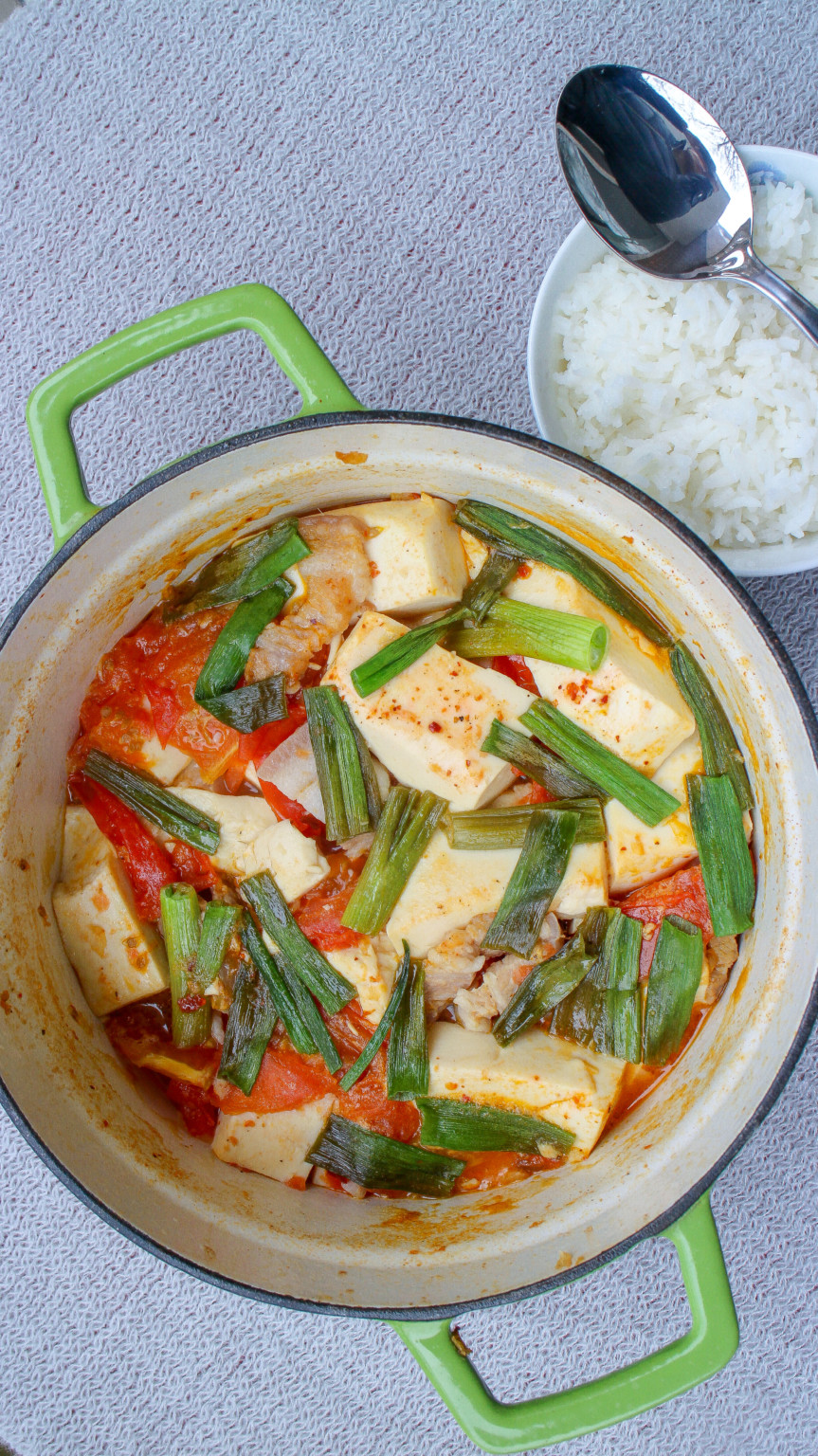 I think that tofu gets a bad rap. Almost everyone I've met that says they don't like tofu, when questioned, admits that they've only eaten tofu as a sad, under seasoned meat substitute. Tofu actually has so much potential! It comes in different textures from silken to extra firm. Sometimes its fried. Sometimes it's puffy and perfect for sopping up sauce. One of my favorite tofu recipes is đậu hũ sốt cà chua, or braised tofu and pork belly in tomato sauce.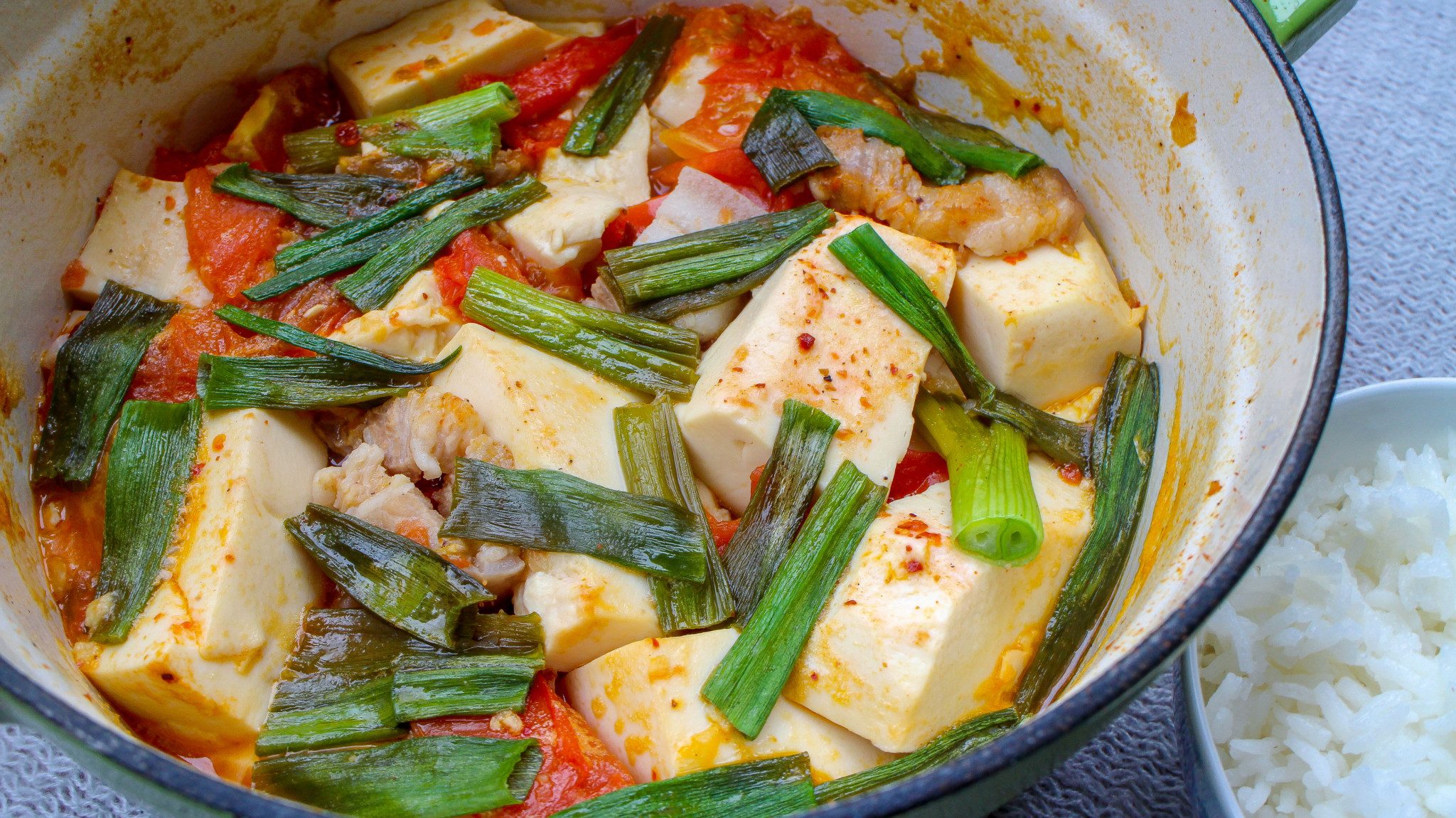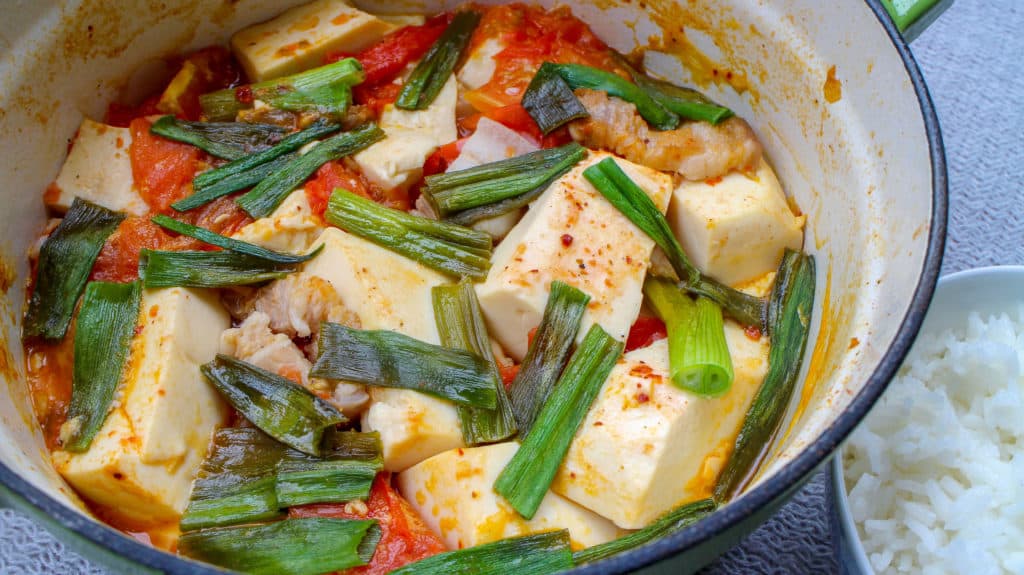 This recipe is one of my mom's go-to weeknight meals. Tofu, pork and tomato are a common trifecta of ingredients in Vietnamese cooking (check out my recipe for bún riêu , a crab noodle soup with tofu, pork spare rib and tomato) This version of đậu hũ sốt cà chua uses soft tofu and pork belly. It's rich, tangy and extremely comforting over a warm bed of rice.
Braised tofu and pork belly in tomato sauce (đậu hũ sốt cà chua): Full recipe instructions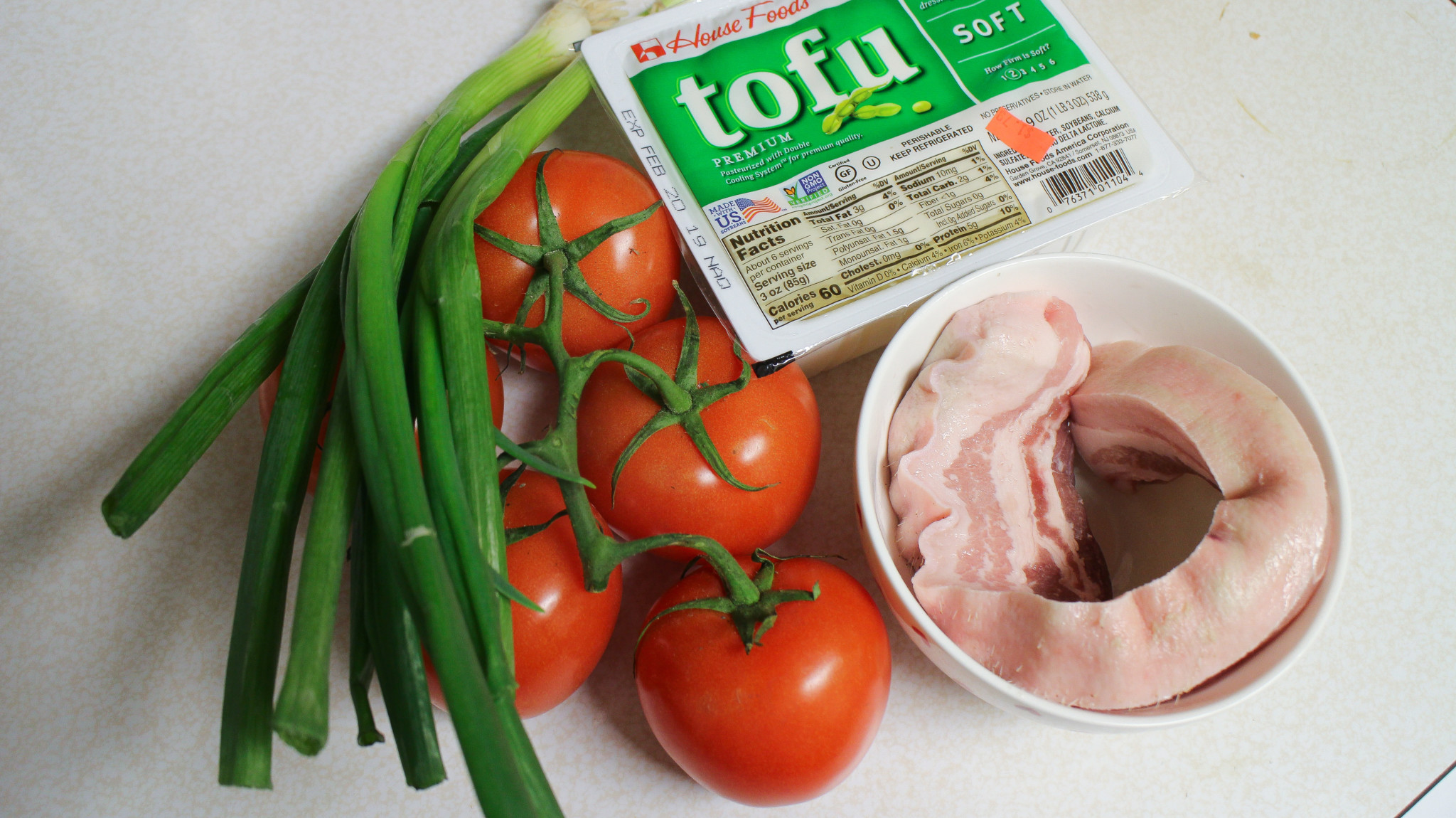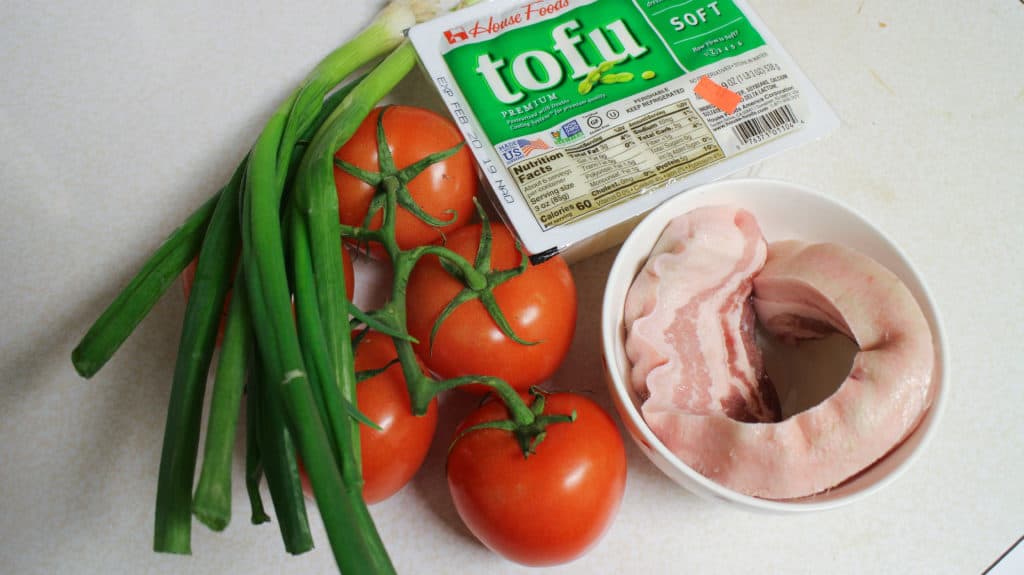 This recipe has very few ingredients. You'll need pork belly, tomato, scallion, garlic, shallot and tofu.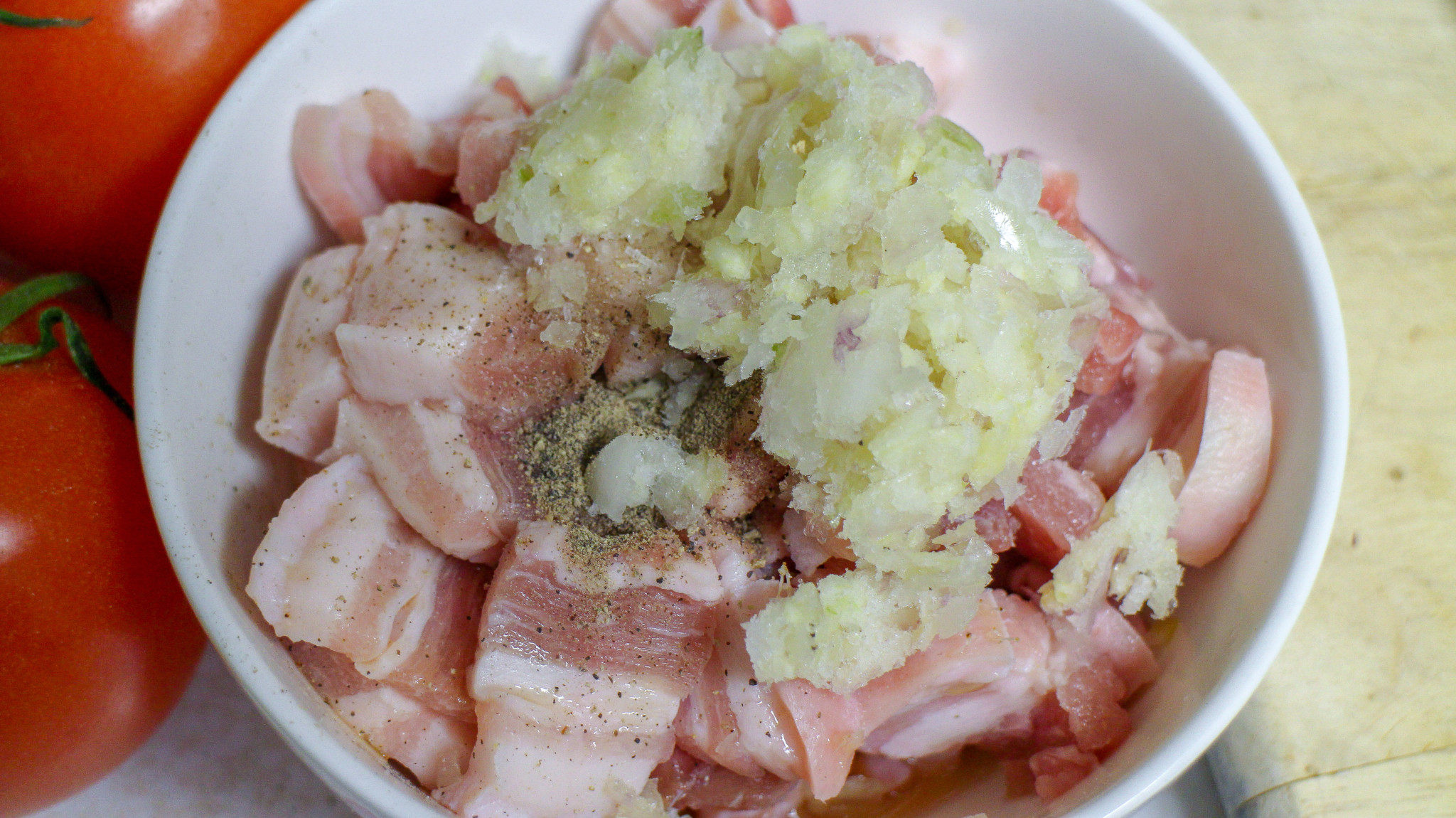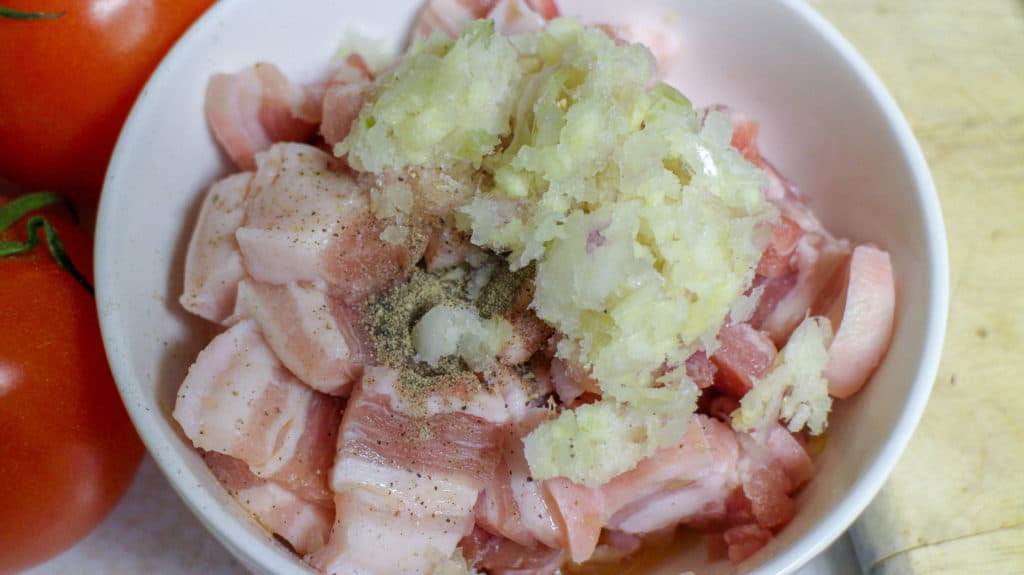 Slice the pork belly into ¼ inch slices. Season with fish sauce, shallot, garlic, salt and pepper (remember, this is the basic Vietnamese seasoning!)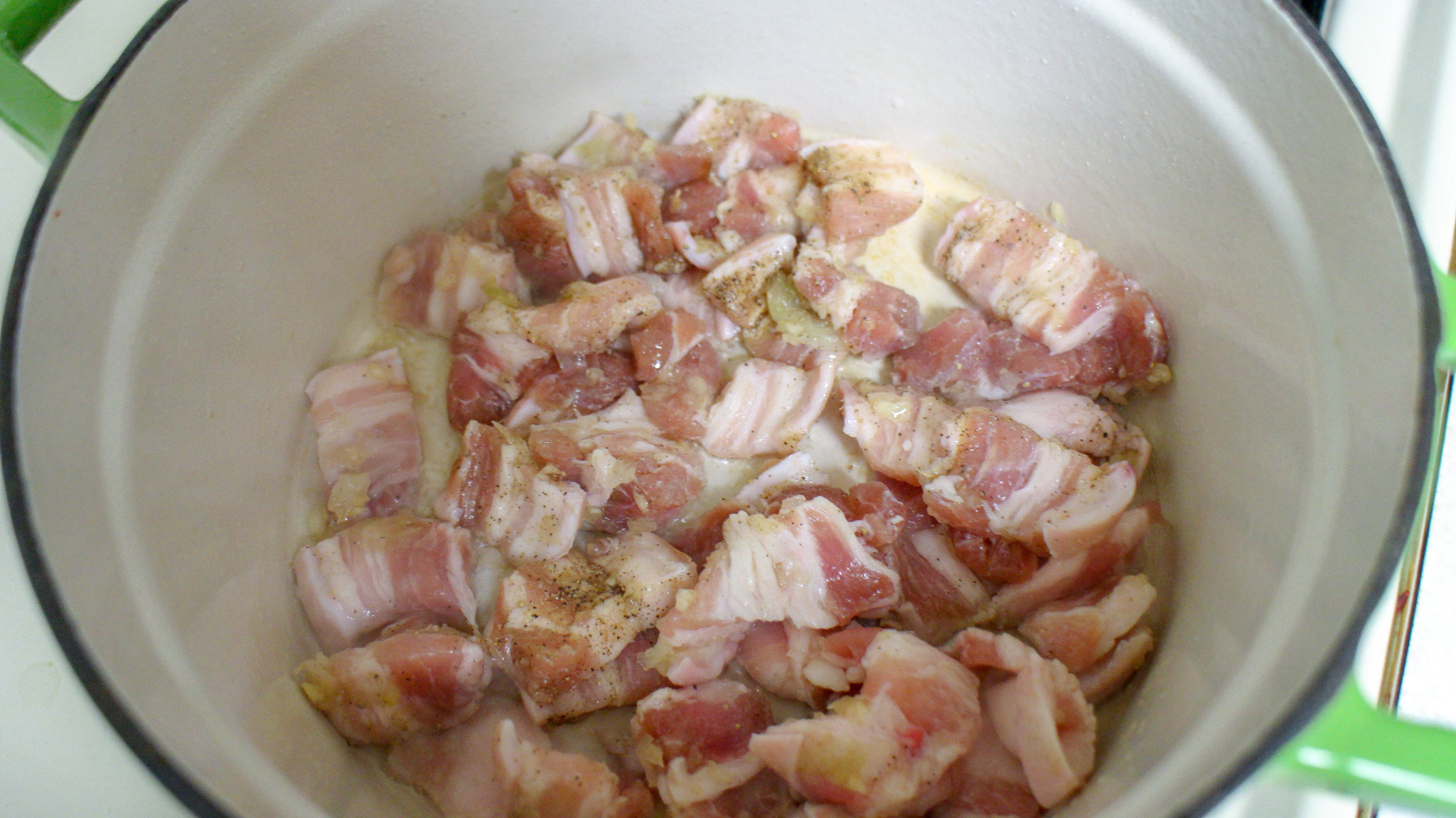 Heat up some oil in a heavy bottomed pot. Add the pork belly and for a minute or two until golden. After the pork is a little cooked, add the tomato slices and continue to cook until tomatoes start breaking down and softening.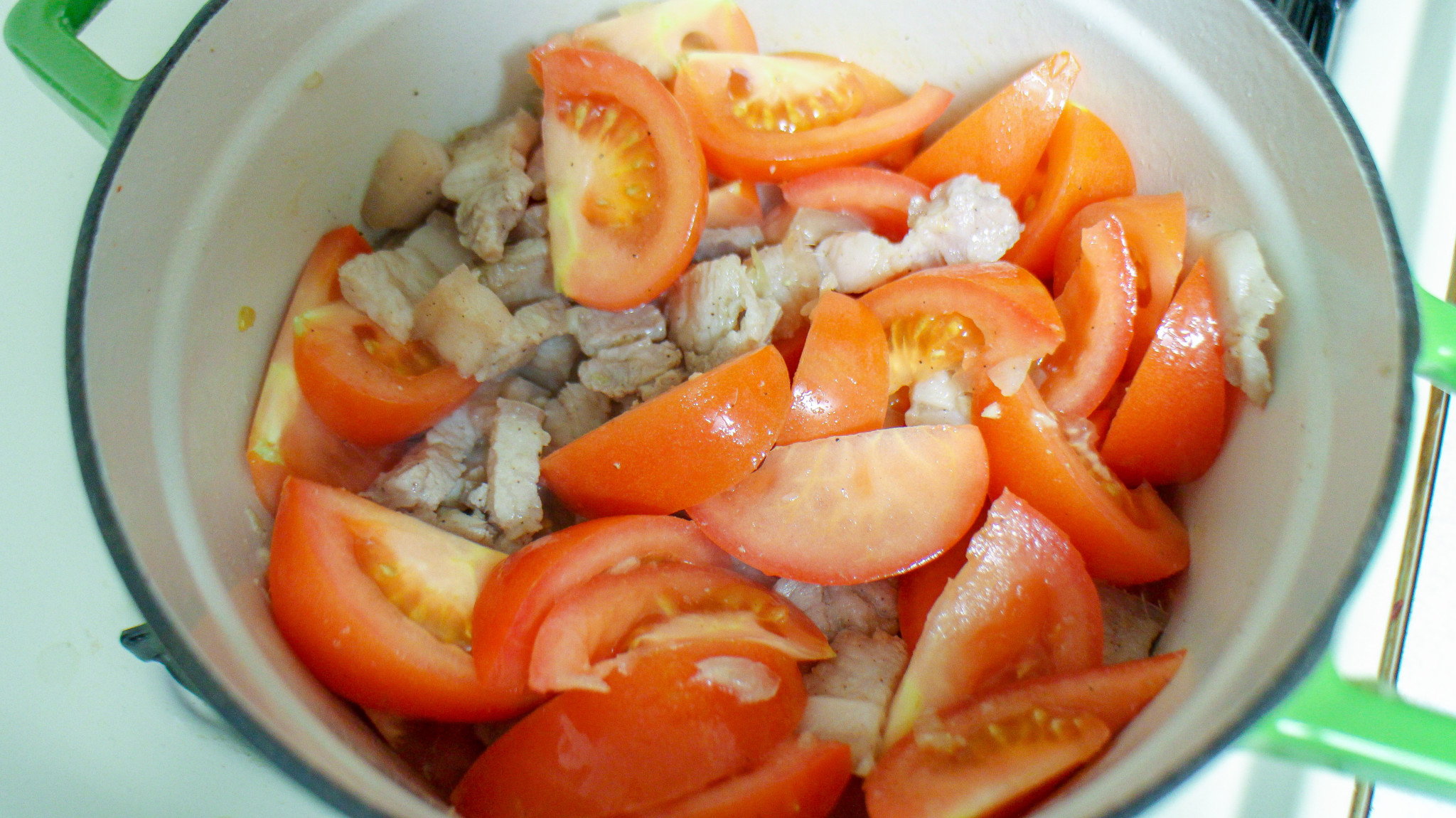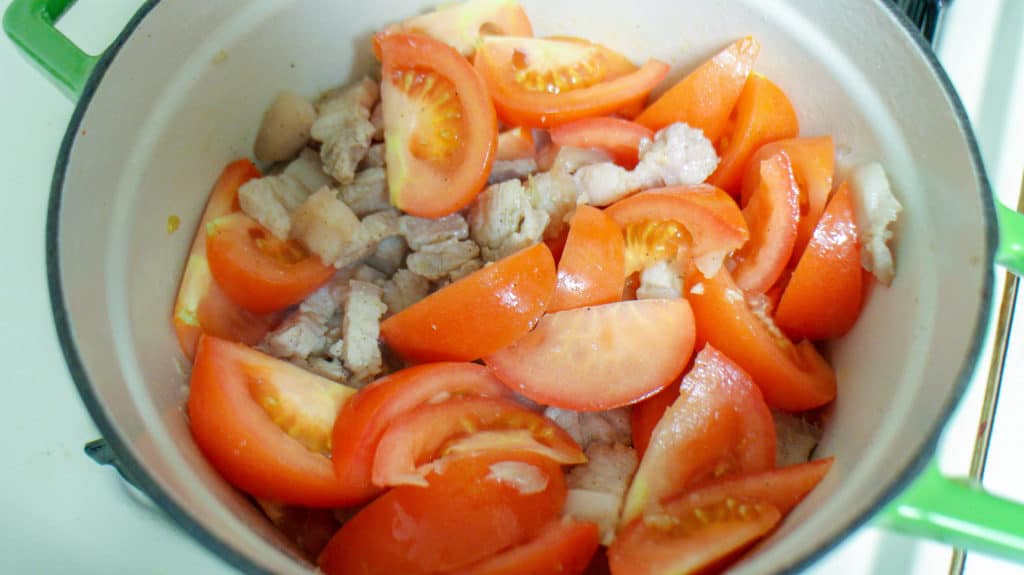 After the tomatoes have begun to wilt, add about a cup of water, or enough to submerge the ingredients. Gently layer the cubed tofu into the pot. This tofu will be very soft, so make sure to be gentle!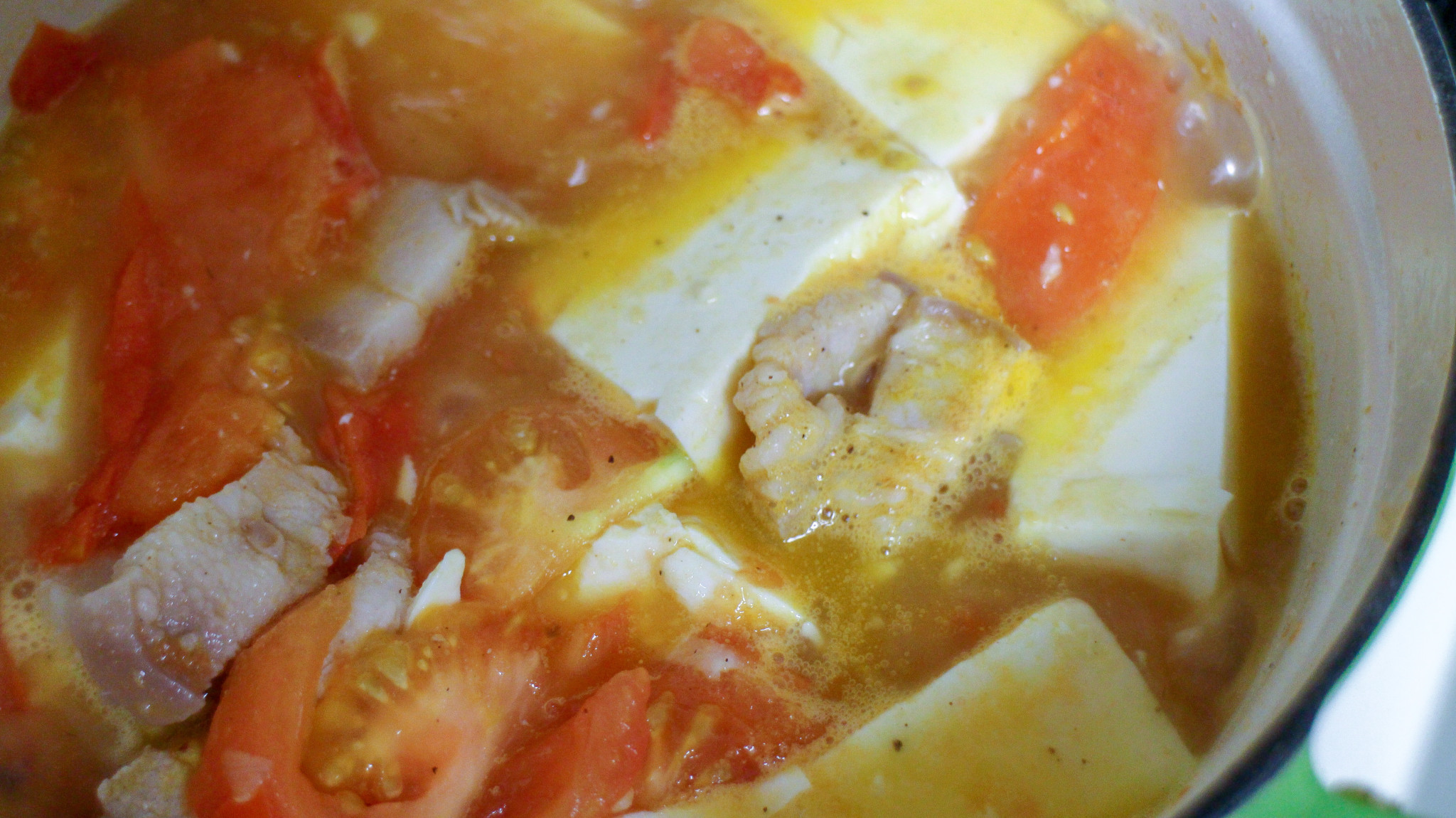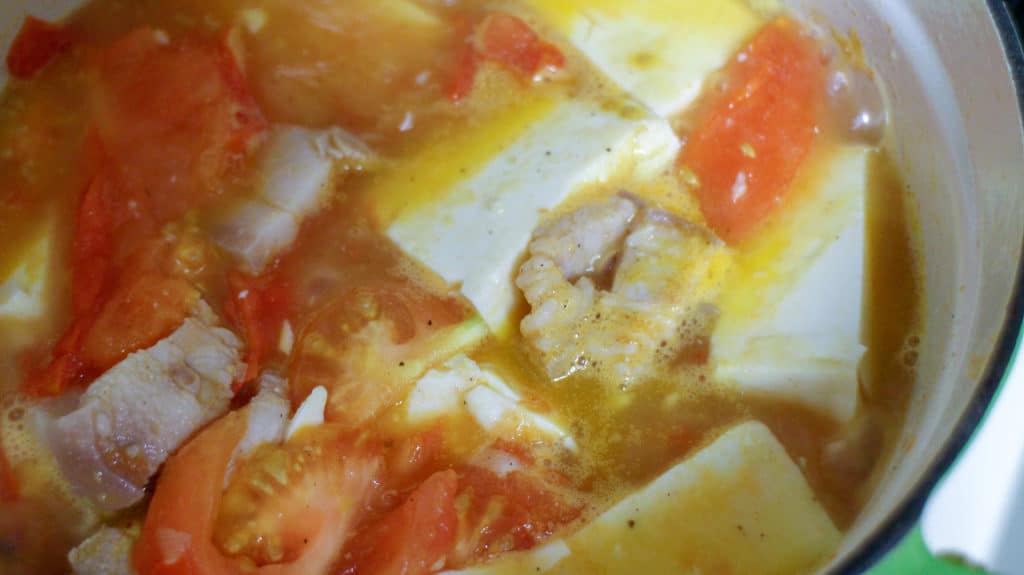 If your water isn't quite covering all of the ingredients after you add the tofu, add a little more. Bring it to a boil and then lower the heat back down to a simmer. Simmer it for 15-20 minutes, and then add roughly chopped scallions. Simmer again until most of the braising liquid has evaporated.
Serve with rice.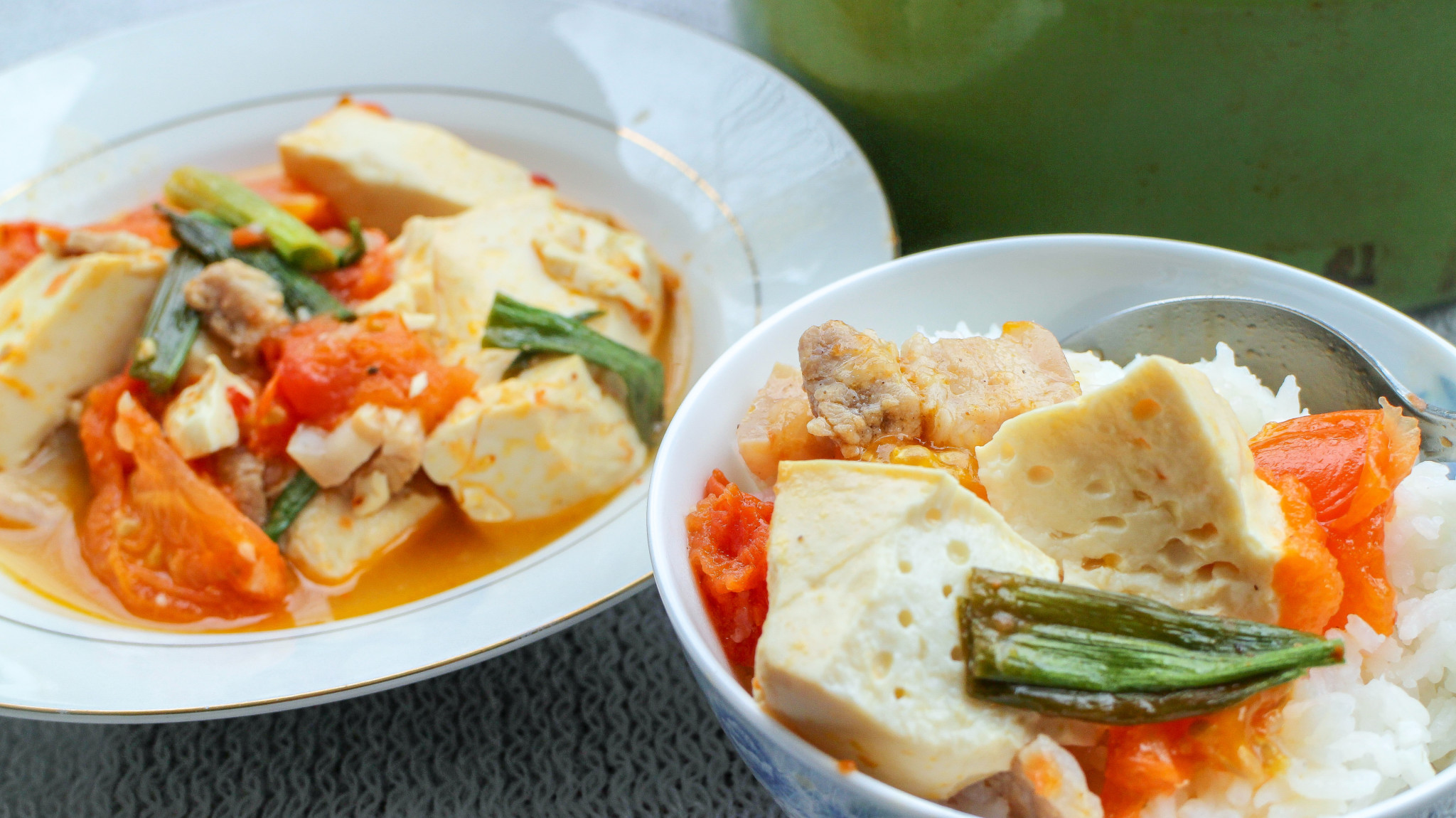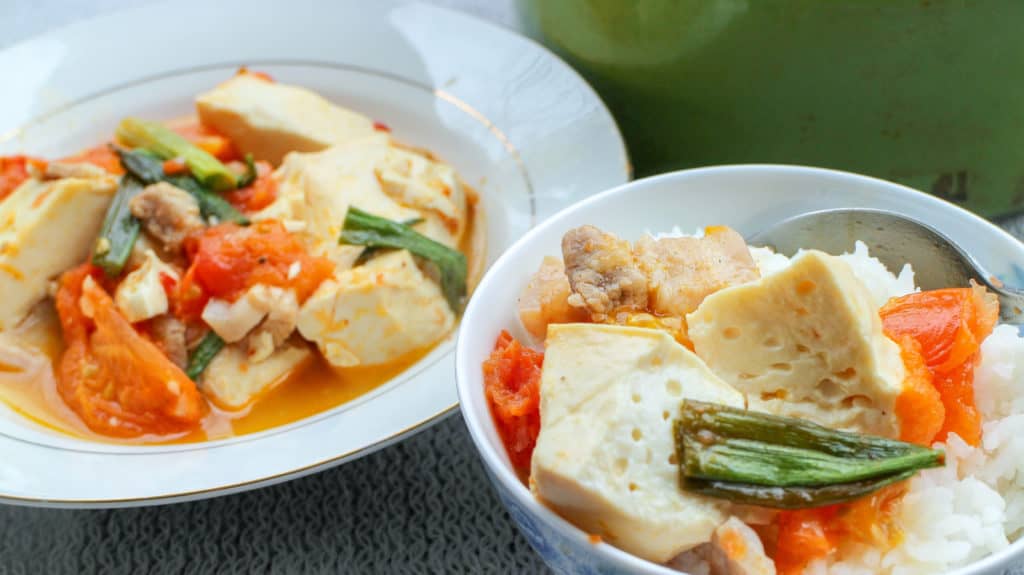 Notes
My favorite brand of tofu is House Foods. My parents used this growing up and they'd tell me which one to buy by color. I used the green (soft) tofu for this recipe. If you don't have a gentle hand and you're scared of breaking the tofu, opt for firm (red).
For a bit of a kick, add some chili flakes into the braising liquid.
📋 Recipe
Braised tofu and pork belly in tomato sauce (đậu hũ sốt cà chua)
Tomato, pork and tofu are a common combination in Vietnamese cooking. The pork belly brings richness to the dish, and the tomatoes balance it out with some acidity.
Ingredients
½ - 1

lb

pork belly

cut into ¼ inch slices

3

cloves

garlic

1

small shallot

2

tablespoon

fish sauce

½

teaspoon

ground black pepper

½

teaspoon

salt

1

tablespoon

canola oil

2

medium tomatoes

cut into wedges

1-1 ½

cups

water

1

package

14 oz soft tofu, cubed

2

scallions

cut into 1 inch segments

chili flakes

optional
Instructions
Season pork belly with fish sauce, garlic, shallot, salt and pepper

Heat oil in a heavy bottomed pot on high heat. Cook pork until slightly browned, about 2 minutes

Add tomatoes and cook until wilted, about 5 minutes

Add water

Gently layer tofu into the pot. Add more water if necessary. The water should just brush the surface of the tofu.

Bring to a boil, and then simmer for 15-20 minutes.

Add scallion, and continue to simmer until most of the liquid has reduced

Serve over rice
---
Did you make this recipe? Tag @bun.bobae on instagram and hashtag it #bunbobae!
---
Don't miss a single recipe! Sign up below for recipes in your inbox: