Anyone who knows me knows that the Lunar New Year or Tết in Vietnamese, is my favorite holiday. Thanksgiving is my favorite western holiday, and Tết is like Vietnamese Thanksgiving. The bustling cities in Vietnam are quiet on New Year's Day, because everyone has gone back home to be with family. The holiday is all about being with your loved ones, and feeling gratitude for your family, especially your parents. My friends usually see me going all out for Thanksgiving and Christmas, but deep down I'm always counting down the days until I can come home and celebrate Tết.
It might be surprising to know that I haven't always been this excited about the Lunar New Year. Growing up, my mom always took me out of school even though it's not a public holiday, and I wasn't always thrilled to spend the day with my family.
Today marks the year of the Pig, and also the first year I've been able to travel back home to be with my family since I graduated from high school. Since then, I've celebrated the new year in four different cities, and each celebration has brought me a new lesson.
Chicago: The Early Days
My mom kept our Lunar New Year traditions every year while I was growing up. We'd get called out of school for the holiday, and on New Year's Day we'd wake up early and put on our traditional dresses (áo dài). After giving our parents our New Year's wishes, we'd go over to my grandparents' house and do the same, and we'd get li xi, or lucky red envelopes filled with money.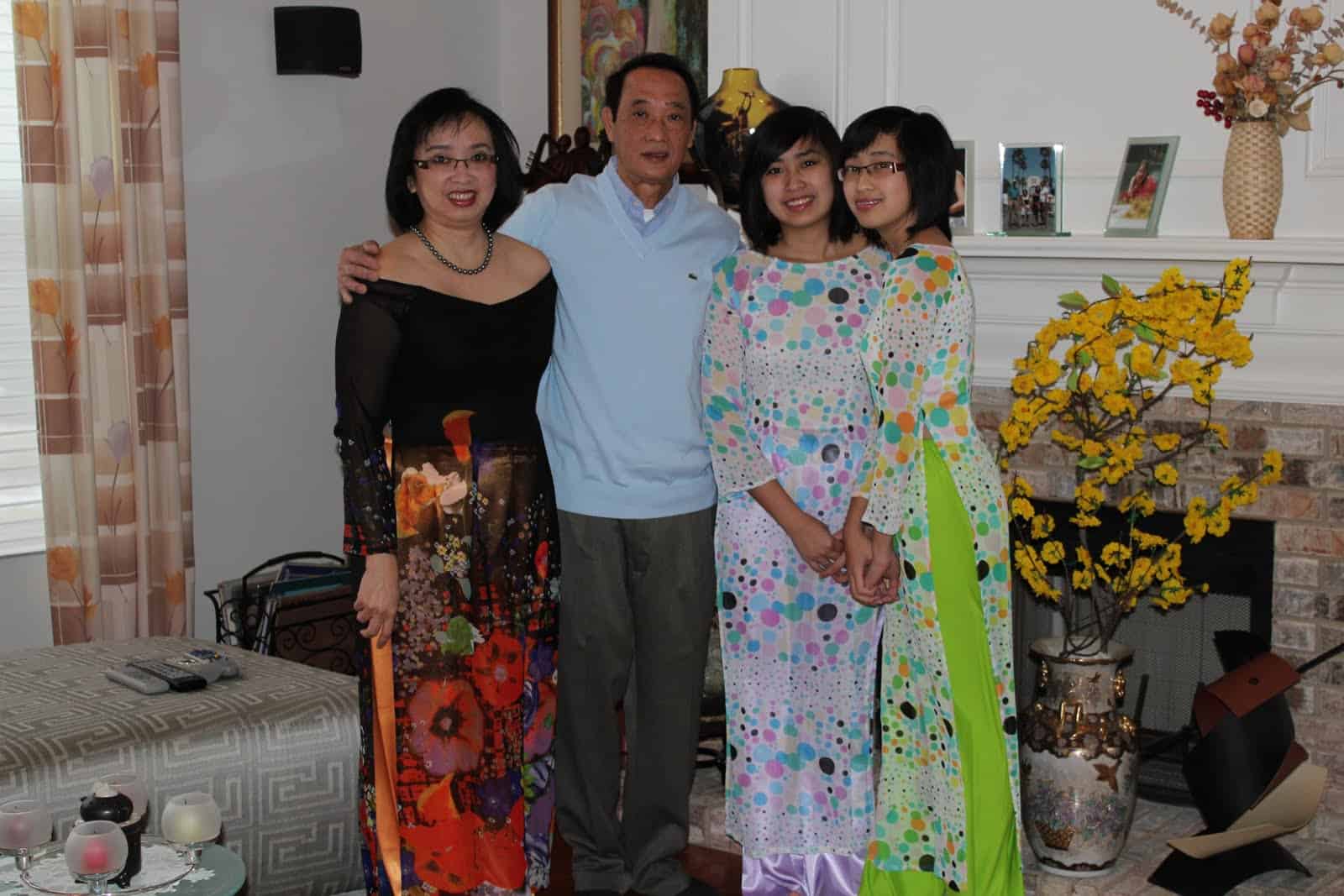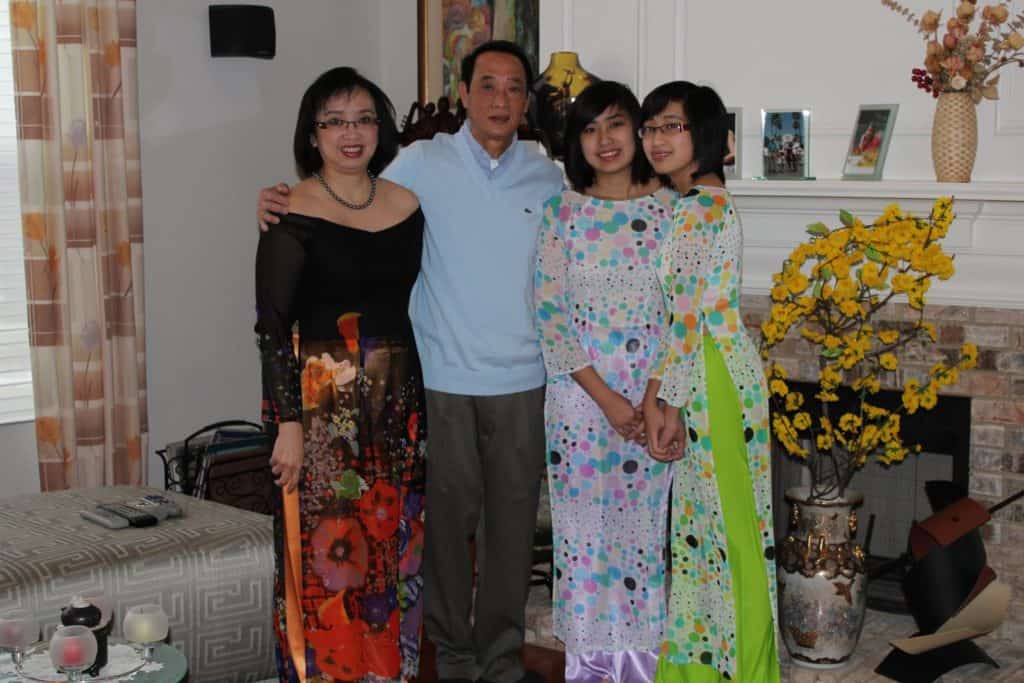 When I was younger, I was thrilled that I not only got to miss school, but I got money too! But the older I got, the more I saw the holiday as an inconvenience. I started taking honors and AP classes, and I asked my mom multiple times in high school to let me go to school, because I didn't want to miss a lesson and fall behind. I didn't see what the big deal about this holiday was, if no one else around me celebrated.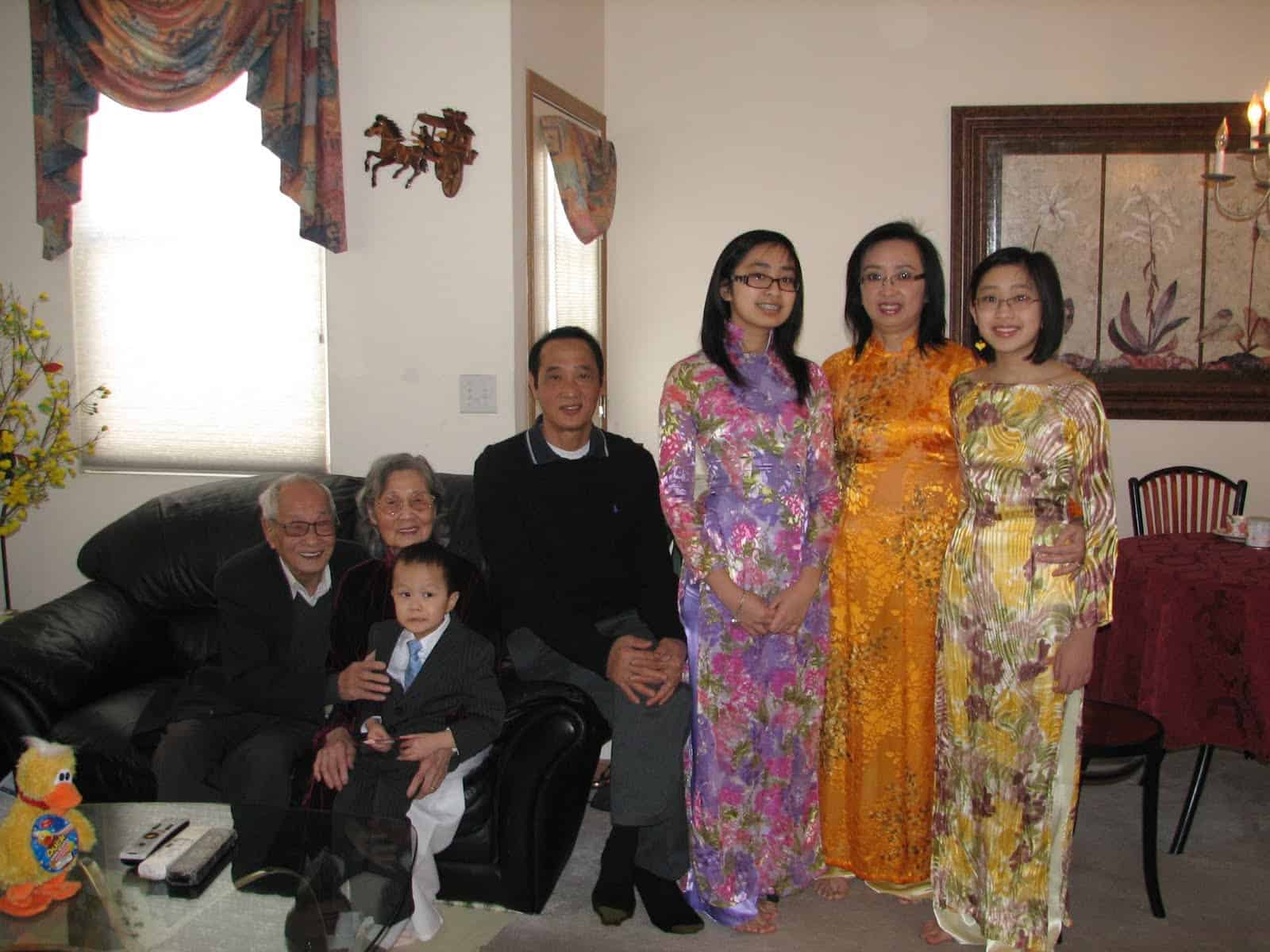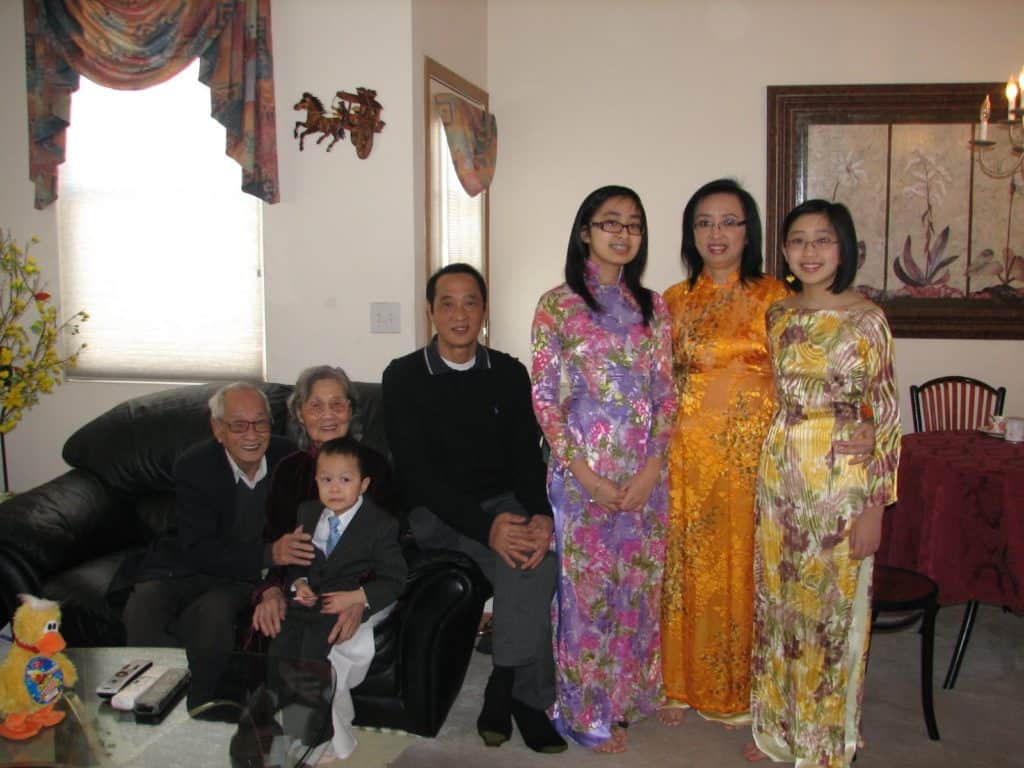 New York Part 1: Homesickness
My first Lunar New Year away from home was a disaster. I missed my family, but I was determined to find small ways to celebrate. I tried to go to NYC's Lunar New Year parade, but one of my roommates wanted me to wait for her and by the time we arrived the whole parade was over. Not only was I already upset that I missed my first Lunar New Year parade, but it was extremely uncomfortable navigating Chinatown with my new friends. It's a space I feel safe in, but my friends weren't used to the sights and smells of outdoor fish markets and grocery stores. Trying to share one of my favorite places in the city with my friends and having them react in disgust did not feel good.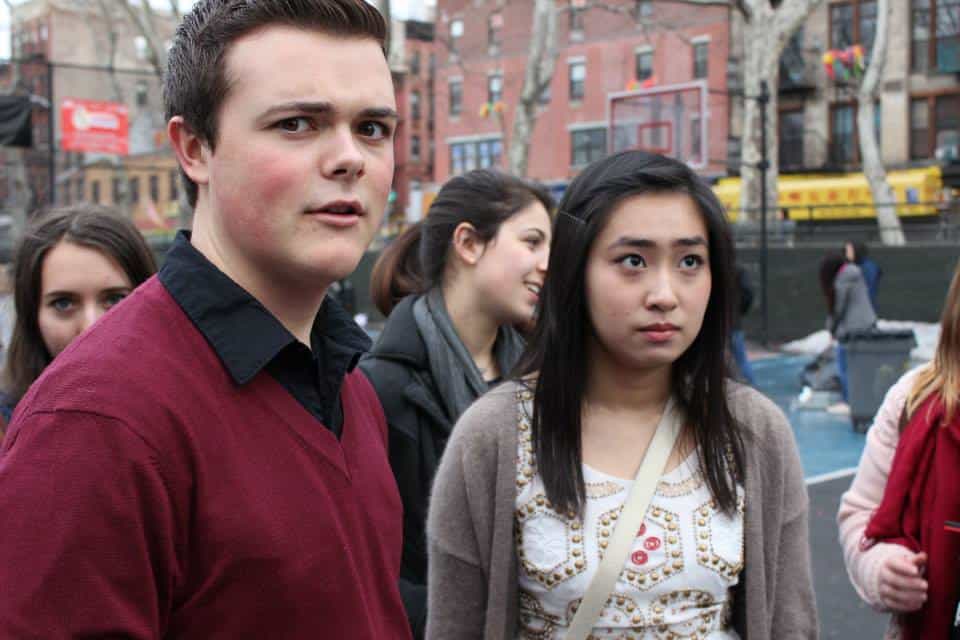 My best friend Scott (pictured above in the maroon sweater) saved the day and took me to get soup dumplings and bubble tea, just the two of us. I went home that evening missing my parents and the traditions I took for granted. I didn't realize how much my family meant to me until they weren't there on the most important day of the year. This was the first year that the importance of the holiday started to hit me.
Paris: Finding my chosen family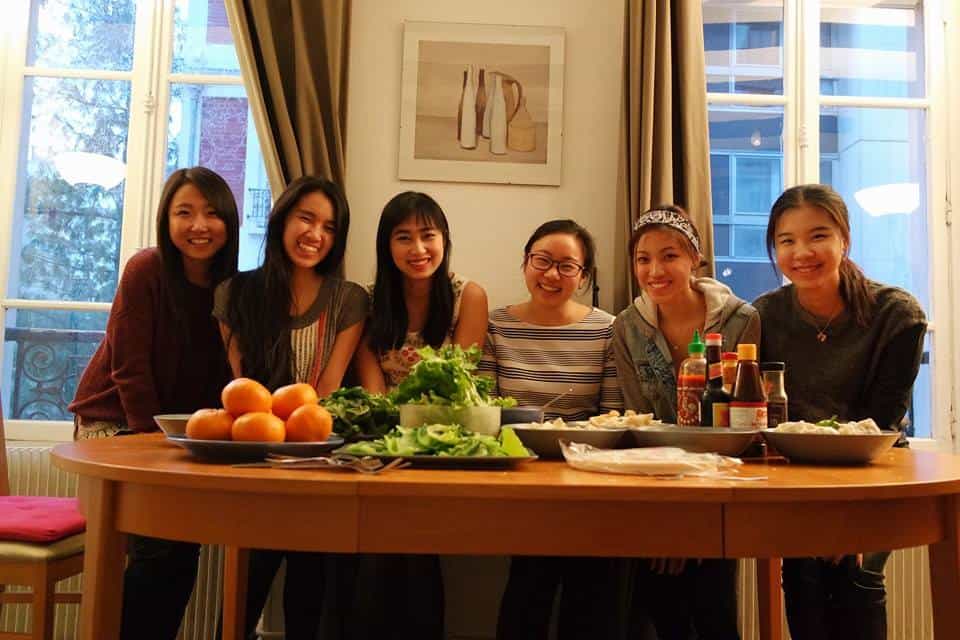 My second Lunar New Year away from home saw me even farther away from Chicago than the first. I was studying abroad in Paris, and I was dreading the New Year. The time difference meant that I wouldn't even be able to call my parents, so I was completely alone. I wanted to invite some friends to see the parade with me, but was hesitant after last year's fiasco.
NYU Paris threw a Lunar New Year celebration on campus, and my friends and I attended, but that ended up being a disaster as well. Not a single Asian person was involved in the event planning. We were handed envelopes with fortunes in them, but we were horrified to see that some of them had BAD fortunes. The whole point is to wish good fortune on your loved ones, you would never actively wish that someone has a bad year.
The cherry on top of the whole event was of course, racism. One of the staff members on campus showed up in a shirt with a mandarin collar and a little hat with a ponytail in it. He brought his own chopsticks to the event. The worse part was seeing all of my professors gleefully taking photos with him and squinting their eyes and bowing. It was a slap in the face at an event that was meant to celebrate our cultures. In high school, I just wanted to fit in with my classmates. But being in Paris and seeing my ethnicity mocked, I was indignant.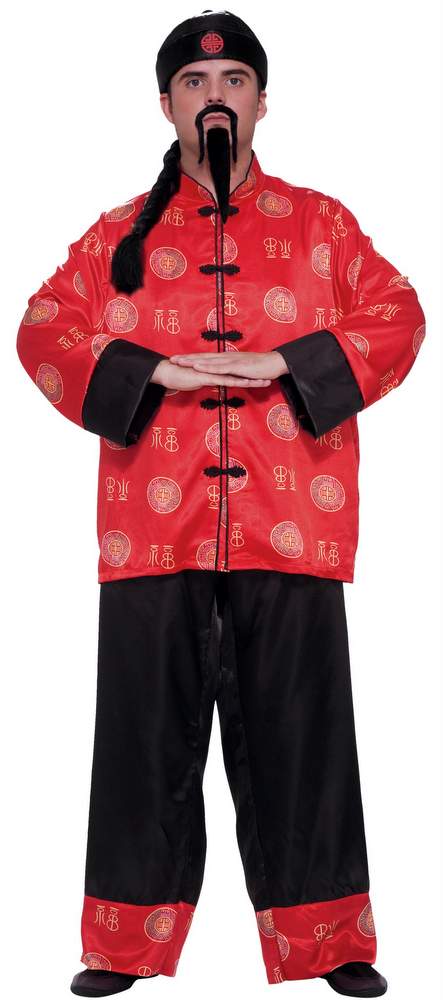 Luckily, I had made a few Asian friends who were studying in Paris with me, and we all bonded over the racism. The morning before the New Year we all went grocery shopping in the Paris's Chinatown together, and we all went back to my friend's apartment to prepare a Pan-Asian feast.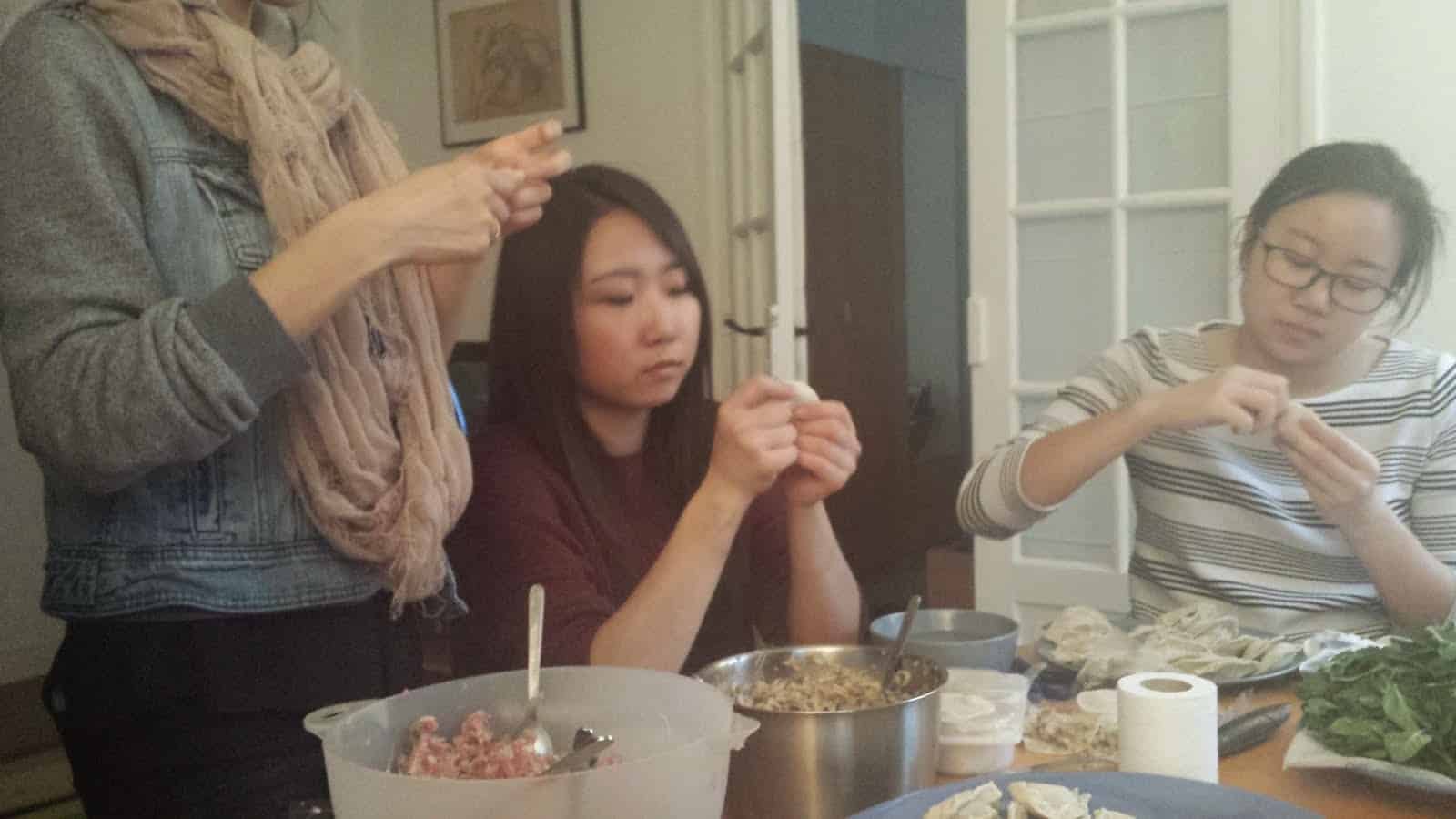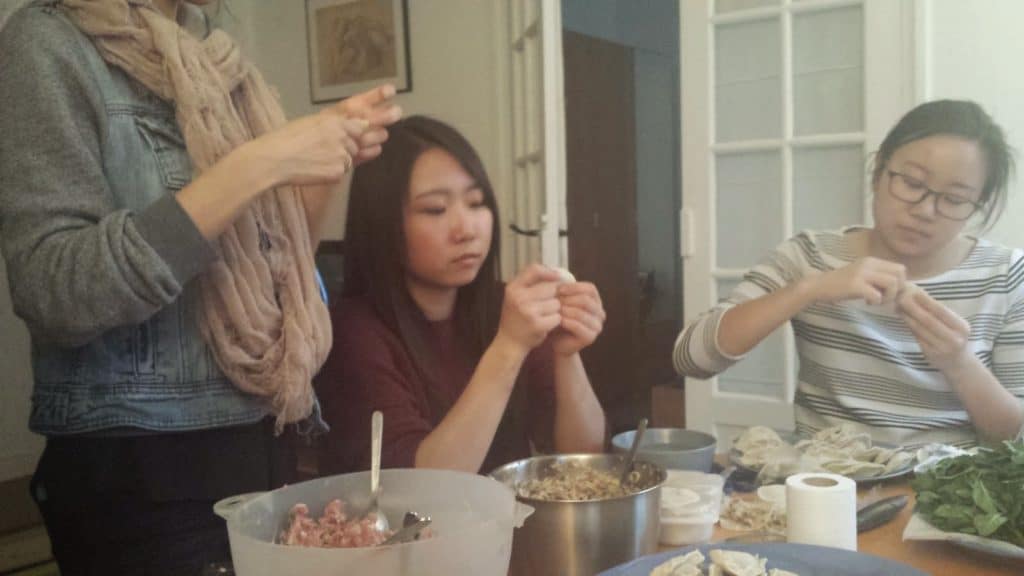 Growing up, I was always self conscious about celebrating a holiday that no one else did. I wanted to fit in with my (mostly white) classmates, and I didn't like all the weird stares and questions I would get when I brought leftover bánh chưng the day after the New Year.
Sitting around the table with a bunch of other Asian women, I was proud that I was raised to keep our New Year's traditions. We celebrated with a mix of Chinese, Korean and Vietnamese traditions. I learned to make my own dumplings. I taught my friends how to roll spring rolls for the first time. We ate oranges and wished each other good fortune. It felt amazing to be surrounded by people who celebrated the holiday loud and proud. I felt proud to share my roots with the others, and had fun learning some new traditions too. In Paris, I learned to be comfortable celebrating my heritage loudly. Even though my family wasn't there, I had found my chosen family.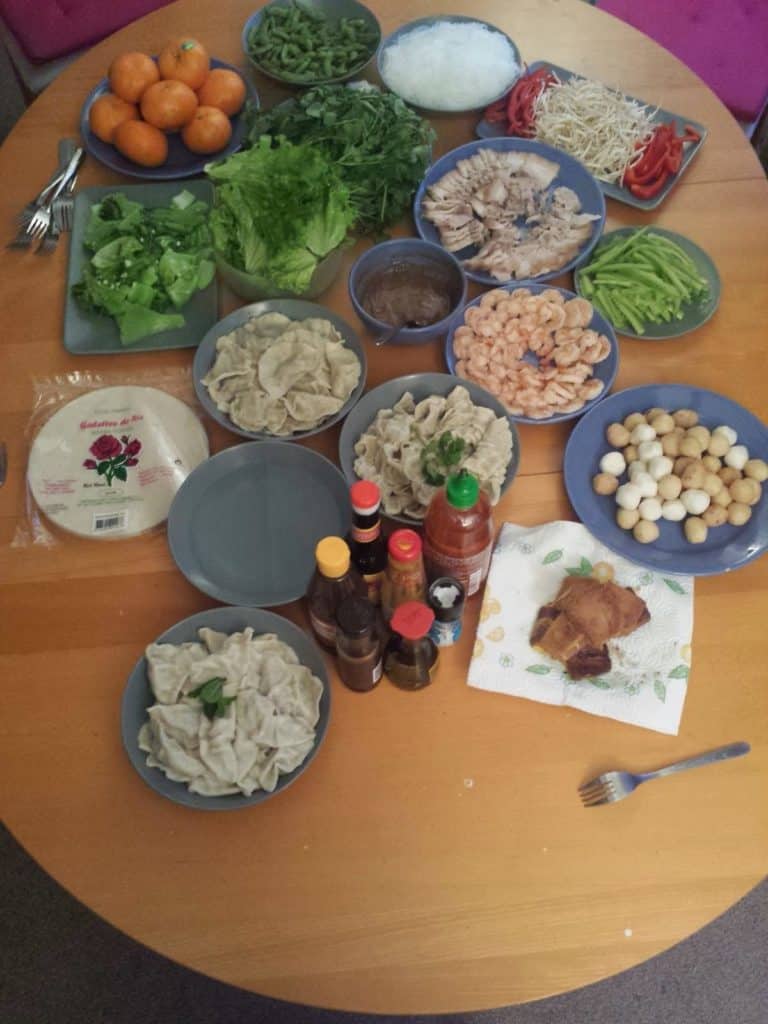 New York Part 2 and 3: Taking Lunar New Year into my own hands
While I was in Paris, I accepted a Resident Assistant position at NYU, and would remain in the position for the next two years. I knew right away that I wanted to plan an extravagant Lunar New Year event for the residents.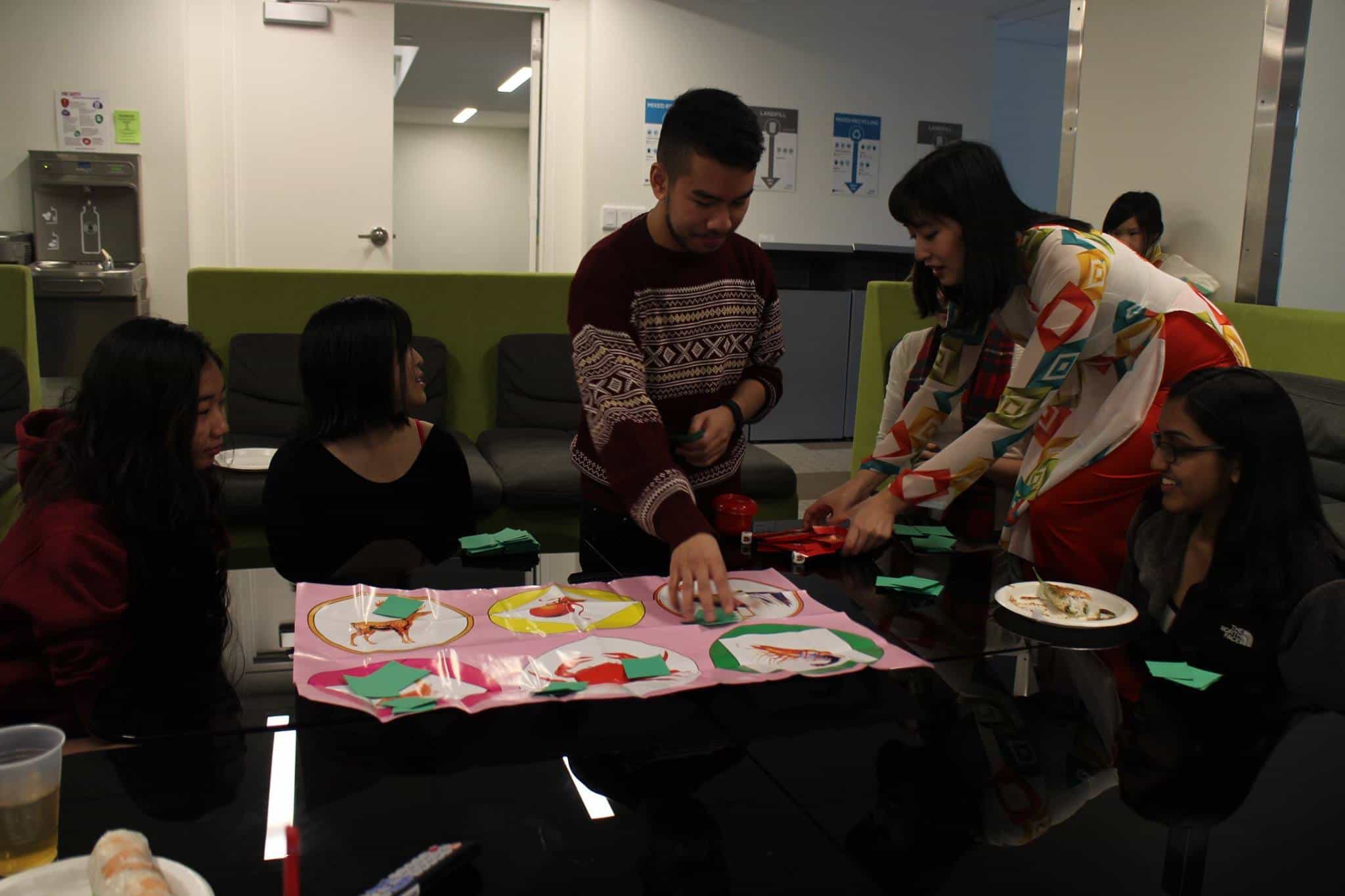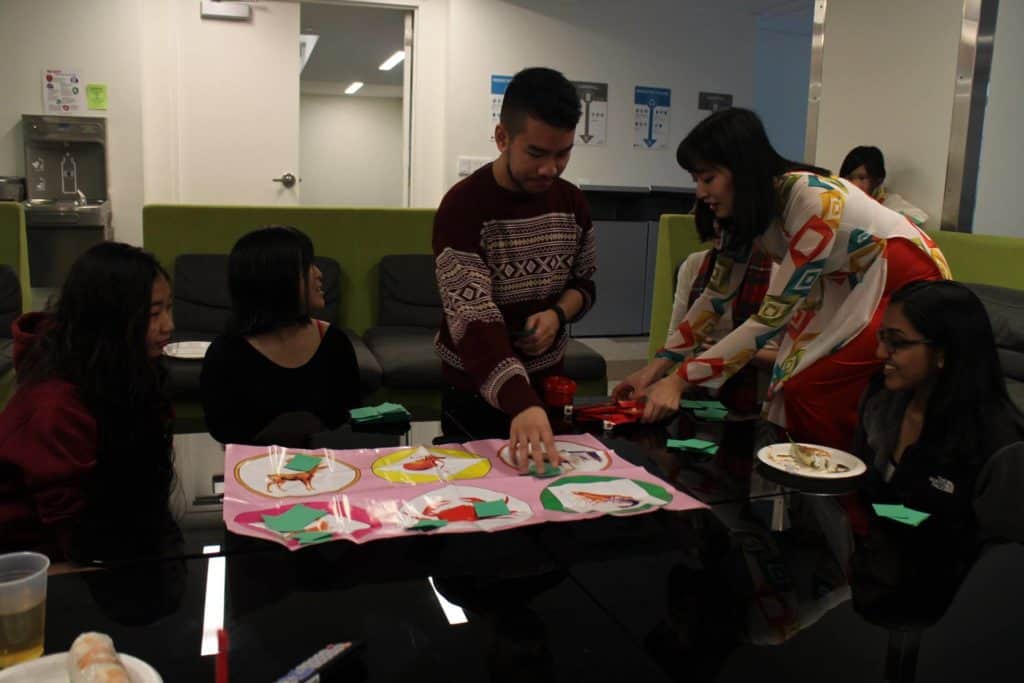 My residents were all freshmen, and I wanted to make sure no one felt as homesick as I did my first year at NYU, and I wanted to make sure that the event was culturally conscious. I teamed up with an RA from Indonesia and an RA from Singapore, as well as a Korean professor to put on a multicultural LNY celebration. Our first event was a major success, and we had more than 50 people attend!
Not everyone that attended the events was Asian, and we had plenty of students come just to check out what all the noise was about in the lounge. I printed out flyers with facts about the Lunar New Year. I wasn't just going to celebrate proudly; I wanted to make sure that anyone who was curious would be able to learn about why this holiday was so important too.
The second time I threw the event, an international student from Vietnam came up to me in tears. She told me she was feeling homesick because she was halfway around the world from her home, and thanked me for finding all of the traditional foods she was used to cooking. She said that she was struggling with homesickness all year and this was the first time she felt like New York felt like home to her. It brought me to tears knowing that my events were a success. Lunar New Year in New York the second time around was my chance at making sure no one would feel the way I did two years ago.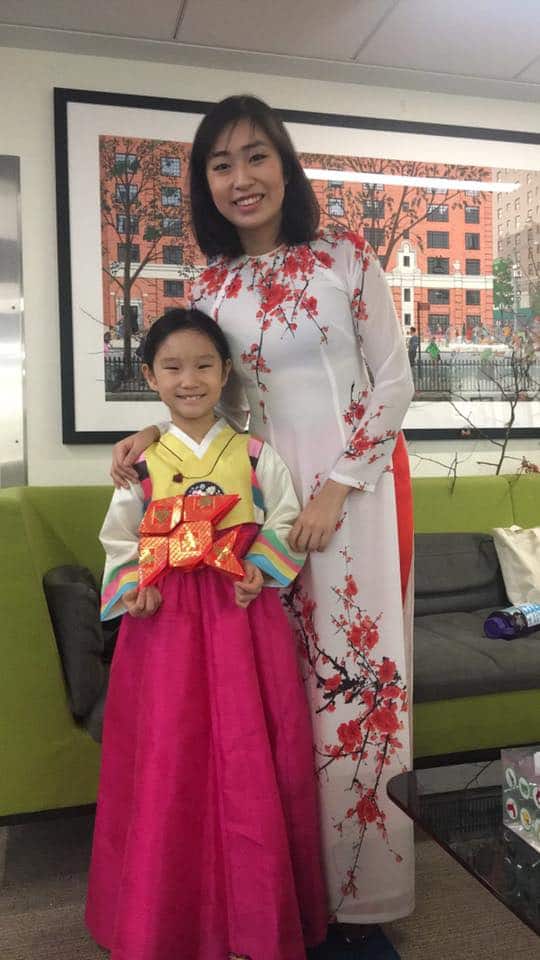 DC: It doesn't matter where you celebrate, it matters who you celebrate with
I tried to fly to Vietnam for the Lunar New year after I graduated. But I had just moved to DC for a job, and I wasn't allowed to take time off because I had to help cover the Olympics. I was in a strange new city, and had no friends to celebrate with, and my apartment was too small to throw a big event in, so I was pretty distraught. I finally had the means to come home to my family, and I was stuck in DC.
In the end, my mom flew in from Chicago and my sister took a bus from Penn State to spend the weekend with me. I had to work the day of the New Year, but I ran to Chinatown afterwards to join my sister and mom at the parade.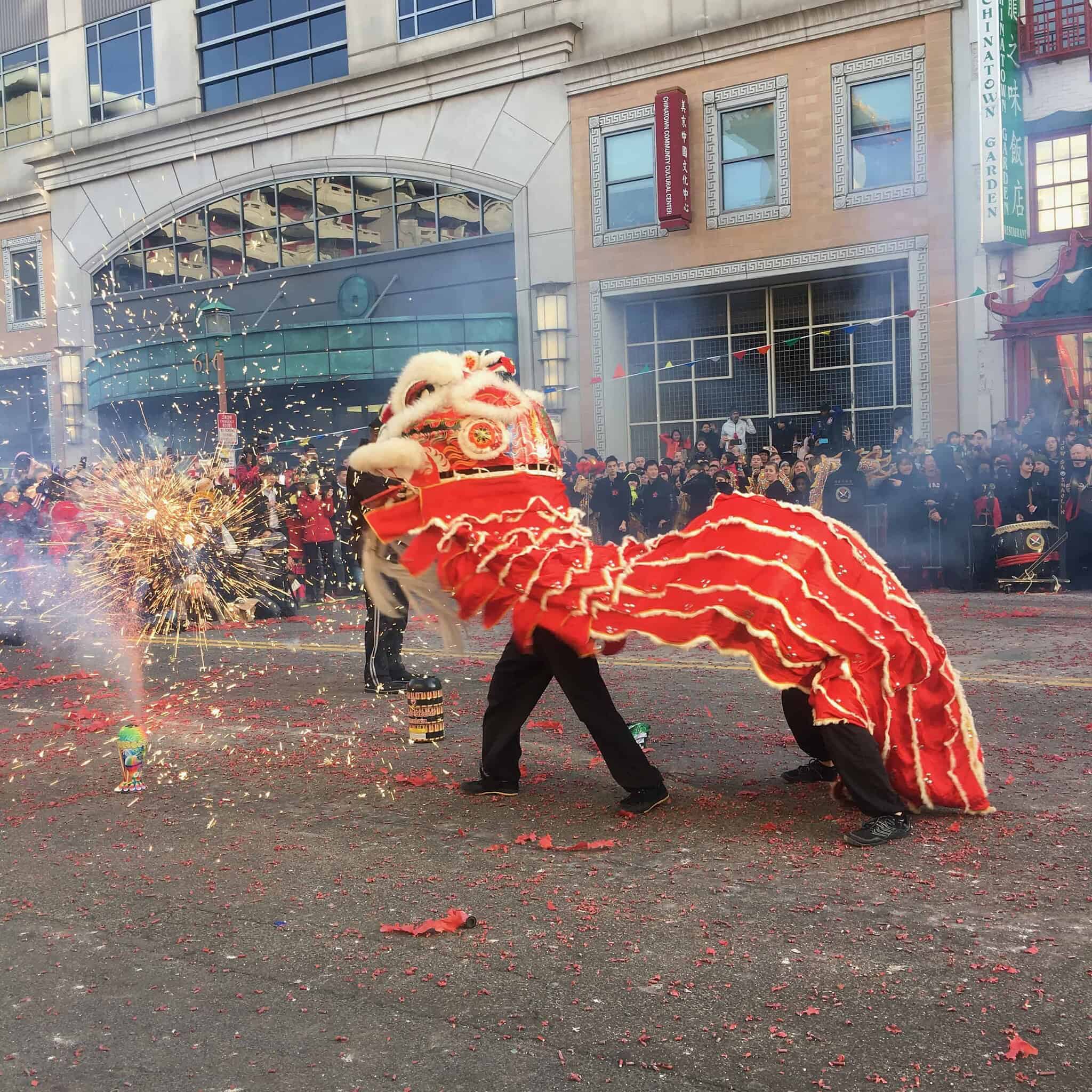 We bought a bánh chưng from the grocery store, and made some pork and bamboo stew in a crockpot because we didn't have enough equipment to cook it the traditional way. My mom brought a few homemade candies from home, and we managed to make a small Tết table with some lucky fruits, and ate our downsized Lunar New Year dinner standing up because my table only seated two.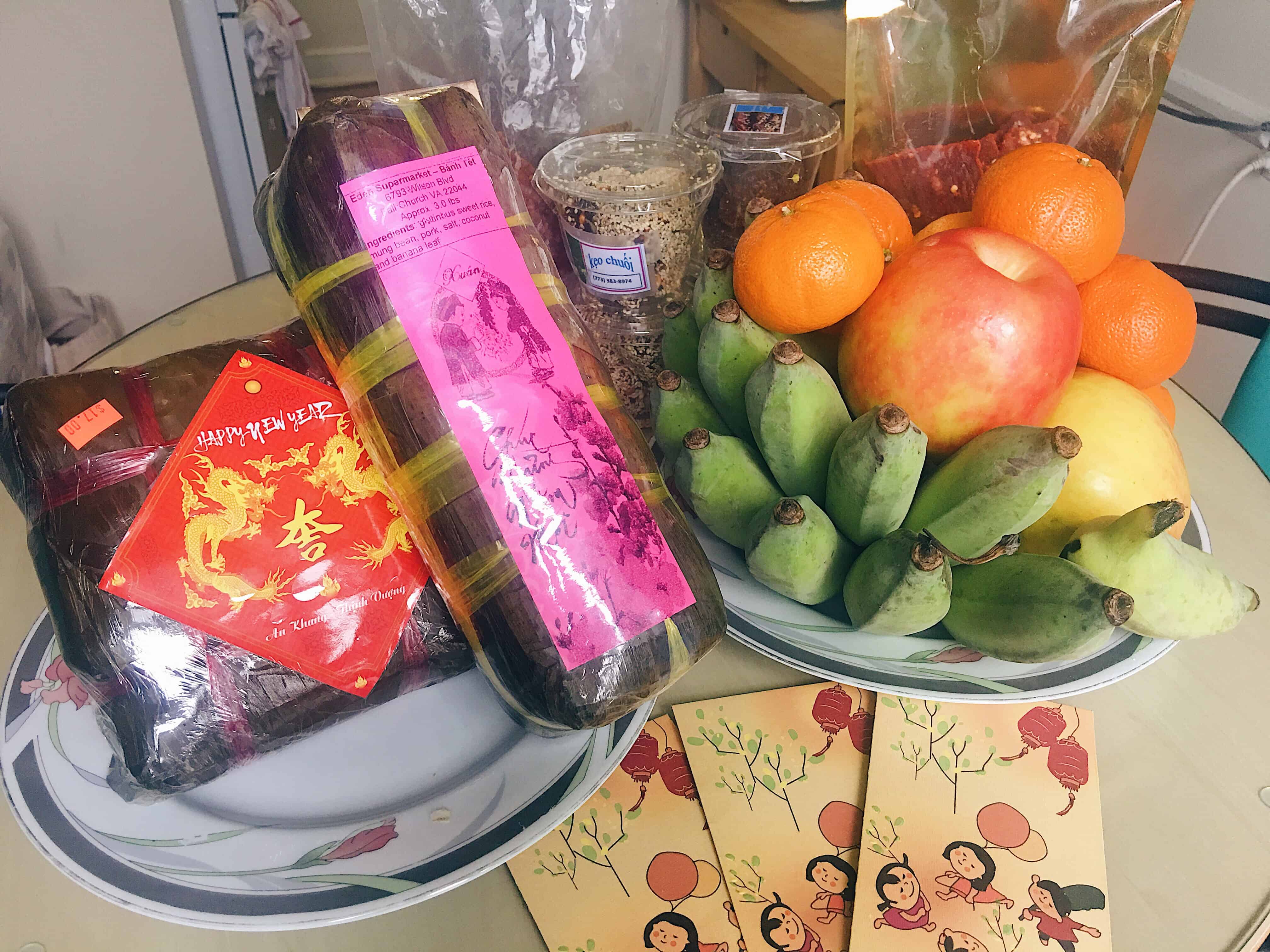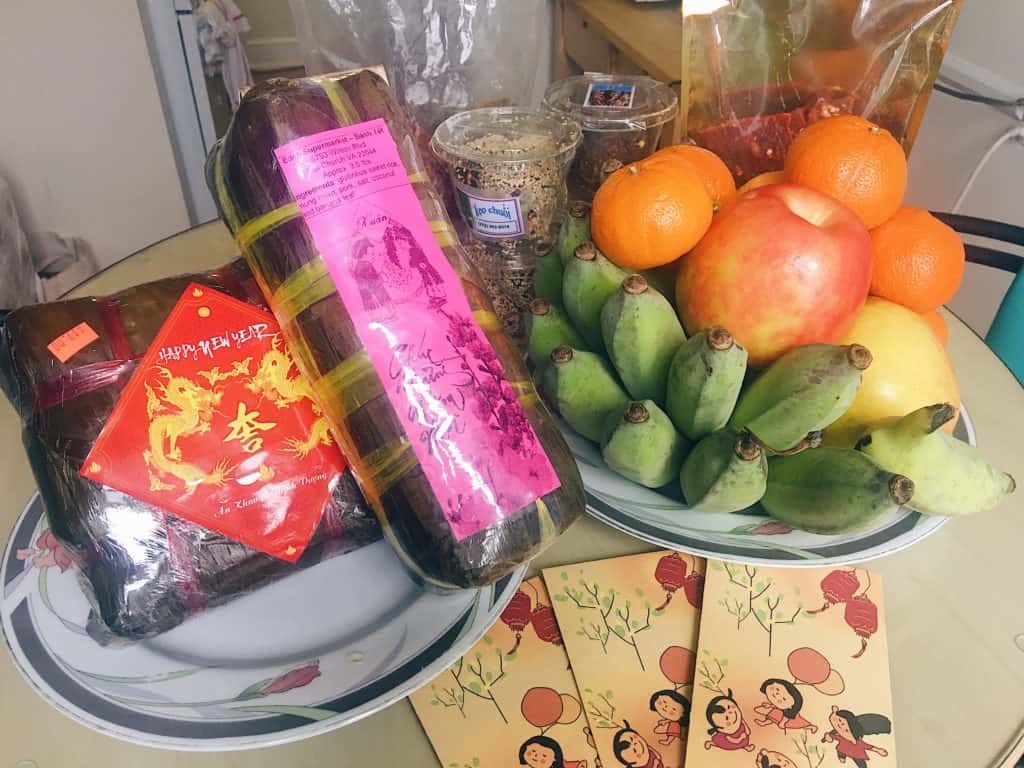 It was a much smaller celebration than I was used to, but it was the first time I had felt that content on the New Year in a long time, because my family was with me. In DC, I learned that you didn't need a big celebration or all of the traditional fanfare, as long as the people who mattered most were there. The Tết traditions are fun, but the important part is always family.
Chicago, again: Home sweet home
I was able to take a week off from work this year, after five years away from home. My uncle's family recently immigrated from Vietnam, so we had a packed house for the Lunar New Year. Before I came home, my mom and uncle wrapped fourteen bánh chưng, and I came home to make a whole feast of traditional foods.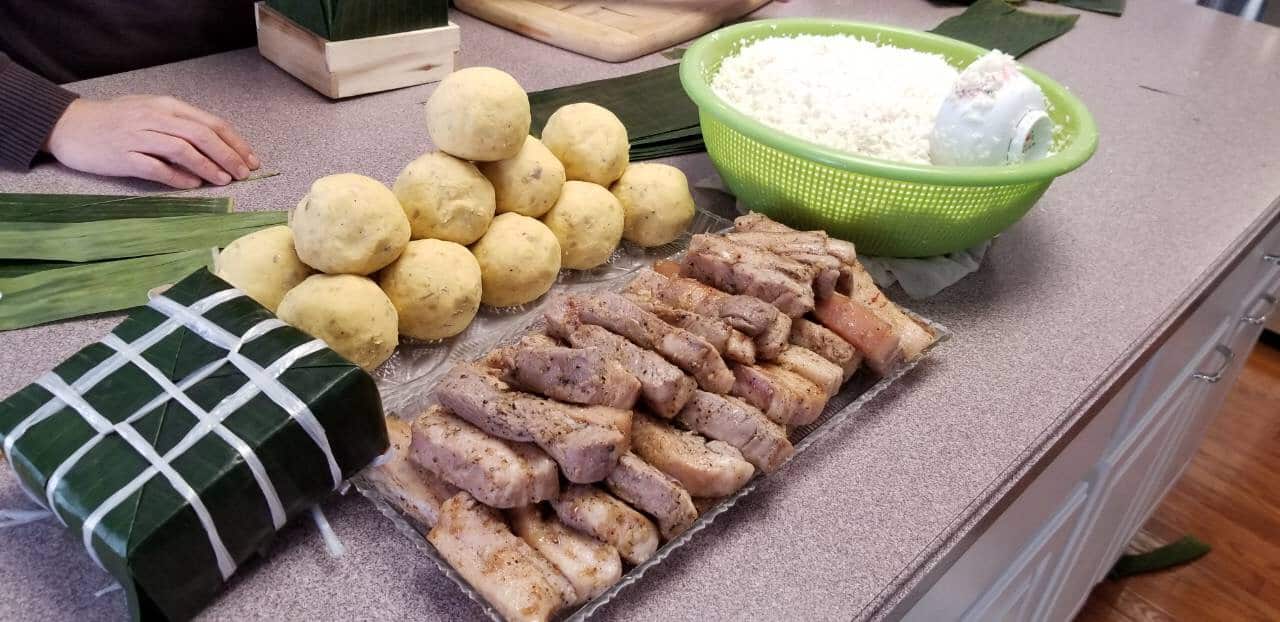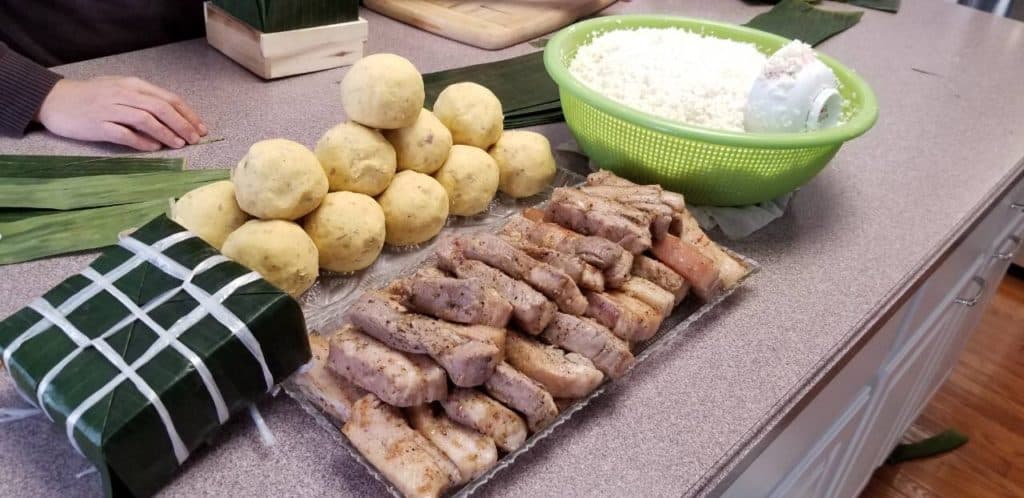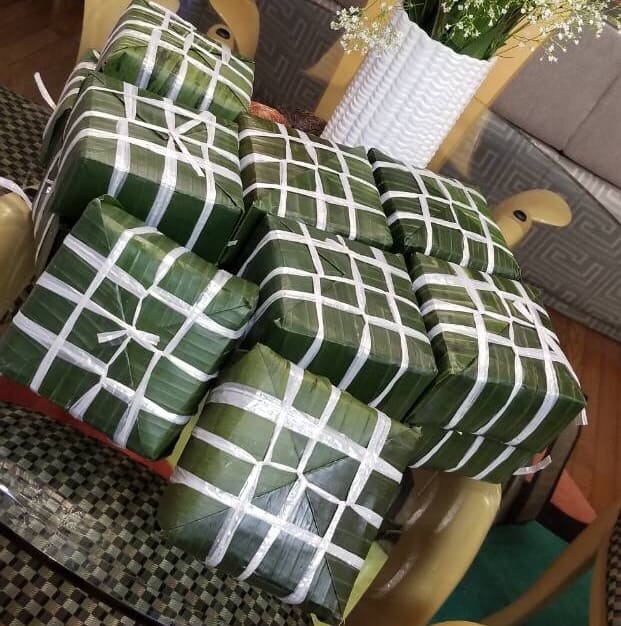 Bánh chưng is a rice cake made with glutinous rice, mung bean, and fatty pork belly. They're very labor intensive to make, and my mom stopped making them after my sister and I moved away. I was SO excited to fly home to some homemade ones.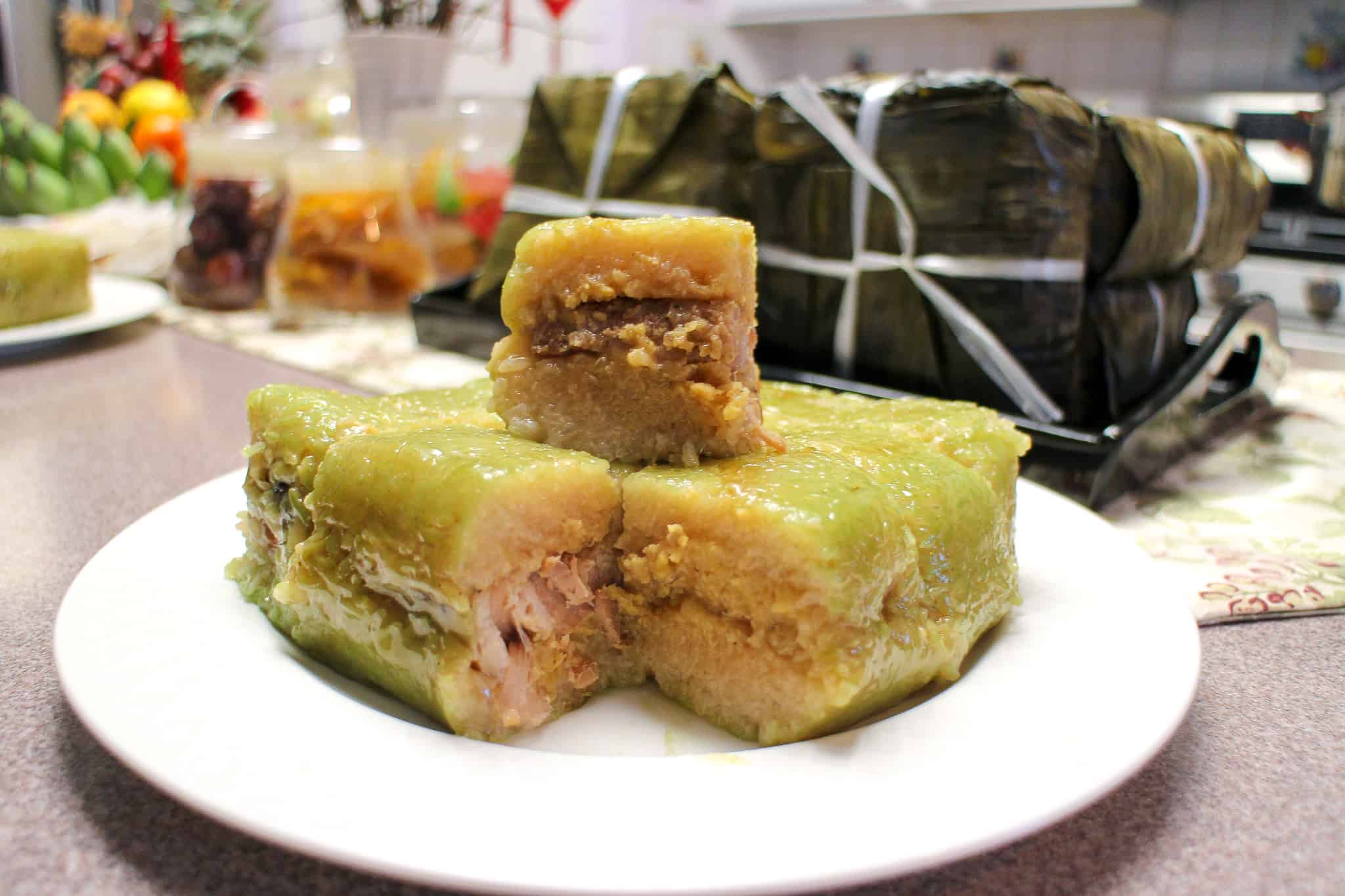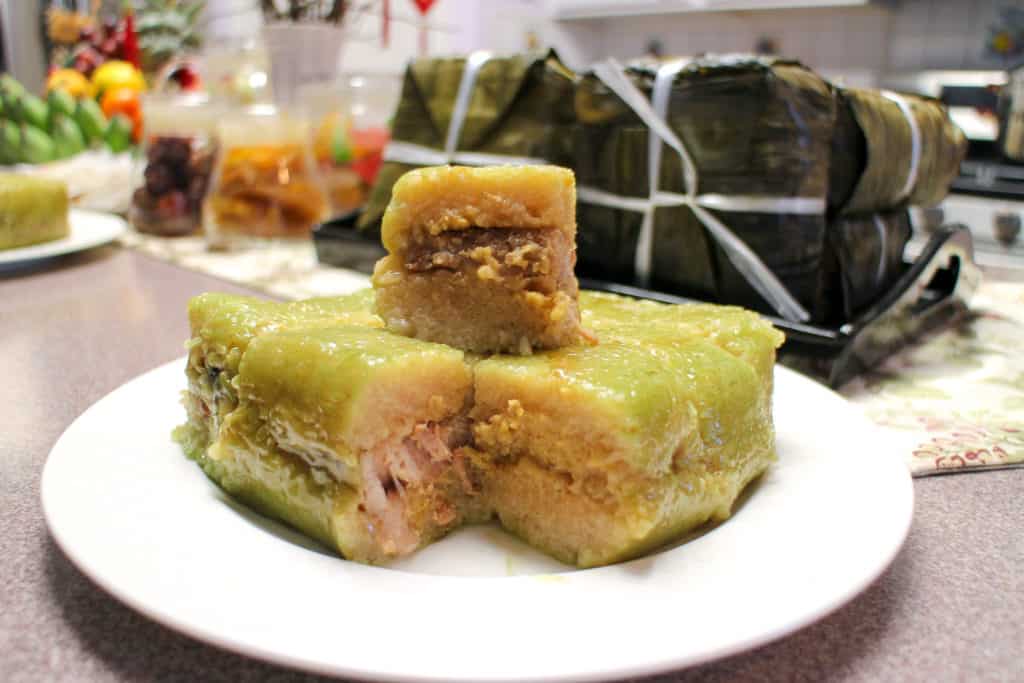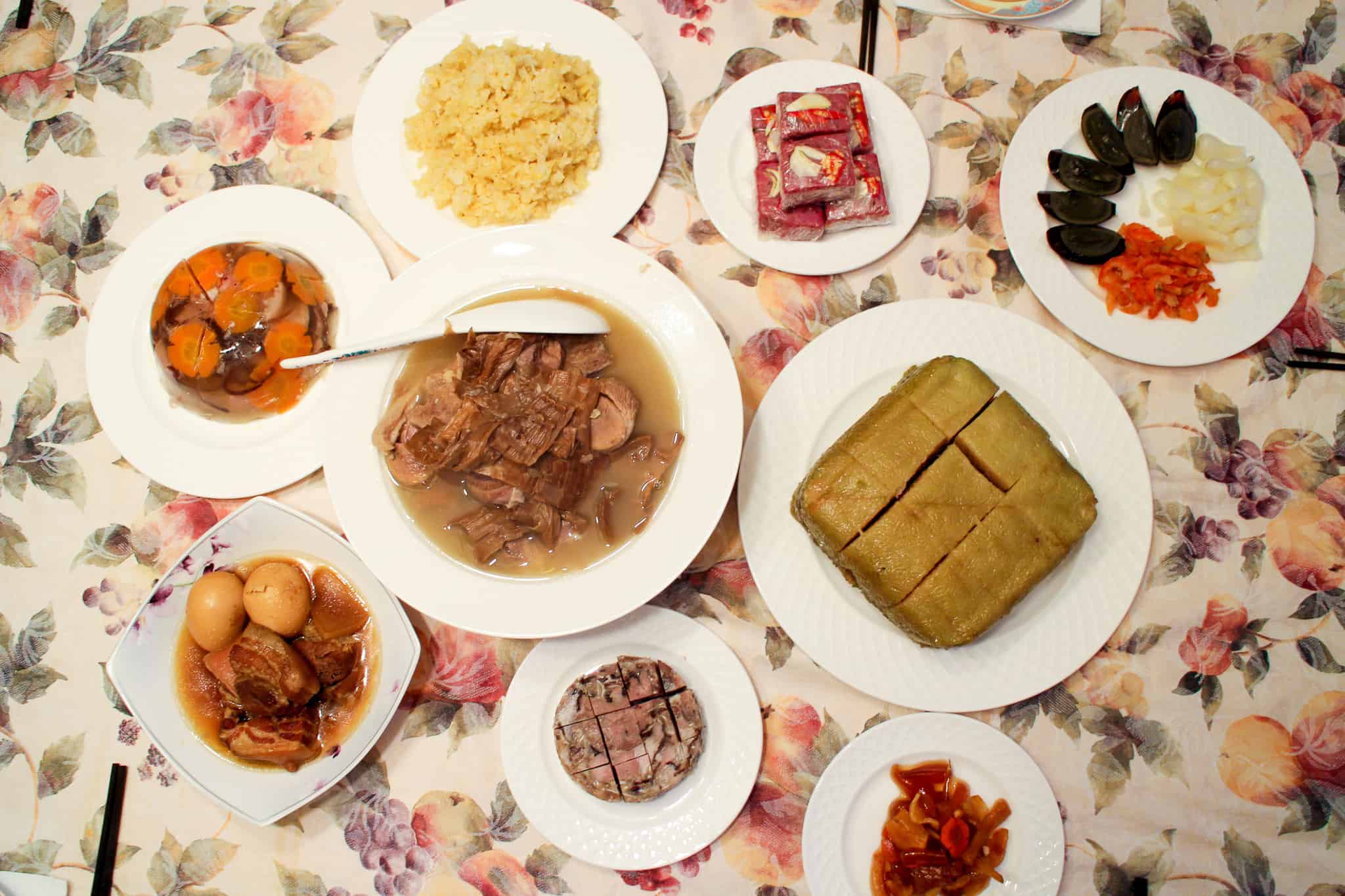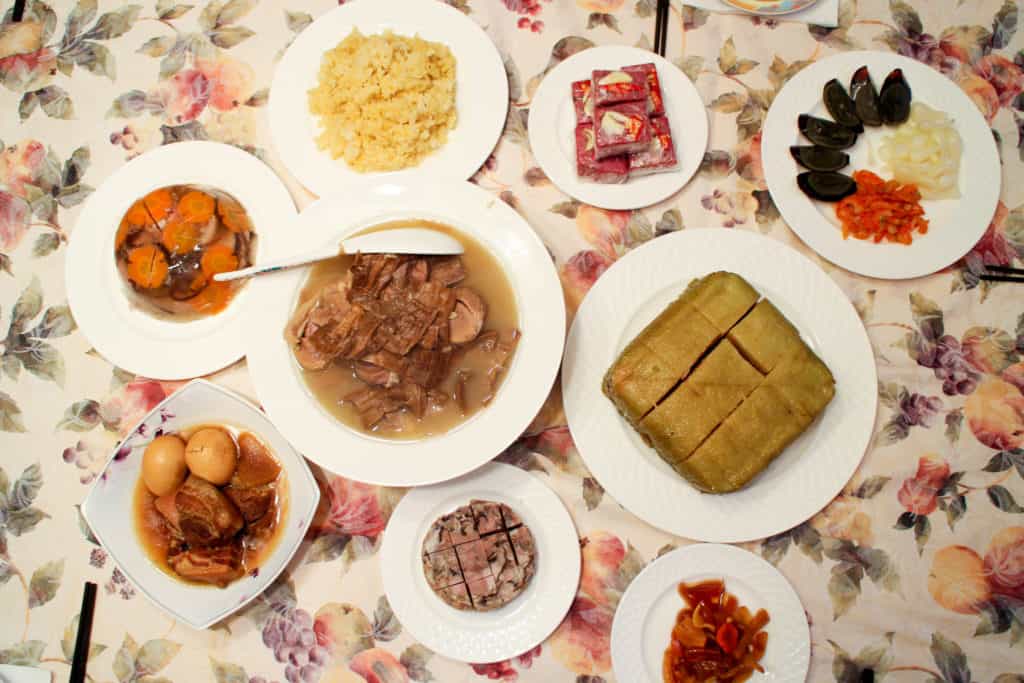 The day after, my family took photos in our traditional dresses. I used to hate the yearly photoshoots, but this year I was eager immortalize the good memories in photos. My mom and I even changed outfits halfway through!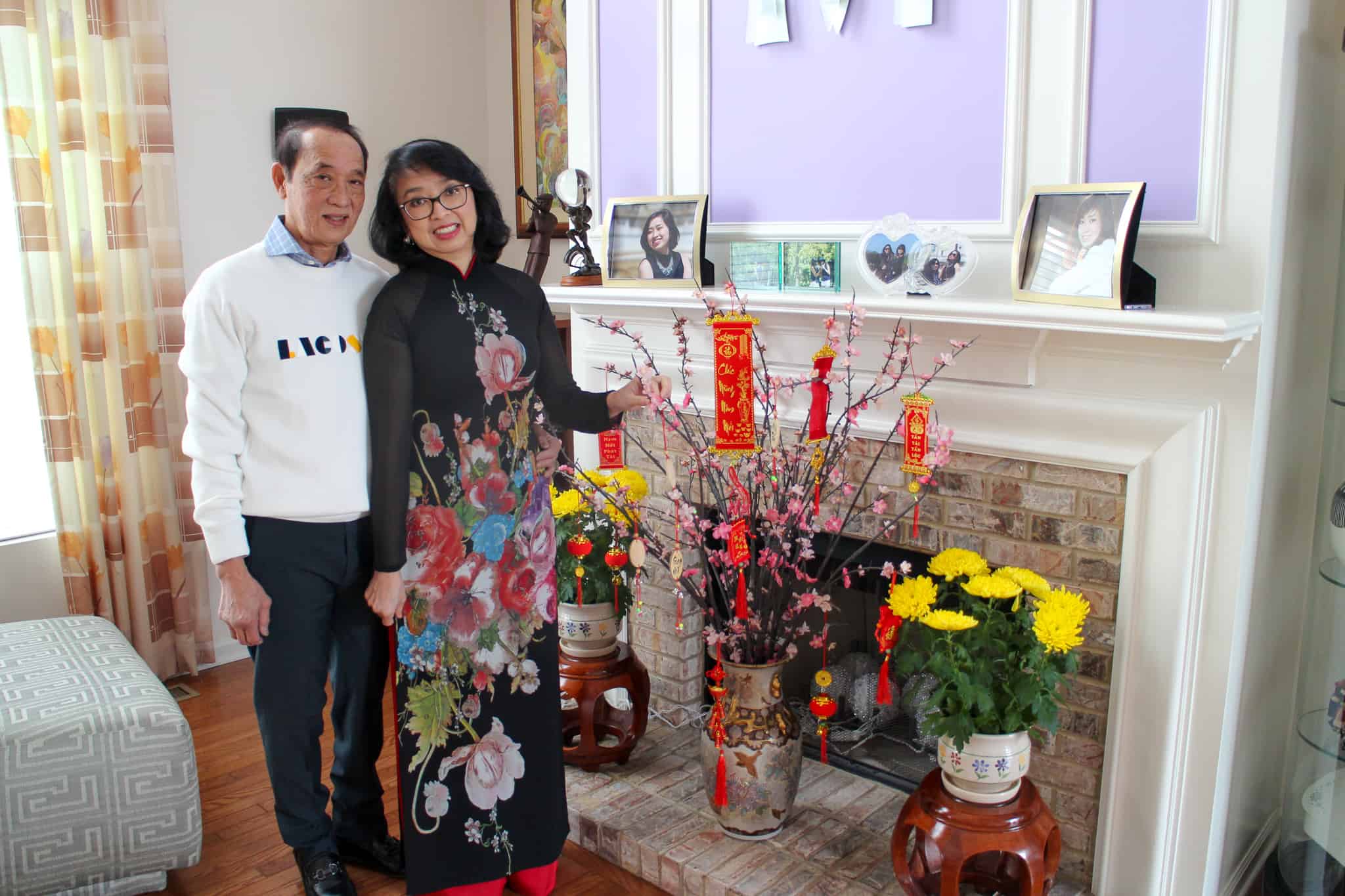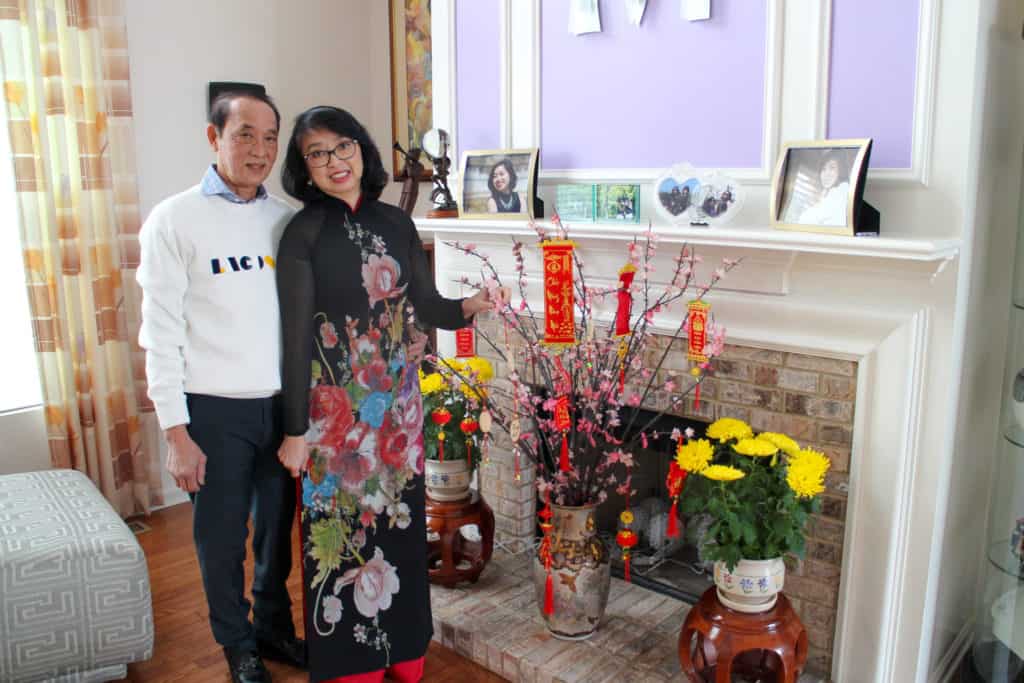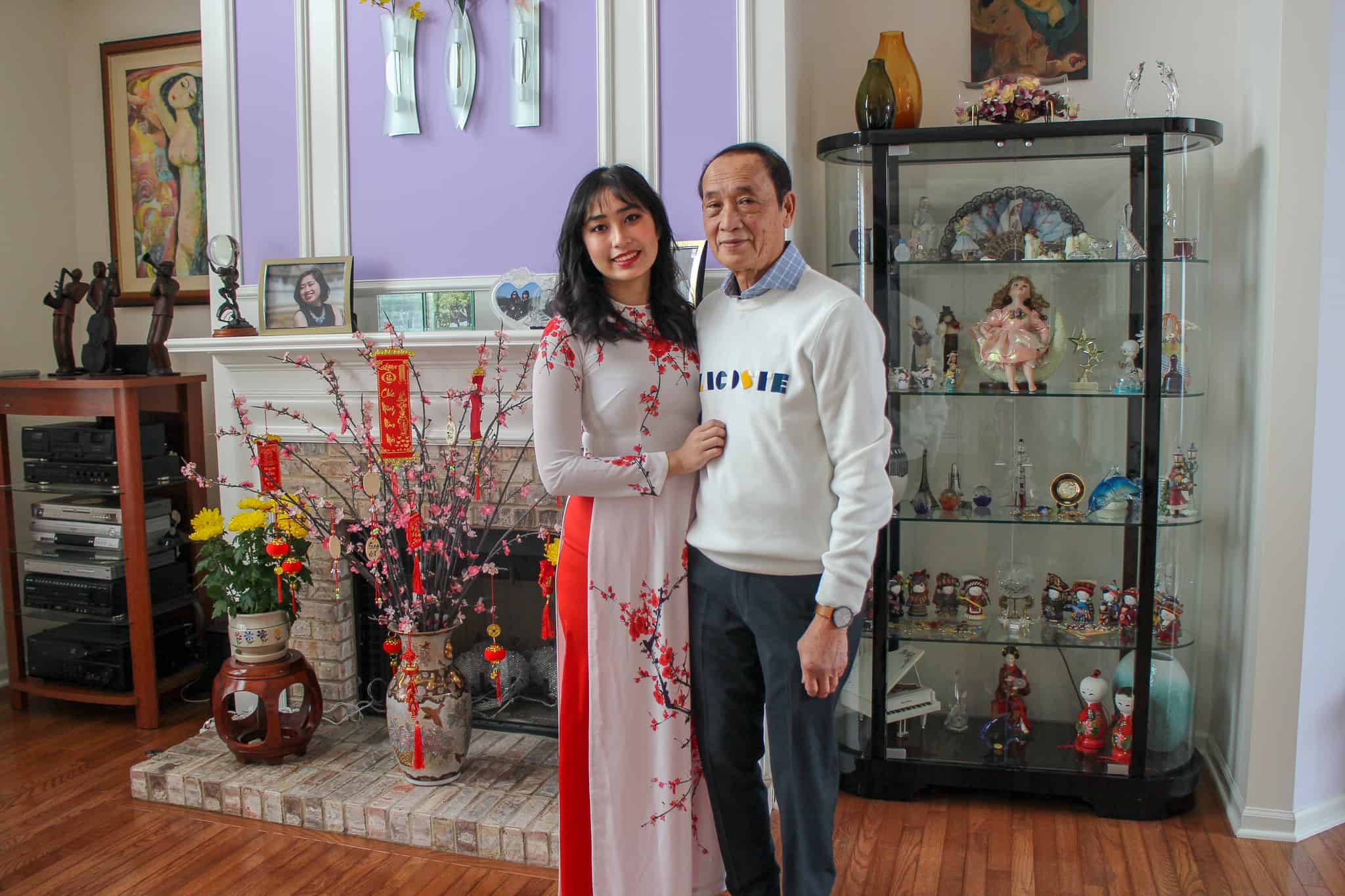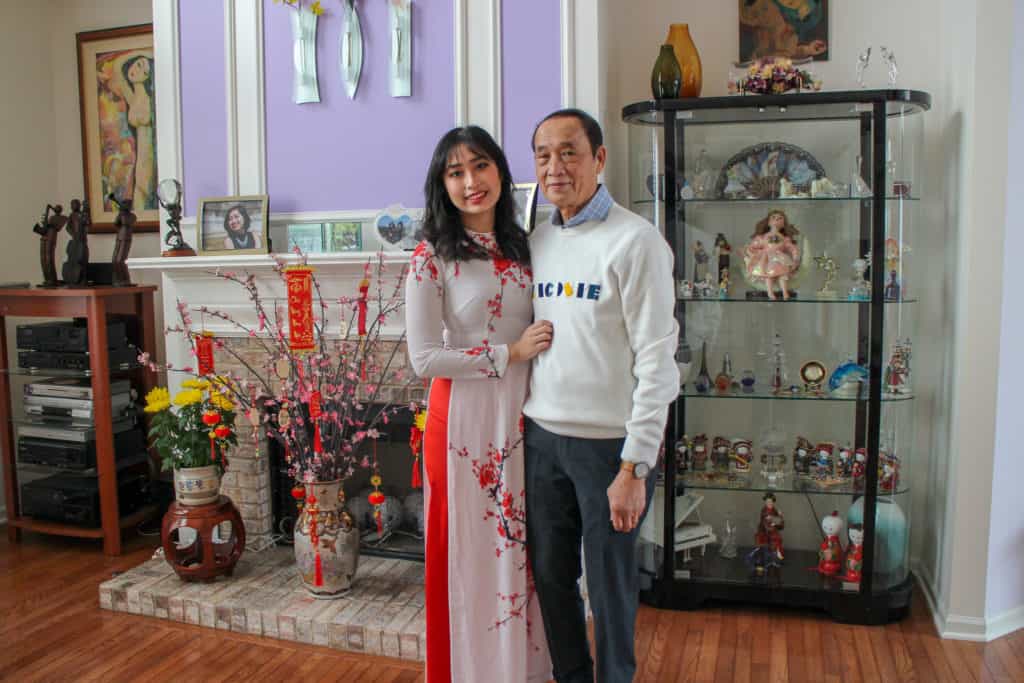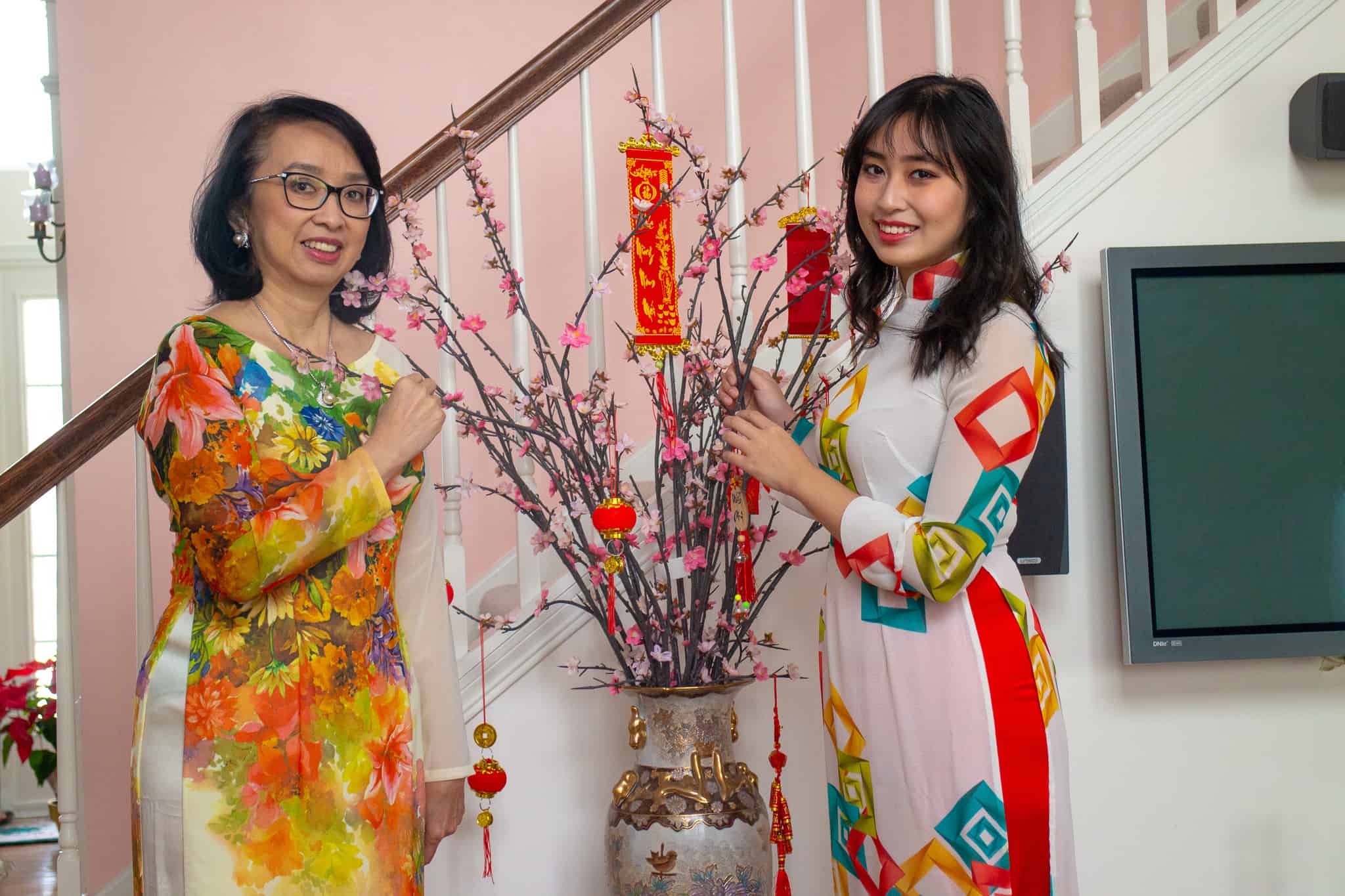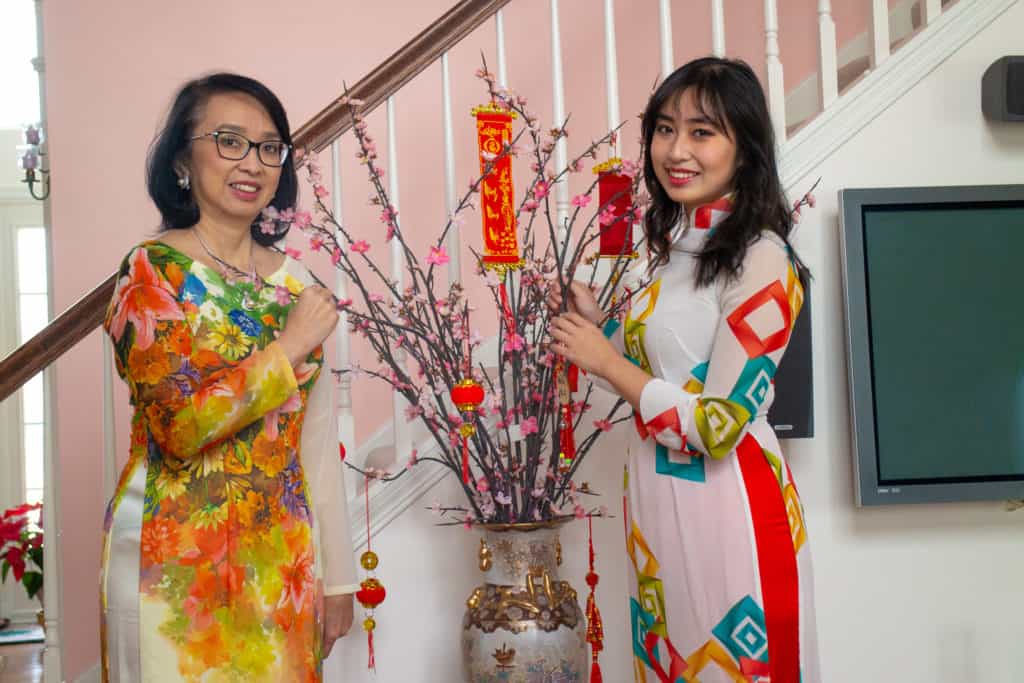 I don't plan on missing any more Lunar New Years in the future; I want as many New Year memories with my family as I can. In a few years, my other uncle will immigrate here, and we'll add even more people to the festivities. I'll try to get time off a little earlier, so I can join in on the bánh chưng cooking too. The older I get, the more I appreciate my parents' efforts to keep our traditions alive, and I can't wait to pass them along to my children some day.