I'm always planning my meals around big events, so with Lent starting this week, I knew I'd have to start planning more meatless meals. I made a big pot of gumbo and a king cake for my coworkers on Mardi Gras, and now I plan on posting some meatless or seafood based recipes for those who want to observe Lent the Vietnamese way. First up is Vietnamese Braised Catfish, or Cá Kho.
What am I giving up for Lent?
It's customary to give something up, for Lent in order to refocus your faith. I prefer to add positive energy to my life, so this year for Lent I'm committing to showing gratitude every day.
I've had an amazing year of growth here in D.C, and there's so many people I owe my success to, from my coworkers, to my long distance best friend and even my therapist. For the next 40 days I'll do something to show my gratitude to one of these people.
This recipe comes from my mom, as most of my recipes do. There's no one that deserves my gratitude more than she does. She and my dad started with nothing when they immigrated to the U.S, but my sister and I felt like our needs weren't met growing up. She's taught me invaluable life lessons over the years, and I wouldn't be the woman I am without her. Most importantly, she passed her love of cooking on to me! I don't tell her I love her nearly enough, and it's hard not seeing her every day now that I've moved out, but cooking with her recipes always makes me feel closer to her.
This braised catfish dish is a favorite of hers. It cooks in no time, and it's deliciously spicy and rich on top of a bed of warm rice. If you can find or pickle your own mustard greens, the brininess and kick from the greens compliments the fish extremely well.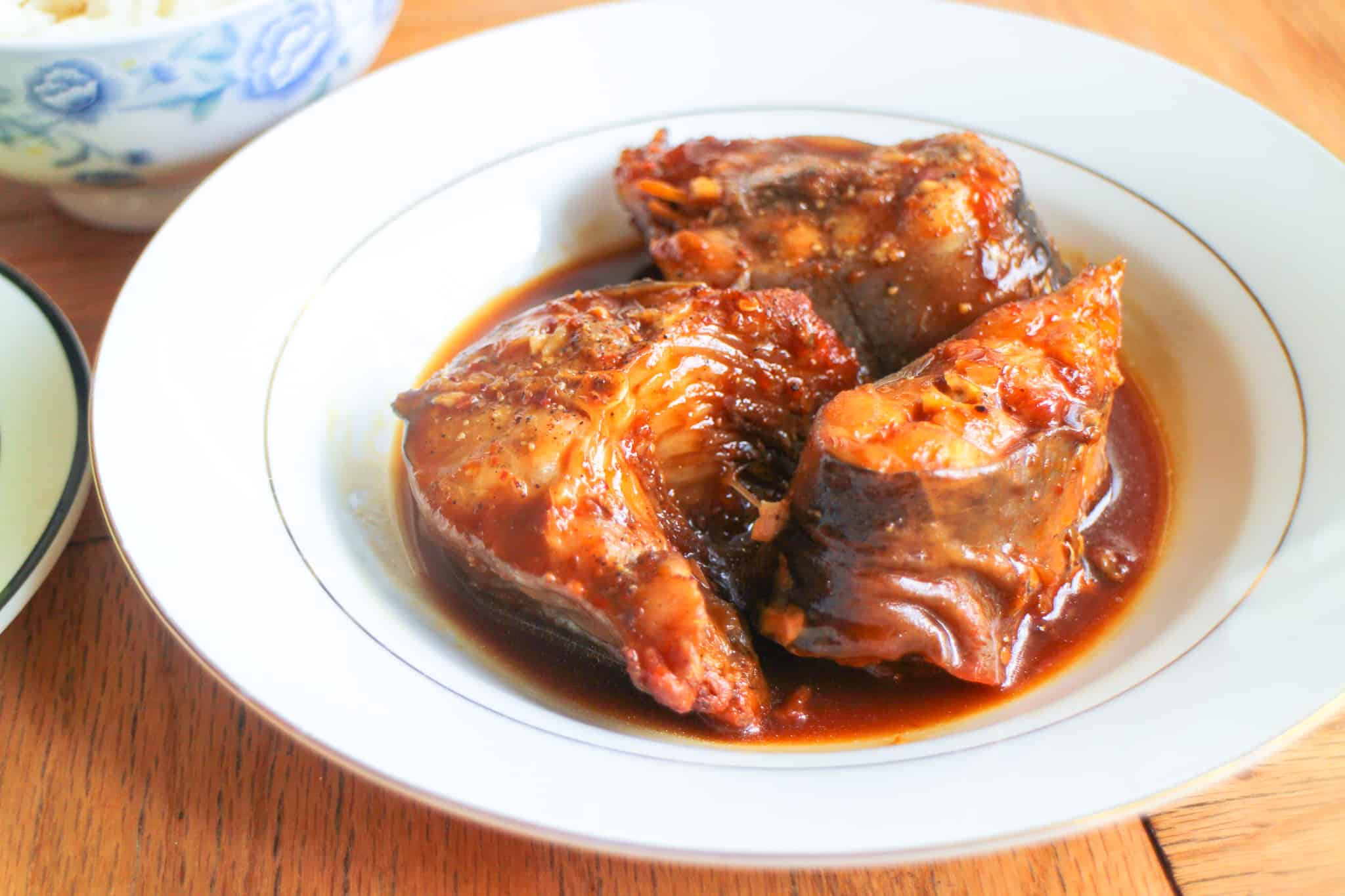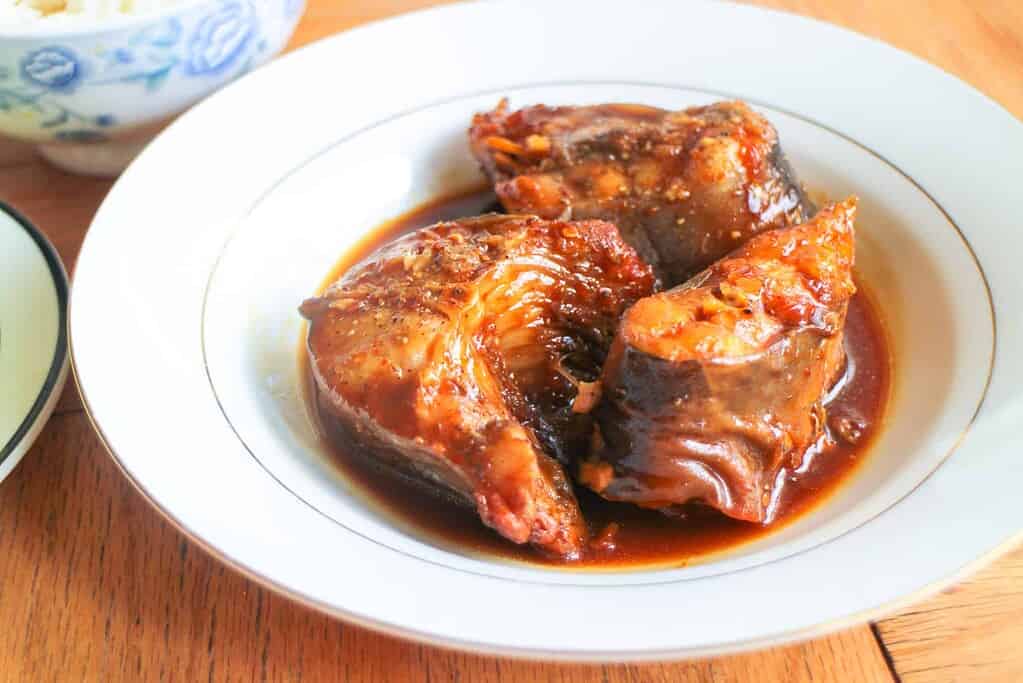 Vietnamese Braised Catfish (Cá Kho): Step-by-step instructions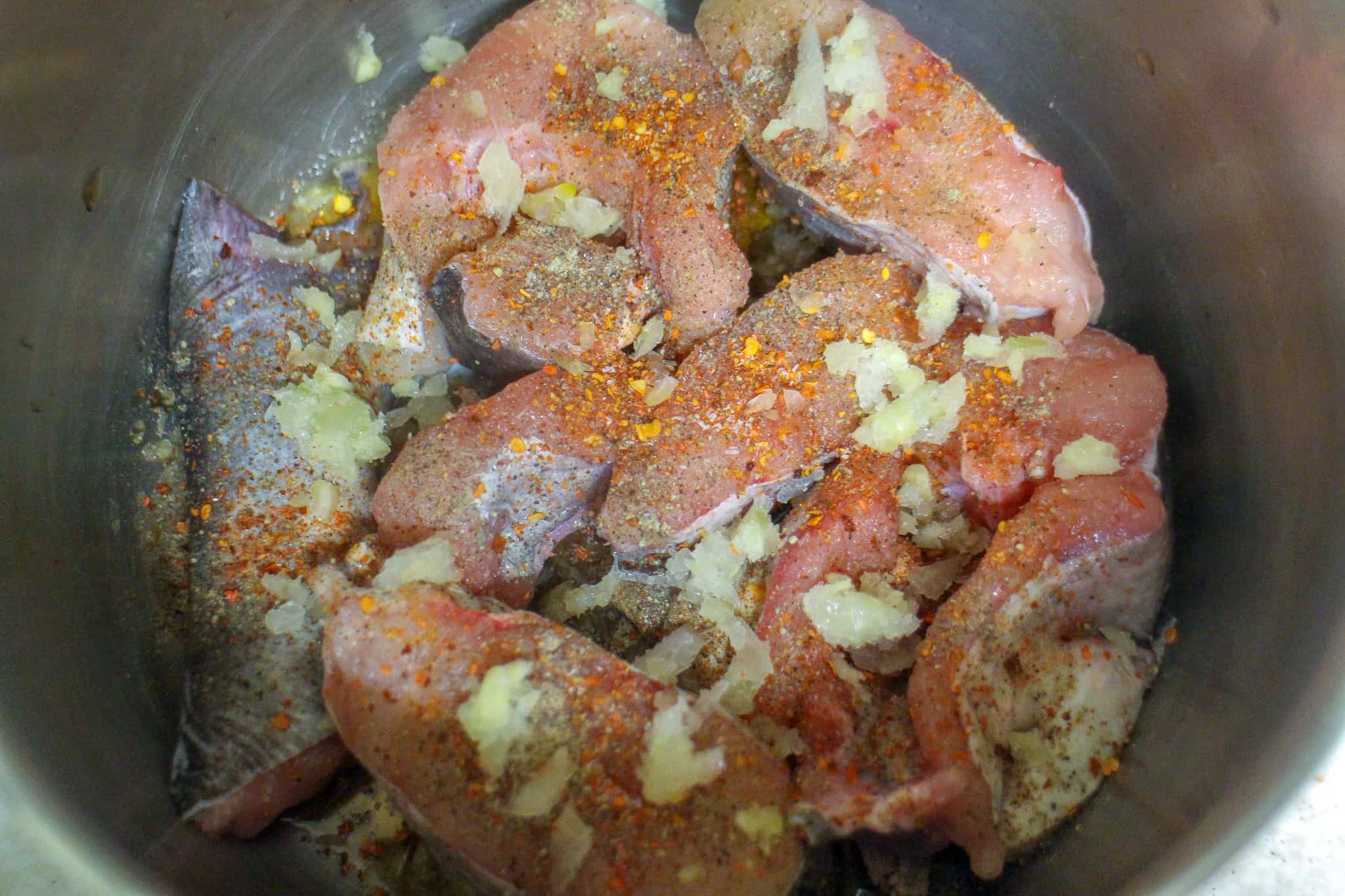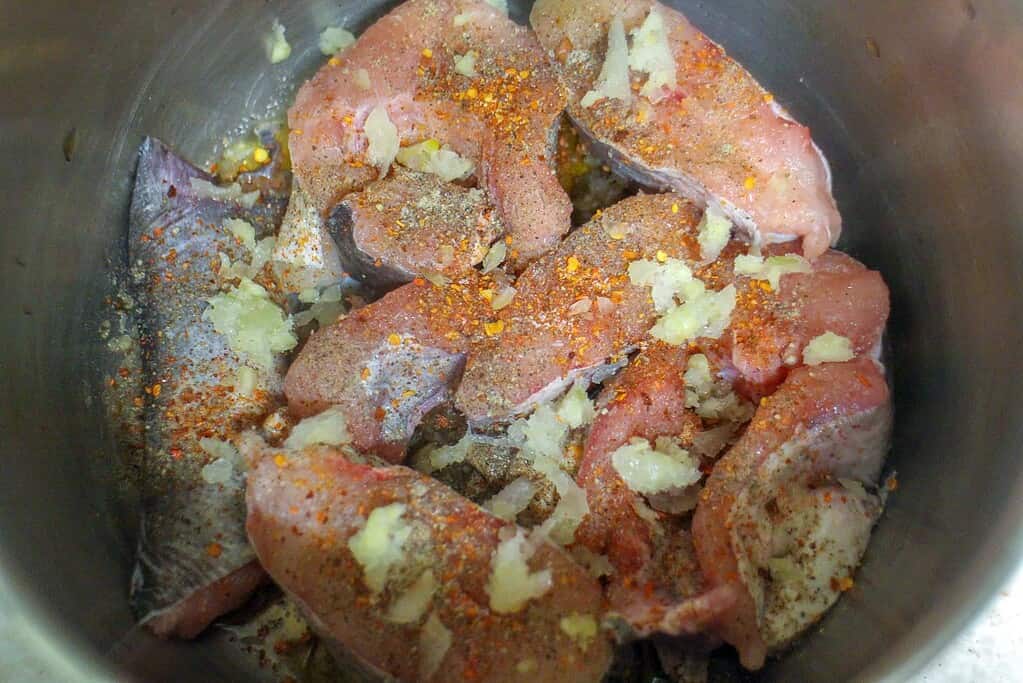 Arrange your chopped catfish in a single layer at the bottom of a small pot. Find a pot that just fits every piece of fish without any extra space. You can find whole catfish at most grocery stores, and ask the butcher to clean and cut the fish for you.
Season the fish with salt, pepper, fish sauce, chili flakes, garlic and shallot. You don't have to mix the fish up, just drizzle and sprinkle everything over the pieces as evenly as you can. Then, put the lid back on the pot and let the fish sit for at least 30 minutes.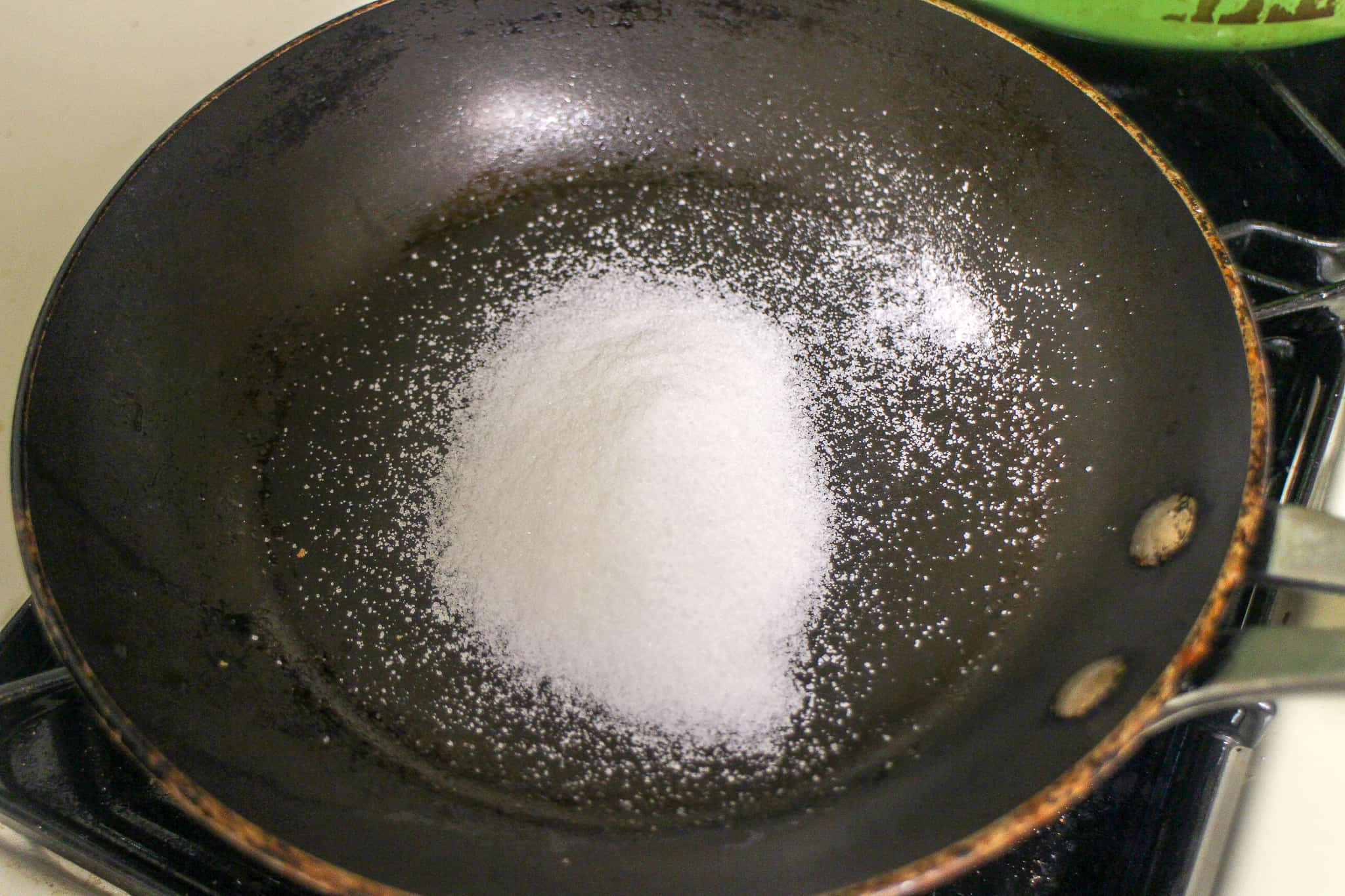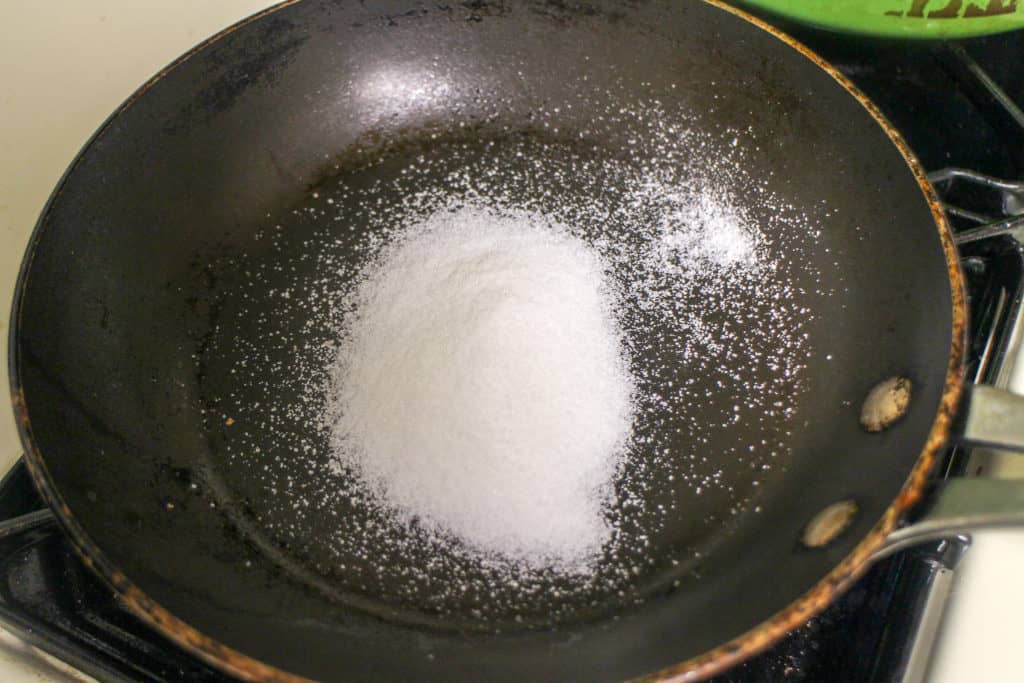 Add a little oil to the fish and begin to cook on medium heat. While the fish is cooking, begin to heat up granulated sugar on high heat.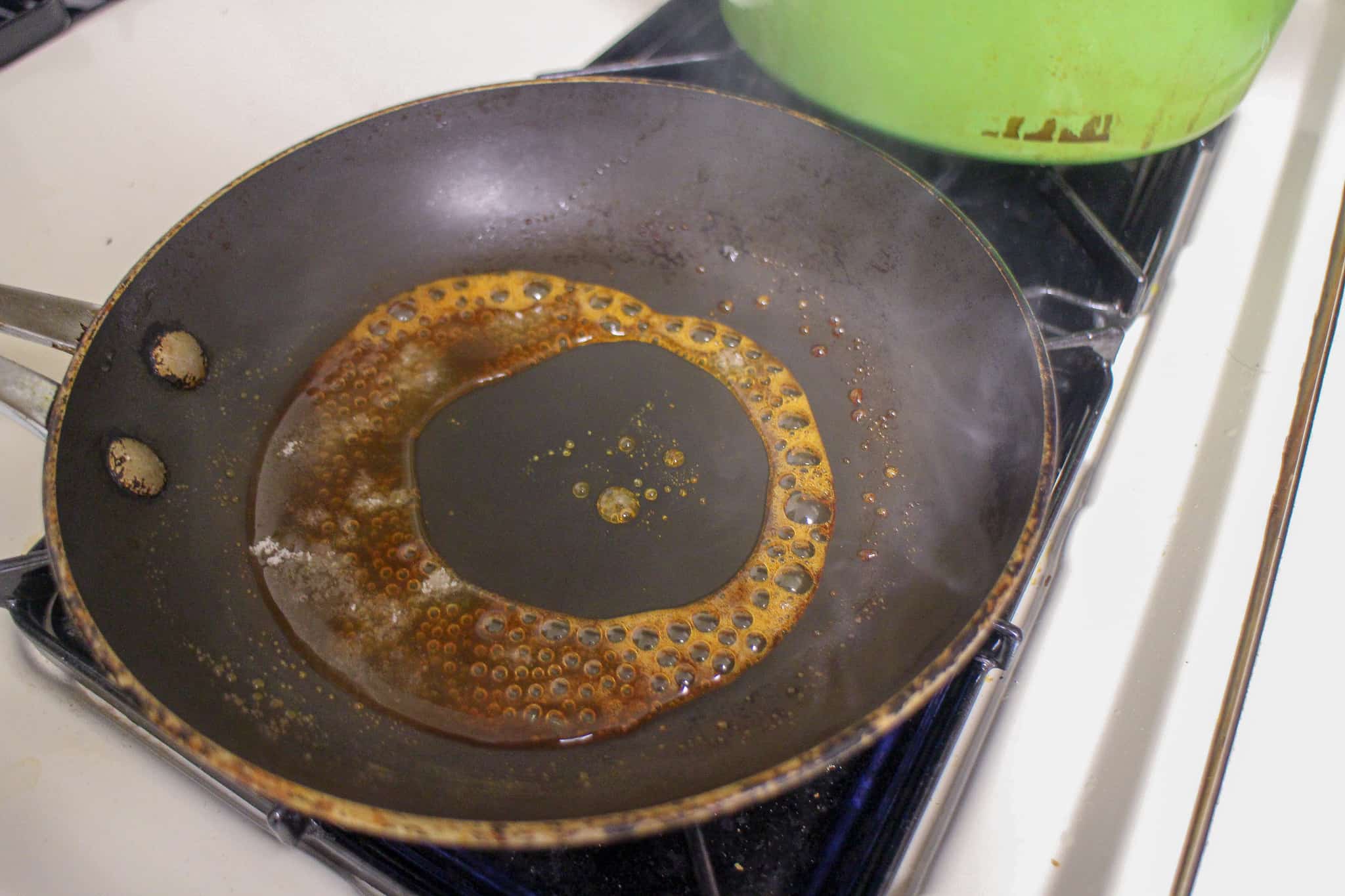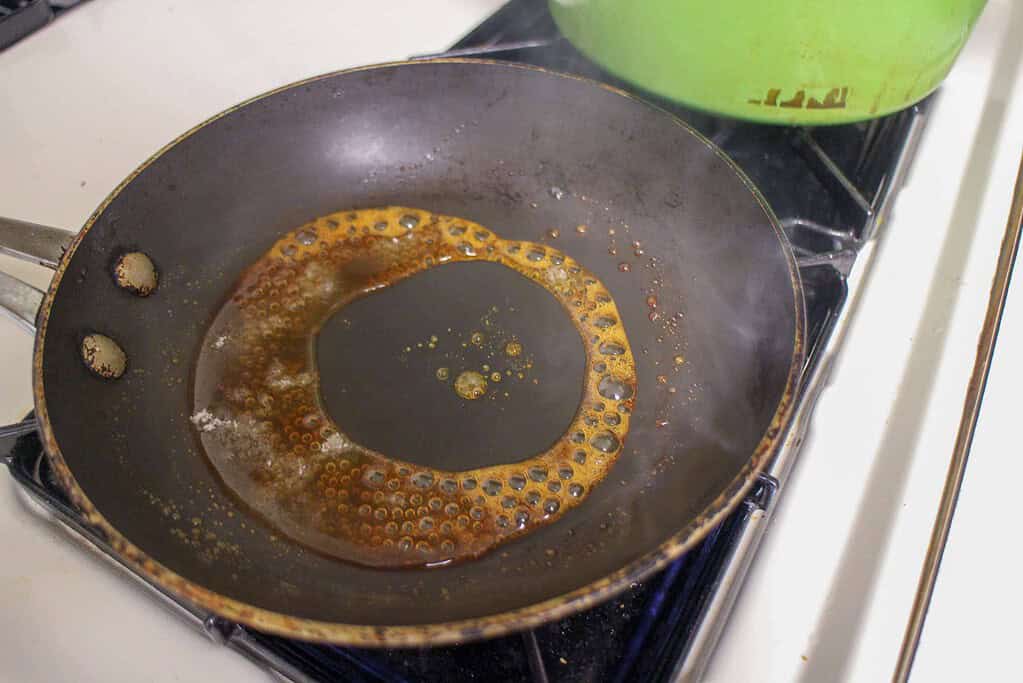 The sugar will rapidly start to melt and change color. This is the caramel sauce that gives the dish it's distinct color. The caramel is ready when the all of the liquid begins to bubble and turn dull. The sugar is about halfway done in the photo above.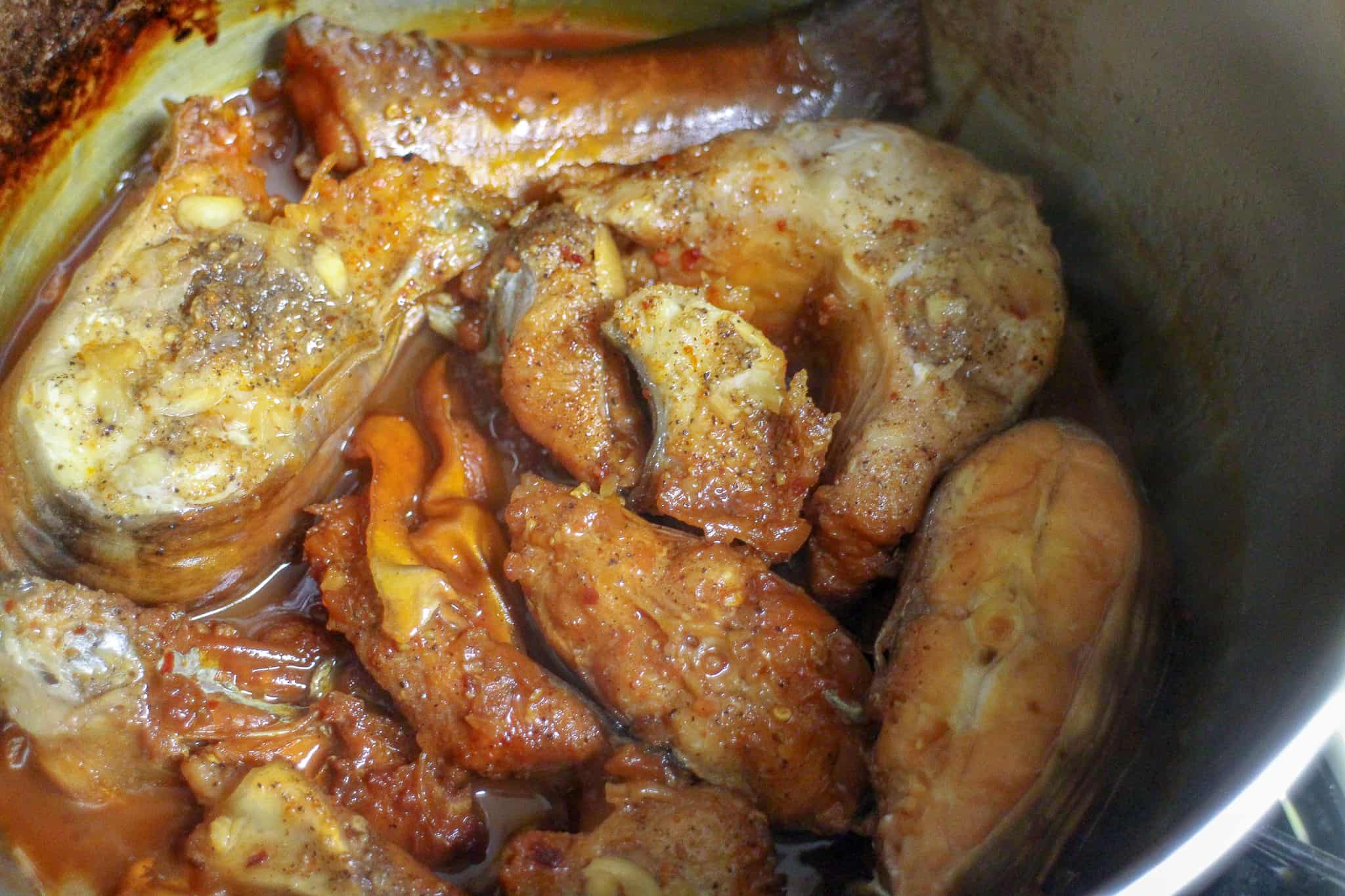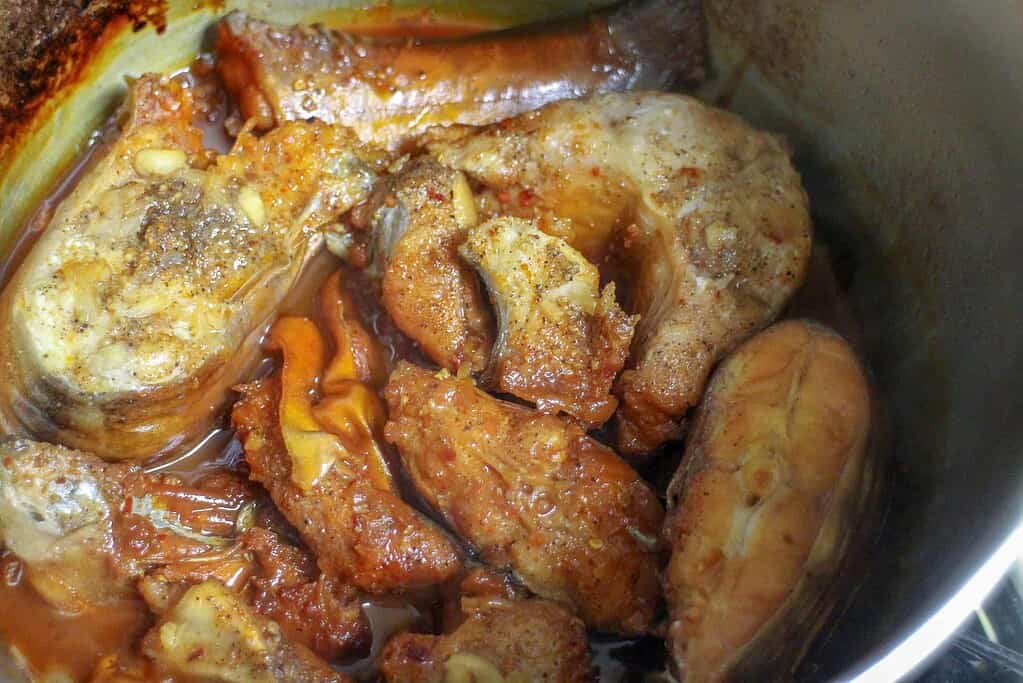 Once the sugar is ready, pour a enough water into the pan in order to dilute the caramel. The sugar is VERY hot at this point. The water will sizzle and begin to boil away. Work quickly and pour the entire mixture on top of the cooking fish immediately.
At this point, you can turn the heat down until the fish is just simmering and put the lid back on the pot. Continue to simmer the fish for about 20 more minutes until it's cooked through. Check on the braising liquid every few minutes and add more boiling water if it becomes too dry.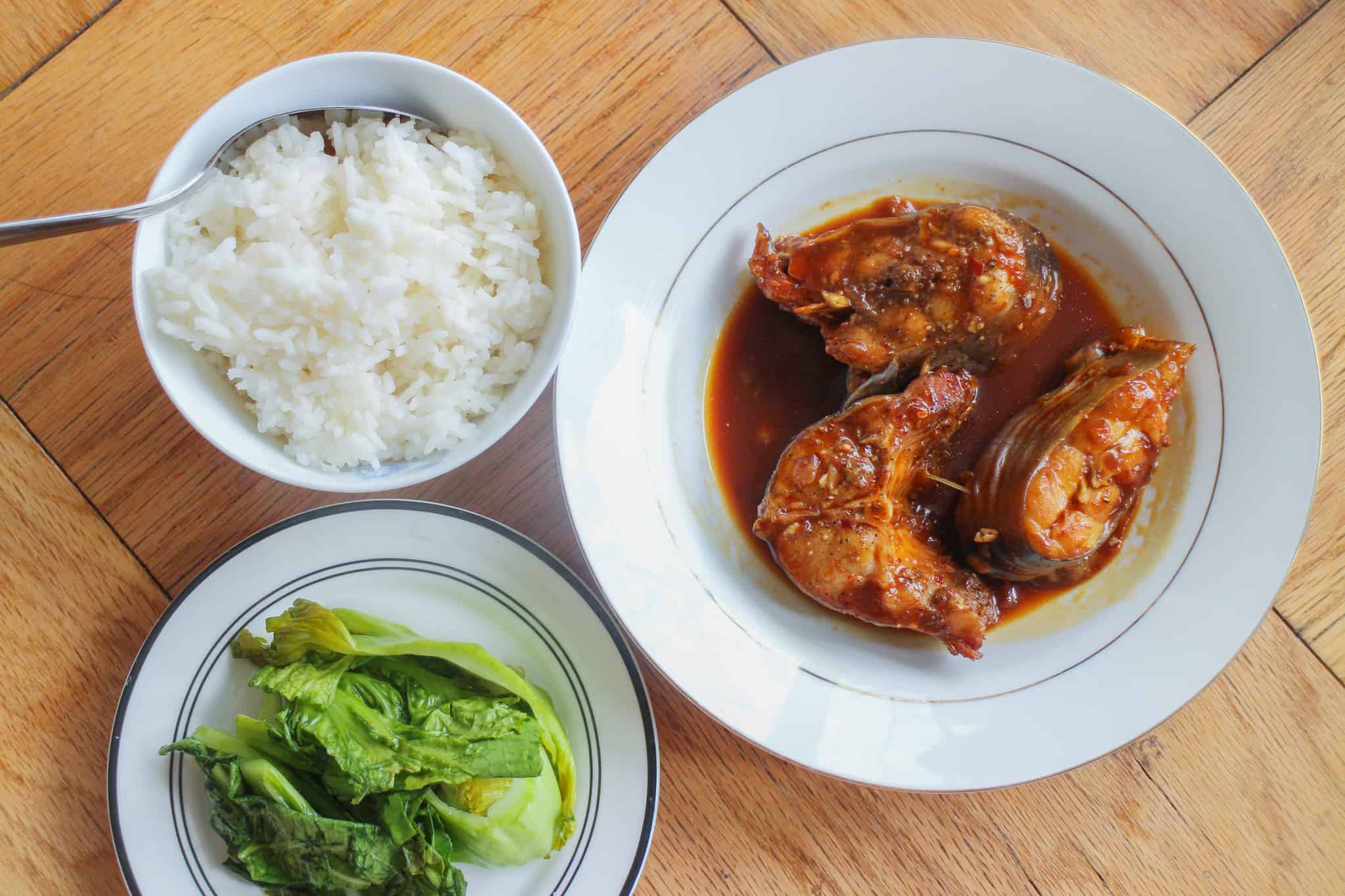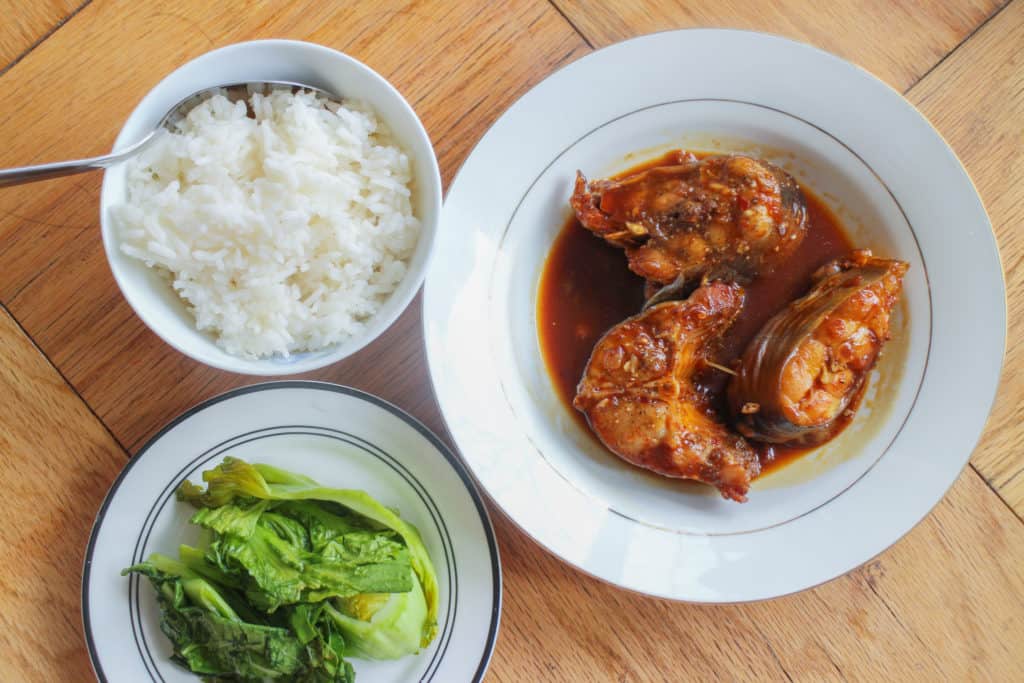 Notes
My family always uses catfish, but any other fish steak would work as well, so experiment with your favorite cuts. Catfish works well because it is higher in fat and retains its moisture even after the long cook time.
---
Vietnamese Braised Catfish (Cá Kho) - A Recipe for Lent
Braising this catfish brings out its richness. It's the perfect comfort meal on top of a hot bed of rice.
Ingredients
1

medium catfish

descaled and cut into steaks

2

tablespoon

fish sauce

1

shallot

minced

2-3

cloves

garlic

minced

½

teaspoon

chili flakes

add more to taste

salt and pepper to taste

1

tablespoon

vegetable oil

2

tablespoon

granulated sugar

½

cup

water
Instructions
Arrange your fish steaks in one layer at the bottom of a heavy bottomed or stainless steel pot

Sprinkle fish sauce, shallot, garlic, chili flakes, salt and pepper on top of the fish. Cover and let rest for about 30 minutes.

Add oil to the fish and set on medium heat. In the meantime, make your caramel.

Make the caramel by heating sugar on high heat until it is a deep brown color. Be careful not to burn the sugar.

Add water to sugar and immediately pour mixture on top of fish.

Bring to a simmer and cook covered for 15-20 minutes. Check every few minutes and add boiling water as necessary if the liquid boils away too quickly.

Serve with white rice and pickled mustard greens.
Nutrition
Did you make this recipe? Tag @bun.bobae on instagram and hashtag it #bunbobae!
---
Don't miss a single recipe! Sign up below for recipes in your inbox:
---
Loved this Recipe? You might also like:
---