It's currently below freezing and extremely windy in D.C right now. I'm curled up on the couch sniffling a little. In Chicago, when it got this cold my mom would often make a big batch of this pork spare rib soup, or canh sườn . The clean, clear soup is super light, but the ribs and potatoes still make this a hearty meal. The best part? You only need a few ingredients, and you can throw the whole thing in a Crock Pot!
If you don't have a Crock Pot, you can also cook this on the stove. It won't take as long, but you will have to keep an eye on it, and the ribs won't quite have that fall off the bone tenderness that I love.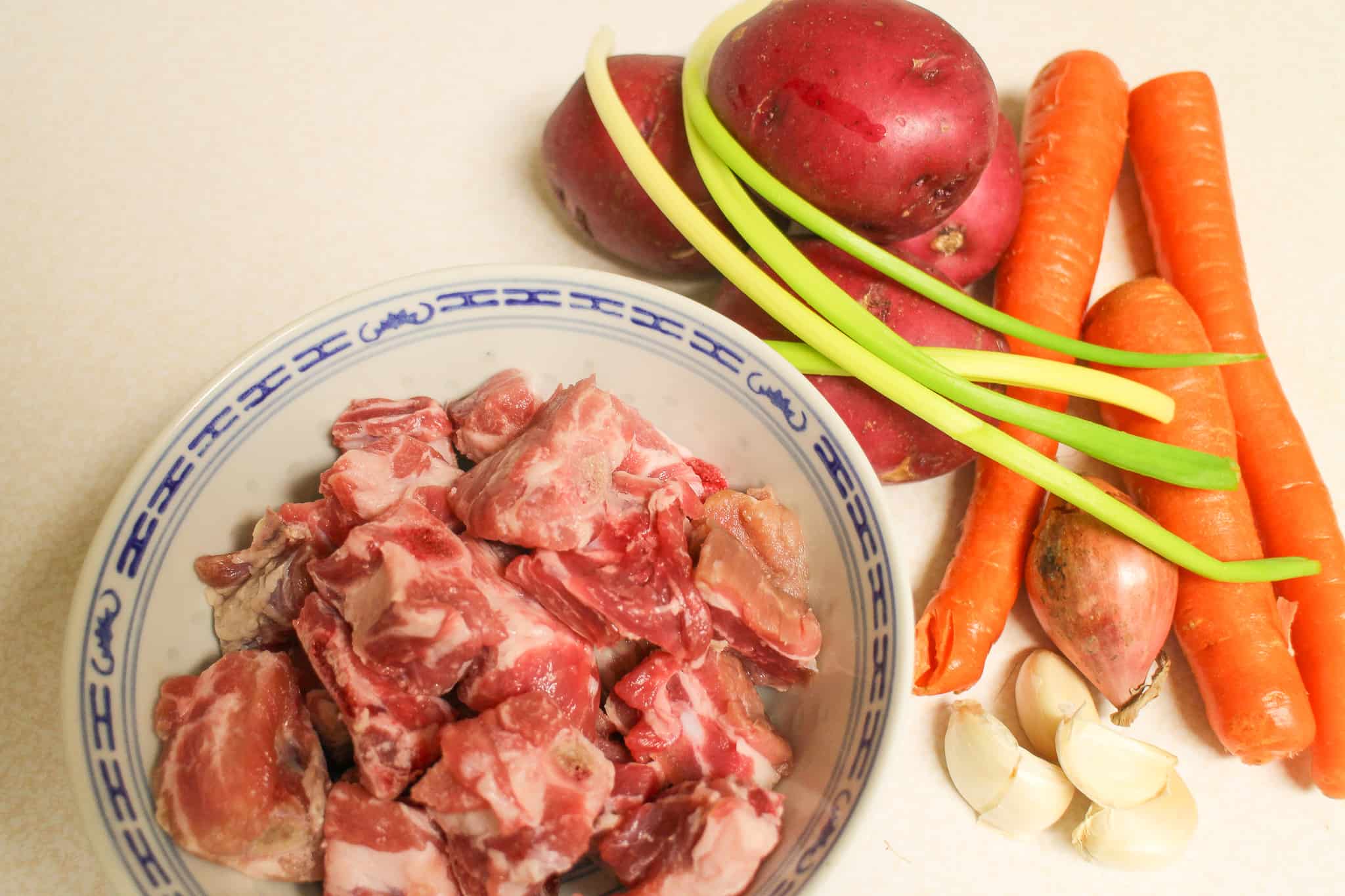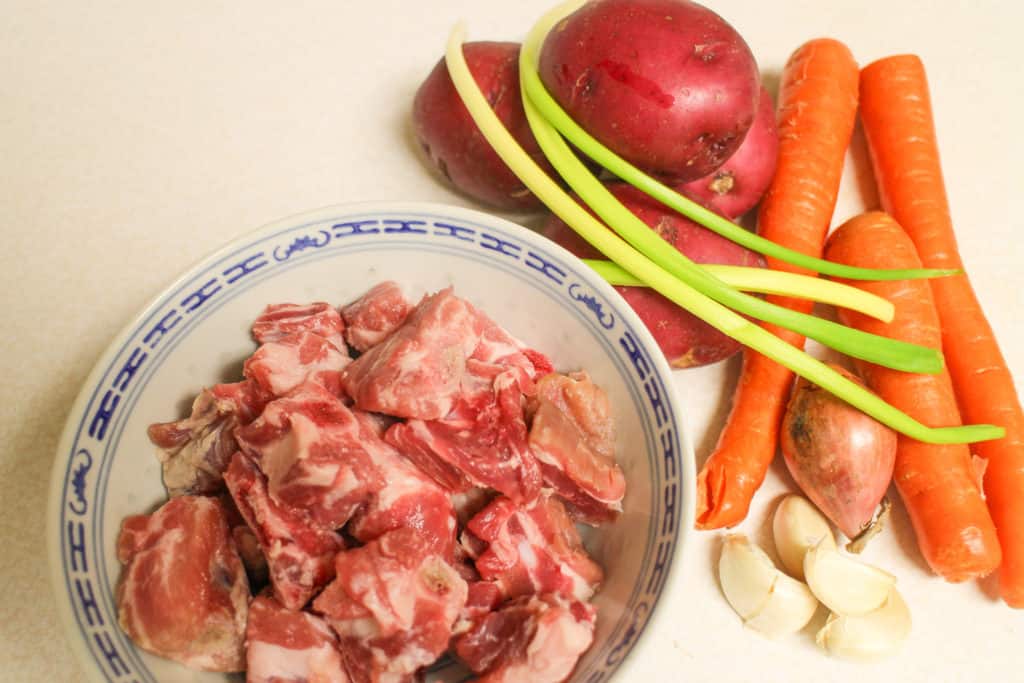 Canh sườn (Pork spare rib soup) step-by-step instructions
Whether or not yo're using Crock Pot or stovetop method, you'll need to parboil your ribs. Add enough water in a pot to just barely cover the ribs, and plenty of salt. Bring to a boil and then immediately drain and rinse the ribs. You'll notice grayish scum rising to the top of the liquid. Parboiling removes these impurities and results in a clearer broth for your end product. You know you've made a good pork spare rib soup if your broth is super clear.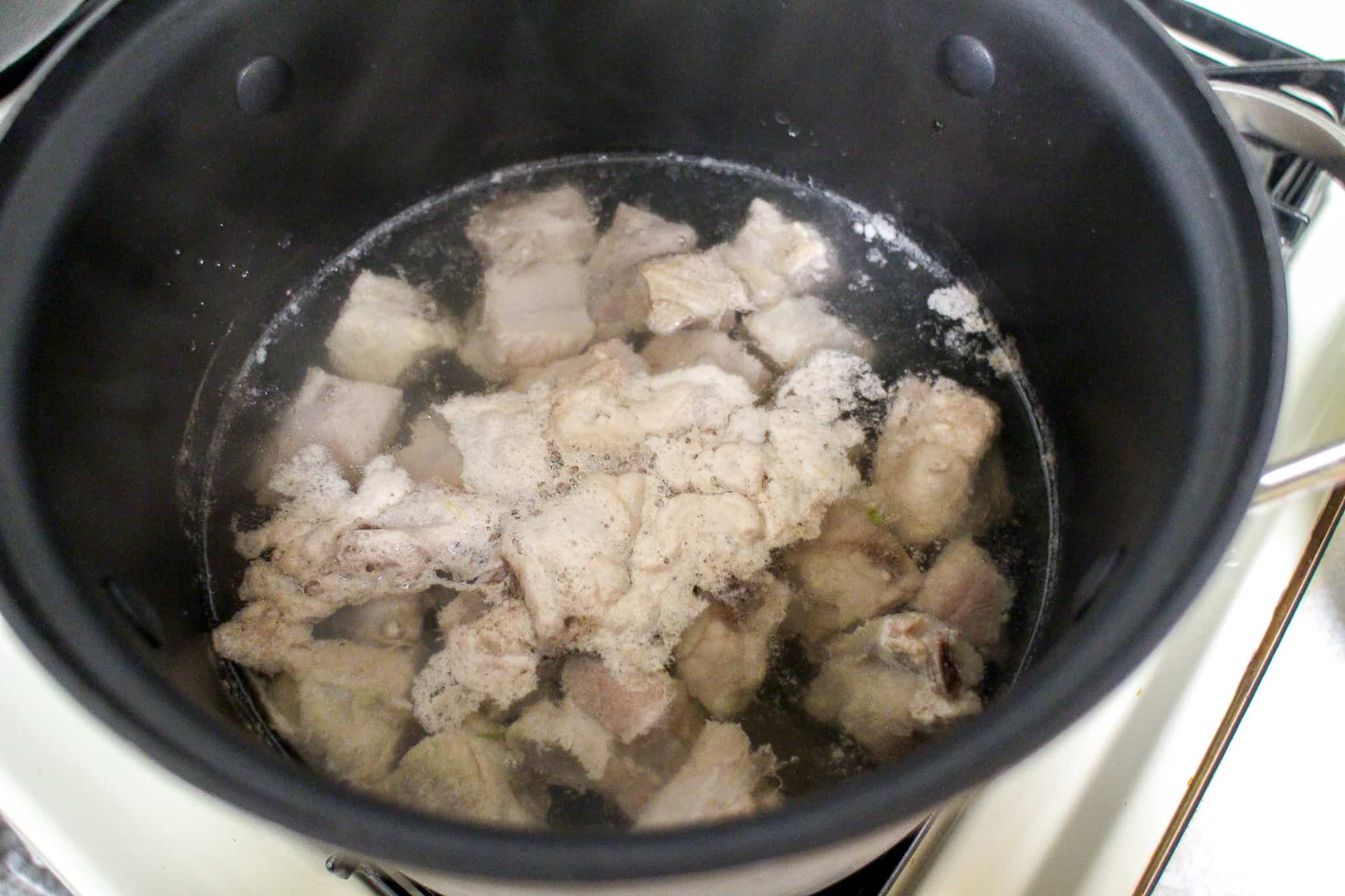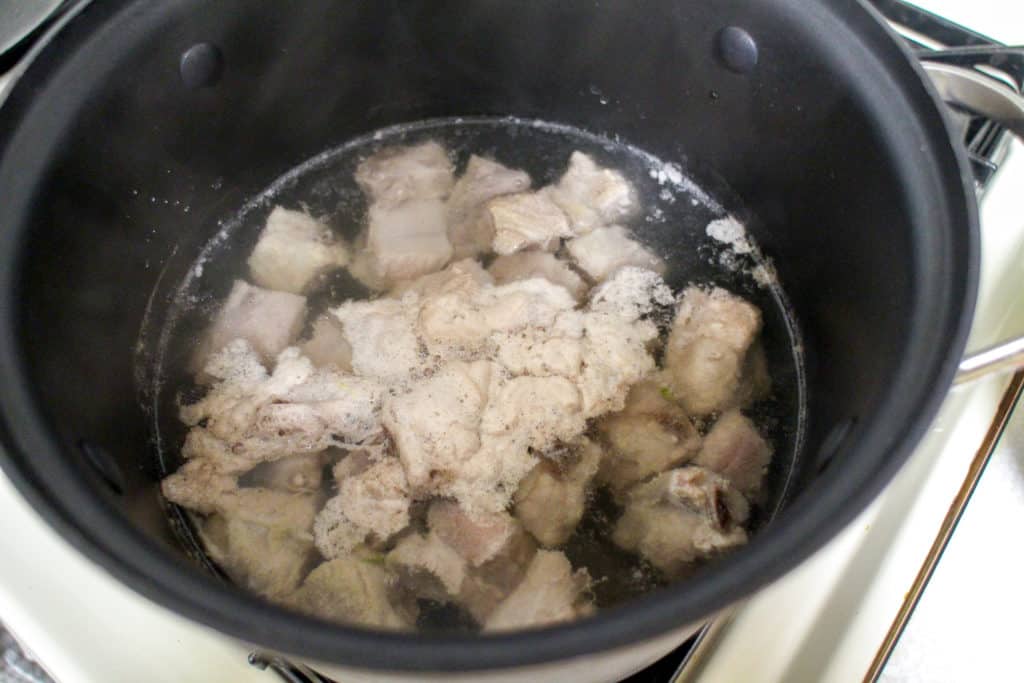 After you've rinsed off the ribs, marinate them with the Vietnamese classics: Fish sauce, shallots, garlic, salt and pepper. I use this combination of flavors A LOT in my recipes. My mom never skimped on the shallots and garlic in any recipe. This flavor base makes any dish immediately recognizable as Vietnamese.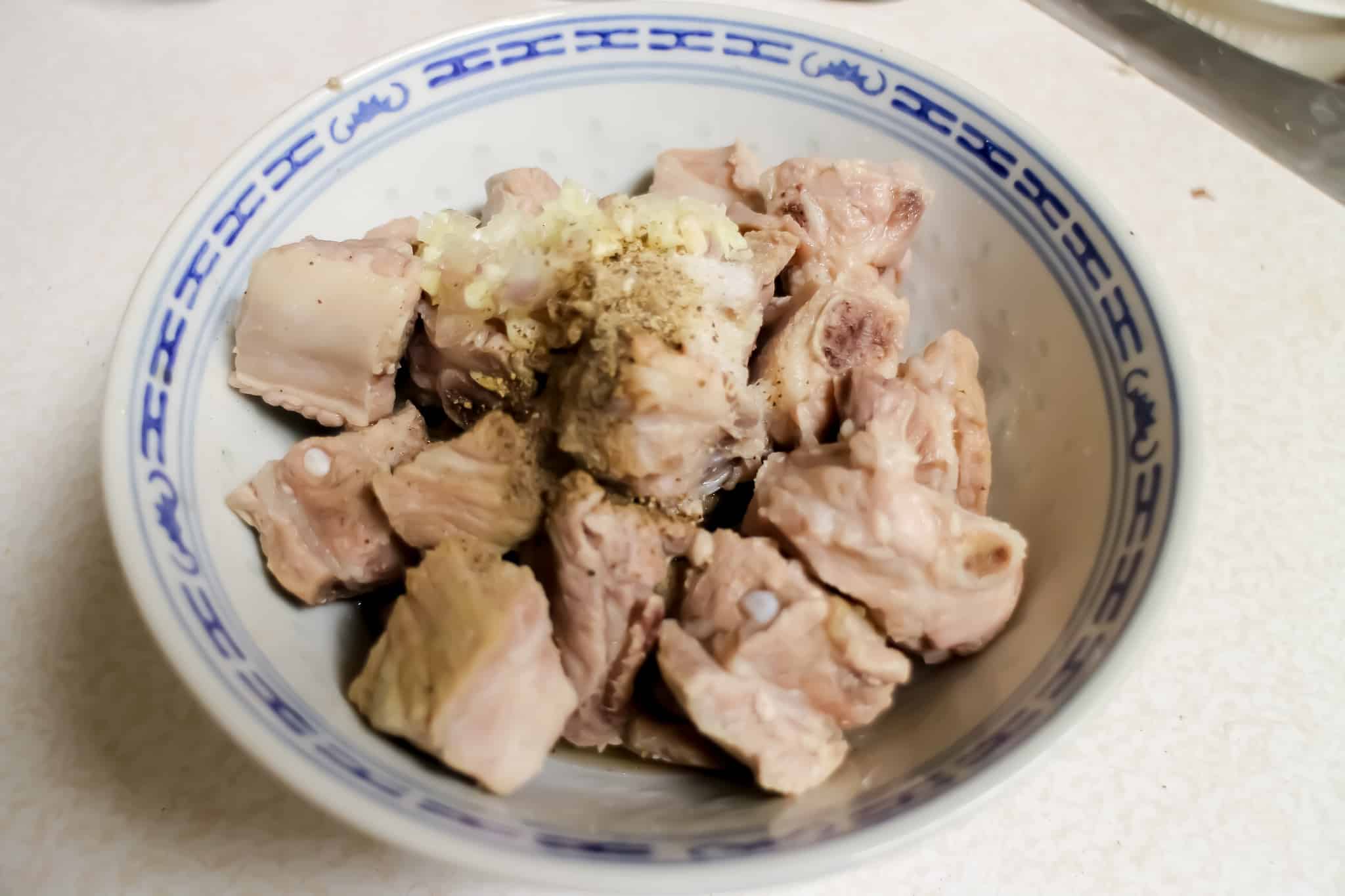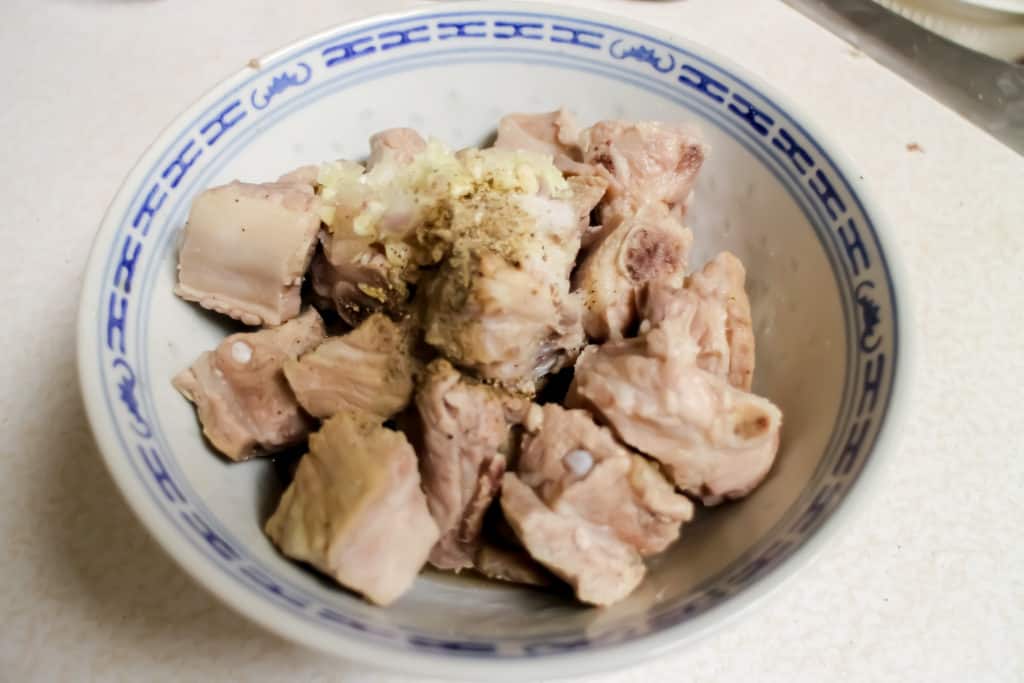 While the meat is marinating, peel the carrots and potatoes. I use red potatoes for this soup because it holds up well after being cooked for so long. A russet potato would fall apart in the soup, and you want all the elements to stay intact in the clear broth.
If you're cooking the canh sườn using a Crock Pot, you can just put all of the ingredients in your Crock Pot and fill with enough water to just submerge the ingredients. The ribs and veggies will release a little bit more liquid while they cook. Cook this on high for 3-4 hours, or until the ribs are fork tender.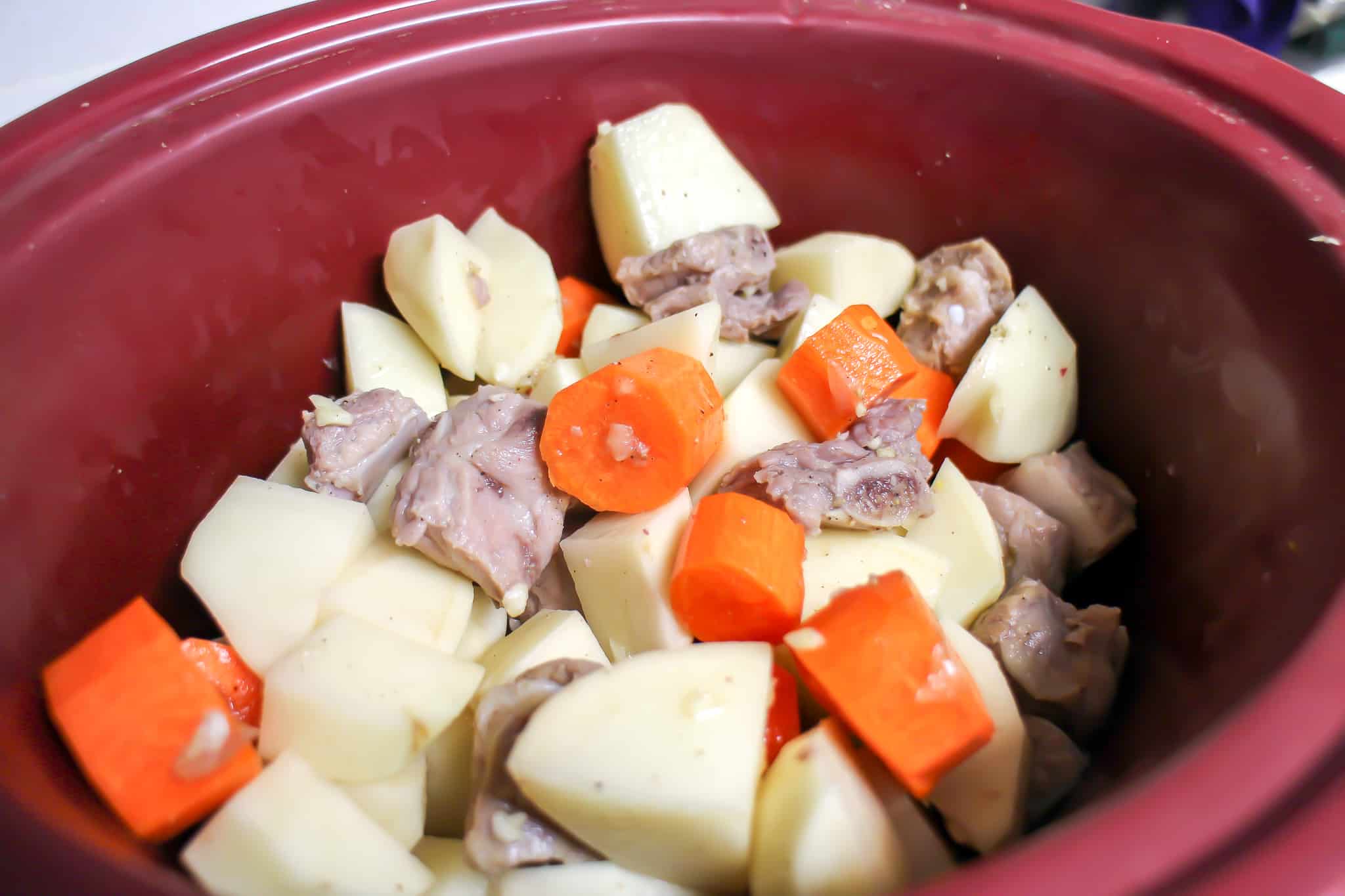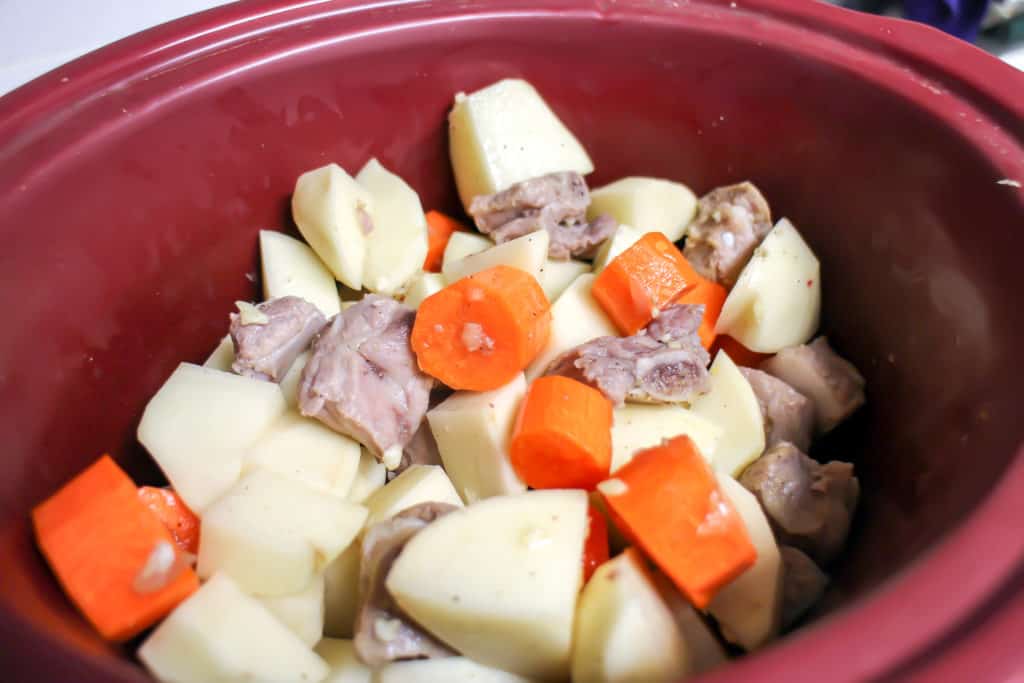 If you're cooking the canh sườn on the stovetop, add the ribs back into a pot with 2-3 cups of water and bring to a boil. Then, turn the heat down to a simmer, and add the carrots. After about 10 minutes, add your potatoes. Keep simmering until the vegetables are tender.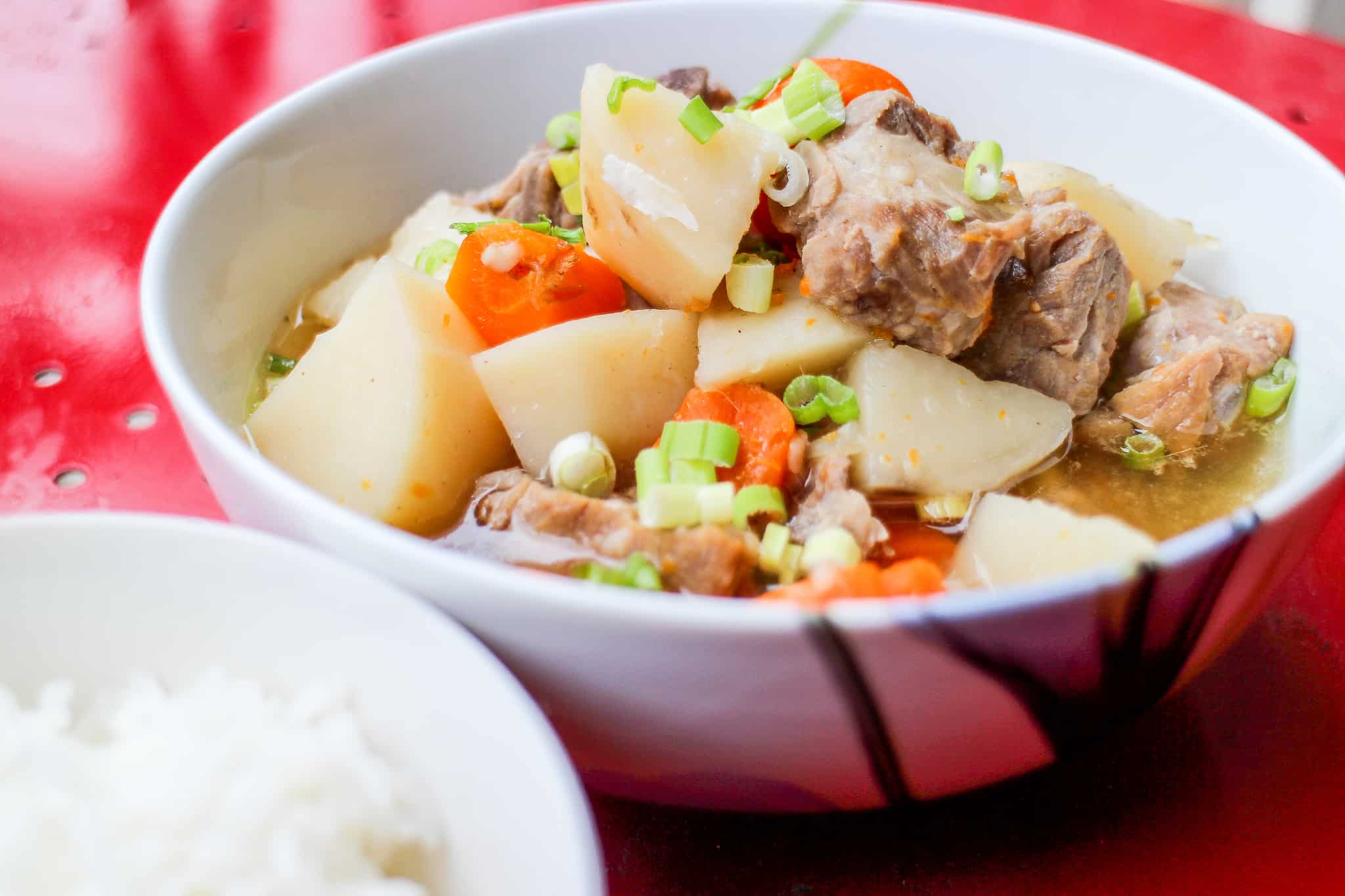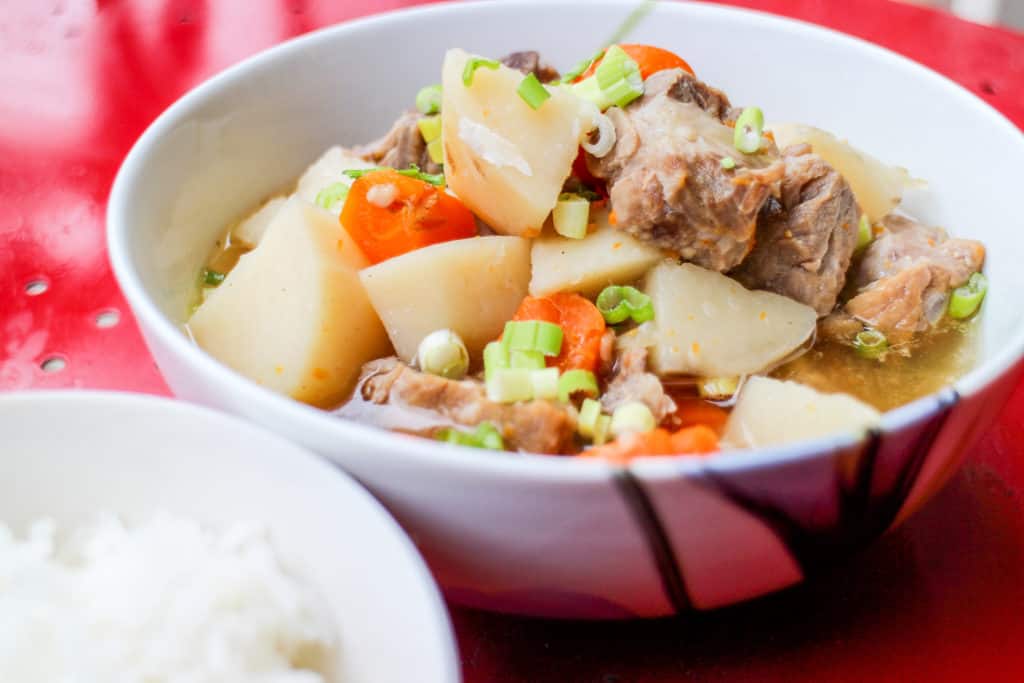 Why I like the Crock Pot method
Cooking this pork spare rib soup on low heat gives you the perfect clear broth, so if you're cooking on the stove top, make sure to keep an eye on your soup and don't let it get to a rolling boil. Clear broth is a point of pride in most Vietnamese households, whether you're making soup or noodles. The first time I made this soup on my own I texted a photo to my mom and she replied "Wow, look at how clear that broth is, good job!"
I like eating this canh sườn on its own, so I can sip on the rich pork broth. When cooked in the Crock Pot, all of the fat renders out of the ribs, making the soup insanely rich and satisfying on a cold winter day. If you want to make it a heartier meal, you could also serve it over a bowl of rice.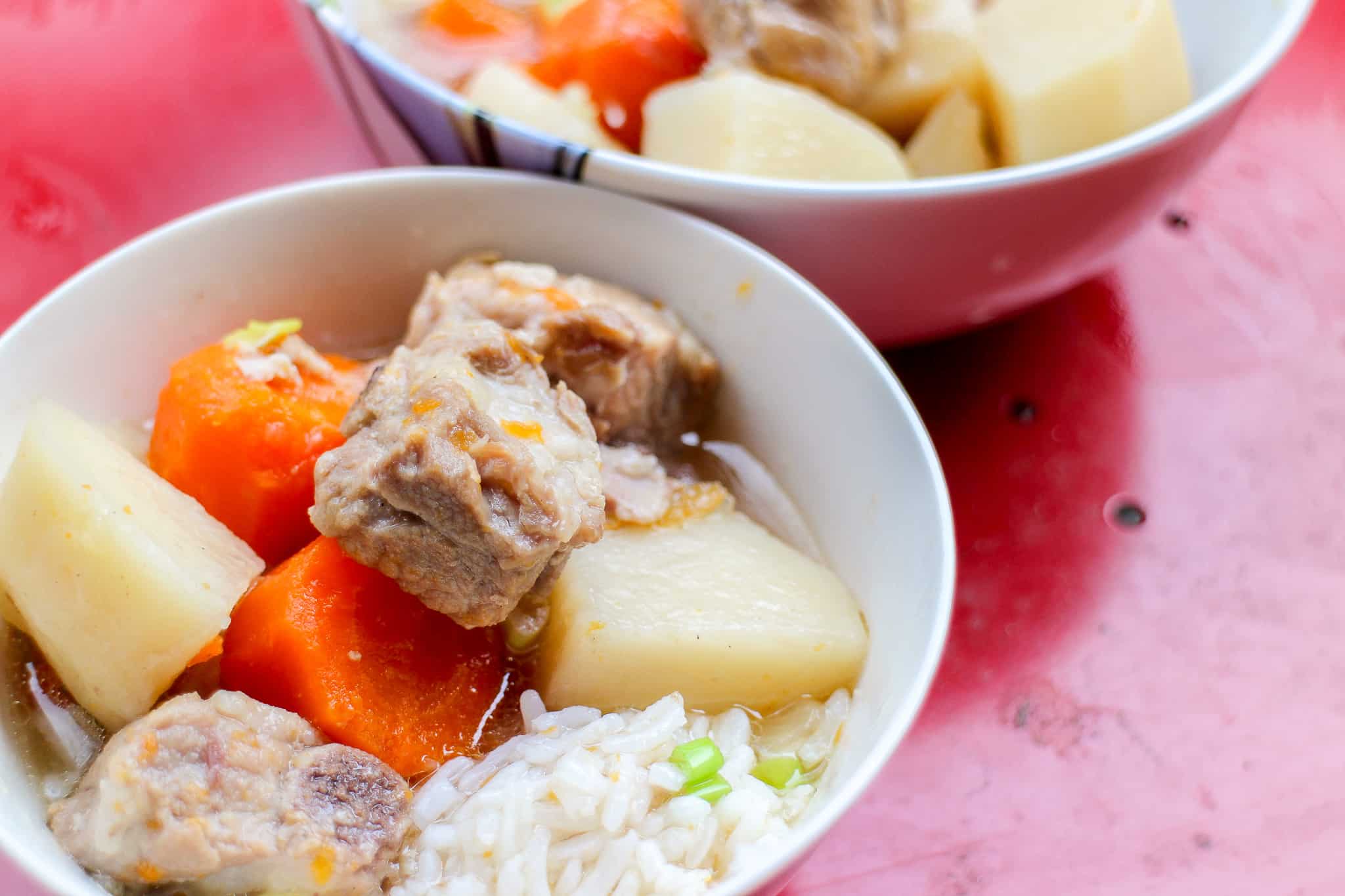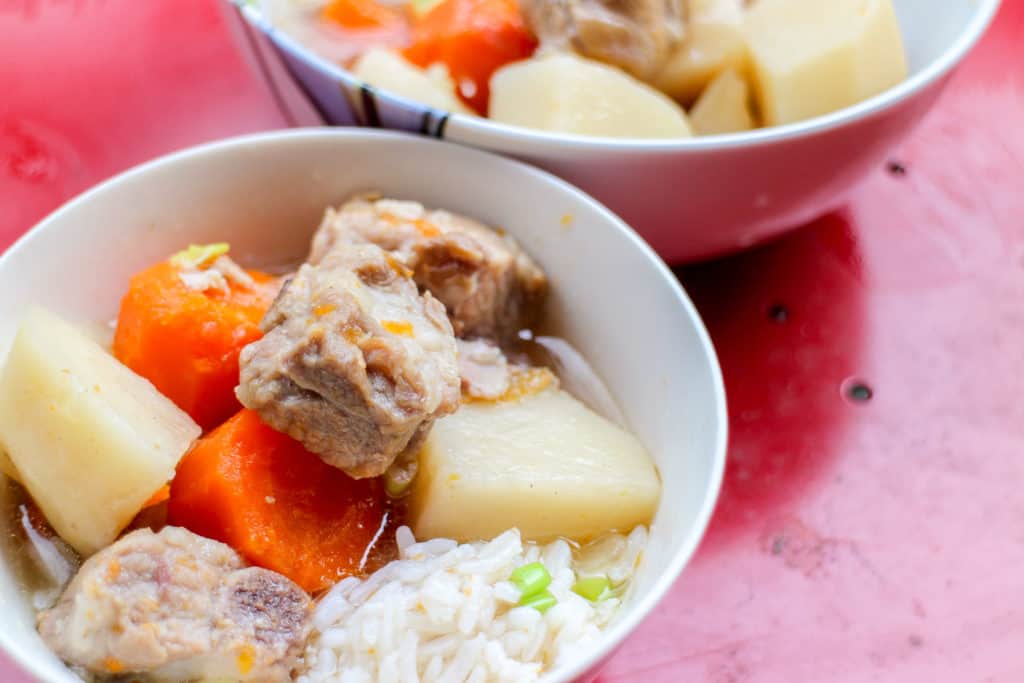 Crockpot Pork Spare Rib Soup With Potatoes and Carrots (Canh Sườn Khoai Tây Cà Rốt)
Ingredients
1

lb

pork spare ribs

cut between the bones

3-4

medium red potatoes

peeled cut into bite sized pieces

3

large carrots

peeled and cut into half inch pieces

3

cups

water

2

cloves

garlic

1

shallot

2

tablespoon

fish sauce

salt and pepper to taste

2

stalks scallion for garnish
Instructions
Add ribs to a pot of cold water with a large pinch of salt. Bring to a boil, and immediately drain and rinse.

Add fish sauce, garlic, shallot, salt and pepper to the ribs and leave to marinate for 10-15 minutes

While meat is marinating, peel and chop your vegetables
If Cooking in Crockpot:
Add all ingredients to a crockpot and add enough water to submerge the meat and vegetables (about 3 cups)

Cook on high for 4 hours, until ribs are fork tender

Garnish with chopped scallions and serve
If Cooking on stove top:
Add ribs back into pot with 3 cups water and bring to a boil. Turn heat back down to a simmer

Add carrots. Simmer for 5 minutes

Add potatoes. Continue simmering until all vegetables are tender.

Garnish with chopped scallions and serve
Did you make this recipe? Tag @bun.bobae on Instagram and tag #bunbobae!
Want more recipes in your inbox? Subscribe to my email list!
Enjoyed this recipe? You might also like: