These BBQ pork buns can be found in any Chinese bakery alongside all of the other warm breads. Pineapple buns, hot dog buns and coconut cream buns are all delicious, but the BBQ pork bun, or Char Siu Bao, will always reign supreme. In Vietnamese, we call these buns bánh mì ngọt nhân xá xíu, which means sweet bread filled with BBQ pork, or char siu.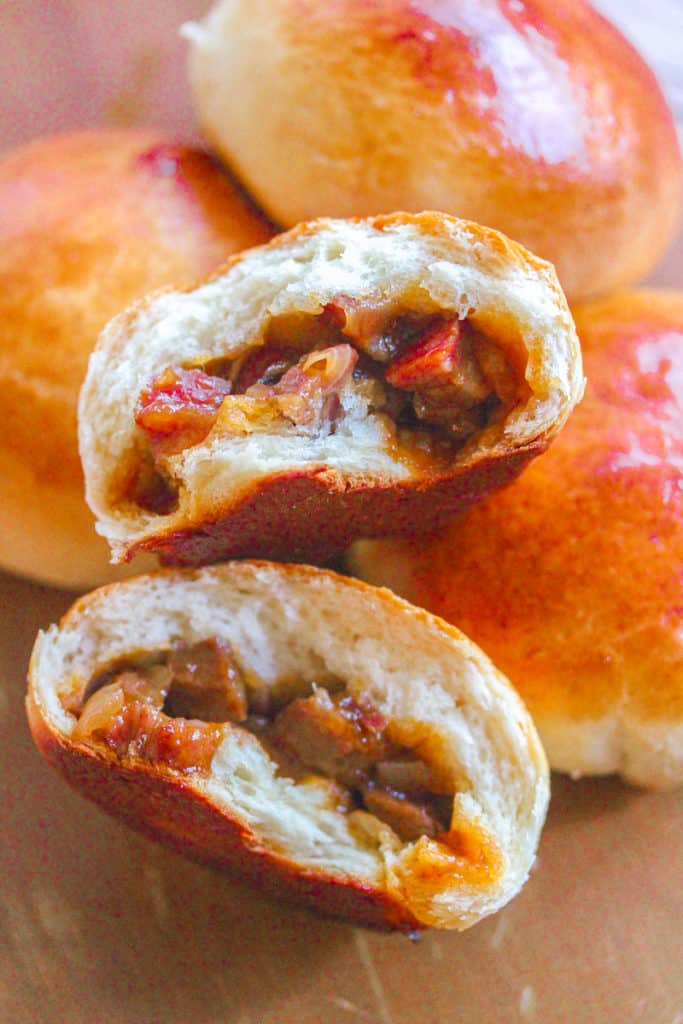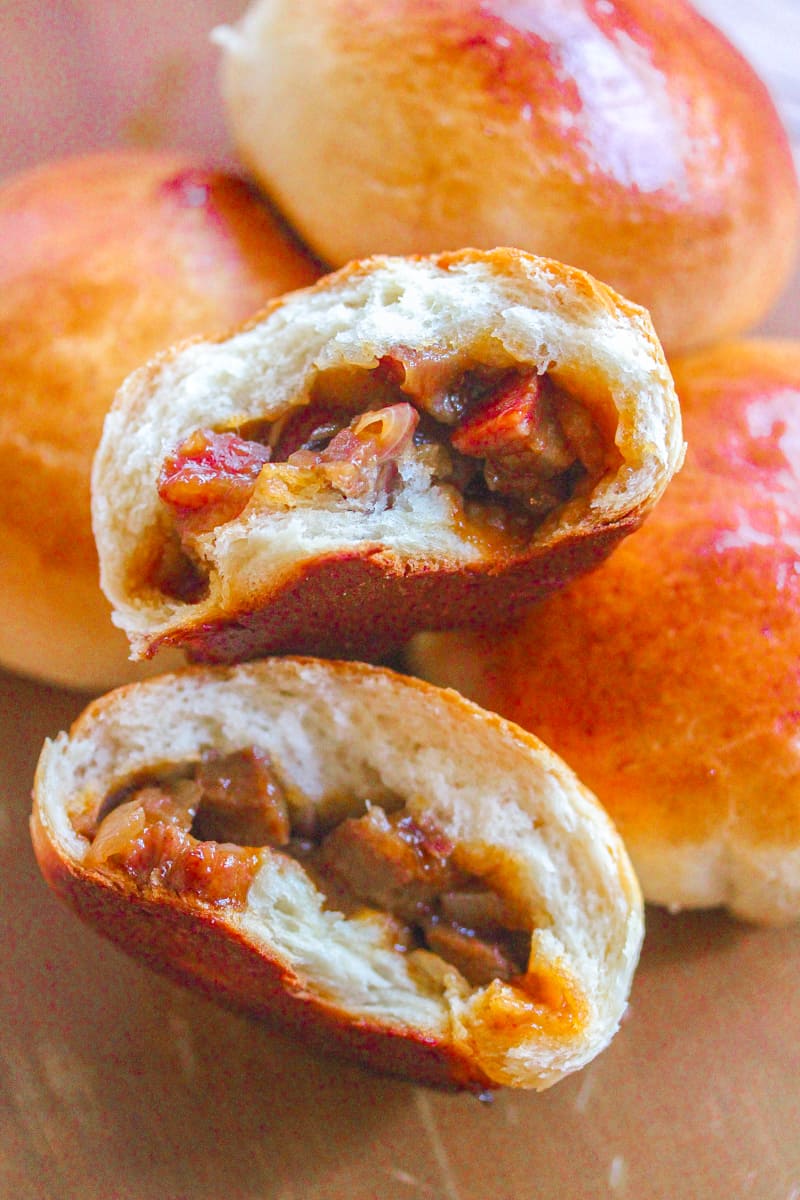 This recipe has been updated with new photos and U.S. cup measurements!
I can never eat just one of these, so instead of buying them, my mom and I started baking a a dozen of them at a time to pack for school. The savory yet slightly sweet pork filling tastes great warm or at room temp, which makes for easy packed lunches.
Jump to: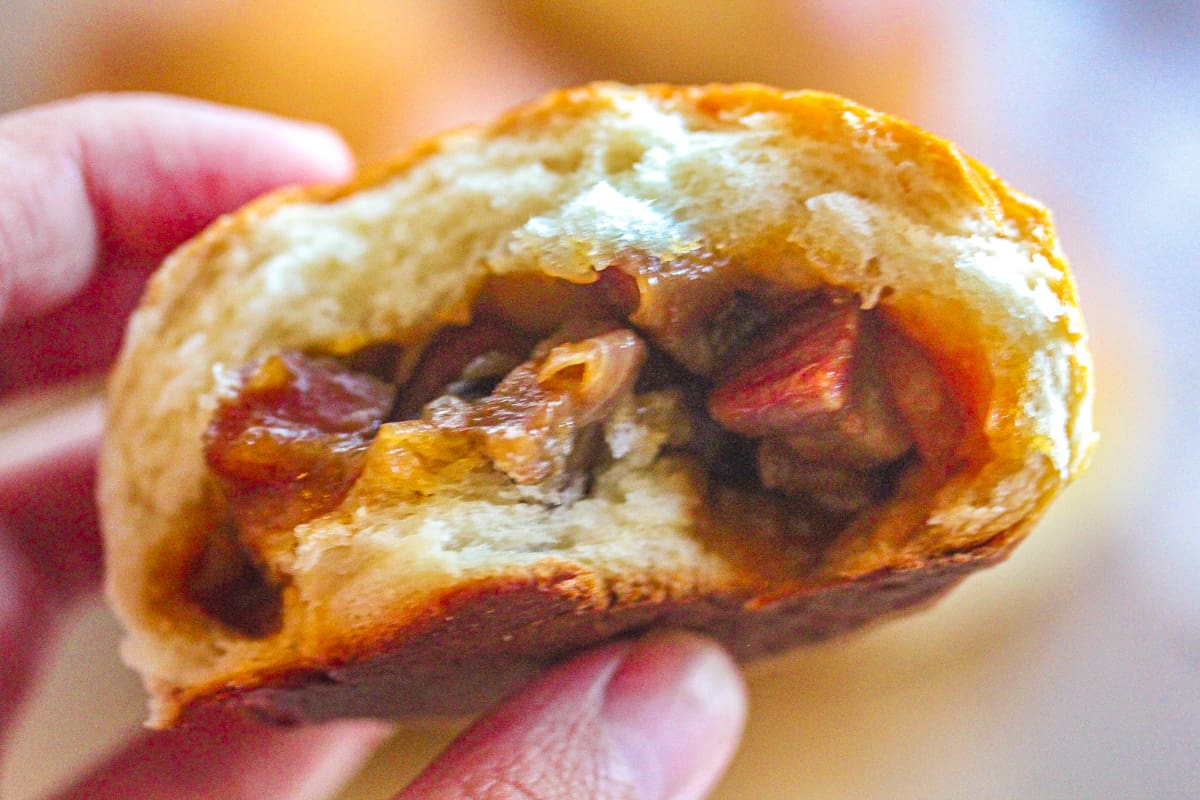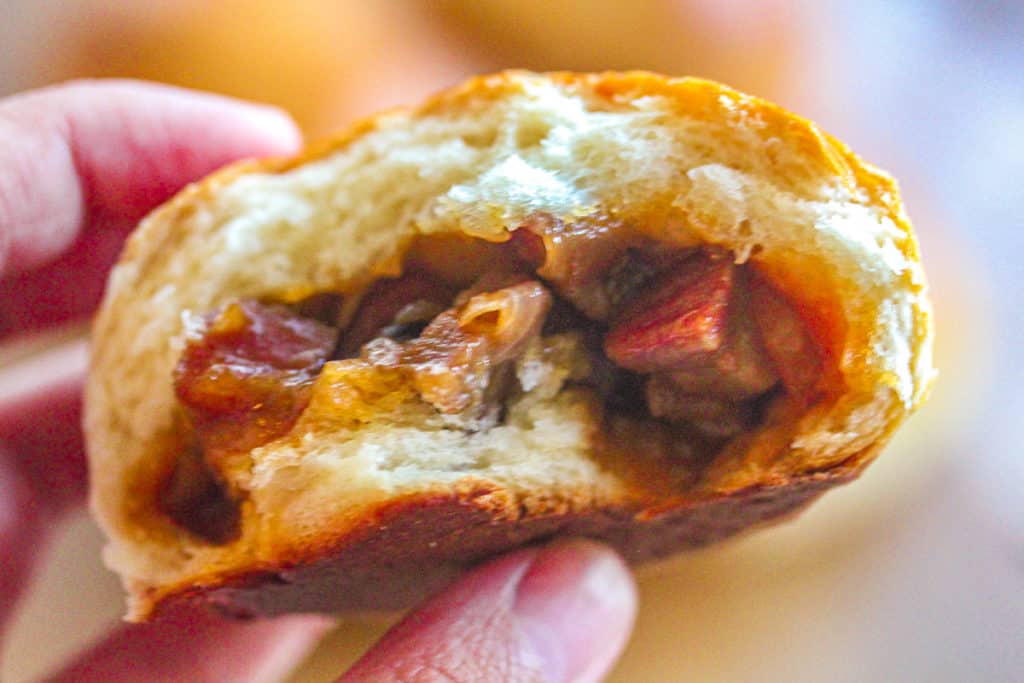 🍞 Ingredients
You will need:
For the bread
400 g (3 cups)  bread flour
100 g (½ cup) granulated sugar
2 tsp instant or "rapid rise" yeast
1 large egg
50 g (3.5 tbsp) butter, melted
200ml (7oz or just under 1 cup) milk
For the filling
1 tbsp neutral oil like canola
1 medium onion diced (about 250g or 1 ¾ cup)
250g (1 ½ cup) har siu/BBQ pork diced
1 tbsp oyster sauce
1 tbsp soy sauce
1 tsp sesame oil
½ tbsp corn starch
½ cup water
🔪 Instructions
For the bread: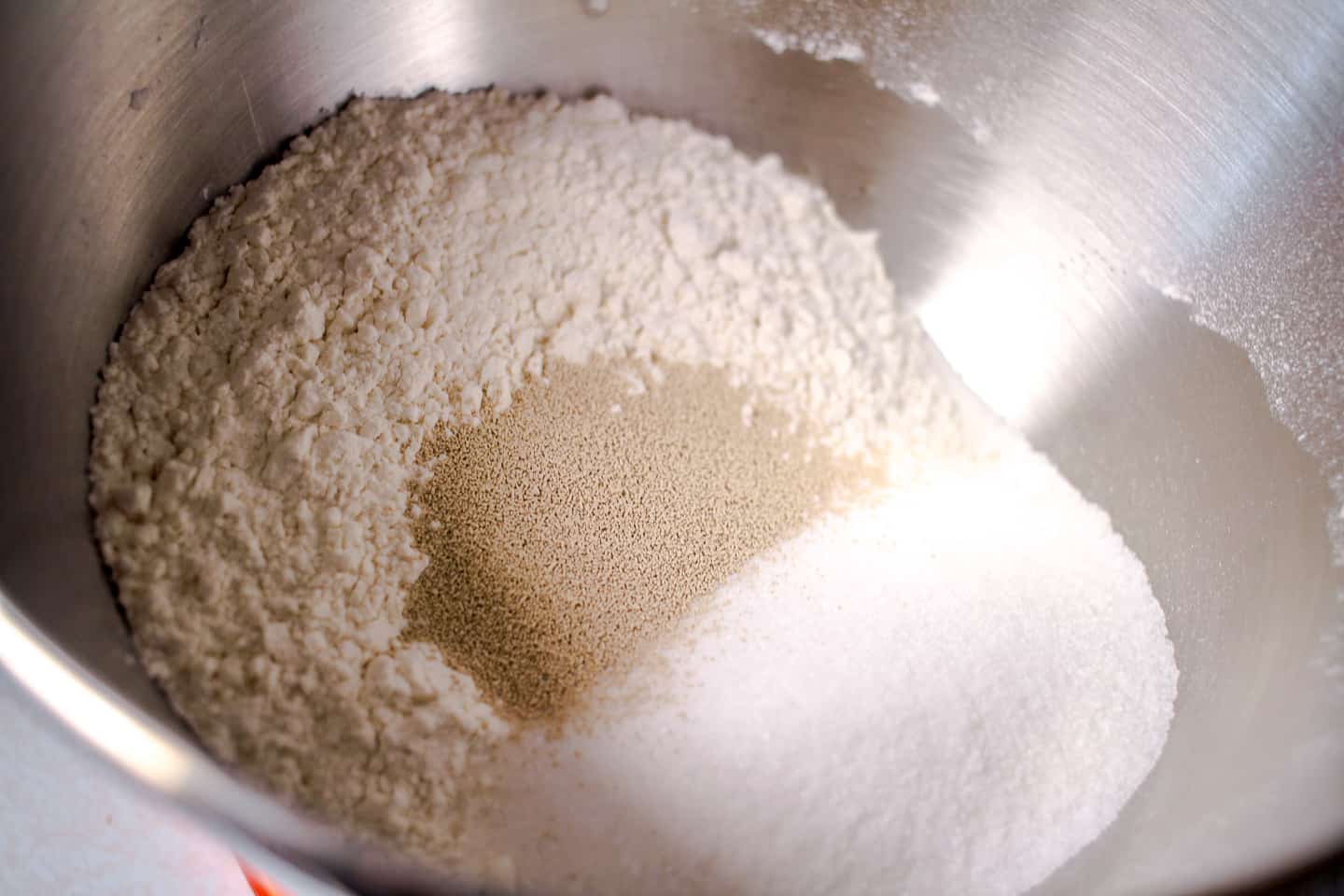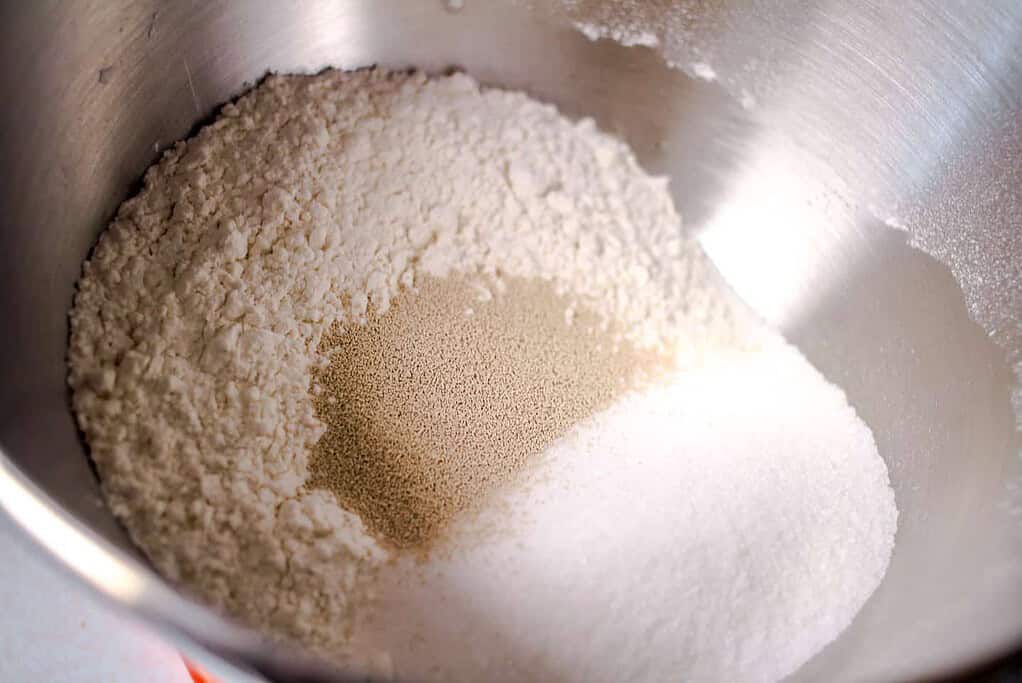 Start by adding bread flower, yeast and sugar to the bowl of a stand mixer. Using, the hook attachment on low, begin stirring the dry ingredients. Slowly add milk, melted butter and eggs and continue stirring on low until all the loose flour is incorporated.
Turn the mixer on medium and let the stand mixer knead the dough for about 10 minutes. The dough should peel away from the bowl and look completely smooth.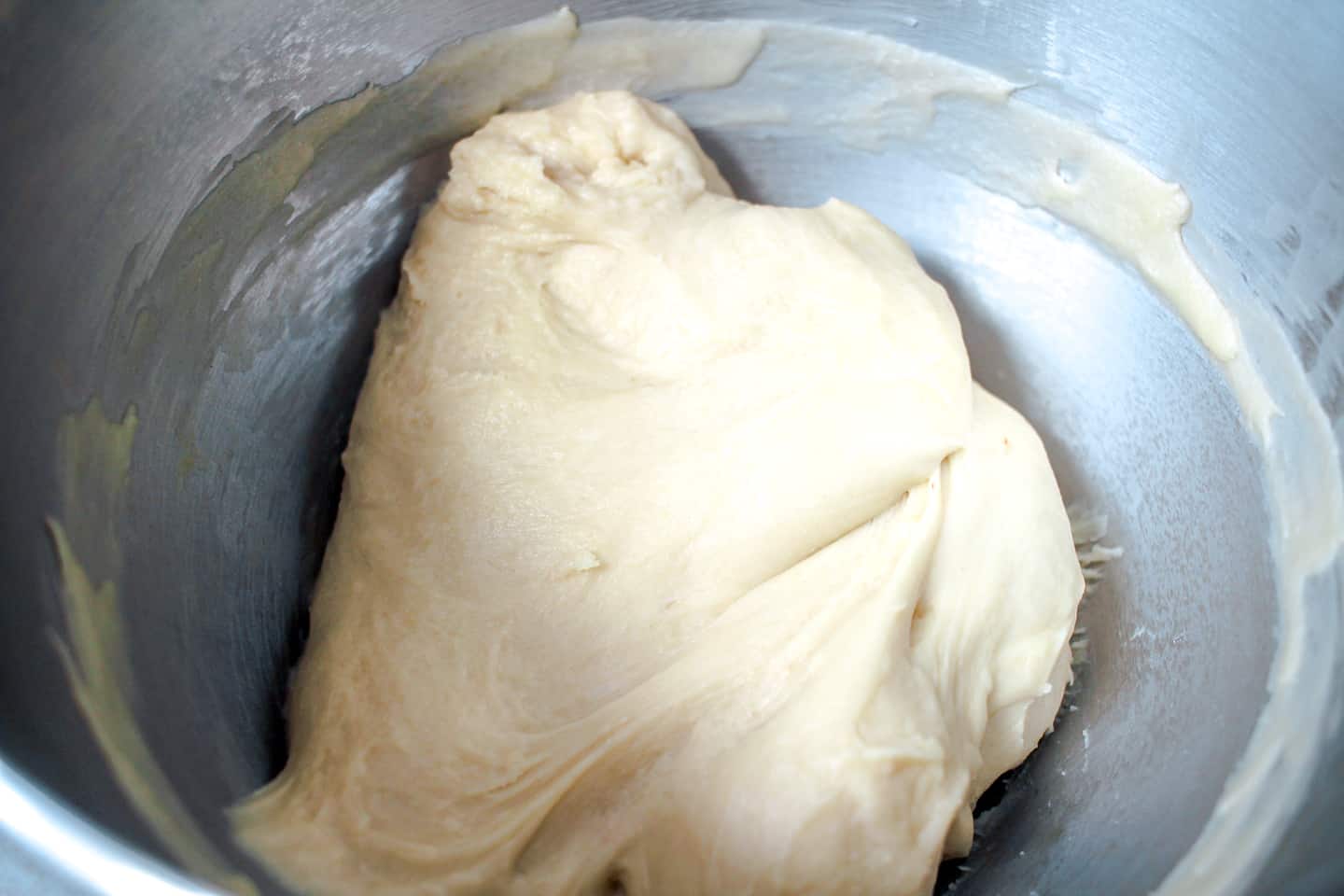 Sometimes this takes more than 10 minutes and sometimes it takes less. Take the instructions and measurements as a guideline, not the rule. You should be able to grab onto the dough without any of it sticking to your fingers. If it's still sticky after kneading, add more flour.
Transfer the dough into a bowl. Cover and set aside for an hour in order for the dough to rise.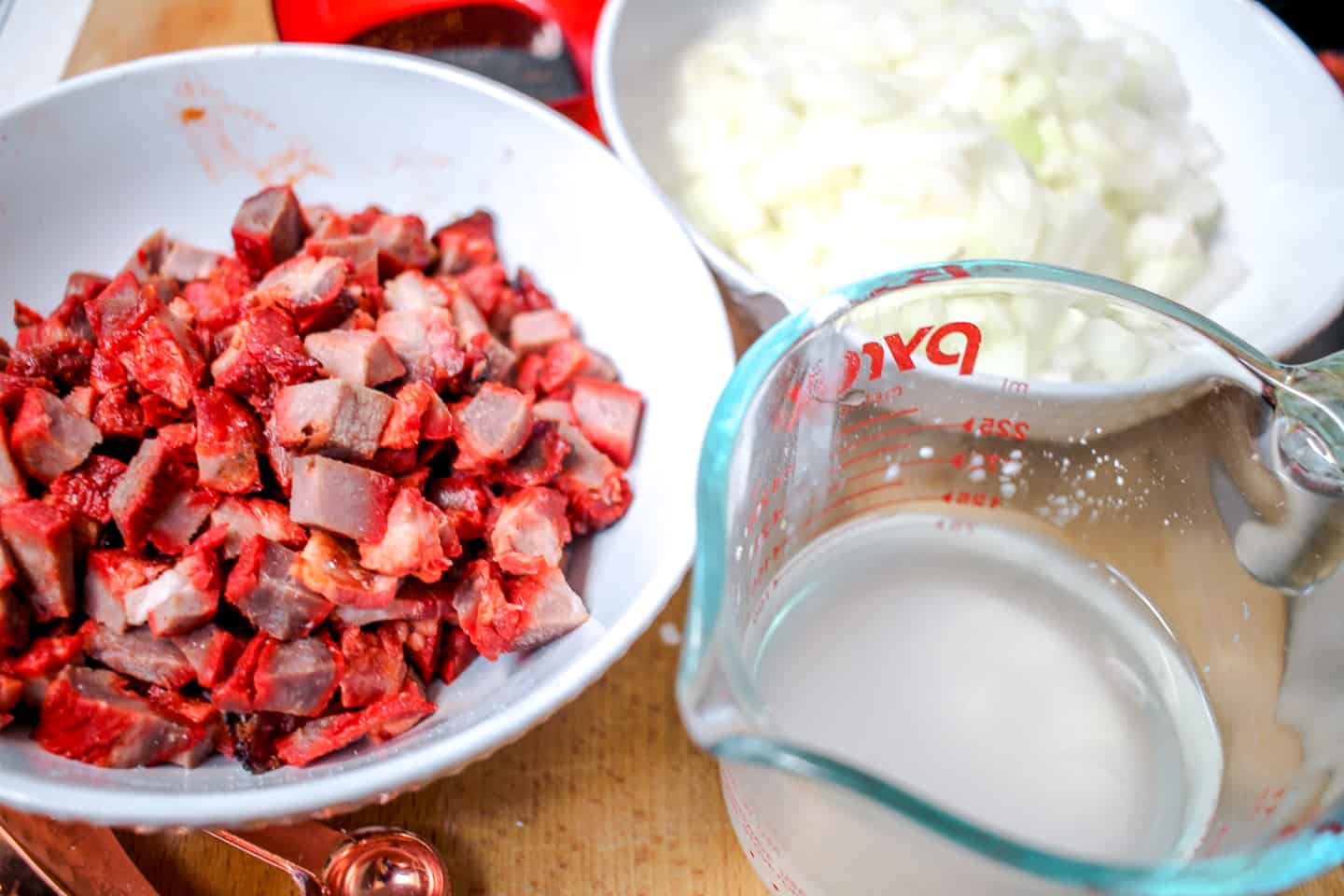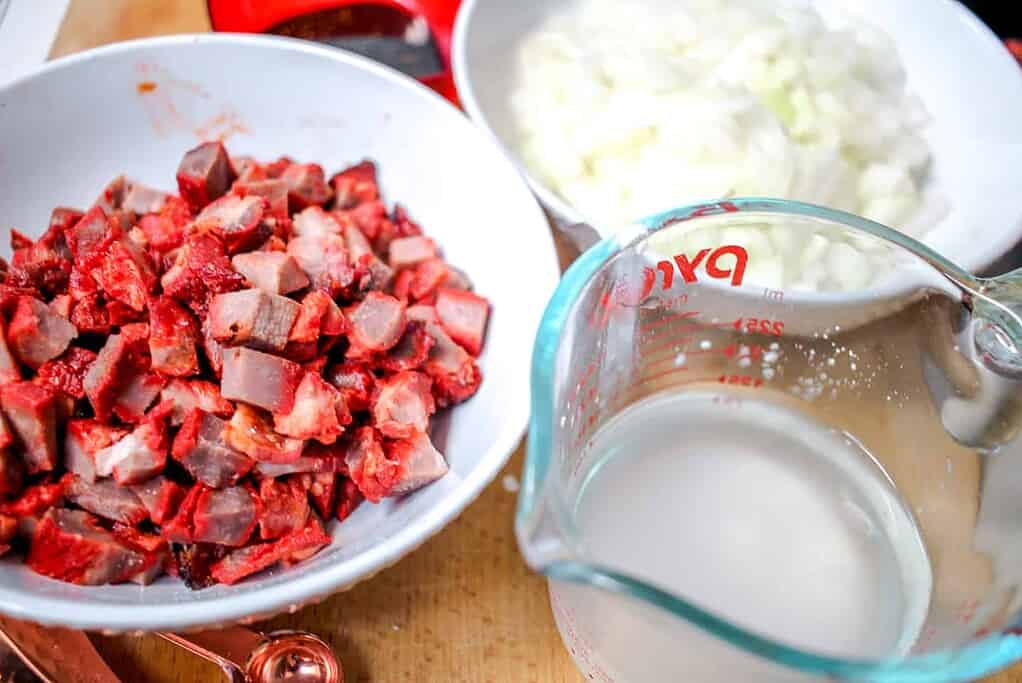 For the filling:
While your dough is rising, you can prepare the filling. Chop one medium onion, prepare a corn starch slurry and cut your bbq pork into small pieces. I like having chunks of meat in my buns, so I diced them into small cubes. My mom likes a more homogenous mixture, so she finely minces everything. You will find both types of buns in bakeries, so chop the filling ingredients to your preference.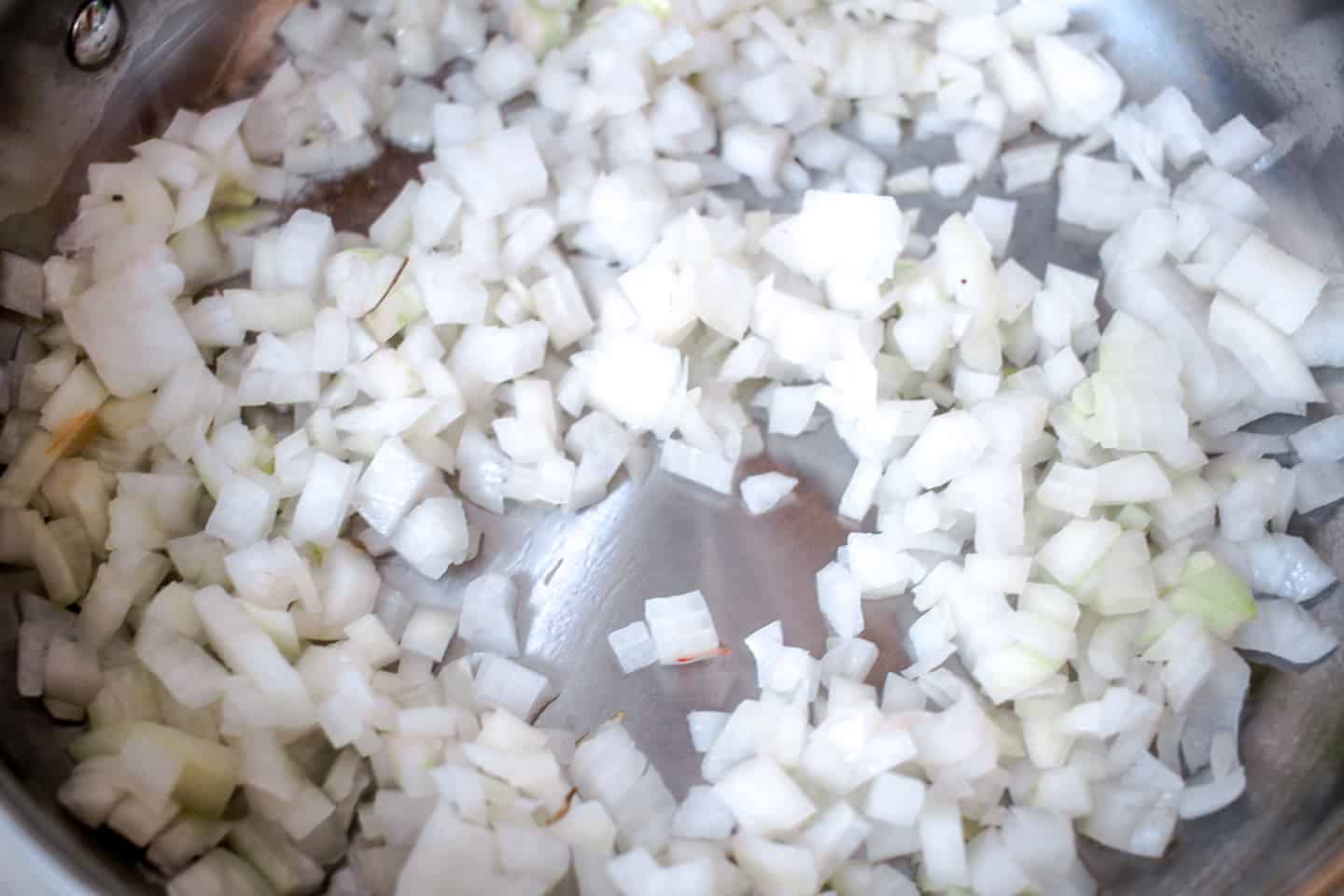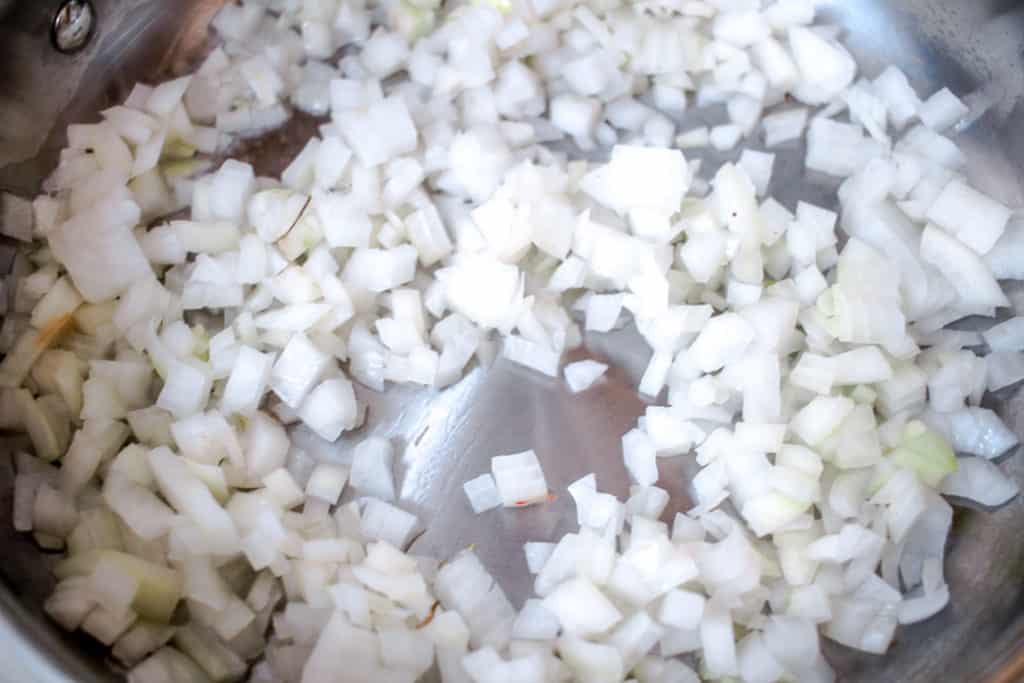 Add some oil into a pan and begin to sweat the onions for about two minutes. They don't need to be translucent, just slightly softened.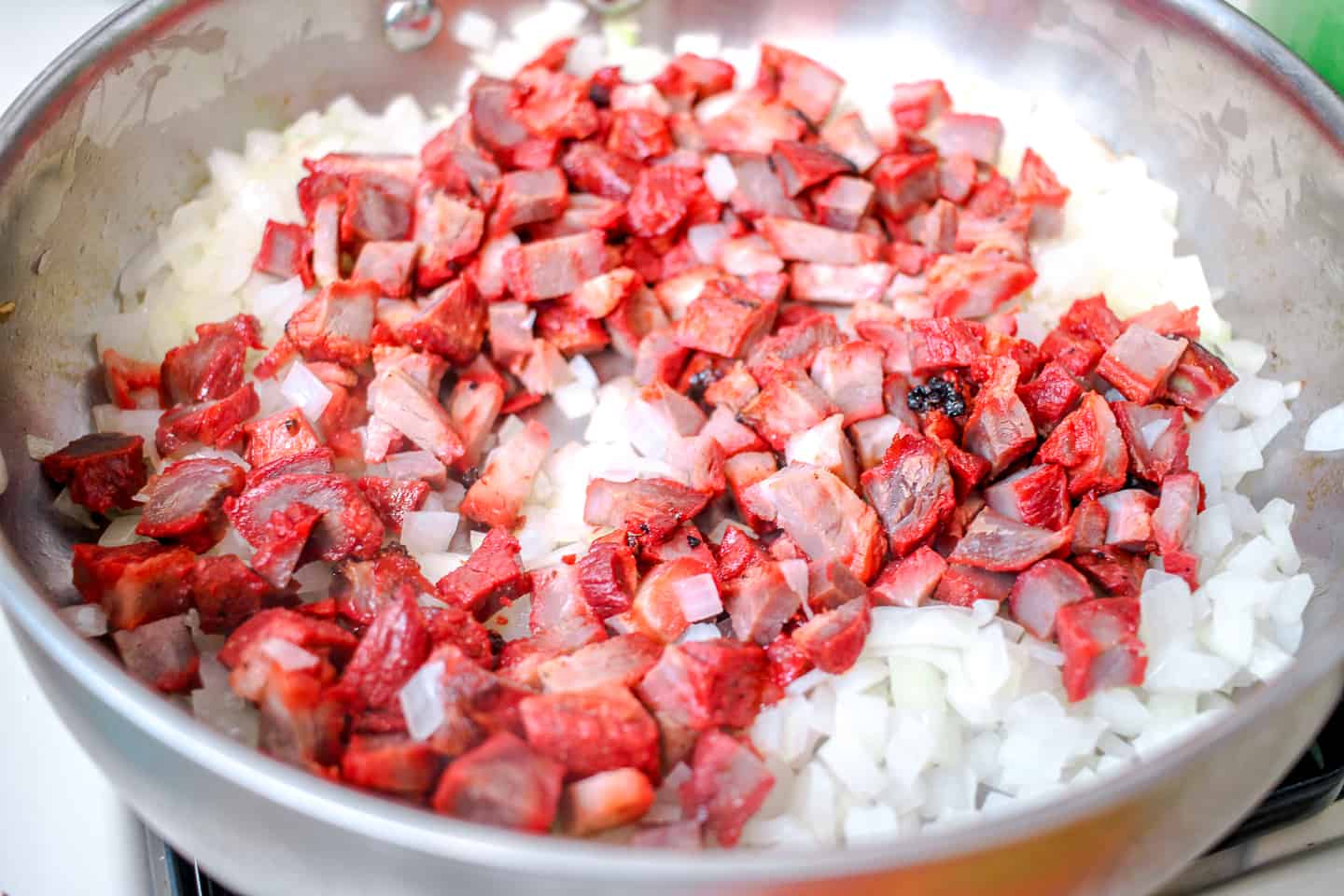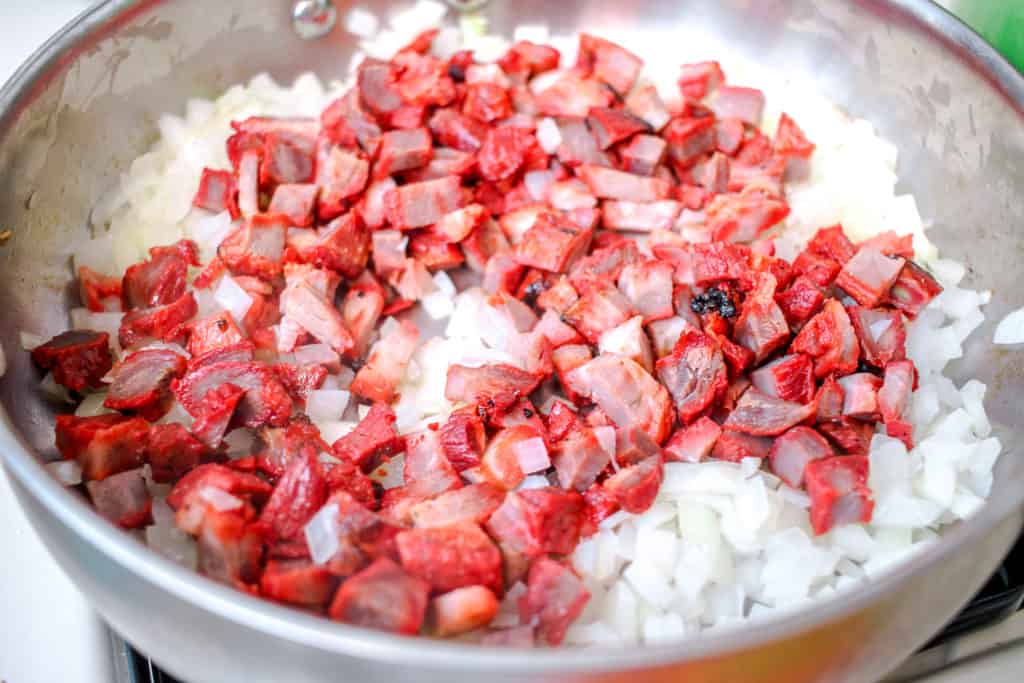 Add the char siu/BBQ pork and mix just to warm the pork through. The meat is already cooked, so this step doesn't take long. You just want everything evenly mixed and at the same temp.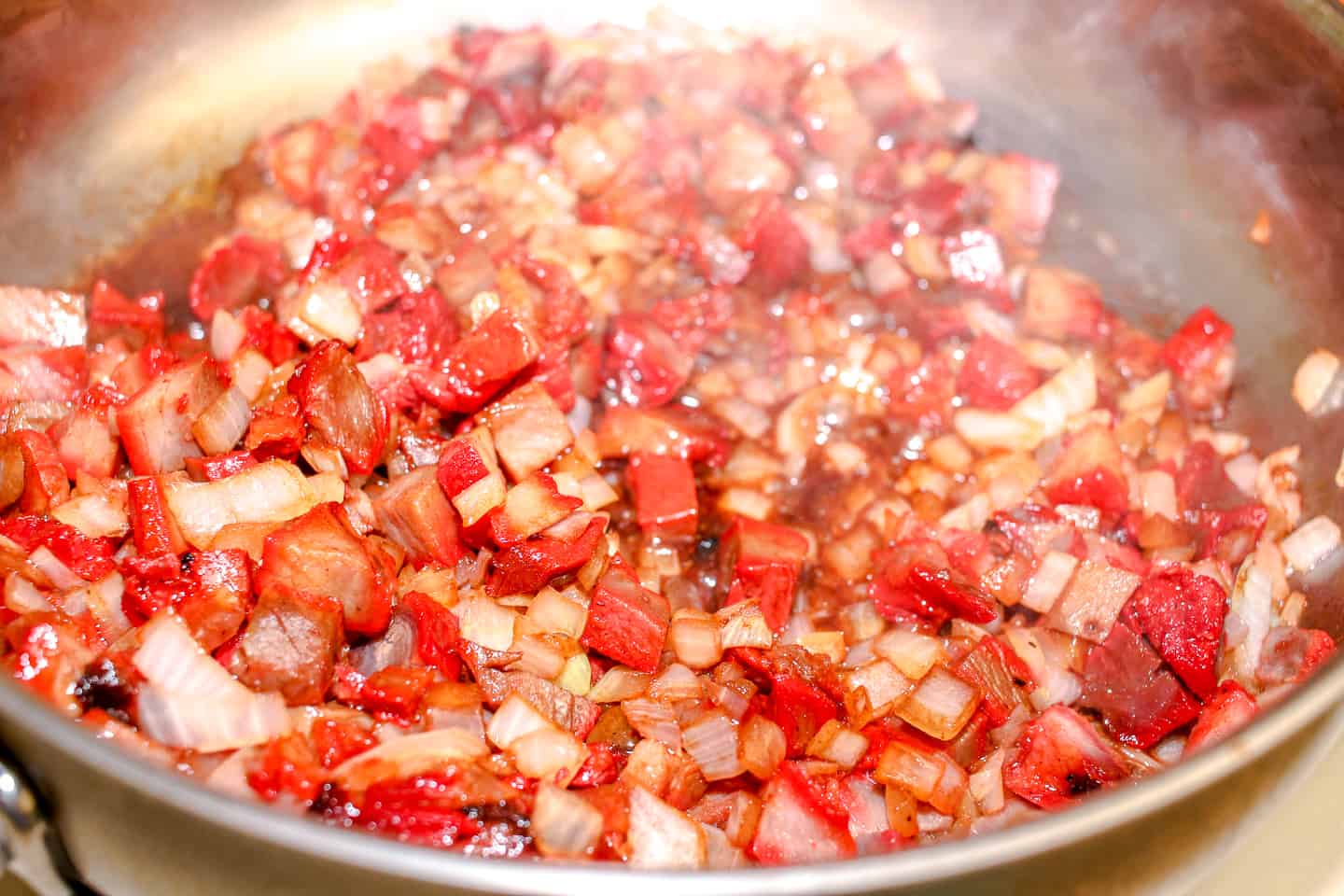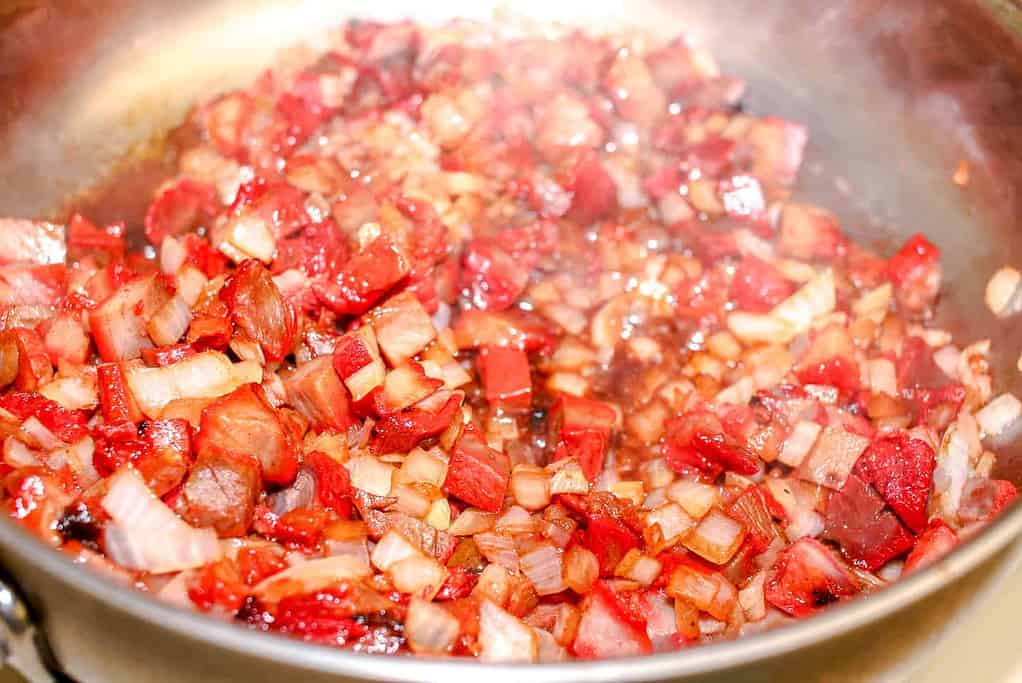 Add soy sauce, oyster sauce and sesame oil to the pork and onion mixture and mix thoroughly. If your char sieu came with a little plastic container of sauce for the meat, use that in lieu of soy sauce.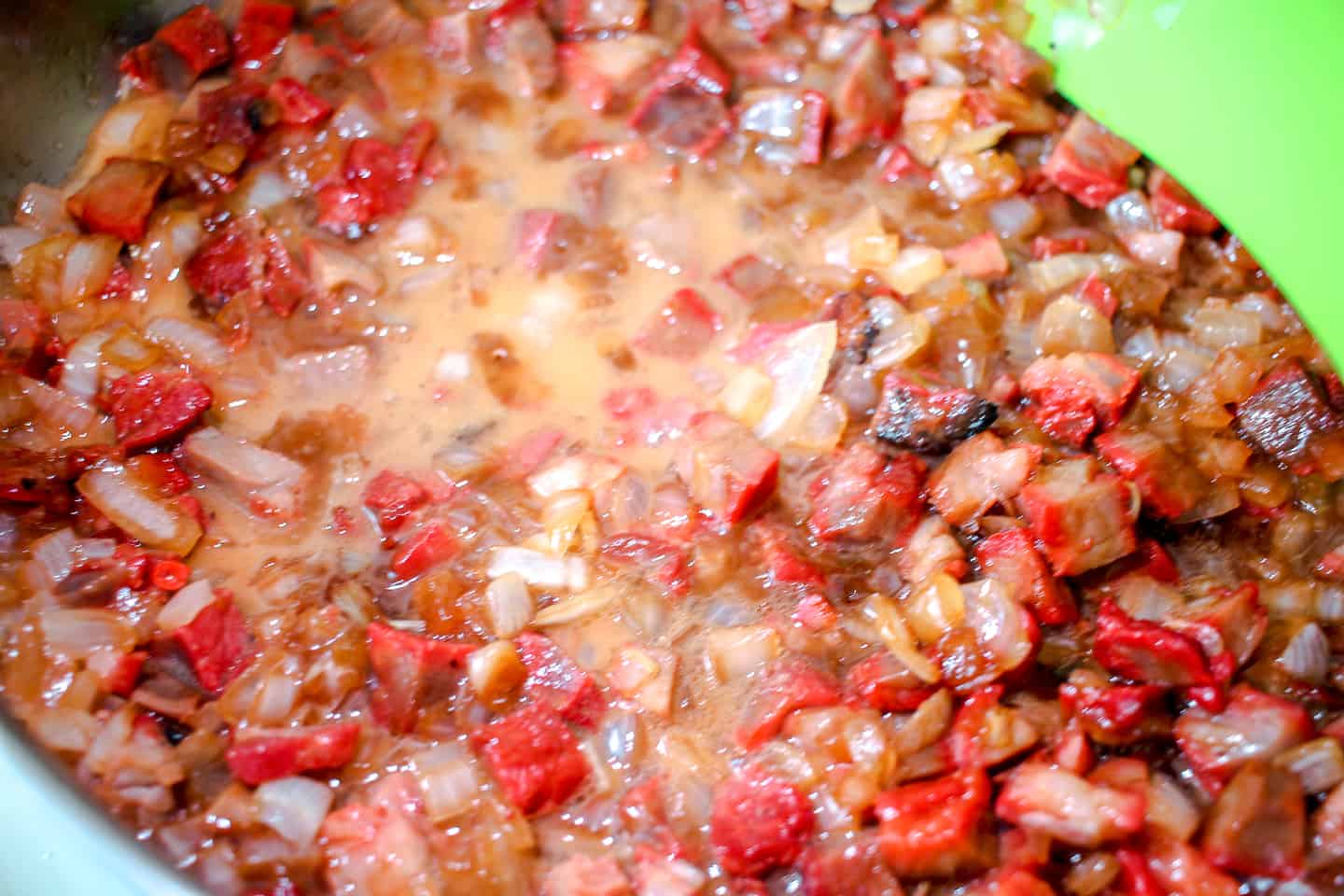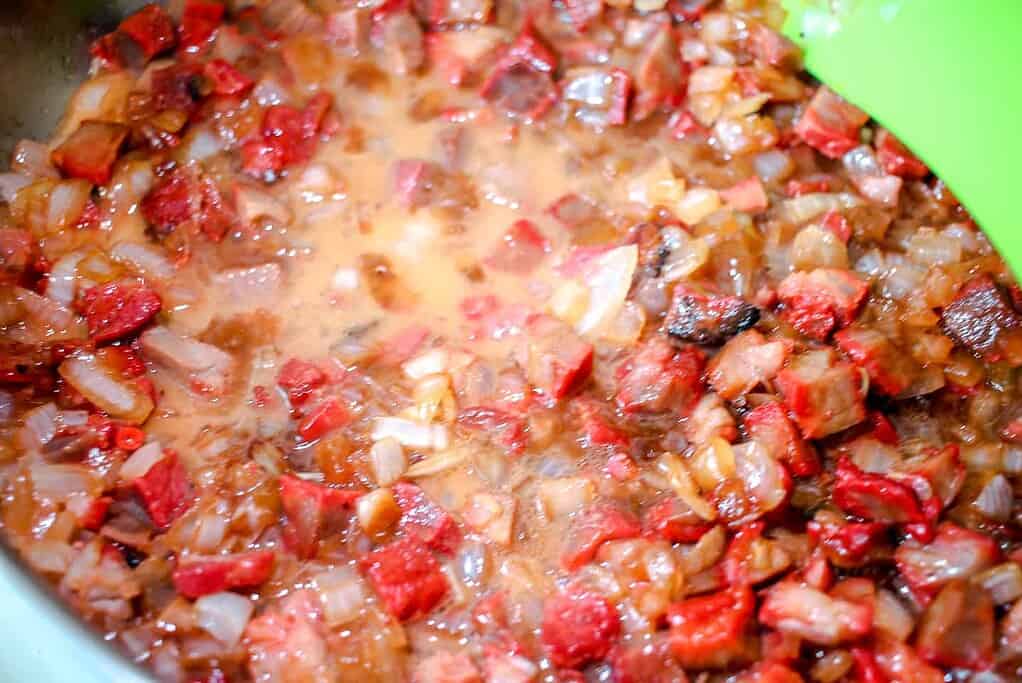 Add the corn starch slurry to the seasoned pork mixture. Make sure to stir the slurry up before adding, because all of the starch will have collected at the bottom of your container.
It will look like you've added way too much liquid at first, but continue stirring carefully and it will thicken up. The filling should look shiny and thick, with all of the pork and onion pieces stuck together in the sauce, like the image below.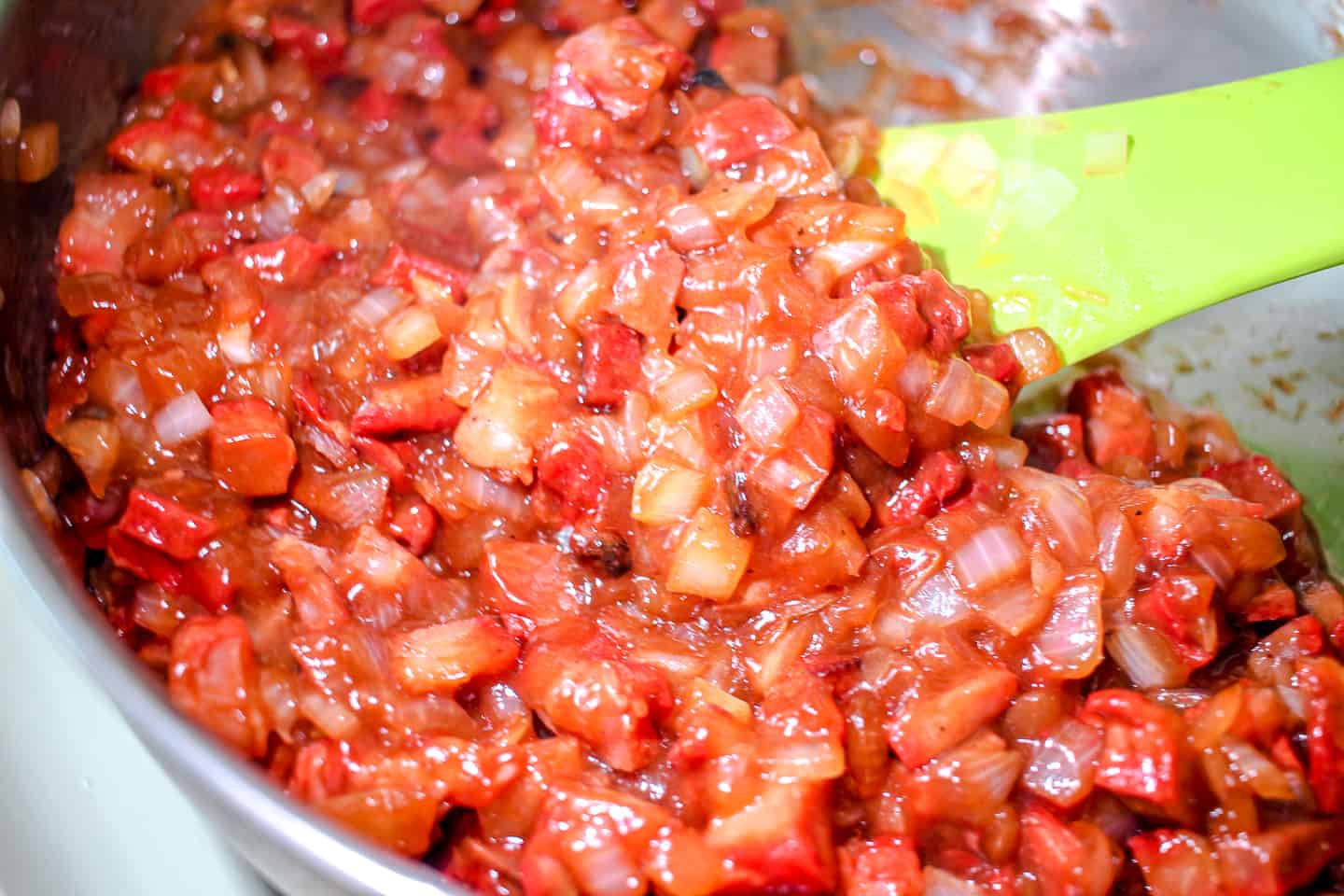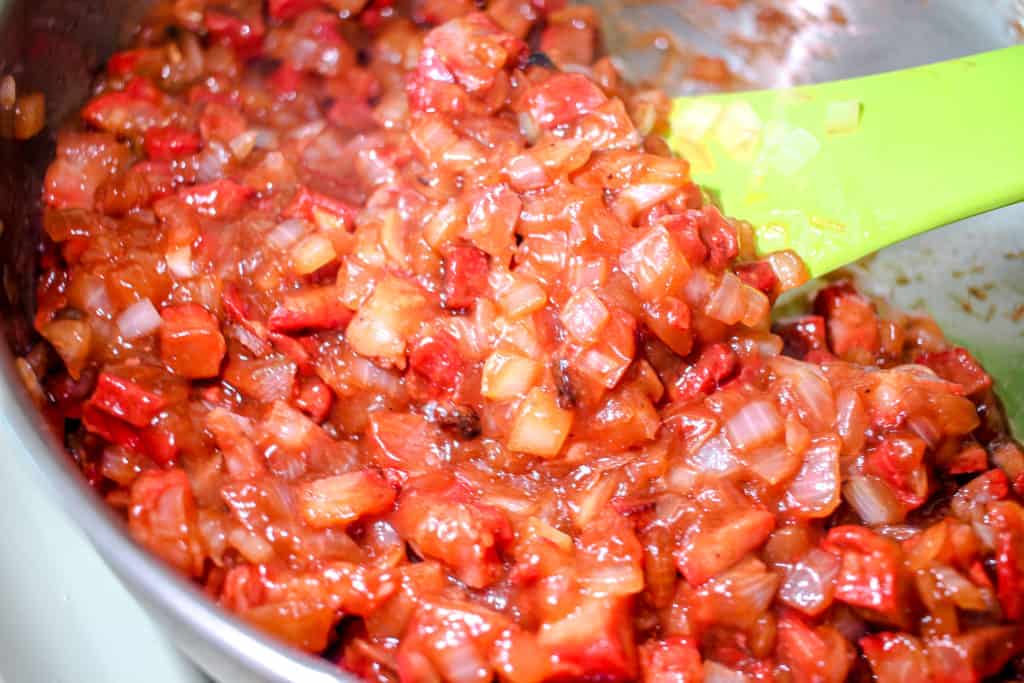 Assembling the BBQ pork buns: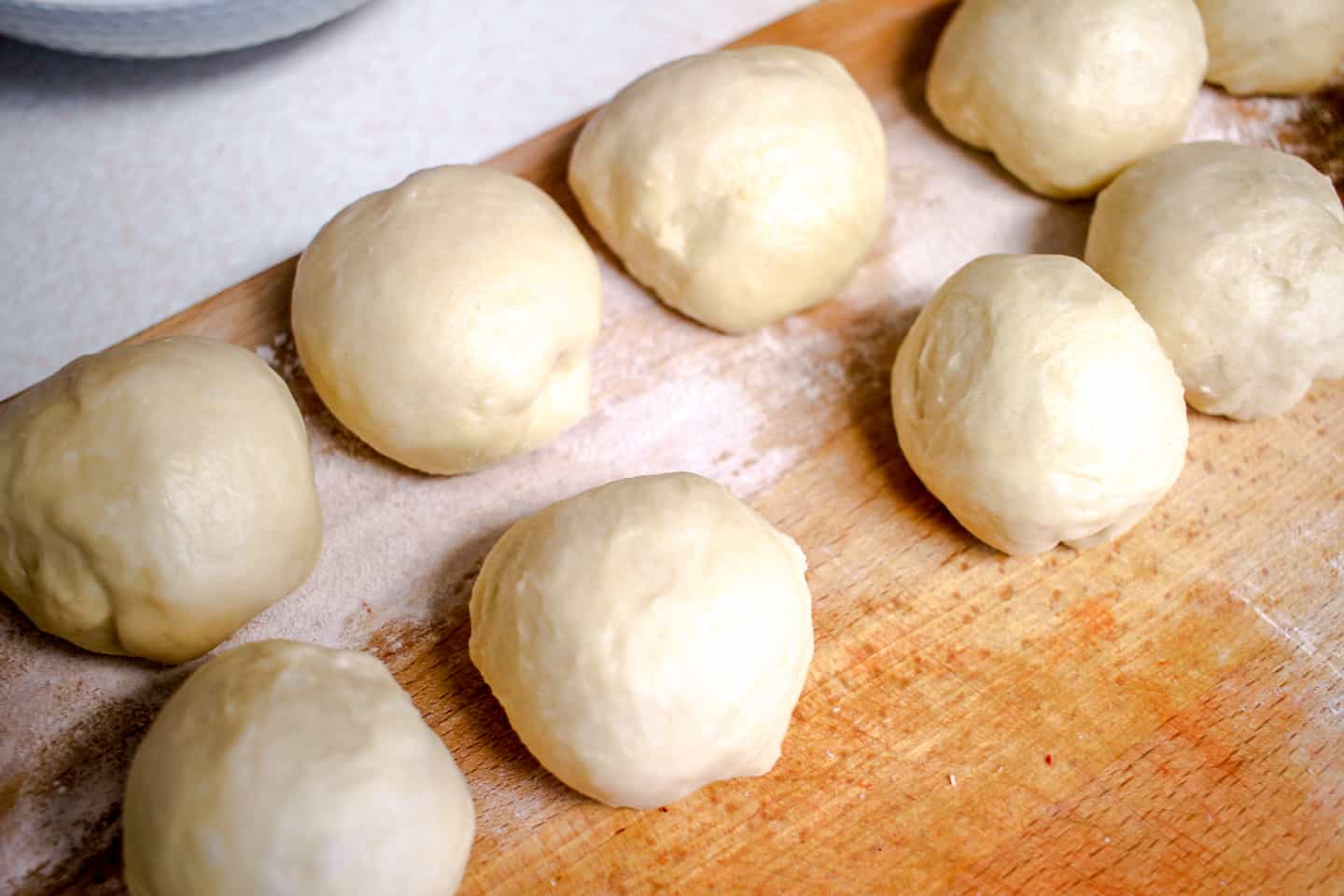 Check on your dough ball and make sure it's risen to about twice its size. To test if it's ready, punch two fingers into the dough and take them out. If your indentations remain and the dough does not "bounce back," then it is ready to use. If not, let it rise a little longer.
Once the dough has risen properly, divide it into 12 equal pieces. I use a kitchen scale to measure the weight of the entire dough ball and divide for complete accuracy. I do the same with my filling. This assures you that each bun will be the same size.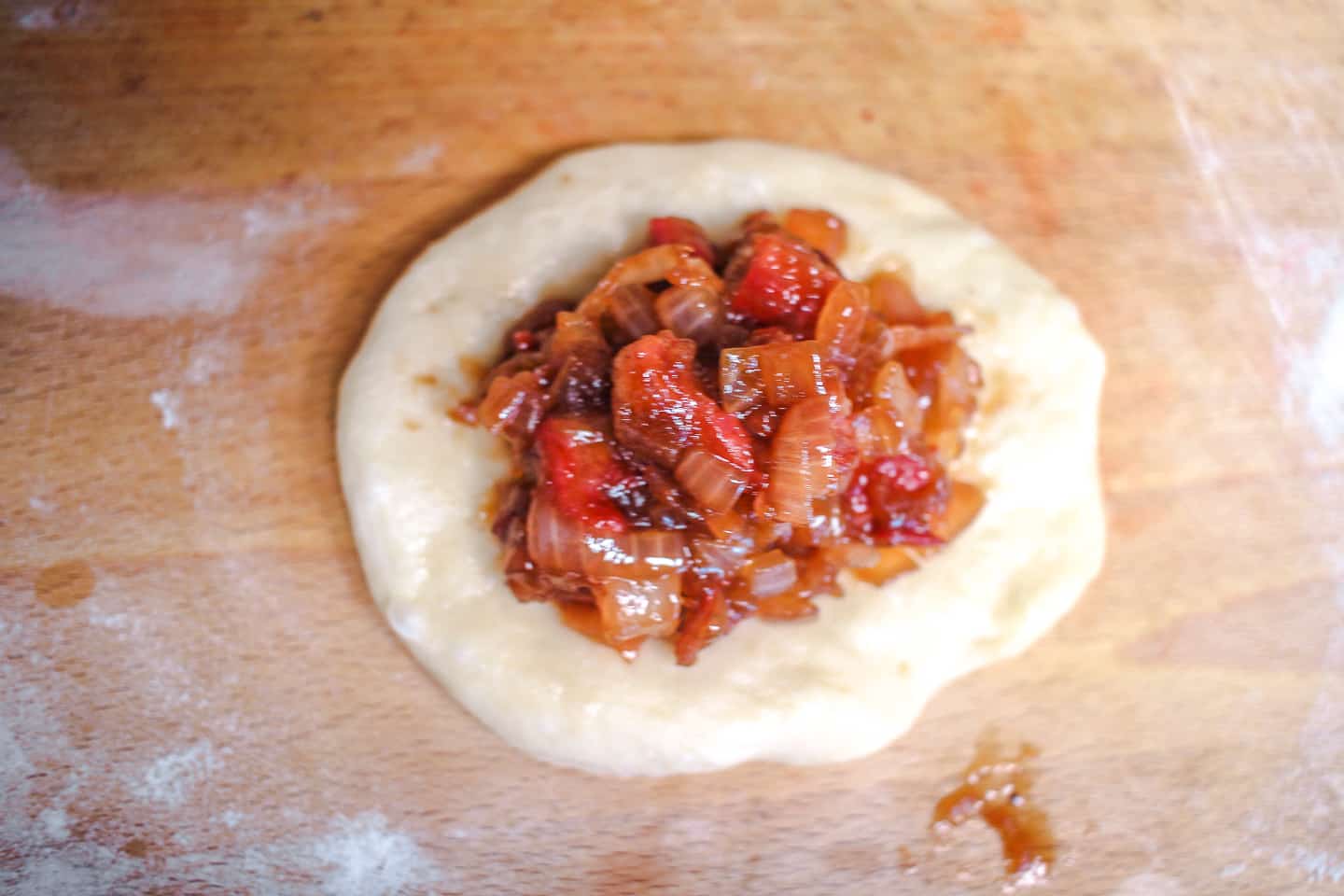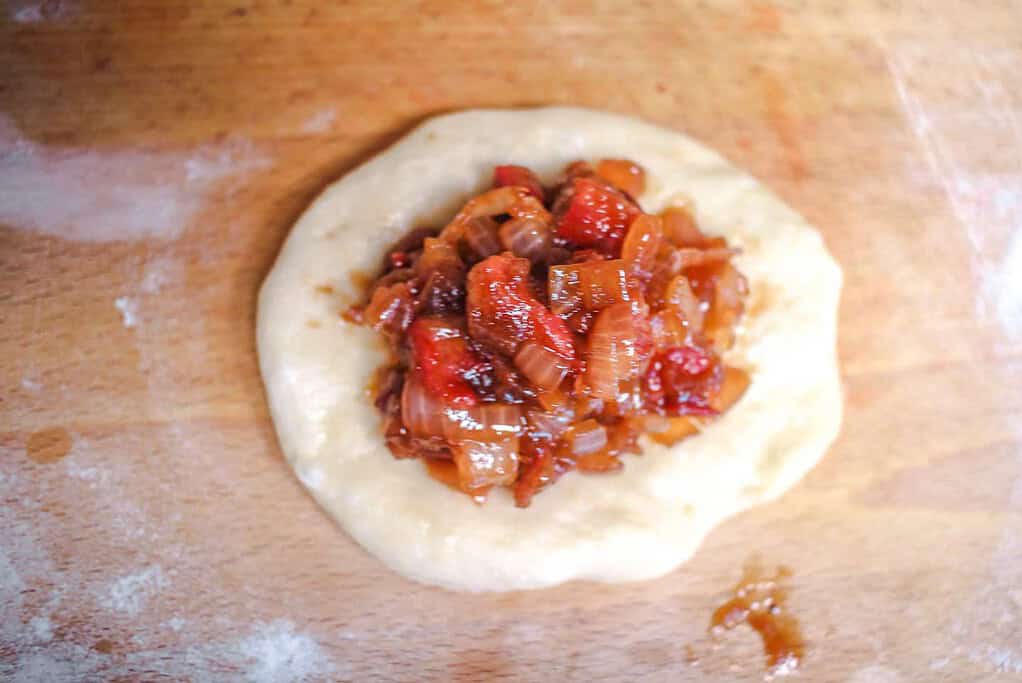 Roll out a small dough ball into a circle about the size of your palm. Scoop a portion of the filling into the dough, leaving a ring of dough on the outside. Again, I recommend scooping all of the filling into a bowl and measuring the total weight before dividing into 12 equal portions. This way, you won't have any burst buns!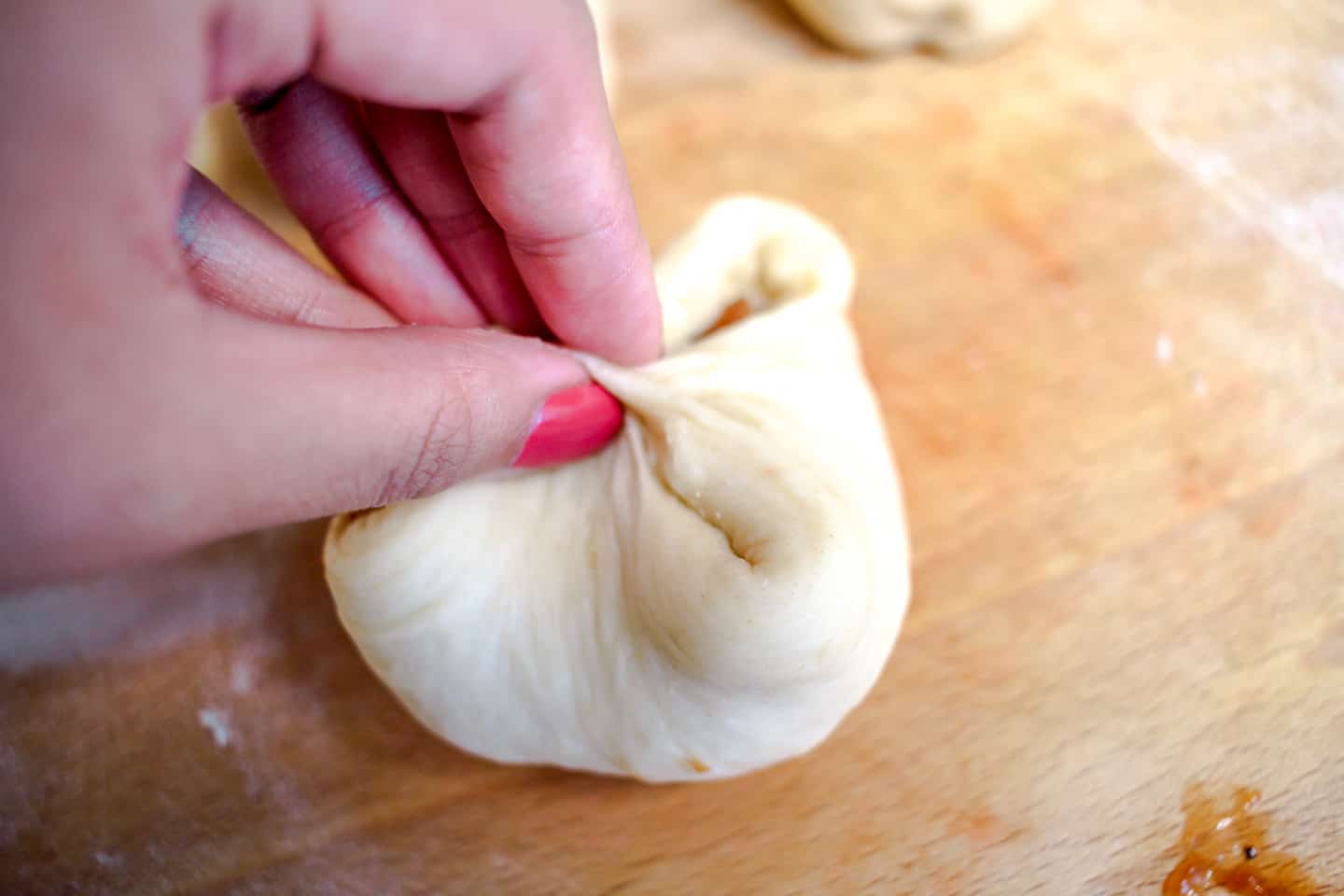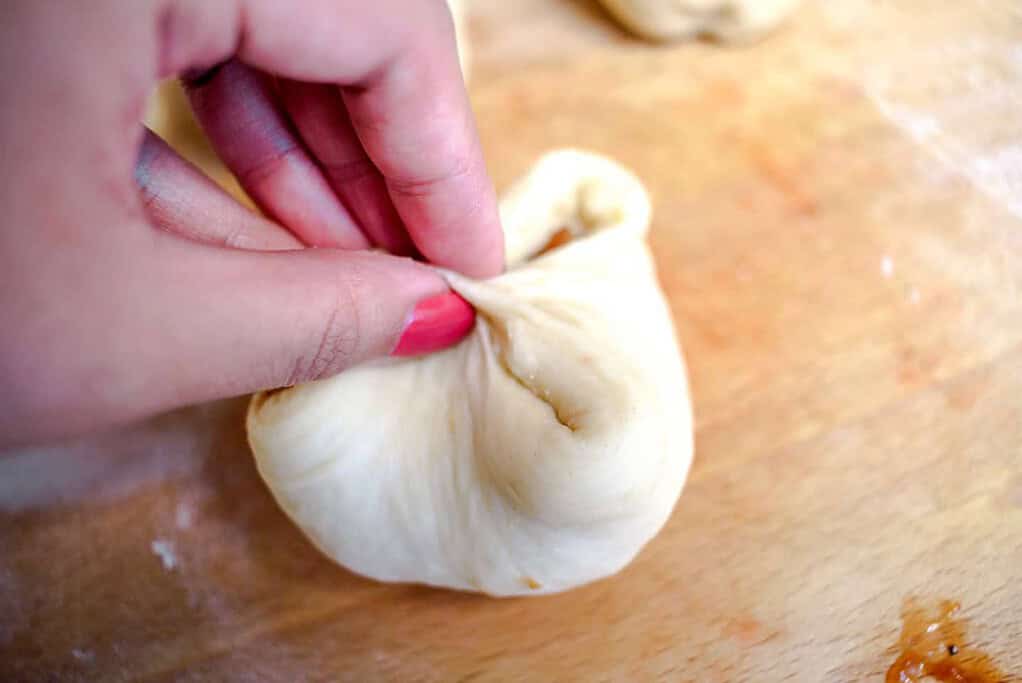 Close the bun by pinching the sides of the circle together. I like to sort of make four "corners" and pinch them together before gathering up any gaps in the dough. Be very gentle, so that you don't poke a hole in the other side. Pinch and seal everything carefully to prevent leakage when baking.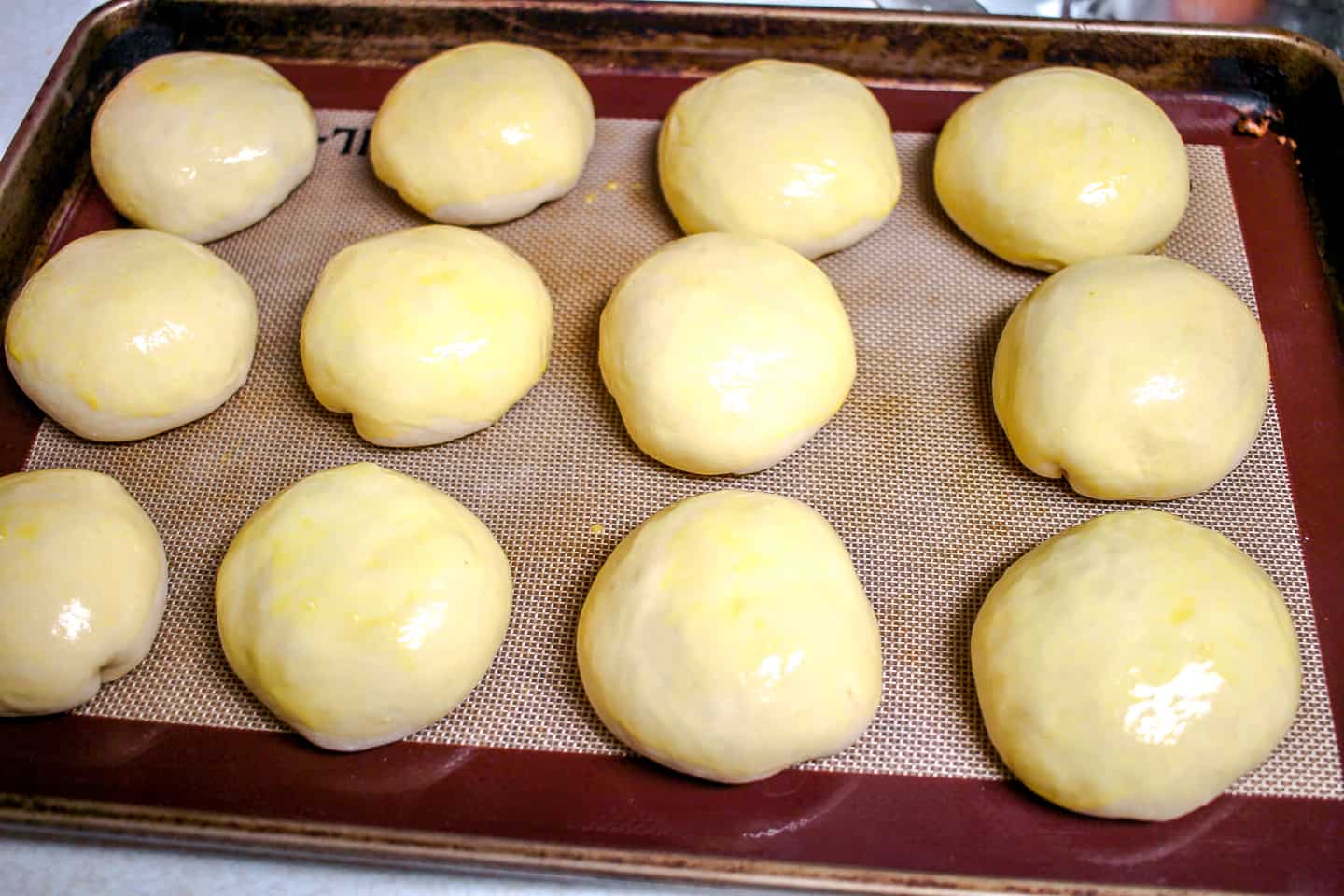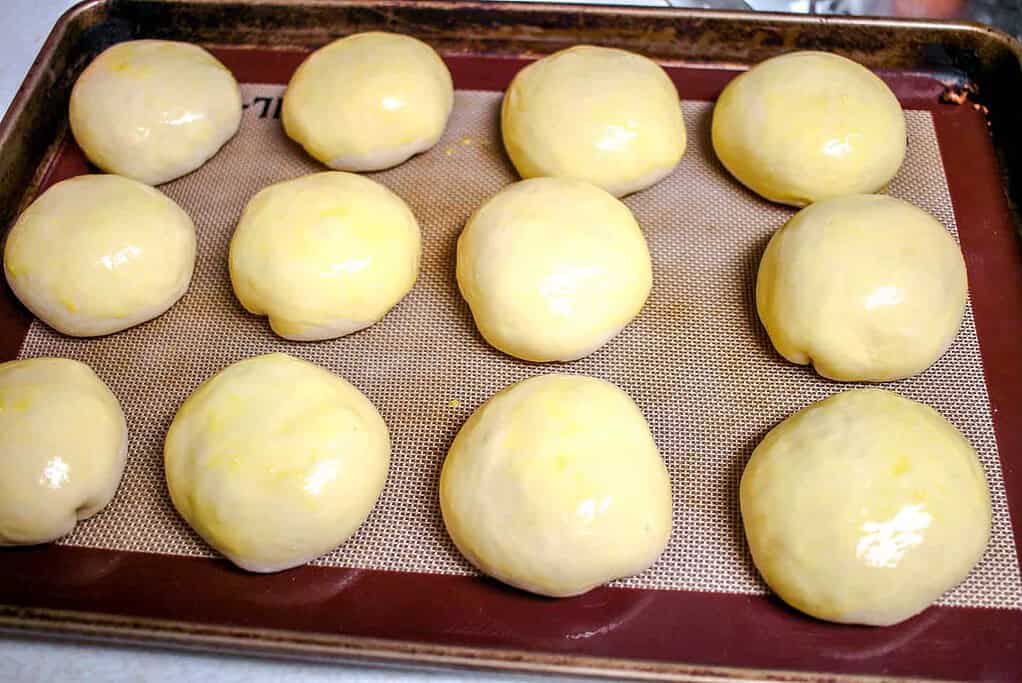 Let the buns rise on a cookie sheet for about 20 more minutes. Brush them with egg wash and bake in a 350 degree Fahrenheit oven for about 20 minutes, until brown and shiny.
💭 Tips and substitutions
Where to find char siu pork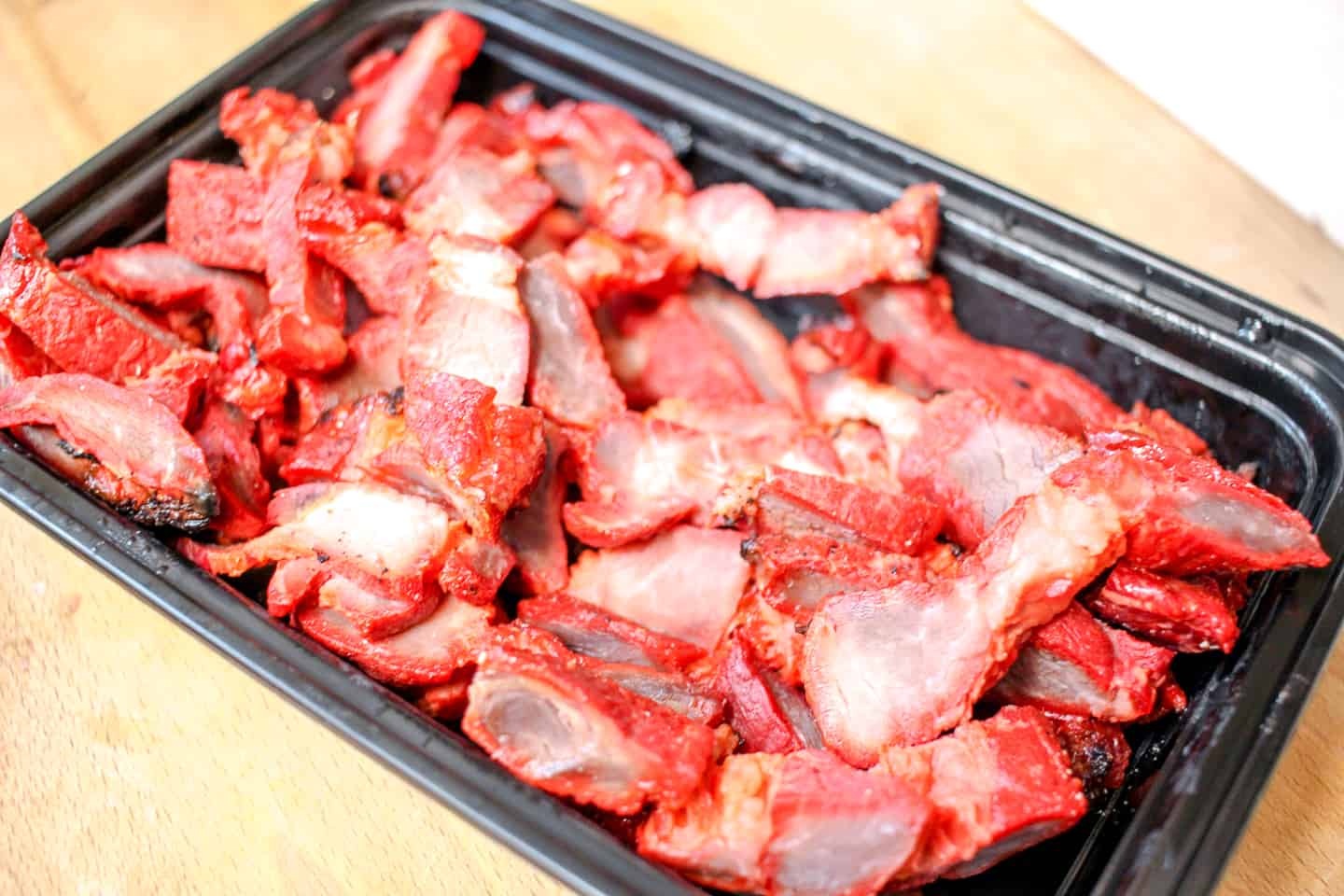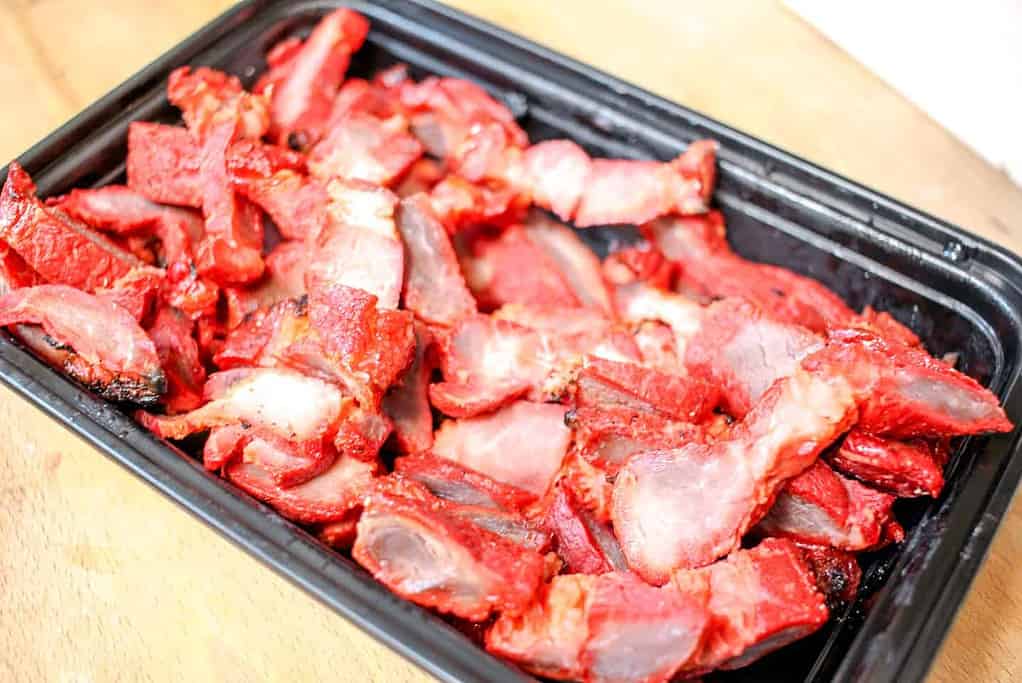 I buy my BBQ pork, or char siu from a local Chinese BBQ joint. These restaurants are marked by the roasted ducks and chickens you'll see hung right up by the window as you walk by. I've made my own char siu before, but in my opinion, nothing beats store bought. The Chinese BBQ masters have perfected the char siu craft. Not only will your Char Siu Bao taste better with store bought pork, it'll save a lot of time as well.
If you cannot find a Cantonese BBQ restaurant near you and want to make your own char siu pork, I reccomend using The Woks Of Life's recipe.
Instant vs active dry yest
This recipe has been updated to use instant yeast to make it a little more user friendly. Instant yeast can be added directly to the dry ingredients before being kneaded. If you do not have instant yeast (sometimes labeled "rapid rise"), you can use active dry yeast. You will have to add the active dry yeast to some warmed milk and wait for the mixture to get foamy before adding to your dough.
Milk bread dough uses
This dough can be used for a variety of sweet and savory breads. bánh mì xá xíu is my favorite, but you can fill it with ham, eggs and cheese, wrap the dough around hotdogs, or fill it with pineapple jam, custard or even tuna salad.
Vegetarian buns
You can substitute a ground meat alternative like Beyond or Impossible brand, or use diced mushroom for the filling for a delicious vegetarian option. Find a mushroom that holds its shape and does not release a lot of moisture, like oyster or king oyster mushroom.
🥪 Serving suggestions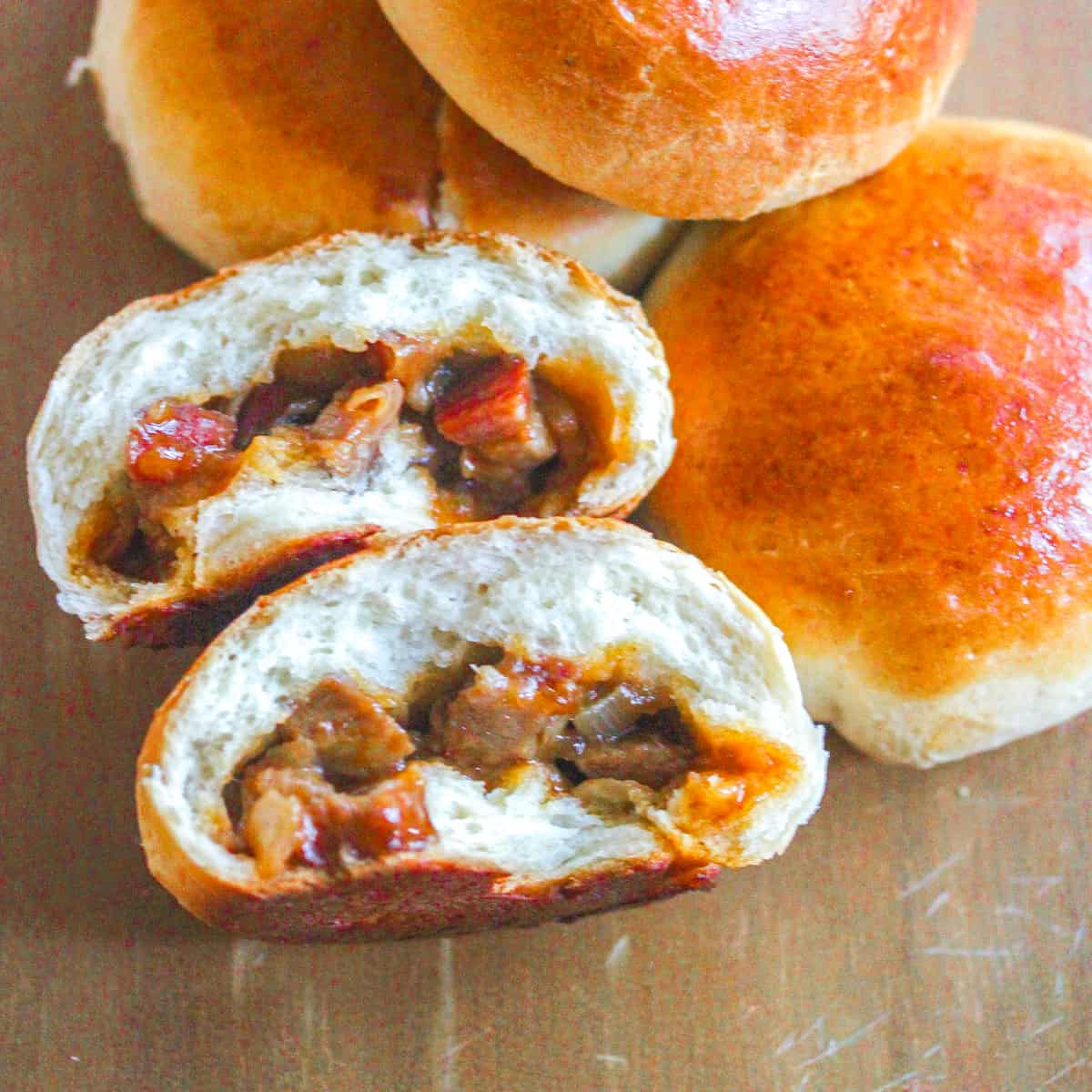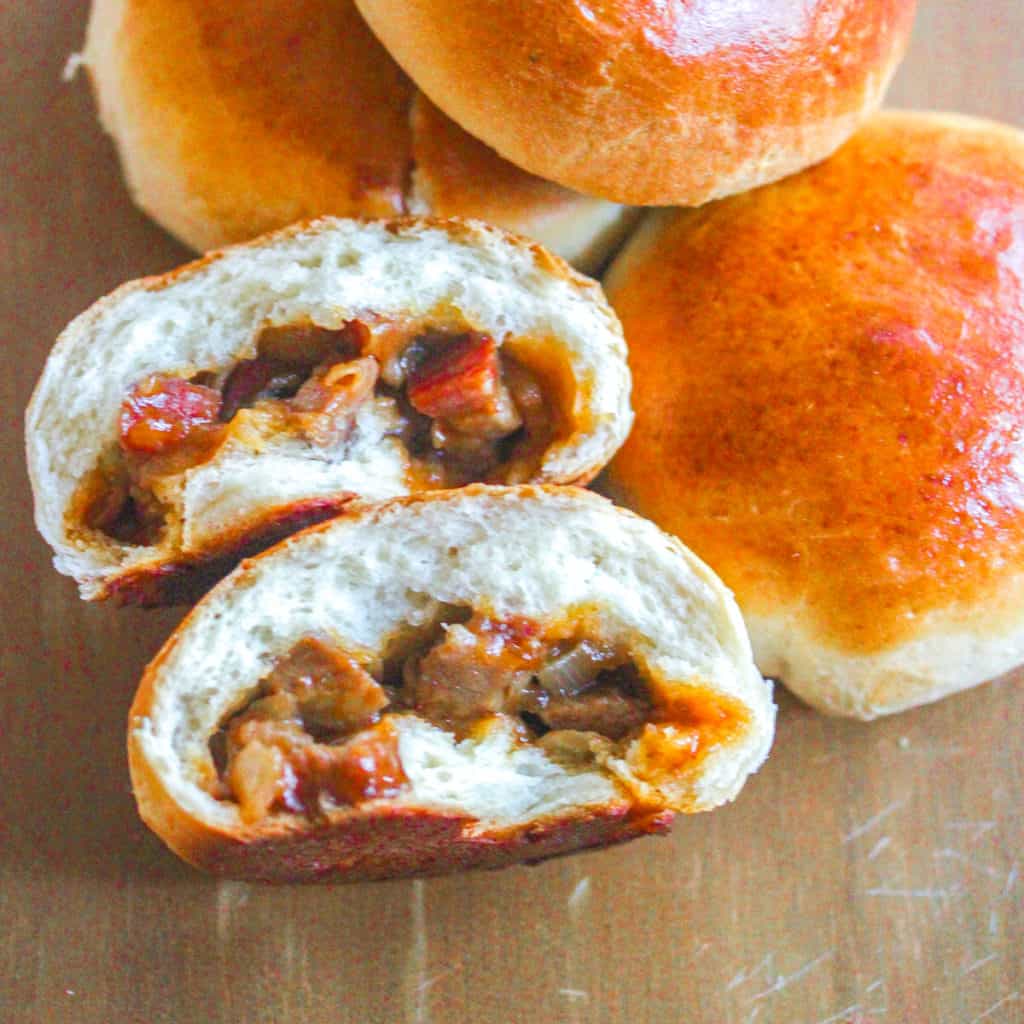 If you want to reheat these, you can wrap the char siu bao in a damp paper towel and stick them in a microwave for 20-30 seconds. These will also taste great at room temp. They're sold at room temp at most bakeries.
🥡 How to store or make in advance
These will last one day on the counter. Afterwards, put them in the fridge if you haven't eaten all of them (this is unlikely). Reheat them as needed. They'll last a week in the fridge.
These can be frozen after baking to be served later. Wrap them well individually and freeze for up to four months. Let them defrost before warming back up in a warm oven or toaster oven.
👪 Serving size
This recipe makes 12 buns. The filling and dough can be doubled easily to serve 24.
If you're doubling up the dough, it might be a good idea to do two separate batches rather than kneading it all at once, especially if you have a smaller stand mixer.
📋 Recipe
Chinese BBQ Pork Buns / Baked Char Siu Bao (Bánh Mì Ngọt Nhân Xá Xíu)
These BBQ Pork Buns, or Baked Char Siu Bao, are a classic at any Chinese bakery. The round, shiny buns pack perfectly for a quick lunch.
Ingredients
For the bread
400

g

bread flour

(3 cups)

100

g

granulated sugar

(½ cup)

2

teaspoon

active dry yeast

1

large

egg

50

g

butter, melted

(3½ tbsp)

200

ml

milk

(7 oz or just under 1 cup)
For the filling
1

tablespoon

neutral oil

like canola

1

medium

onion, diced

(about 250g or 1¾ cup)

250

g

char siu/BBQ pork, diced

(1½ cup)

1

tablespoon

oyster sauce

1

tablespoon

soy sauce

1

teaspoon

sesame oil

½

tablespoon

corn starch

½

cup

water
Instructions
For the bread
Add bread flour, granulated sugar and yeast into the bowl of a stand mixer

With the hook attachment on medium, begin mixing dough while adding egg, butter and milk

Mix on low until no loose flour remains. Then, increase speed to high and knead for about 10 minutes until dough no longer sticks to the side of the bowl and is smooth

Transfer dough into an oiled bowl and cover to let rise for about an hour
For the filling
Heat pan on medium heat with 1 tablespoon of oil. Add onions and begin to sweat until just soft, about 2 minutes

Add diced bbq pork and warm through, about 2 minutes

Add soy sauce, oyster sauce and sesame oil and coat the pork and onions, about a minute

Add water and corn starch together in a separate bowl to create a slurry. Mix well and pour into pork mixture

Heat mixture and stir constantly until liquid has thickened and the filling looks shiny
Assembling the buns
Preheat the oven to 350 degrees Fahrenheit

Divide the dough ball into 12 equal pieces

Roll one dough ball flat into a circle about the size of your palm.

Fill dough with an equally portioned scoop of filling and pinch the sides of the dough together to form a seal

Repeat with the rest of the dough balls. Let buns rise for an extra 20 minutes

Brush the tops of the buns with some beaten egg and bake for about 20 minutes, or until golden brown and shiny.
Nutrition
Serving:
1
bun
|
Calories:
287
kcal
|
Carbohydrates:
43.9
g
|
Protein:
10.7
g
|
Fat:
6.9
g
|
Saturated Fat:
2.9
g
|
Polyunsaturated Fat:
0.7
g
|
Monounsaturated Fat:
2.1
g
|
Cholesterol:
37
mg
|
Sodium:
246.8
mg
|
Potassium:
46.2
mg
|
Fiber:
1.6
g
|
Sugar:
13.5
g
|
Vitamin A:
43.2
IU
|
Vitamin C:
0.7
mg
|
Calcium:
25.7
mg
|
Iron:
11.9
mg
Nutrition Facts
Chinese BBQ Pork Buns / Baked Char Siu Bao (Bánh Mì Ngọt Nhân Xá Xíu)
Amount Per Serving (1 bun)
Calories 287
Calories from Fat 62
% Daily Value*
Fat 6.9g11%
Cholesterol 37mg12%
Sodium 246.8mg11%
Potassium 46.2mg1%
Carbohydrates 43.9g15%
Protein 10.7g21%
Vitamin A 43.2IU1%
Vitamin C 0.7mg1%
Calcium 25.7mg3%
Iron 11.9mg66%
* Percent Daily Values are based on a 2000 calorie diet.
Did you make this recipe? Please tag @BunBoBaeBlog on Instagram or leave a rating or comment on the blog!
---
Don't miss a single recipe! Sign up with your email below for recipes in your inbox.
---
Loved this recipe? You might also like: