You'd think that the first noodle soup recipe I'd post on here would be
bún bò huế, since I'm the bun bo bae, but I thought I'd start out with something a little easier: bún riêu
A lot of Vietnamese noodle soups involve simmering bones for hours at a to extract all the flavor from the meat. You can save time with an Instant Pot if you have one, but the broth never tastes as good as doing it the old fashioned way. A lot of my friends are discouraged from trying to make Vietnamese noodle soups because of how time intensive they are.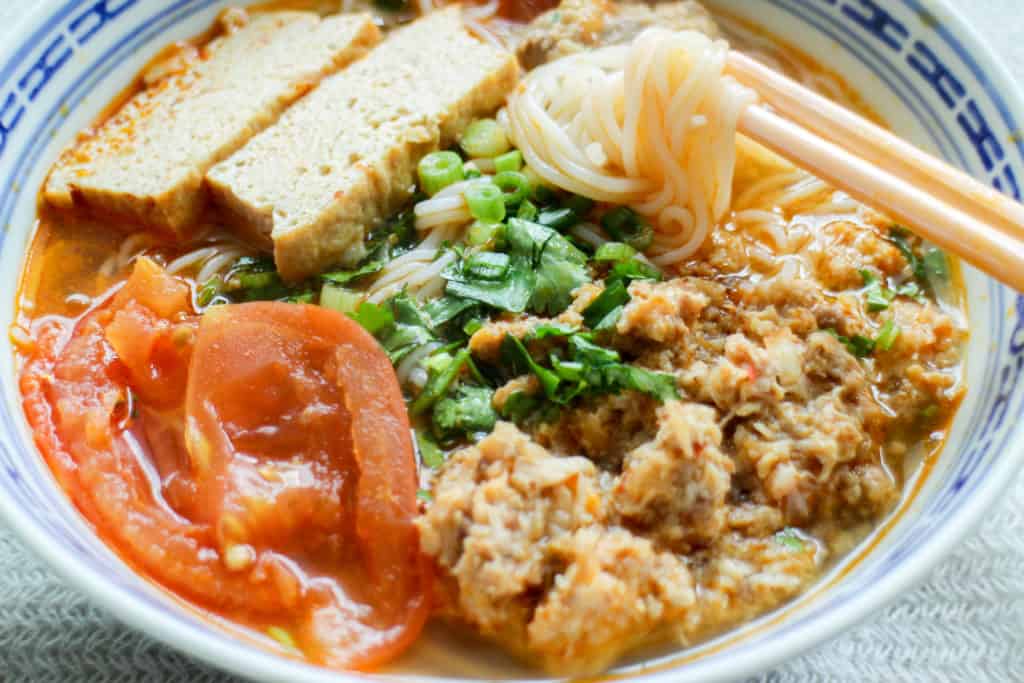 Bún riêu, on the other hand, comes together in a snap. Spare ribs and dried shrimp are used to flavor the broth instead of large bones, and tomatoes bring a fresh acidity to the hearty dish. It's the perfect springtime soup. My apartment complex hasn't activated our air conditioning yet, so I'm avoiding dishes that require having the oven turned on all day.
The "riêu" in bun riêu refers to the crab mixture in the dish. I prefer the crab mixture to be very delicate but I've also seen the soup served with firmer crabcakes. Traditionally, blue crabs are pounded with their shells still on until they form a paste. Then the liquid is strained out for the broth and the leftover crab mixture is used to make the riêu. This is super complicated. Luckily, you can easily recreate the rieu with some canned or fresh crab meat and two special ingredients.
Minced prawns
Minced prawns will give your broth color and flavor. The reddish-orange color from the prawns mimics the crab innards. This ingredient will be hard to find at a regular grocery store. Go to your local Asian store or buy it online.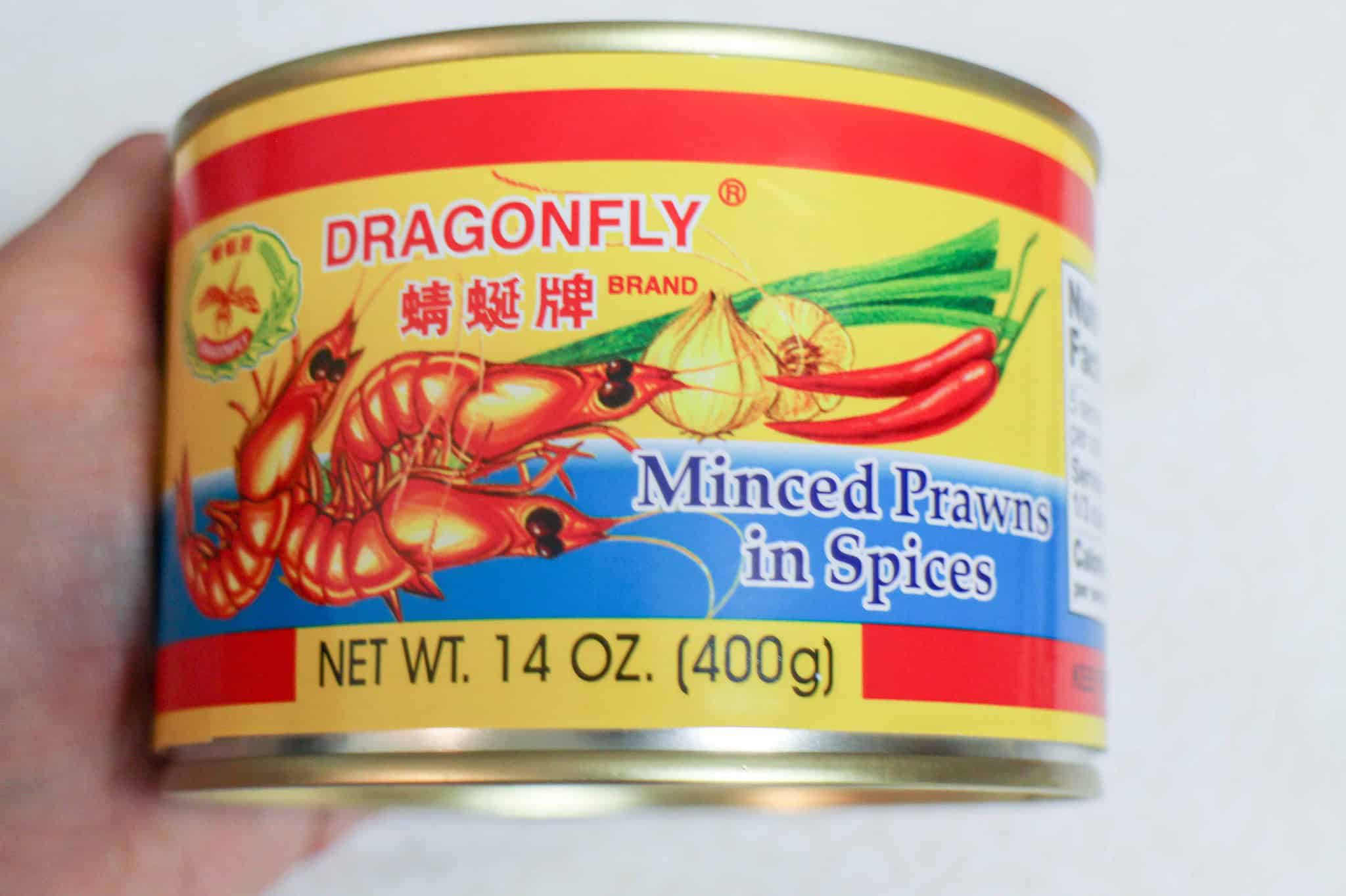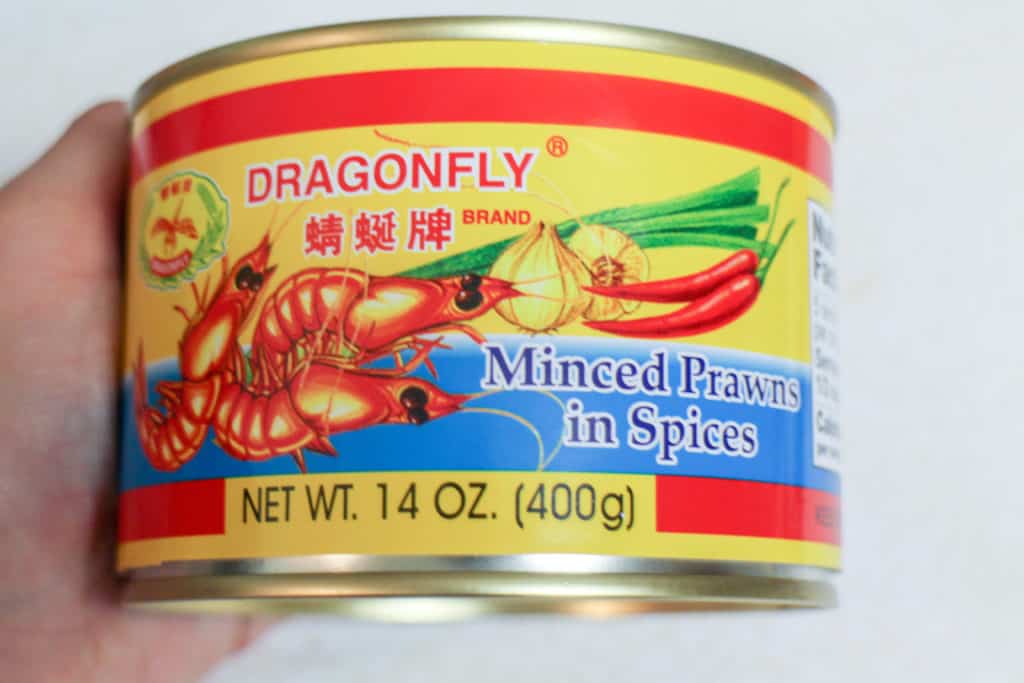 Dried Shrimp
Spare ribs alone won't give your broth the right depth of flavor. Since we're not using fresh crab to make broth, these dried shrimp will do the trick. They're small but they pack a punch. You only need to use five or six for an entire pot of soup. These are also available online.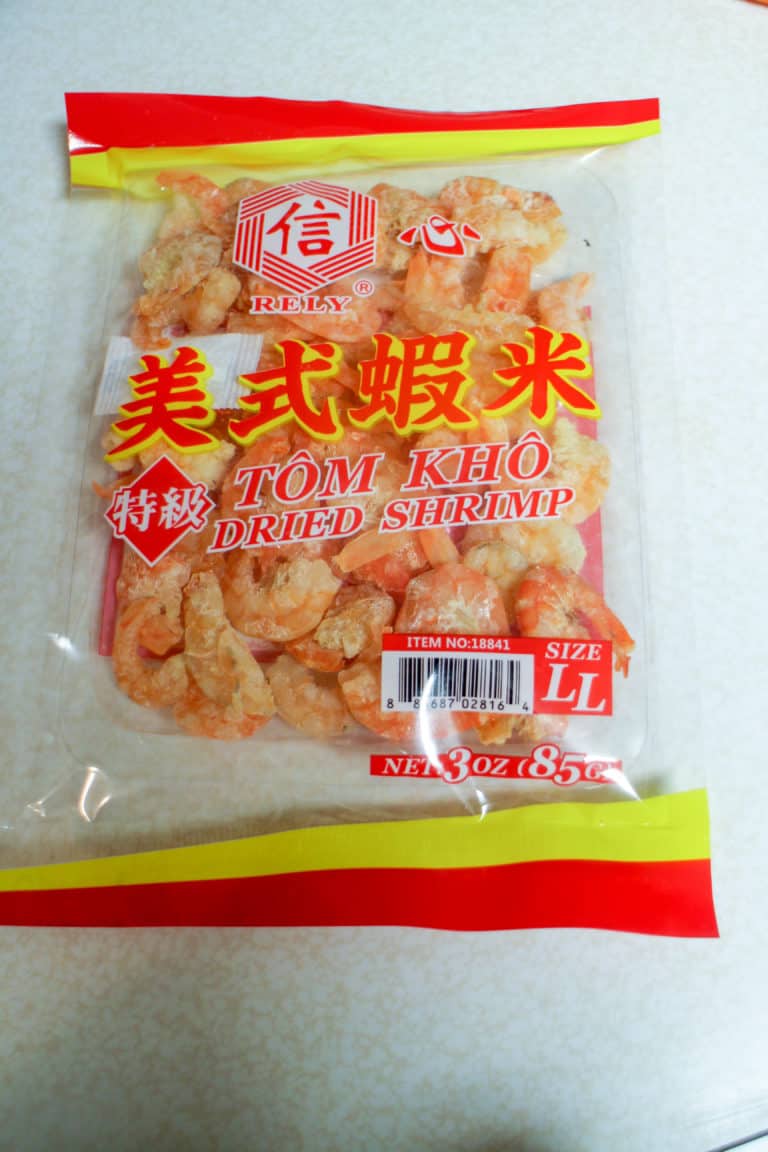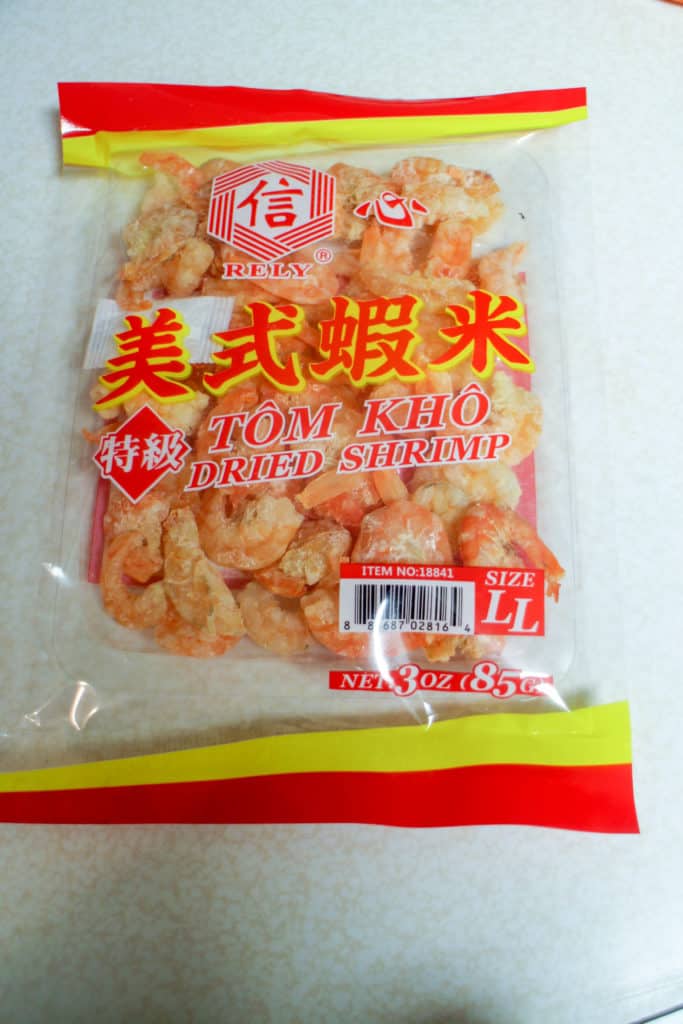 Crab meat and boullion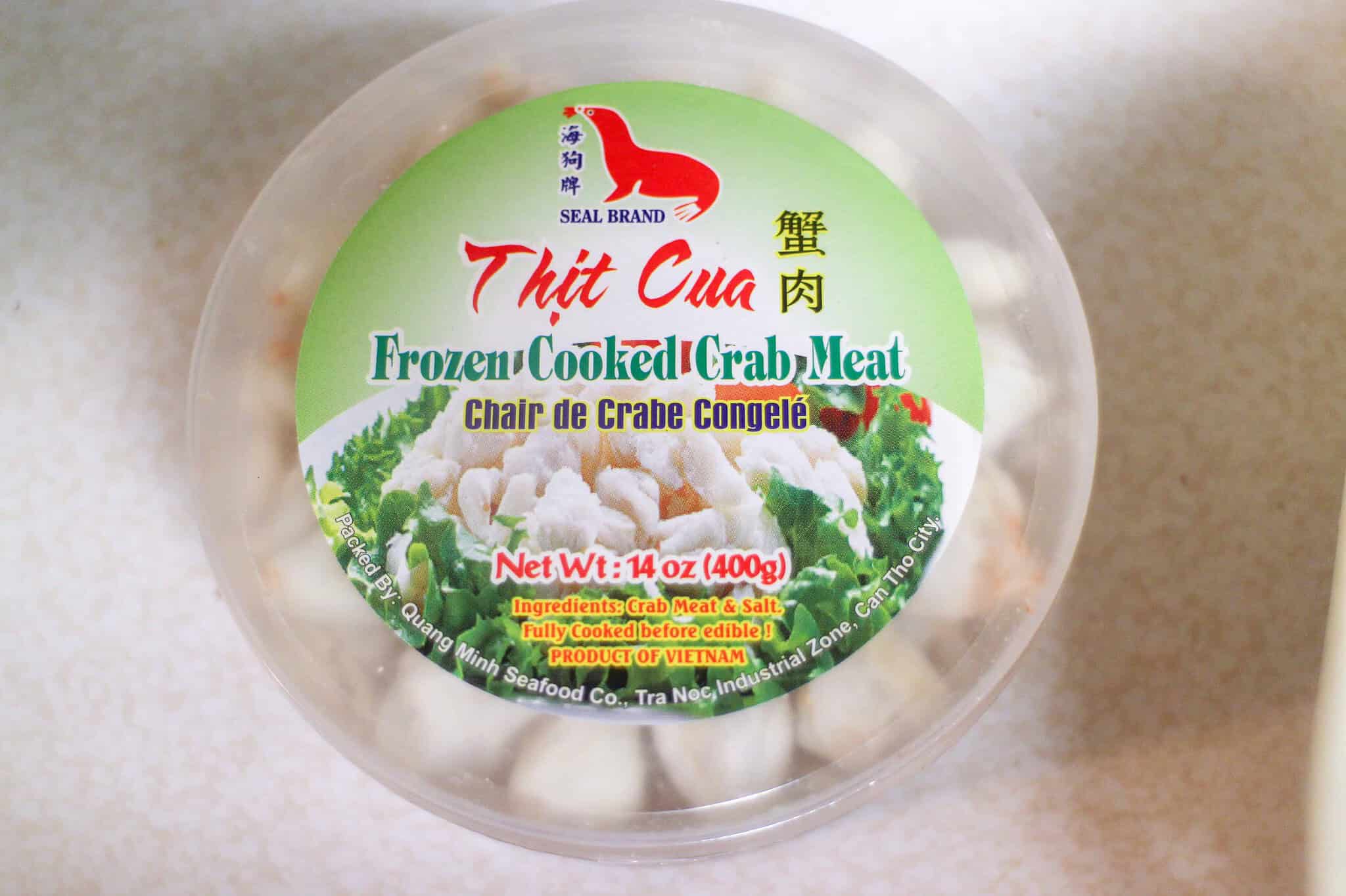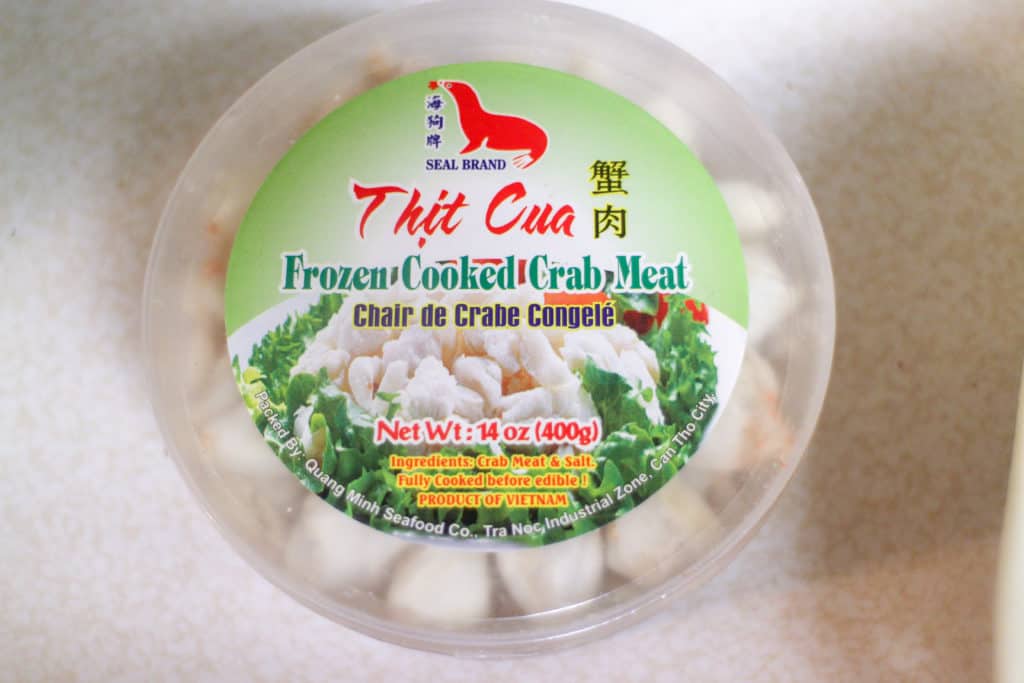 The crab meet I usually use for bún riêu is frozen and already cooked. You can also use canned crab or fresh crab from the seafood section.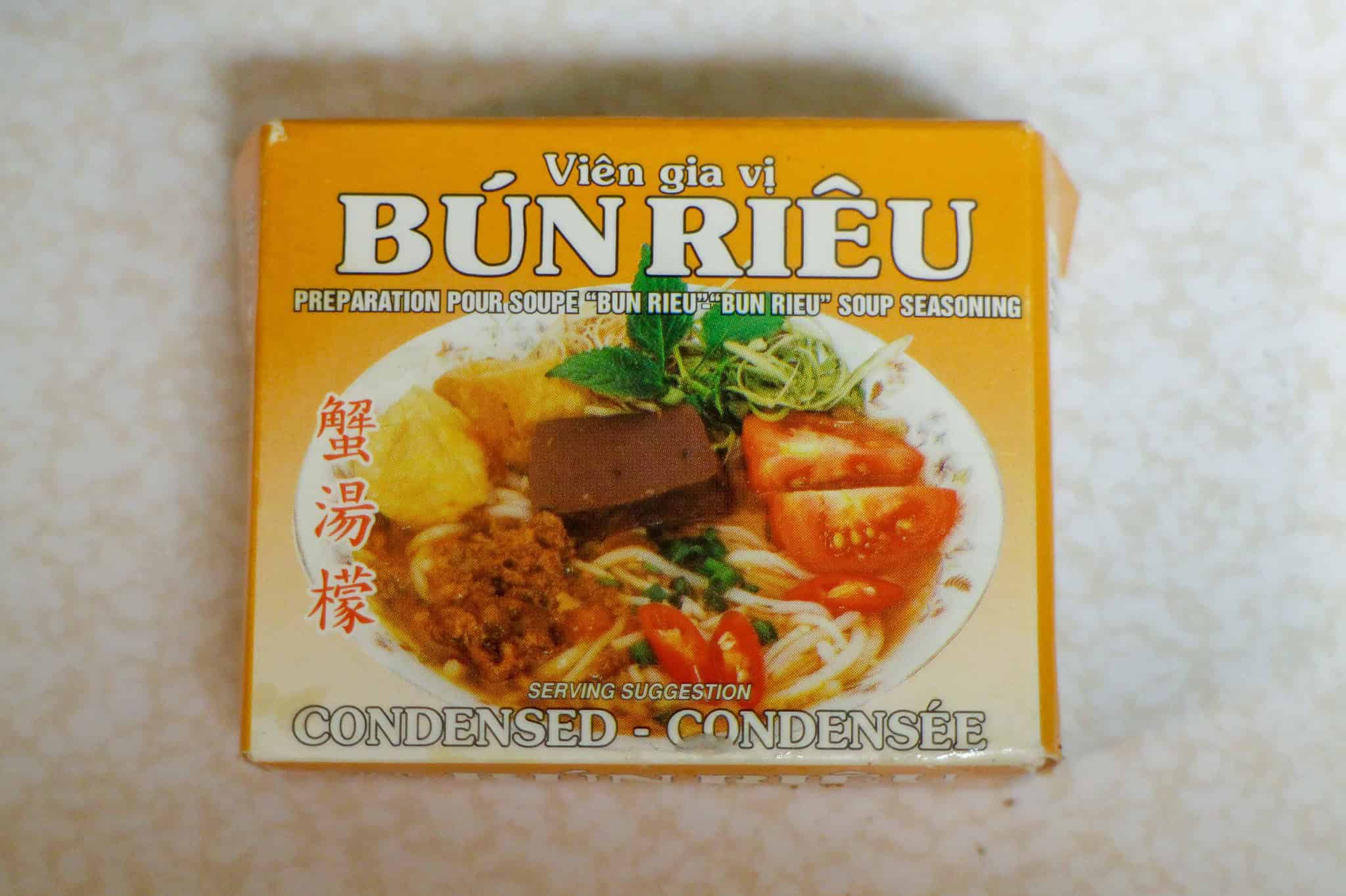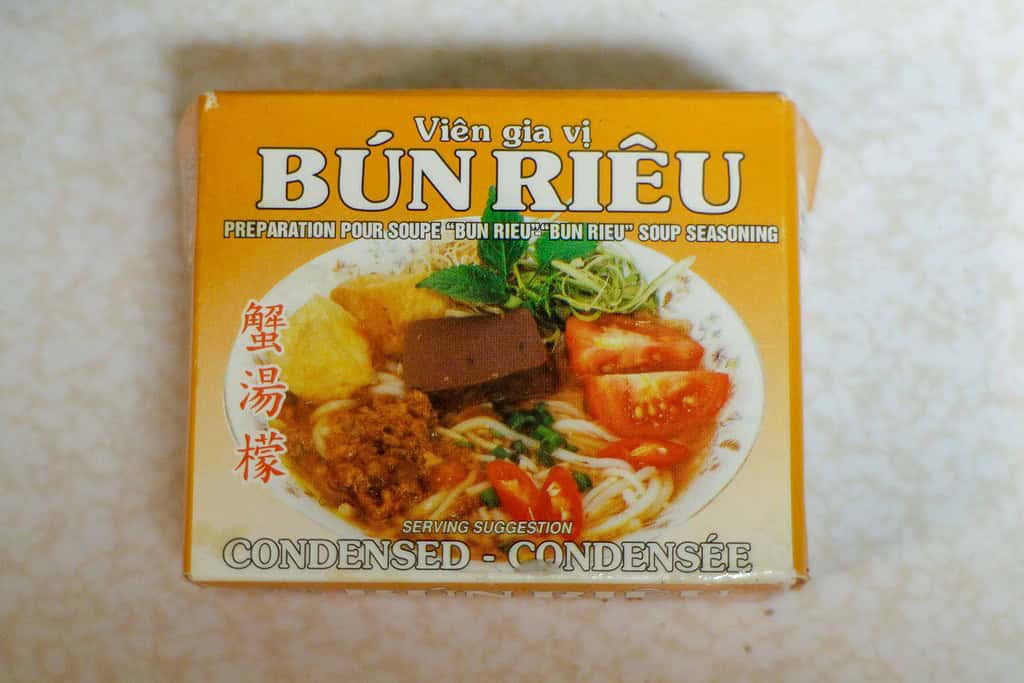 One last ingredient you'll need is the bouillon. My family uses bouillon cubes for several noodle soups. If you go to an Asian grocery store, you'll see boullion for bún riêu , bun bo hue, pho and more. I always have a few of these on hand for making noodle soups.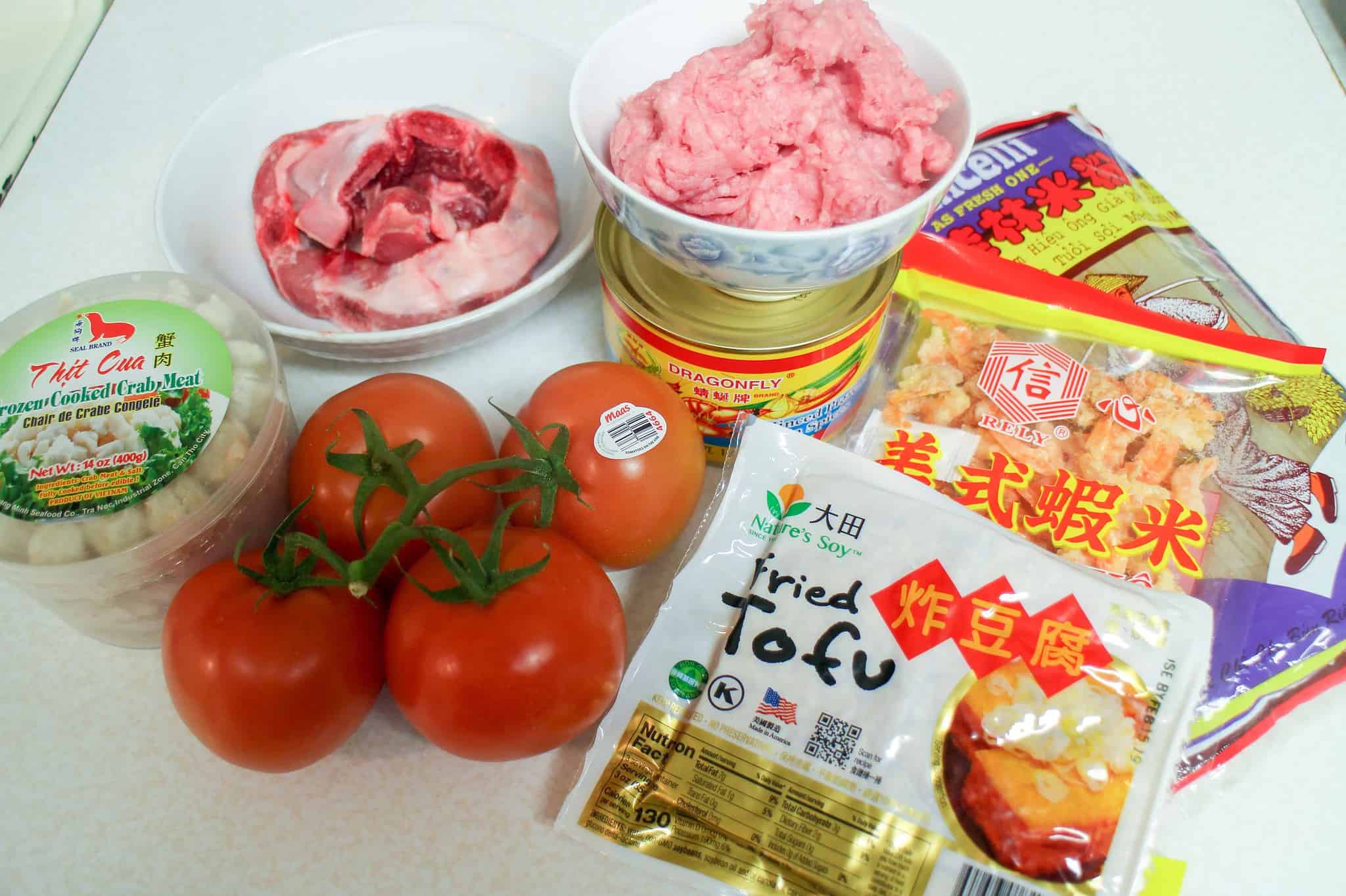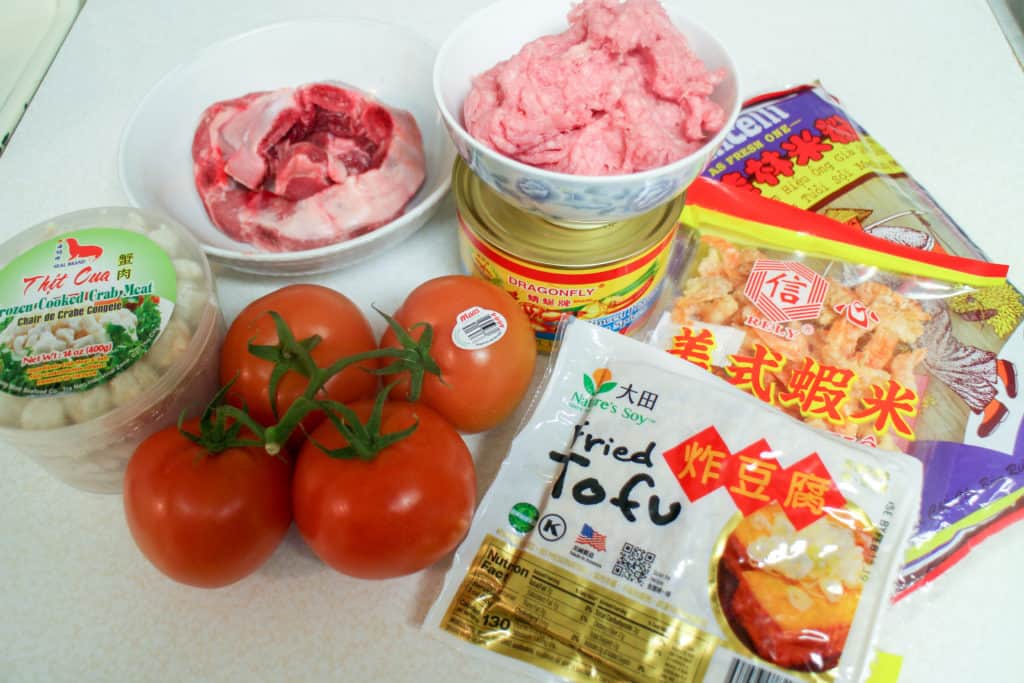 Bún riêu : Step-by-step instructions
Start by parboiling your spare ribs. I mentioned the importance of par-boiling in my recipe for crockpot spare rib soup. Parboiling removes all of the scum from the meat and results in a cleaner, clearer broth. Parboiling is super easy. Throw your spare ribs into a pot of salted water and bring to a boil. After it's been boiling for about a minute, remove from the heat, drain and rise.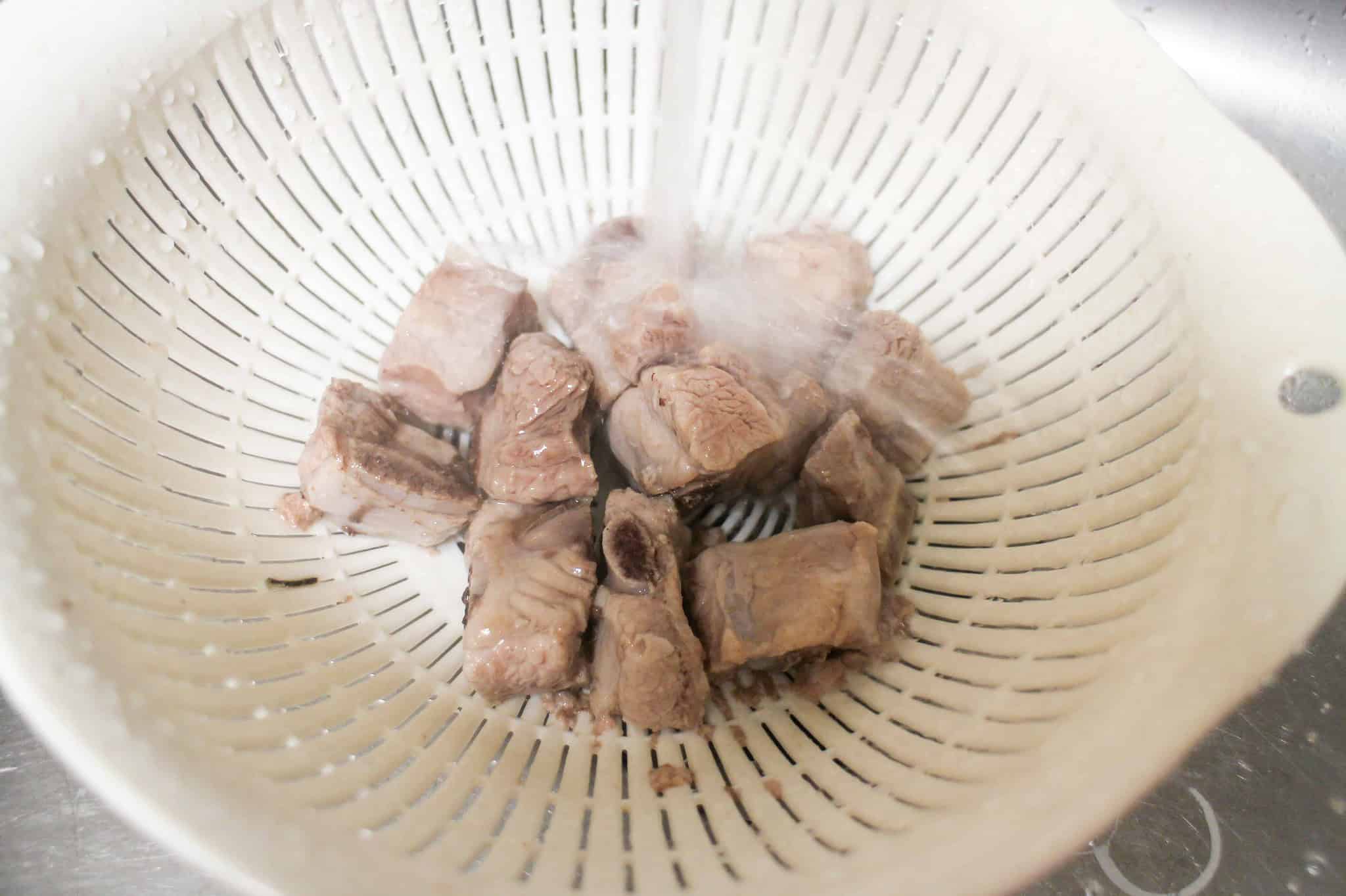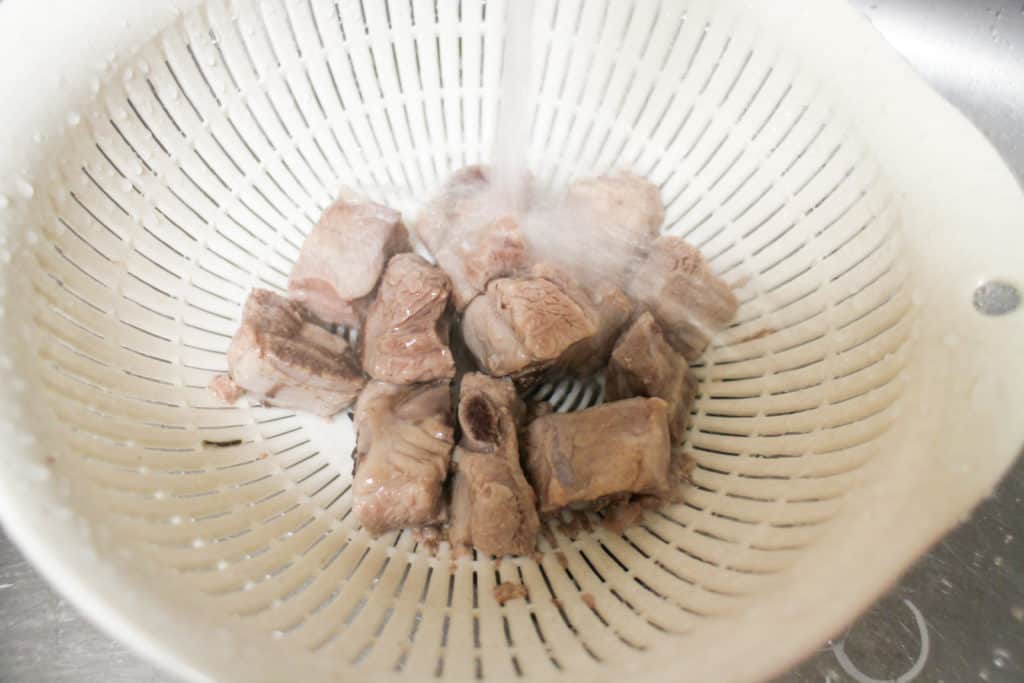 After the parboil, add your ribs back to your pot with 5-6 cups of water and the dried shrimp. Bring the water to a boil and keep at a simmer for 30 minutes before removing your shrimp.
While the stock is simmering, slice two tomatoes into wedges and thinly slice your fried tofu.
Lightly fry half of your tomato slices in vegetable oil. This brings out their color. You don't want to fry all the tomato wedges because they'd all lose their definition in the broth.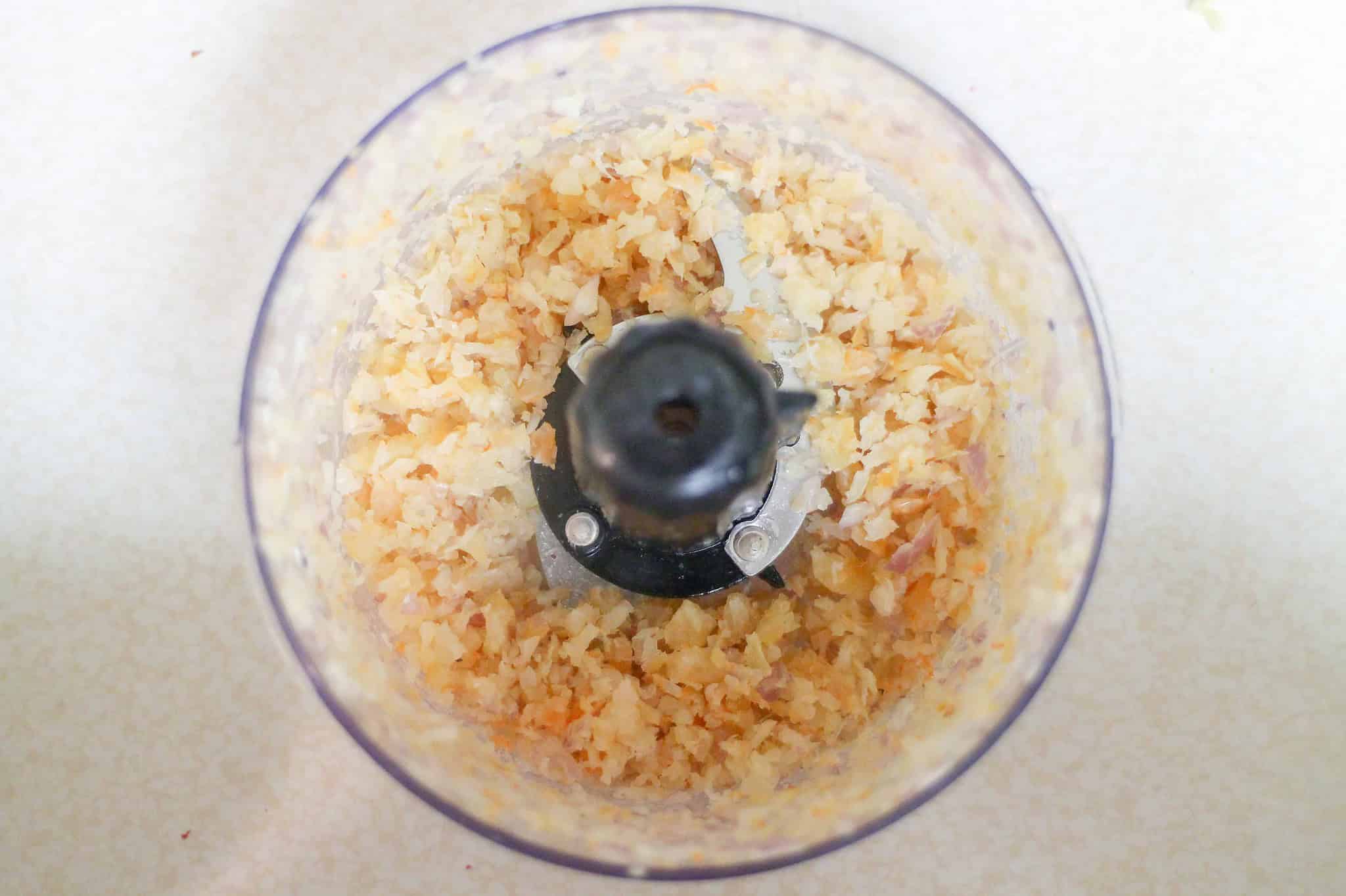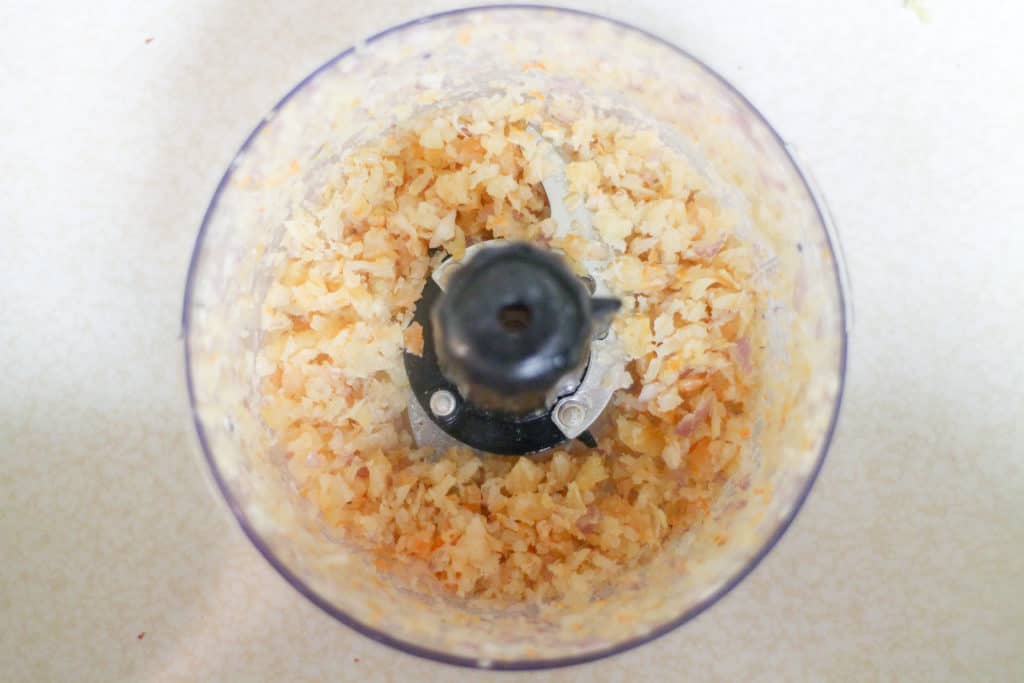 Once the shrimp have released most of their flavor, grind them with some shallot in a food processor.
The rieu mixture has minced prawn, dried shrimp, crab, ground pork, shallot, egg, salt and pepper. The amount of ground pork you add is up to you. Sometimes ground pork is omitted all together for an extremely delicate rieu. I like my rieu to barely hold together so I only add a little. If you like your rieu to be more like a crabcake, add more pork.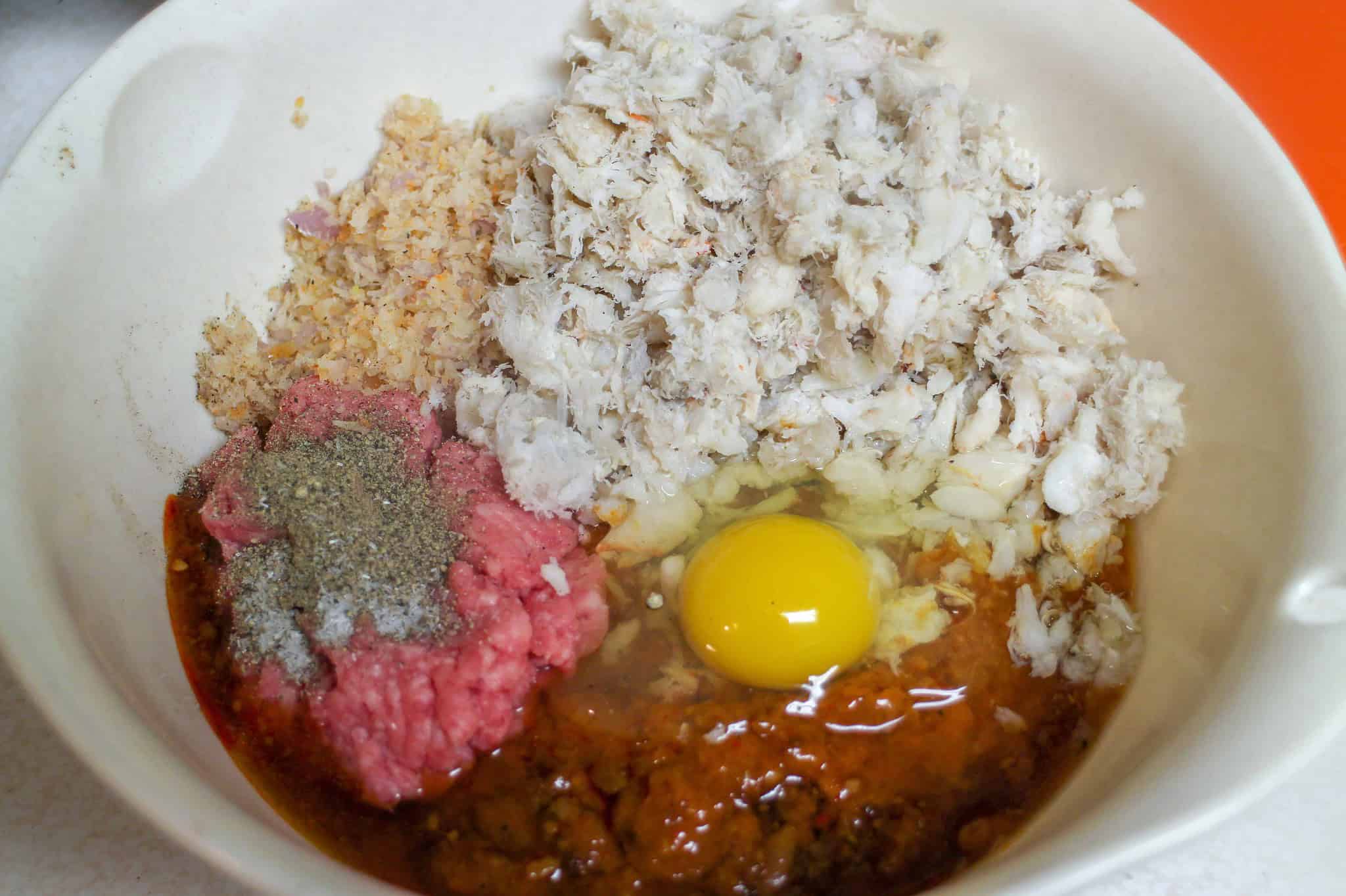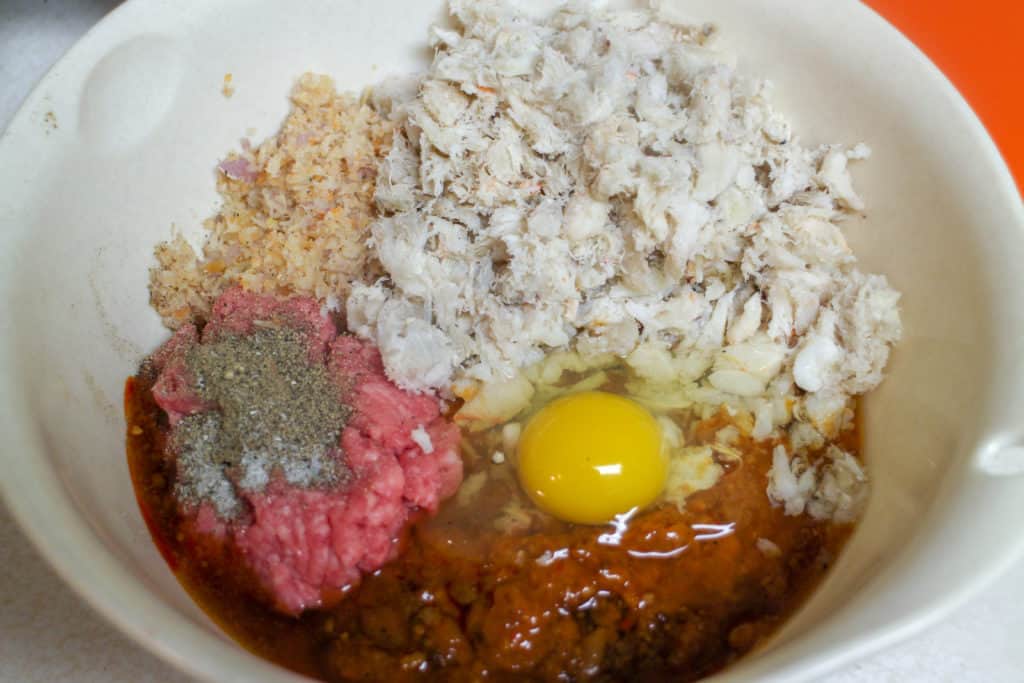 The mixture should be pretty thick, but not firm enough to form into balls.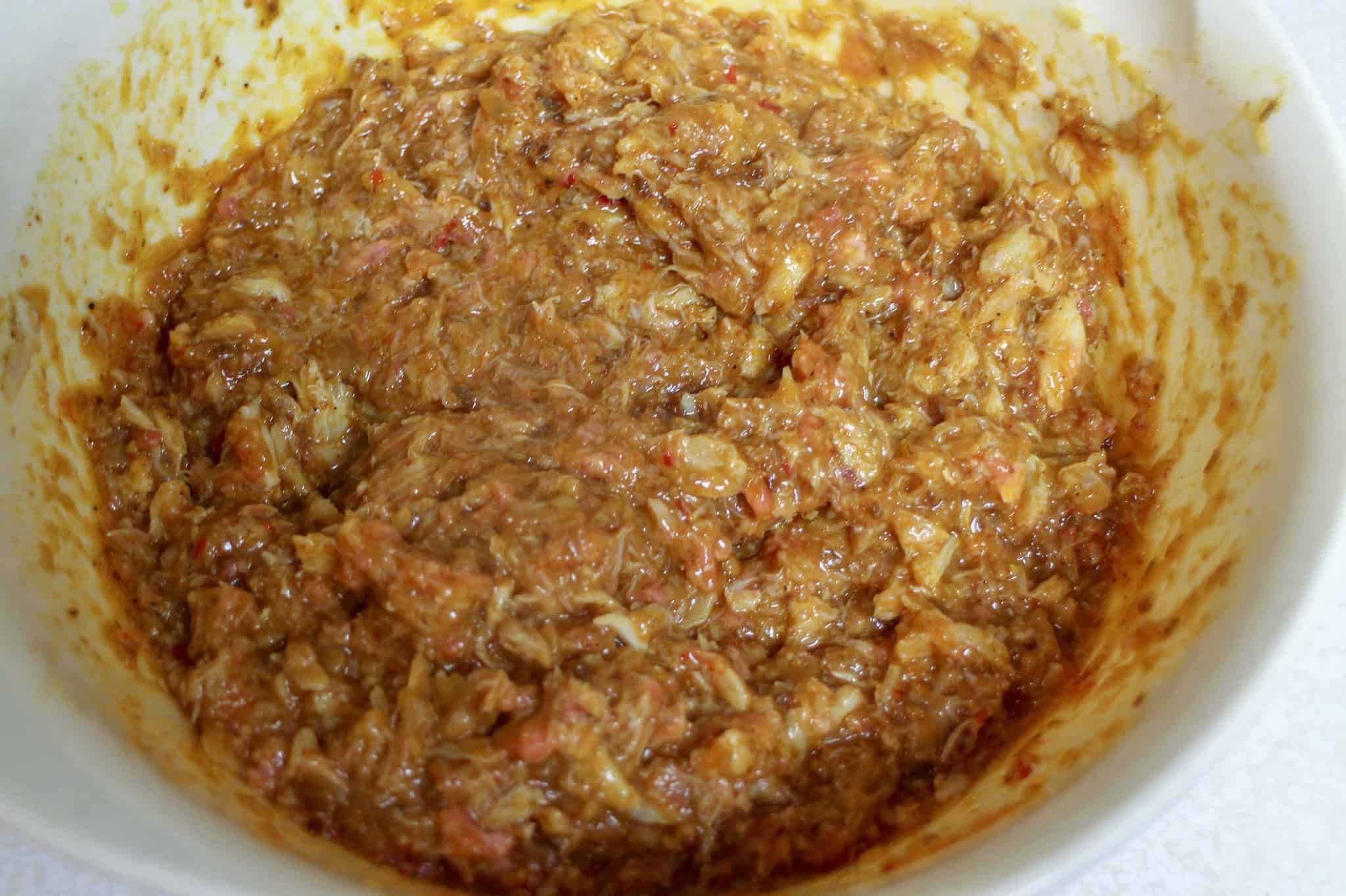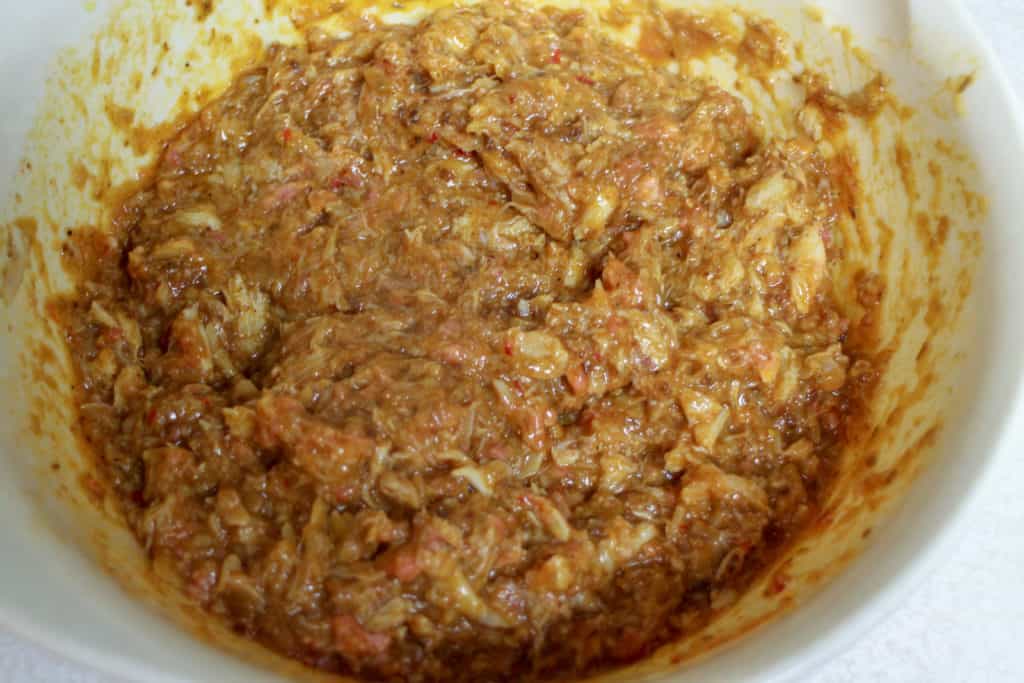 Add the tomatoes and tofu to your broth and bring everything back to a gentle simmer. Slowly spoon the rieu mixture into the broth. You can add some birds eye chilis at this point as well to add some heat, but this isn't traditional.
Serve over rice vermicelli noodles.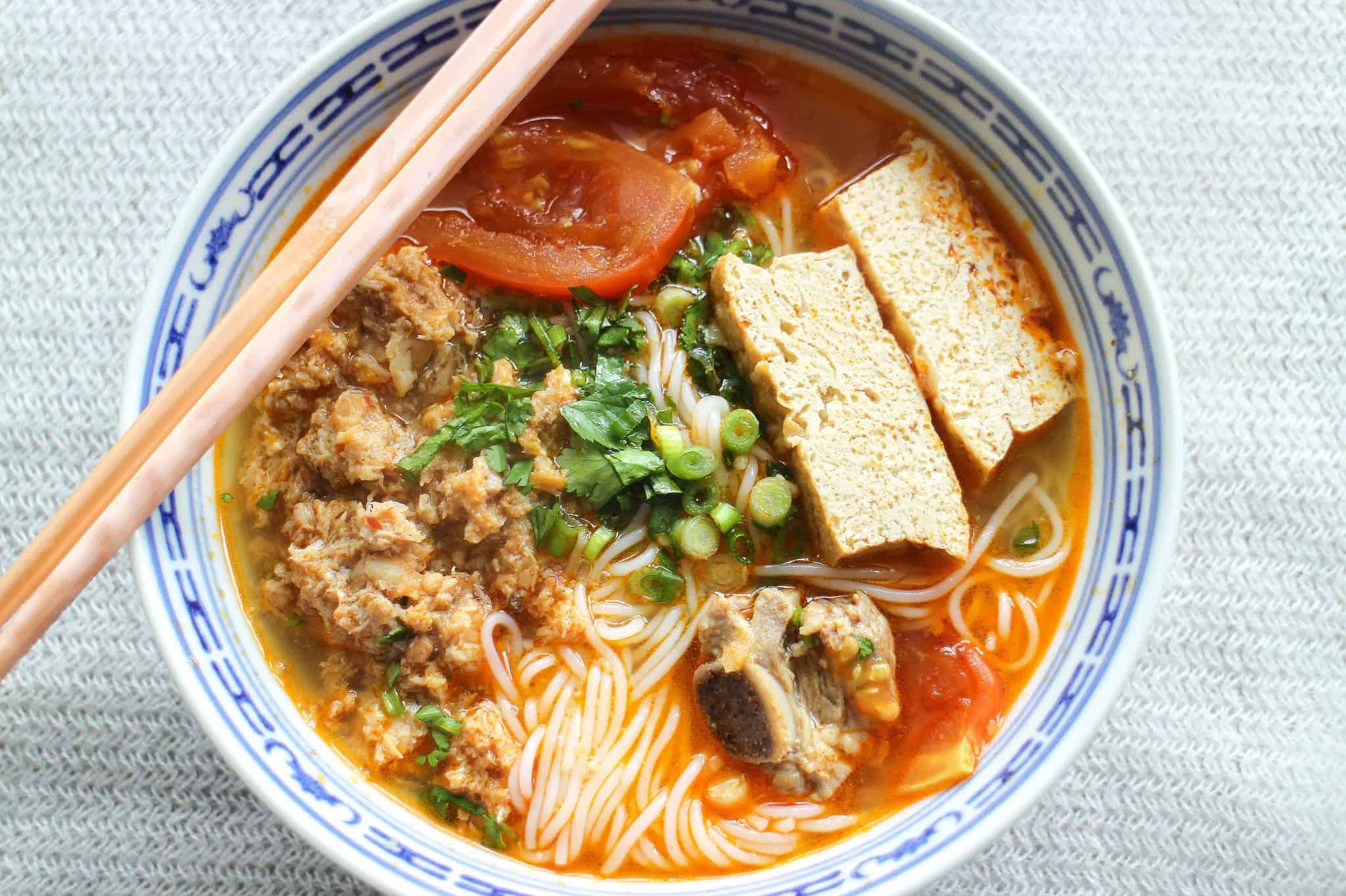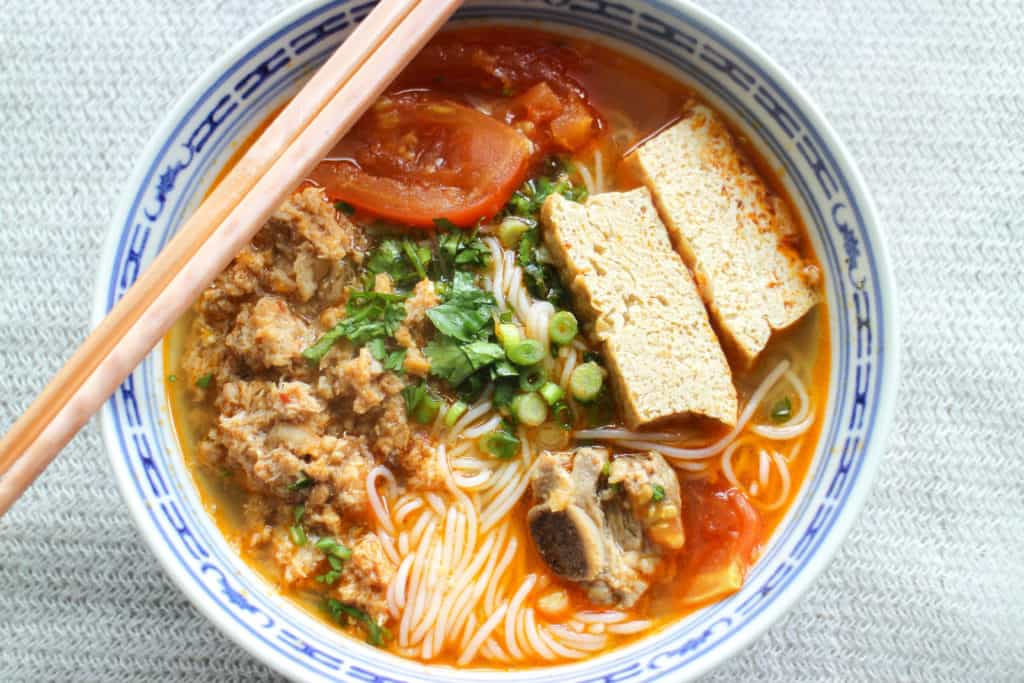 Notes:
Once you add the riêu, this dish shouldn't ever be heated back up to a rolling boil. It will break up the riêu into little pieces.
My mom always adds two birds eye chilis to the broth. If you want it more spicy, you can chop up the chilis or serve the noodles with a side of sambal.
Bún Riêu: Vietnamese crab noodle soup
This rice noodle soup with crab is light and perfect for spring.
Ingredients
1

lb

pork spare ribs

5-6

dried shrimp

6

cups

water

2

medium tomatoes

sliced into wedges

1

package fried tofu

sliced

1

shallot

1 14

oz

can minced prawns in spices

14

oz

crab meat

½

lb

ground pork

1

egg

salt and pepper to taste

1

package medium sized vermicelli noodles

Scallion and cilantro for garnish
Instructions
Cook noodles according to package and set aside

Cut spare ribs between bones and add to a pot of cold, salted water. Bring to a boil and boil for 2 minutes

Drain and rinse ribs and add back into pot with 6 clean cups of water. Add dried shrimp and simmer for 30 minutes

Take shrimp out and add bouillon to the remaining broth and ribs

Add dried shrimp and shallot to a food processor and blend until shrimp is finely shredded

Mix shrimp/shallot mixture, crab, pork, minced prawn, egg, salt and pepper together

Add tomatoes and tofu to broth and bring to a boil

Reduce the heat and carefully spoon rieu mixture into the broth.

Bring broth back to a simmer for about 15 minutes until rieu is cooked.

Serve over vermicelli noodles with chopped scallion and cilantro
Did you make this recipe? Tag @bun.bobae on Instagram and hashtag it #bunbobae!
Want more recipes in your inbox? Subscribe to my email list!