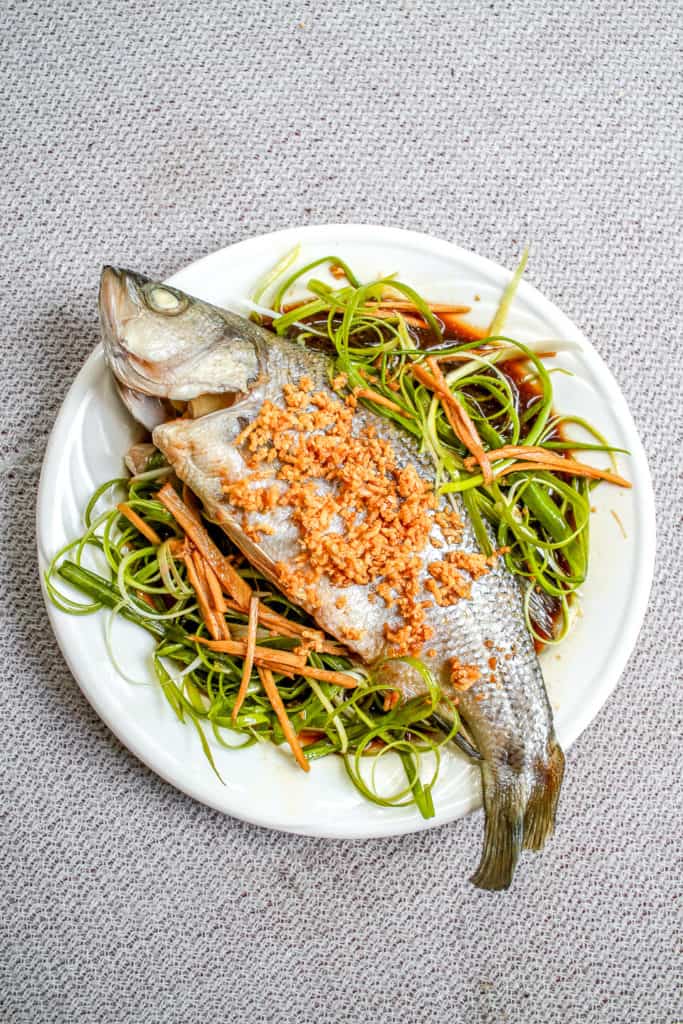 Whole fish is a staple dish in Asian home cooking. However, it can be a pretty scary task for a home cook if you're used to cooking with filets. For picky eaters, the sight of that fish looking at you can turn many away as well. I encourage you to throw all those fears out the window though, because the Asians are right. Whole fish is delicious! Especially when steamed with classic aromatics like ginger, scallion and garlic. This recipe for a steamed whole fish, Asian style, or Cá Hấp Hành Gừng, is deceptively simple and packs a ton of flavor.
Special ingredients
Picking your fish
The flavors in this steamed fish dish are mild, so choose a delicate white fish, like bass or branzino. My family likes to use striped bass. Ask the fishmonger at your local grocery store to clean and descale the fish for you, but leave it whole.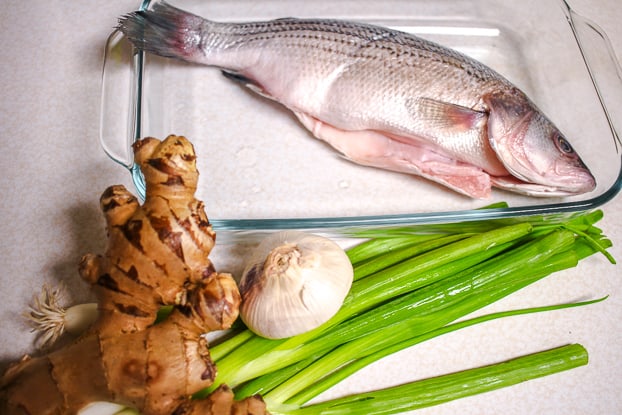 Shaoxing wine
Shaoxing wine is a commonly used ingredient in Chinese and other Asian style dishes. It will be used in the soy based sauce for this steamed fish recipe. It's a deep brown color, which adds color to dishes as well. The wine is very aromatic, so try and find it for Asian style dishes if possible. It's available at any Asian grocery store, or online. If you're really in a bind, you can try using a dry sherry in its place, but don't use a cooking sherry.
Steamed Whole Fish with Ginger, Scallion and Crispy Garlic (Cá Hấp Hành Gừng): Step-by-step instructions
For the fish
Pat the fish dry with paper towels and rub each side with a bit of oil to prevent sticking. Stuff the inside of the fish with a few slices of ginger and scallion.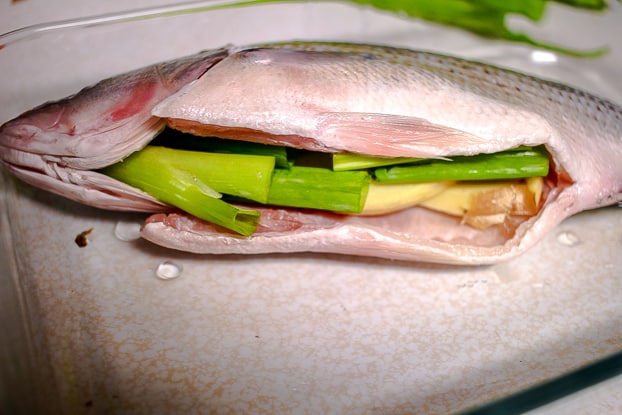 Put your fish on a plate or small casserole dish and place the whole dish in your steamer. I don't have a steamer large enough in my little apartment, so I baked this in a 400 degree oven with a roasting pan full of water underneath. It still came out delicious!
After ten minutes, take the fish out and pour out all of the liquid that has accumulated. This liquid is very fishy, so you don't want to use it. Steam for another 10 minutes after this.
For the sauce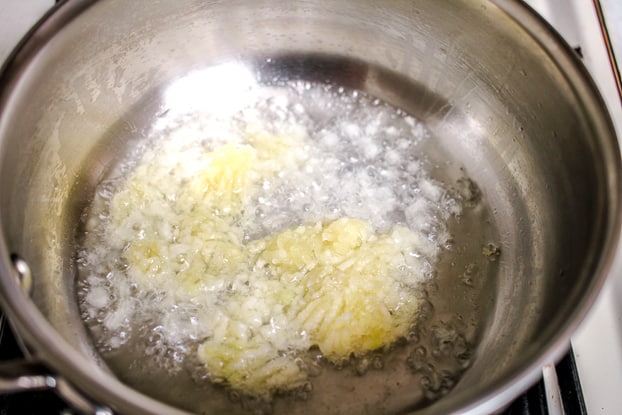 Heat some oil up in a small saucepan on medium heat, and add your garlic. Stir continuously until the garlic is crispy and turns a golden brown color. Be careful! Garlic burns quickly.
Remove and reserve the garlic. We'll use this on top of the fish later. Take 1 tablespoon of the garlic infused oil and add soy sauce, water or chicken broth, sesame oil and Shaoxing wine. Add julienne ginger and bring the whole mixture to a boil.
Take some scallions and slice them lengthwise into thin ribbons. Soak them in a bowl of cold water while the fish finishes cooking. This makes the oniony flavor of the scallions milder, and also makes them curly and pretty!
I forgot to take a picture of this process, but you can see how curly the scallions got in the photos of the steamed whole fish.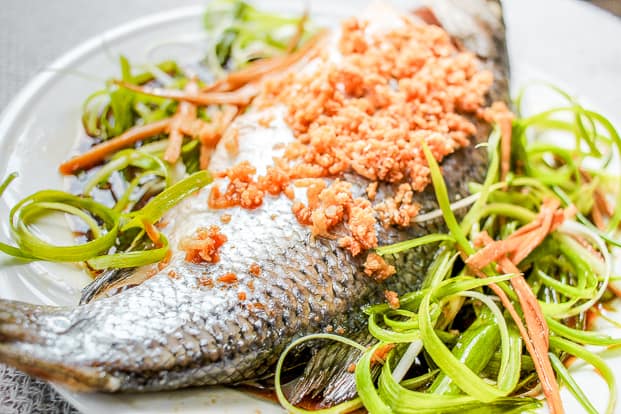 Once the fish is finished steaming, take it out and discard any more liquid that may have built up. Arrange the crispy garlic on top of the steamed fish and the scallion ribbons around it. Pour the sauce all over the fish and scallions. The hot liquid will cook the scallions a little.
You can take the ginger and scallion out of the inside of the fish before plating, but I like to keep it. The ginger, scallion and garlic are a flavor combination that can't be beat!
Did you make this recipe? Tag @bun.bobae on instagram and hashtag it #bunbobae to be featured!
---
Don't miss a single recipe! Sign up below for recipes in your inbox:
---
Loved this Recipe? You might also like: