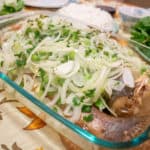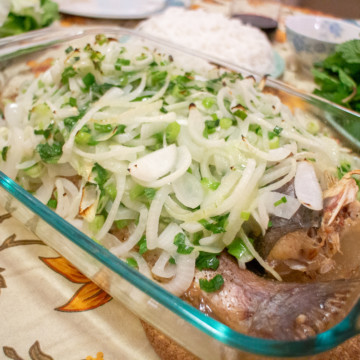 Print
Whole Catfish Spring Rolls (Cá Cuốn Bánh Tráng)
This whole baked fish dish is a fun and interactive way to eat with friends and loved ones. The dish is loaded with veggies and super healthy.
1

whole medium catfish

descaled, definned and with its head cut off

1

tbsp

ground black pepper

1

tbsp

salt

1

package vermicelli

1

bunch green leaf lettuce

1

bunch fresh mint leaves

1

bunch fresh thai basil

1

large yellow onion

1

bunch scallions

1

tbsp

vegetable oil

1

package rice paper

1

bottle Pagolac brand anchovy dipping sauce

or mắm nêm pha sẵn
Place fish in an oven safe casserole dish. Season liberally inside and out with salt and pepper. Bake in a 375 degree oven for 30-45 minutes.

While fish is cooking, prepare vermicelli noodles according to package instructions.

Rinse noodles and set aside on a large serving plate

Chop the base off of the green leaf lettuce bunch. Wash and dry leaves

Wash and dry mint and basil. Pick the leaves off of the rough stems

Arrange vegetables in a large serving plate and set aside

Thinly slice onion and chop scallion. Sauté in oil until just softened

Place onions and scallions on top of fish. Broil in oven until onions are soft and translucent.

Moisten rice paper in water.

Roll fish, noodles and herbs into spring rolls using the rice paper.

Serve with Pagolac anchovy sauce for dipping.